Ginger Chocolate Truffles! Mostly raw, vegan & gluten-free ginger orange caramels dipped in chocolate! So easy and delicious! Makes a great DIY gift!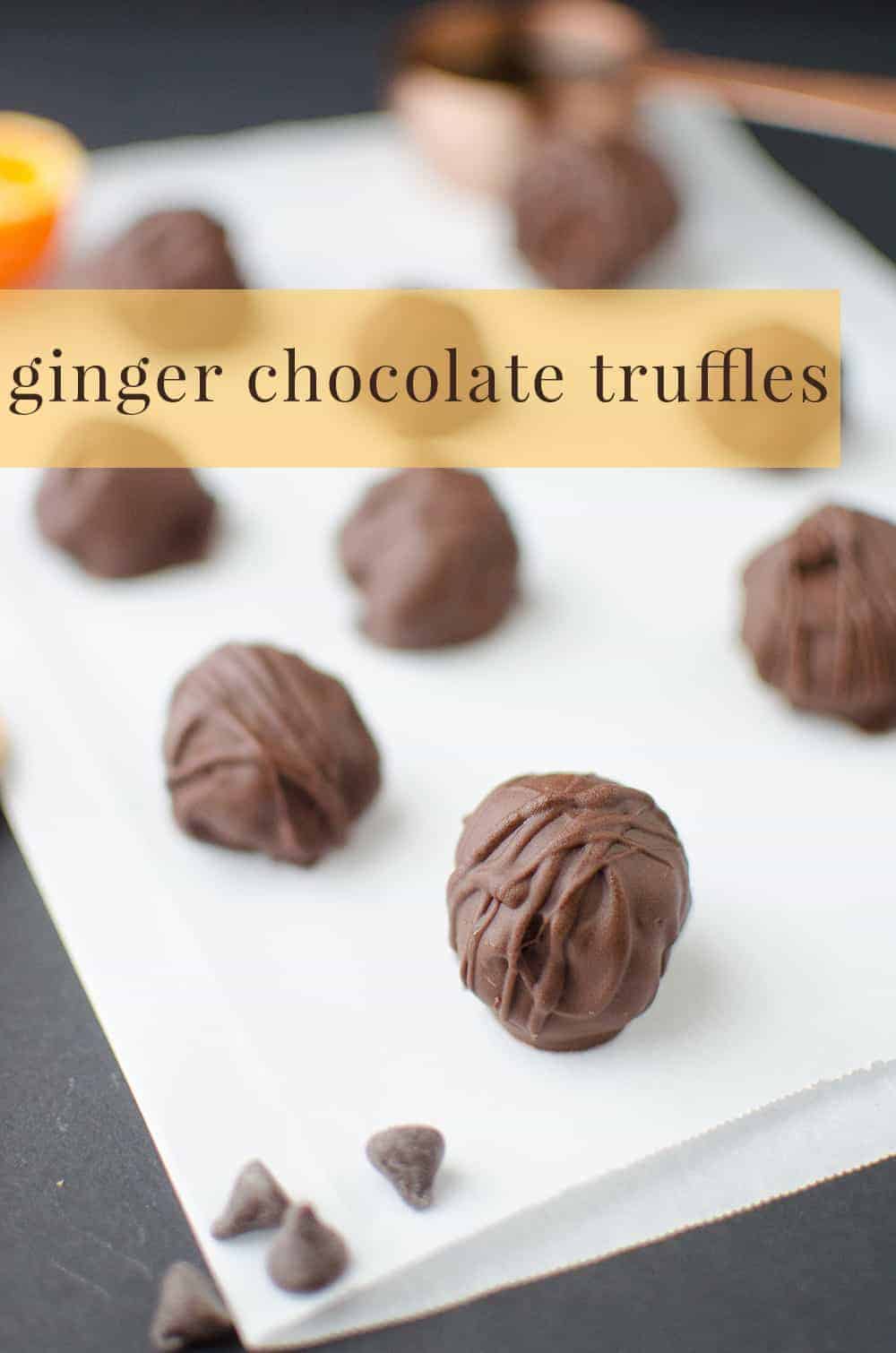 Working from home and having these truffles in your freezer is by far the worst idea for productivity. Most of yesterday was spent in cycles of writing emails for a quick 15 minutes, then grabbing a cup of coffee and truffle. I'd work on my blog for another 15 minutes, refill my glass of water and go back for a truffle. Notice a trend? It was like a delicious dream I couldn't wake up from! Not knowing how I got there, but somehow I was always in the kitchen, hand in the truffle jar.
How am I supposed to work when there are chocolate gingerbread truffles a mere 10 feet from my office? Im-possible.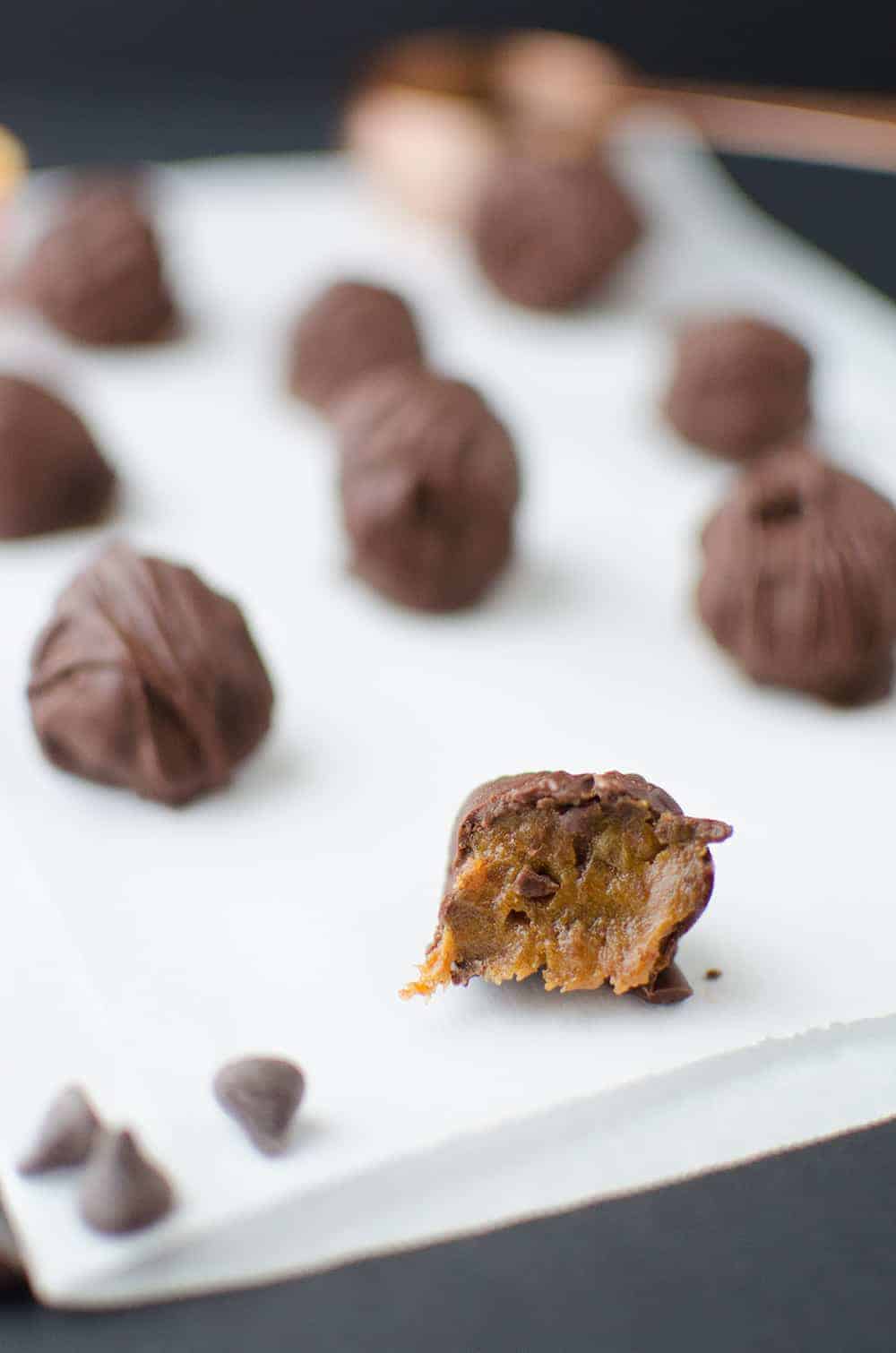 Gingerbread + chocolate, where have you been all my life?
I actually had a completely different post scheduled for today, but like a kid on Christmas, I was way too excited to hold off. Also, I felt I needed the blogosphere to understand why I've been late for half my deadlines the past few days. I've had ginger chocolate truffles on the brain.  I'm only human.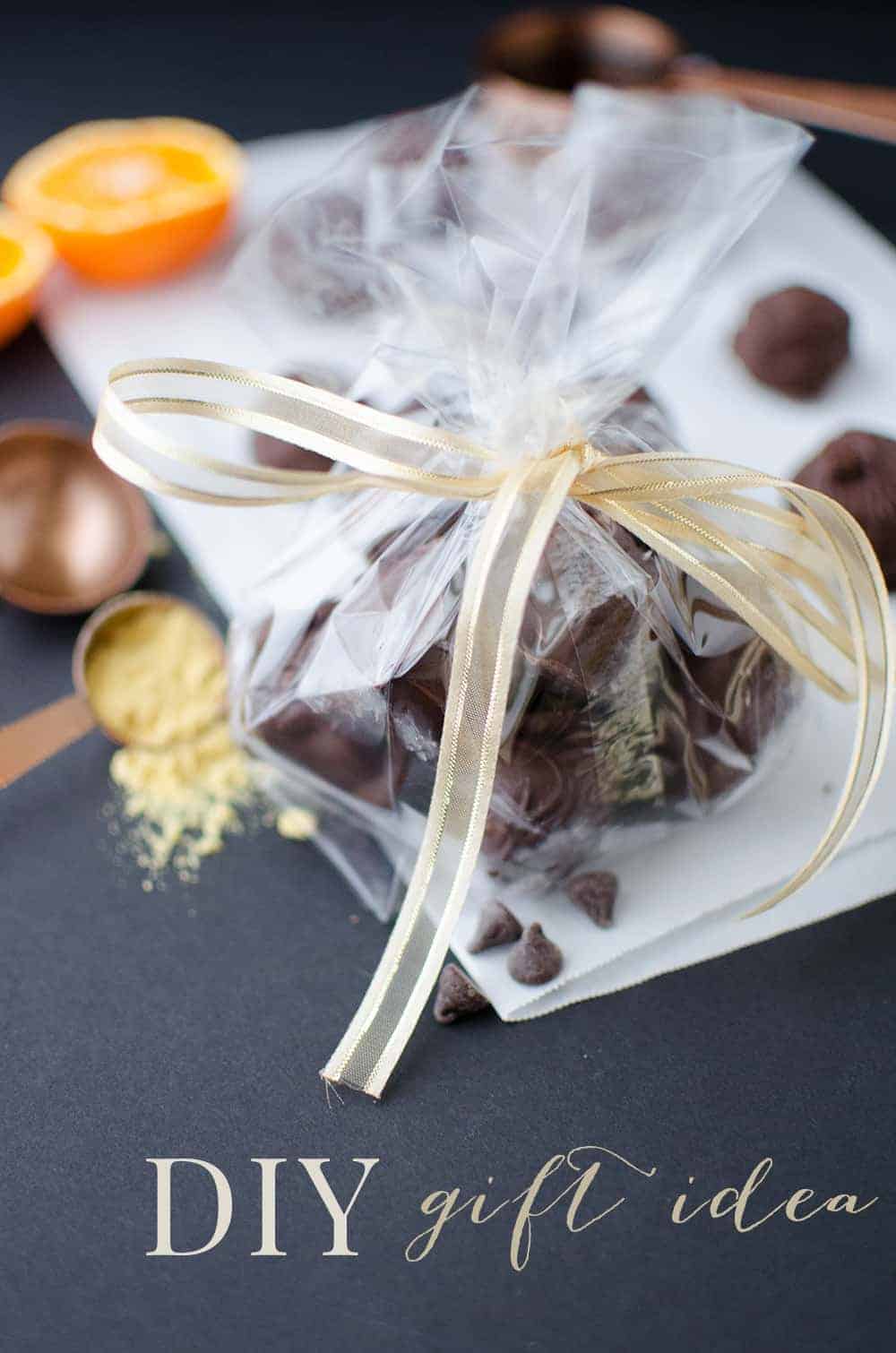 Dates! ILuvYouSoMuch. Thank you for making these chocolate truffles mostly raw & healthy. If you haven't pureed dates before, get ready to fall in love with natural caramel.
Rich, nougat-like dates are the perfect canvas for my favorite holiday flavors: molasses, ginger, orange, and cinnamon. All wrapped up in one decadent, gingerbread truffle. I thought about stopping there. I mean, the raw date ginger balls are delicious and super yummy on their own. I know because I taste- tested about half of them trying to decide between chocolate or no chocolate?
Chocolate. I mean, c'mon. It is Christmas after all, and if these babies were good before, they are outta this world covered in smooth, silky chocolate.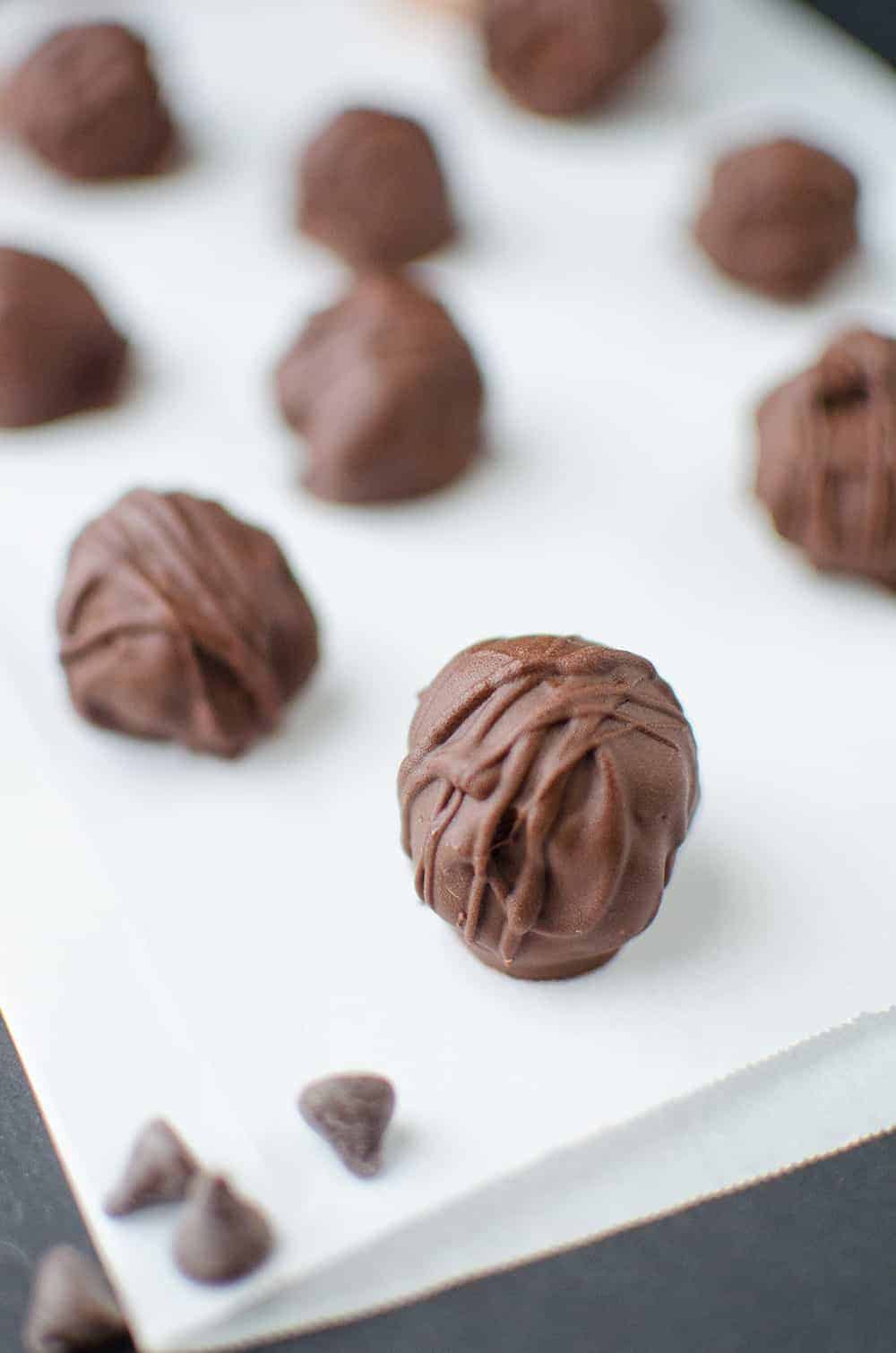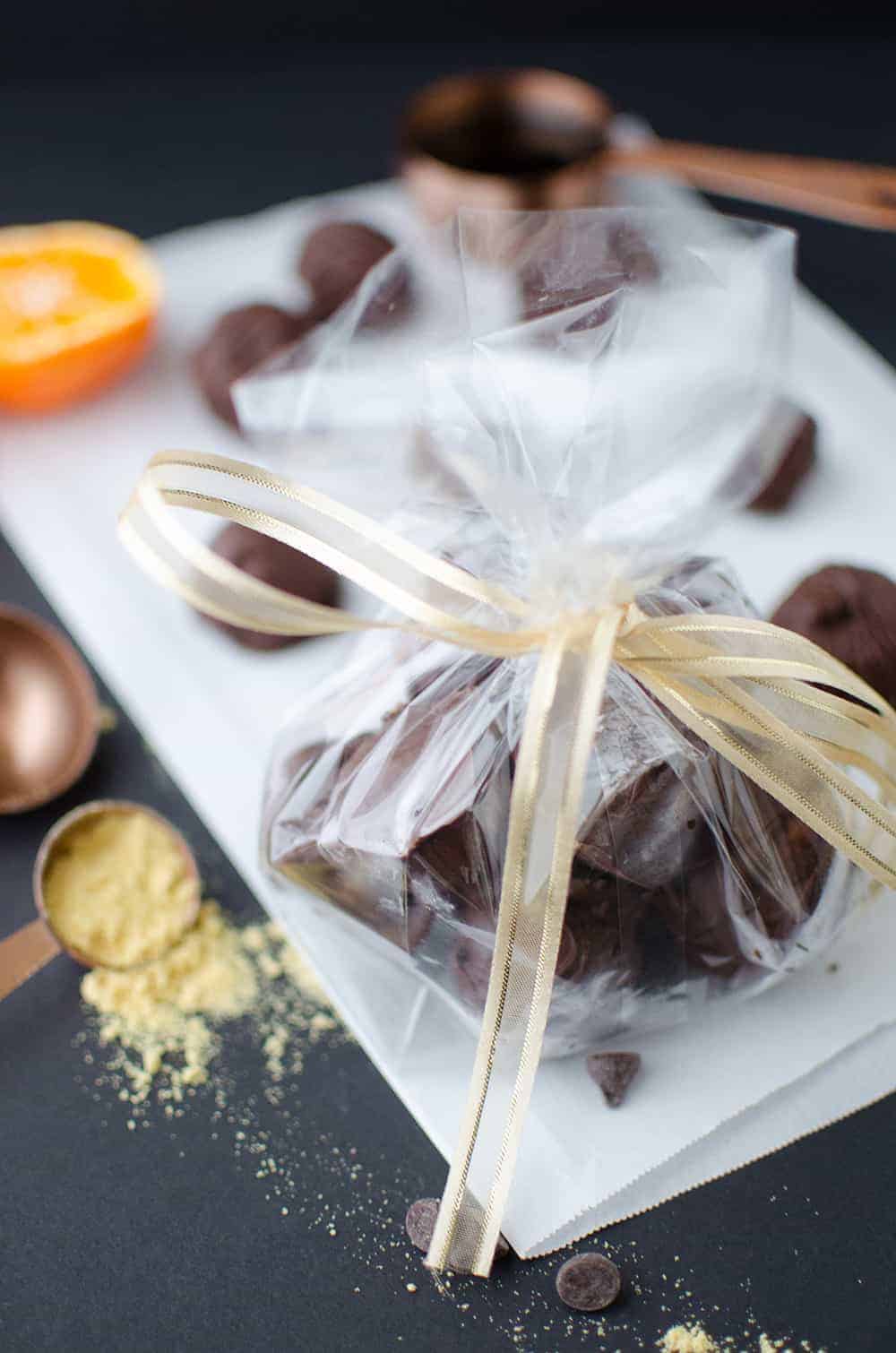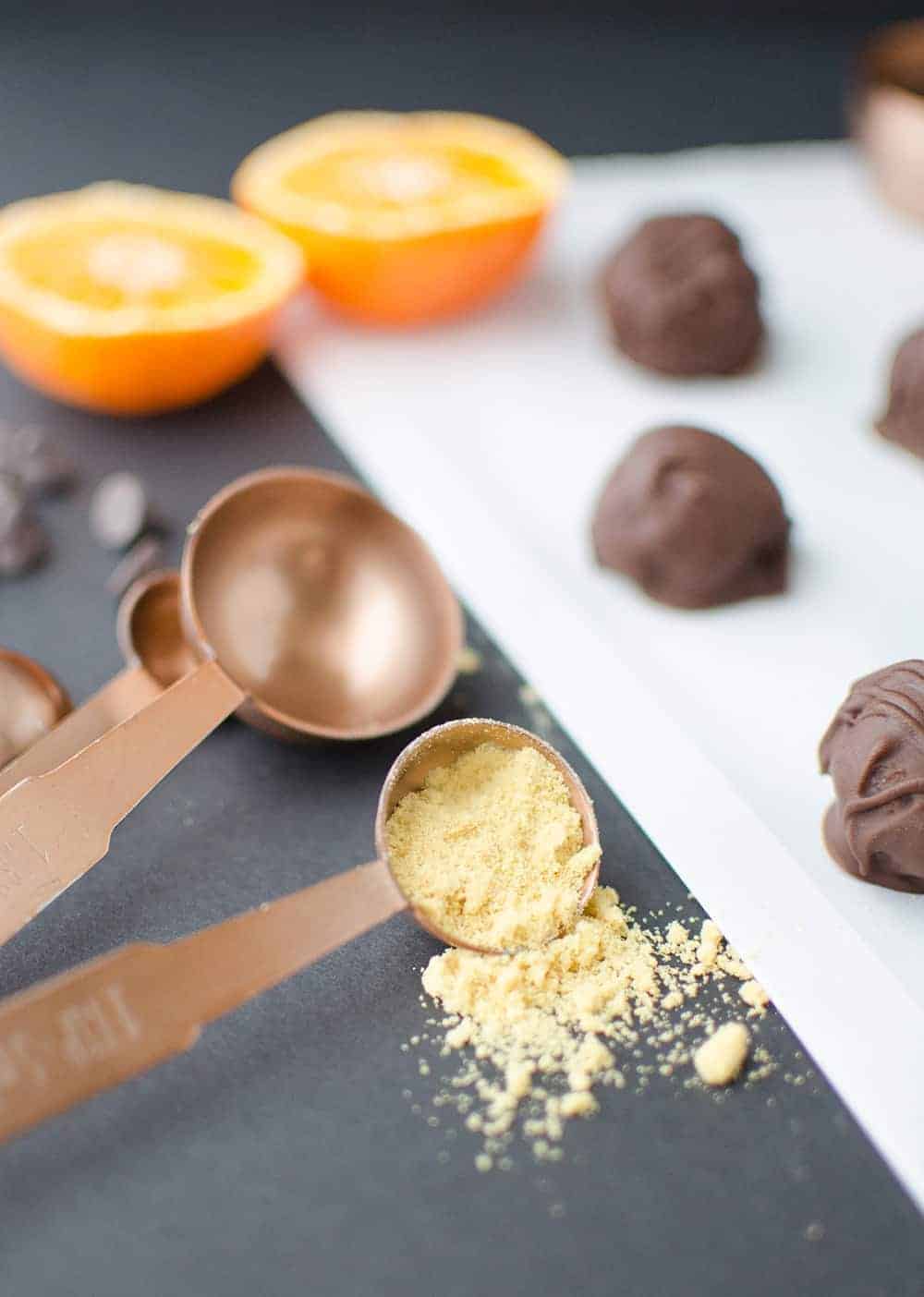 If you end up eating more than you'd like (trust me, it happens), rest assured these are healthier than traditional truffles.
Each truffle contains:
100 calories
4 g fat
1.5 g of fiber
& Potassium
They are gluten-free, vegan, and naturally sweetened by dates.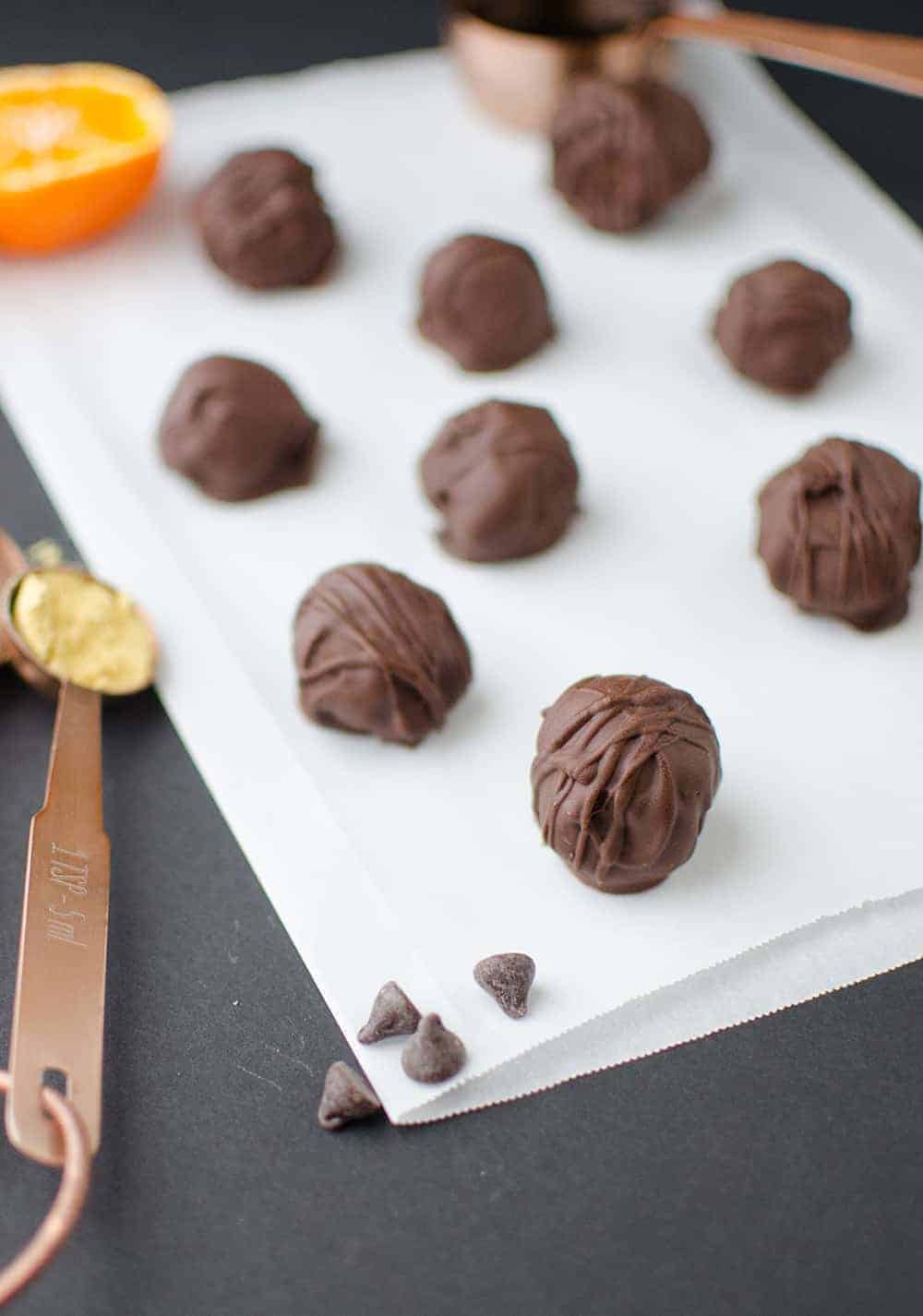 If you try this recipe, let me know! Leave a comment, rate it, and tag your Instagram photos with #delishknowledge . I absolutely love seeing your creations. Happy cooking! 
Print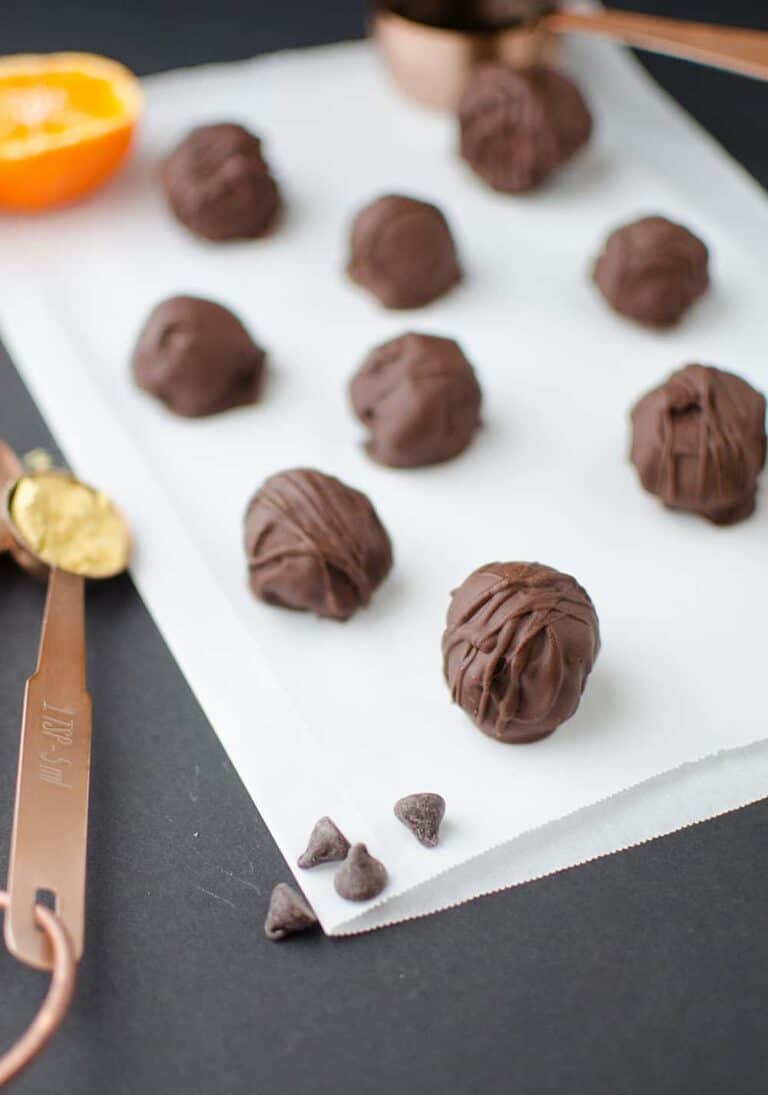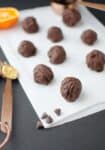 Ginger Chocolate Truffles
---
Description
Ginger Chocolate Truffles Author: Alex Caspero Prep time: 20 mins Cook time: 10 mins Total time: 30 mins Serves: 30 truffles Ginger Chocolate Truffles! Mostly raw gingerbread-orange truffles rolled in chocolate. So easy and delicious!
---
Scale
Ingredients
2 cup

s pitted dates (about

20

medjool dates)

1 tsp

. ground ginger

1/2 tsp

. cinnamon

1/4 tsp

. pure vanilla extract

1/3 cup

almonds

1 tsp

. fresh orange zest

1 tbsp

. fresh orange juice

2 tsp

. molasses

2 cup

s chocolate chips (use dairy-free for vegan version)

1 tsp

. coconut oil or other oil for melting chocolate
---
Instructions
Place pitted dates in a food processor and pulse a few times to chop. Add in the ground ginger, cinnamon, vanilla, almonds, orange zest, orange juice and molasses and pulse until a slightly chunky puree forms. You want it to be caramel like in texture but still able to pinch off. Taste it! If you like more ginger flavor, nows the time to add it!
Remove the ginger-orange mixture and place into a bowl.
Place in the freezer or refrigerator for at least 20-30 minutes until chilled.
Remove the dough from the freezer or refrigerator and pinch a tbsp. or so at a time and roll into balls. I like to make them small enough that you can enjoy them in 2 bites. Place into a wax paper or parchment paper lined baking sheet.
Once all the balls are rolled (you should have about 25-30) place back in the freezer to chill. If the dough is cold enough, it won't melt when you roll it in chocolate! You can enjoy them
Place the chocolate chips in a medium sauce pan with the coconut oil and melt over medium-low heat.
Place the balls, one at a time in the melted chocolate until just coated. Remove and place back on the parchment lined baking sheet. Alternatively, you can melt the chocolate and drizzle it onto the balls.
Enjoy as is or place in the fridge while not eating!
---
Because I couldn't get enough chocolate, cookies, or bars yesterday- I assembled a collection of delicious, healthy christmas treats for you. A few of them are from Delish Knowledge and the rest are favorites I've picked up along the way from other bloggers. Enjoy!