Life Changing Cookies! These Vegan, Gluten Free Chocolate Chip Cookies are a MUST save. Clean eating cookies that are refined sugar free, flour free and DELICIOUS.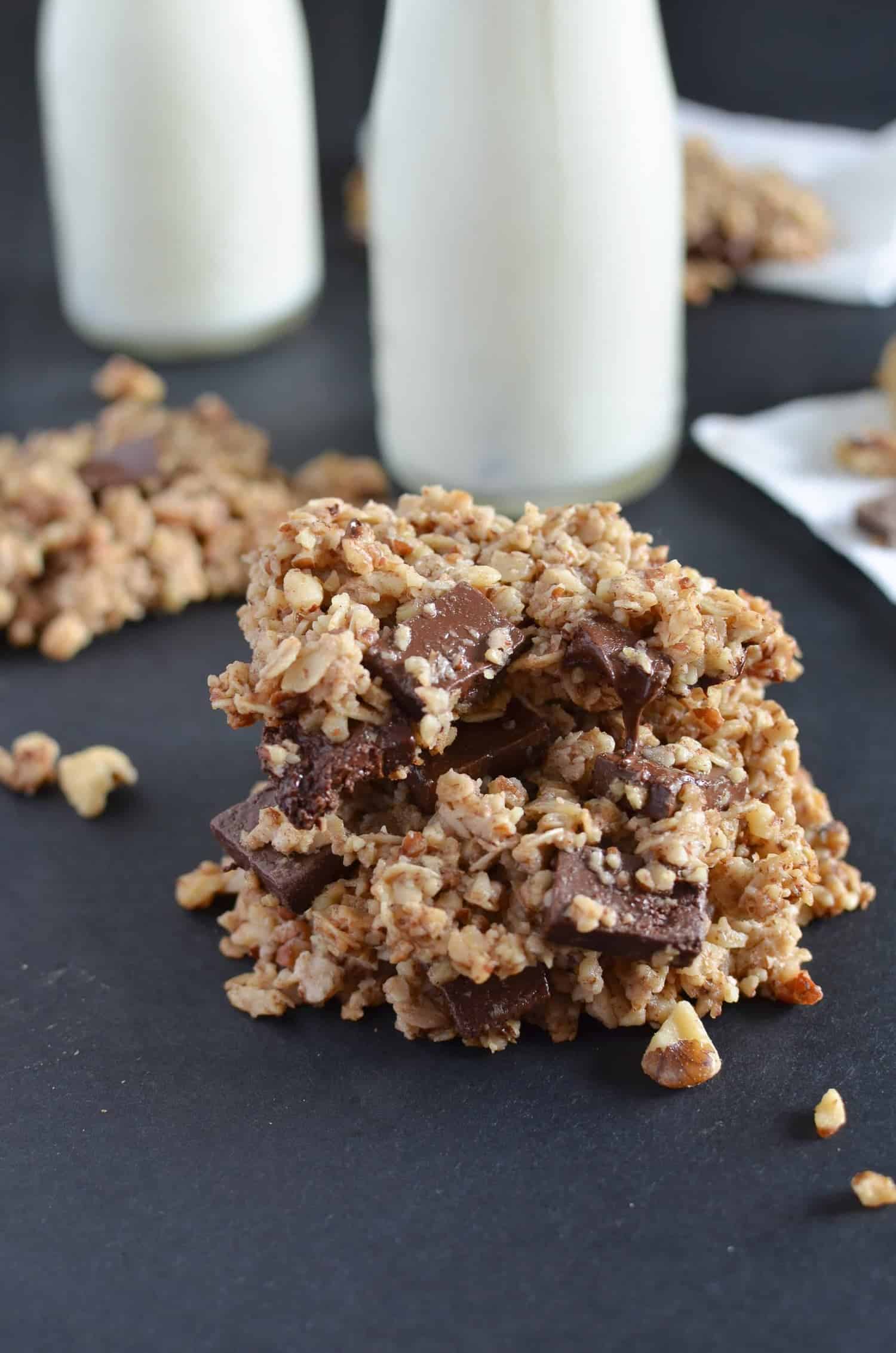 Is it hyperbole to call these life-changing? I don't think so. After spending the past week with my adorable, light-of-my life, 2 year-old niece Caroline, I was on a mission to create a healthy dessert that we both could feel good about eating.
While I'm not a purist when it comes to my sweets, I do like to take a nutrient dense approach most of the time. I want to feel good about what I'm putting in my body; desserts included. Of course, this same notion applies to feeding the little one as well.
So, I made these. Life-changing dark chocolate oat cookies. Gluten-free, flour-free, vegan, and naturally sweetened. Delicious for me, healthy for her.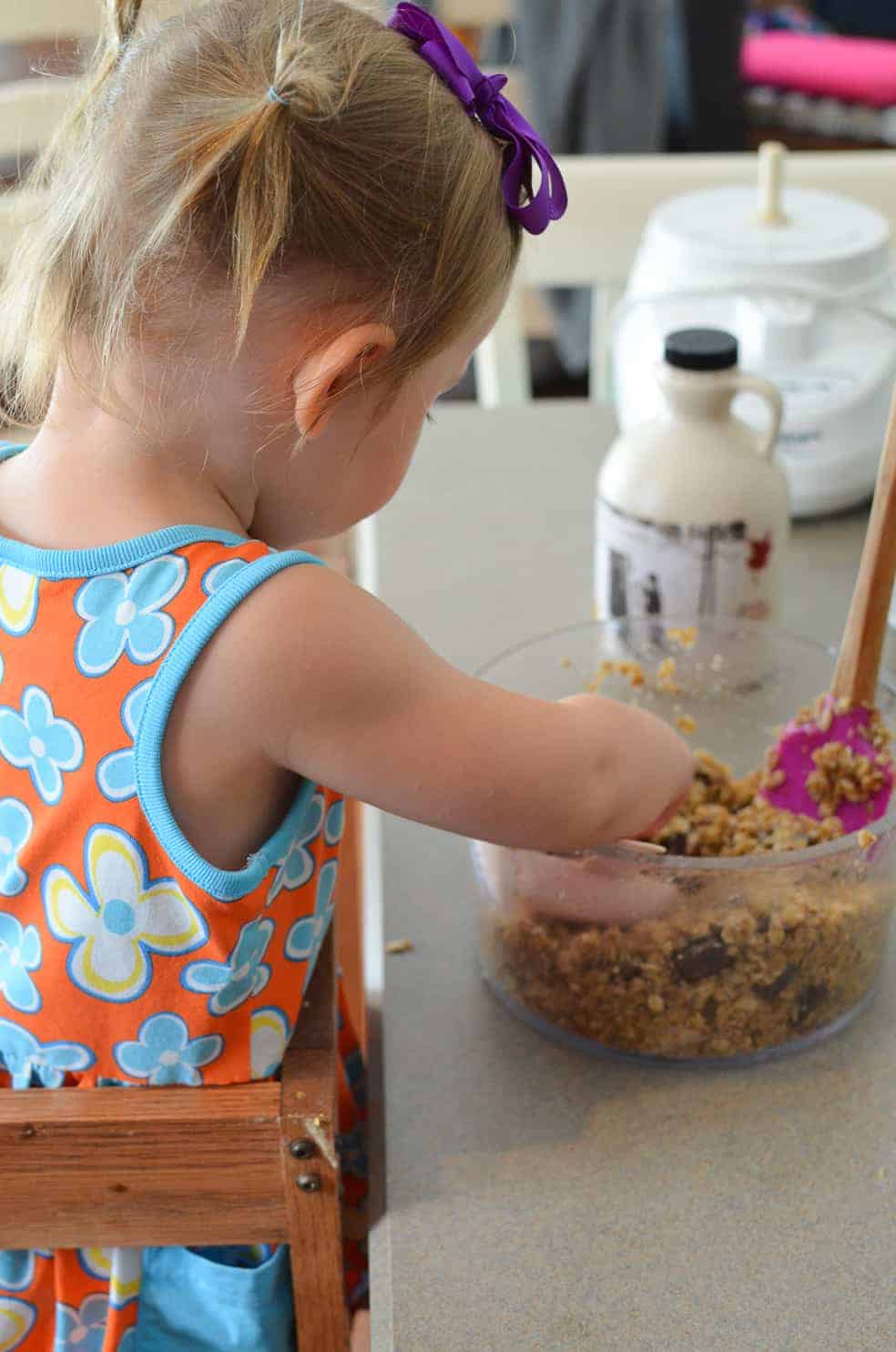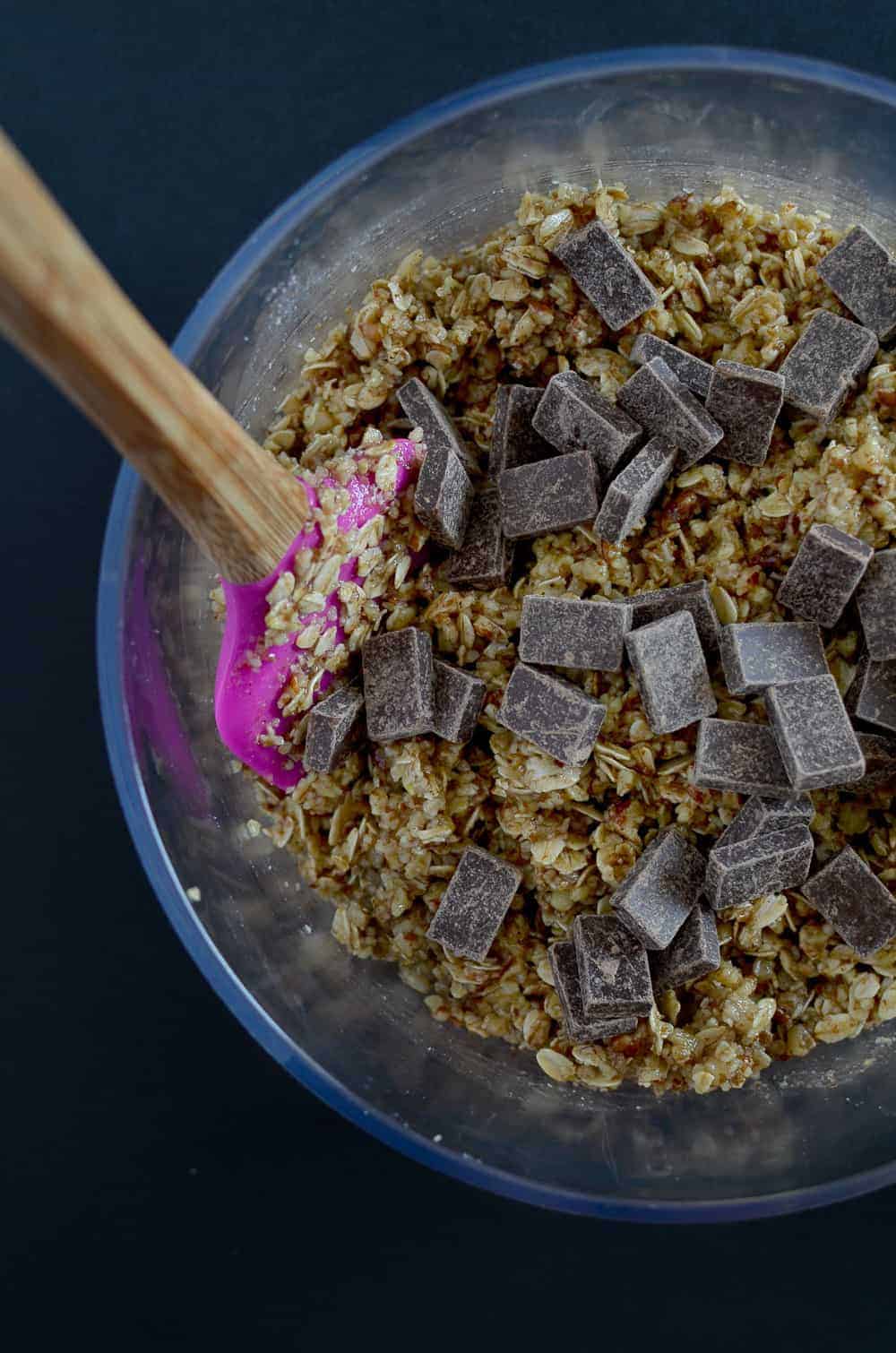 Since we aren't relying on flour, I'm using a base of almonds, pecans, and oats to create a flour-like consistency. I don't have anything against flour and my pasta-holic diet is the furthest thing from gluten-free, but I wanted to pack as much nutrition into each bite as possible. Out with the refined grains, in with the fiber-filled oats and protein-packed nuts.
I realize that using nuts for a base does drive up the cost of these cookies a bit but I think it's worth it. Nuts lend a buttery richness without using a drop of dairy.
You will need to use a food processor to get the consistency right. If the chunks of nuts or oats are too large, they won't hold together and you will end up with granola cookie crumbles. Delicious in their own right, but not the effect we are going for here. Although, I will admit that I ended up crumbling the last of the cookies into a cup of yogurt for the best 3PM pick-me-up snack I think I've ever had.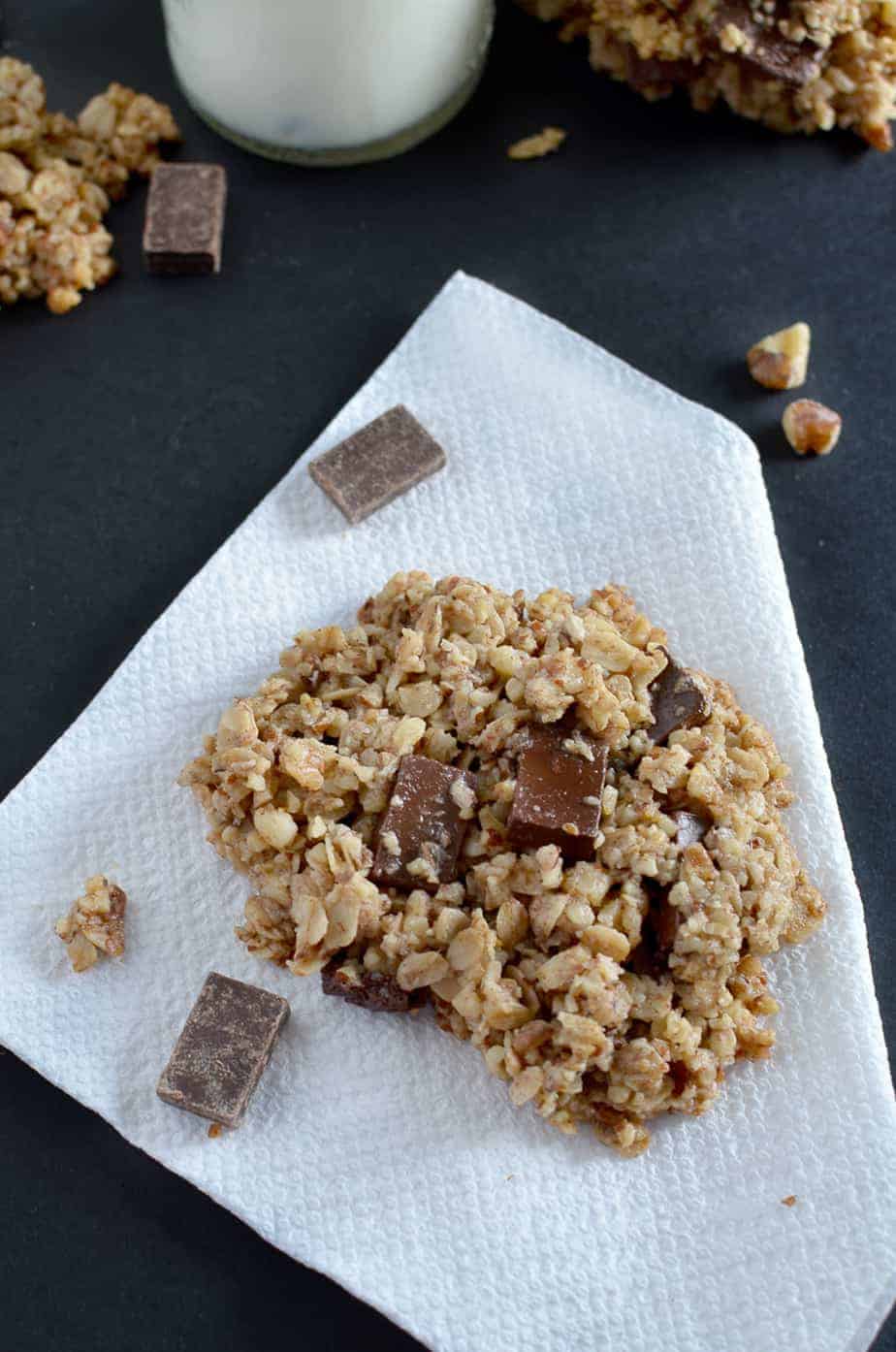 For liquids, I'm combining olive oil and 100% pure maple syrup. Don't be tempted to use breakfast syrup as it won't work. Those syrups contain too much water to work in baking and you will be left with a burnt, sticky mess.
Maple syrup is hands down my favorite sweetener to use; pure maple contains 54 antioxidants along with caramel undertones that give these cookies just the right amount of sweet.
When I bake with my niece, I refuse to use any type of egg product since I know those little fingers will find themselves in the raw batter at every opportunity. Using a flax egg will help bind all the ingredients together without carrying any food illness risk. If you haven't used a flax egg in baking before, it's simple. Whisk together 1 tablespoon ground flax meal with 3 tablespoons water and let sit until gelled. Since flax seed meal is mostly soluble fiber, it will absorb the water creating a viscous jelly that can be used in any recipe that calls for eggs.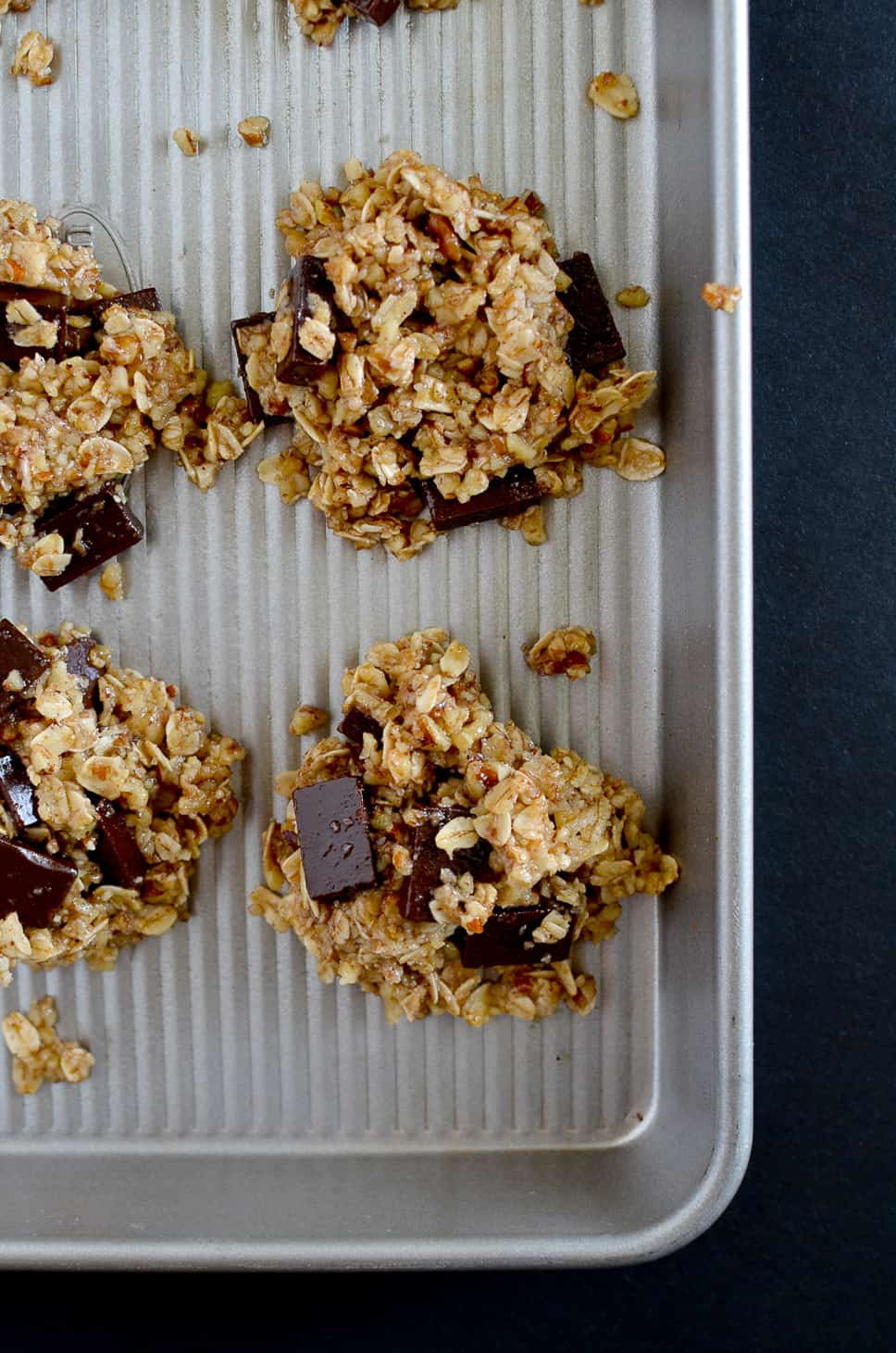 Lastly, the chocolate. What kind of aunt would I be if I didn't throw in a chunk or two of chocolate? I suppose you could use dried fruit instead for a more wholesome treat, but I will always favor chocolate.
I picked up these dark chocolate chunks from the bulk bin section of my local co-op, but use whatever chocolate tickles your fancy. I will say that while these chunks photographed beautifully, they may have been a little large for the dough. For the ones I served to my niece, I formed the cookie first and then placed a chunk or two of chocolate on top for chocolate essence cookies instead of death by chocolate. 
To assemble, grab a cookie scoop and clean hands. You will need to push the ingredients together by hand so that they don't fall apart while baking. A small sacrifice when creating these clean-eating cookies.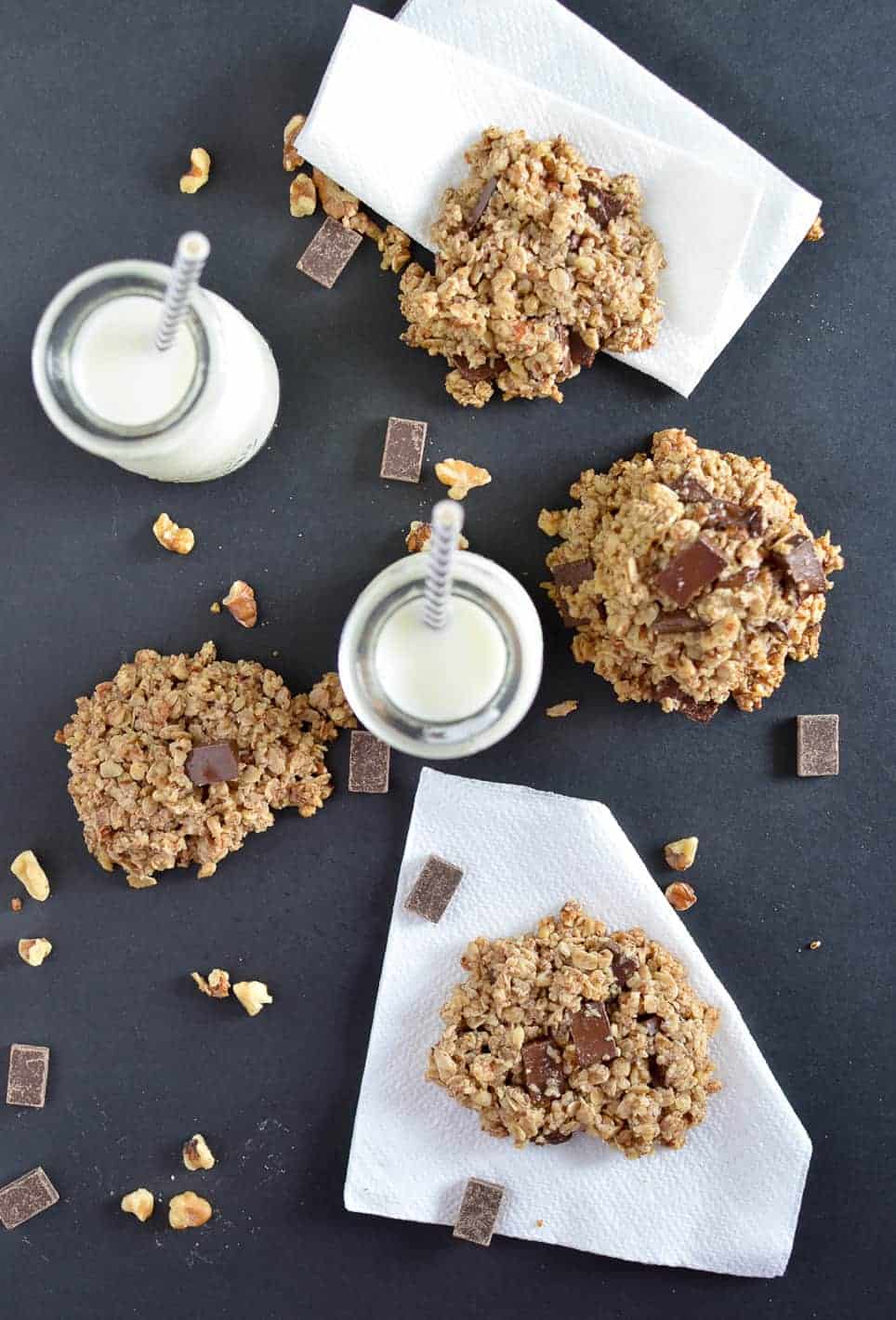 If you try this recipe, let me know! Leave a comment, rate it, and tag your Instagram photos with #delishknowledge . I absolutely love seeing your creations. Happy cooking! 
Print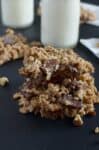 Life Changing Dark Chocolate Oat Cookies
Author:

Prep Time:

10 minutes

Cook Time:

15 minutes

Total Time:

25 minutes

Category:

cookies, dessert

Cuisine:

vegan, gluten free, flour free, refined sugar free
---
Description
Life Changing Cookies! These cookies are a MUST save. Gluten-free, vegan, refined sugar free, flour free and DELICIOUS. Dark Chocolate Chunk Cookies.
---
Scale
Ingredients
2 cup

walnuts, chopped

2 cup

s pecans, chopped

2 cup

s old-fashioned rolled oats

1.5 teaspoon

baking powder

1 teaspoon

salt

1 teaspoon

cornstarch

1 tablespoon

ground flax seeds

3 tablespoon

s water

1/2 cup

extra virgin olive oil

1 teaspoon

vanilla extract

1/2 cup

maple syrup

1 cup

dark chocolate chunks
---
Instructions
Preheat oven to 325 degrees F.
Pulse walnuts and pecans in a food processor and pulse until finely ground (you may need to alternate in batches depending on how large your food processor is). You don't want it to be butter, but it should resemble crumbs.
Transfer nuts to a large bowl and place oats in a food processor and pulse a few times to break down.
Place the oats into the bowl with the nuts along with the baking powder, salt and cornstarch.
In a separate bowl, whisk together the ground flax seeds and water and let sit until gelled, about 5 minutes.
Add the oil, maple syrup, and vanilla extract to the flax seed bowl and whisk together.
Stir the wet flax-oil mixture into the nut and oat mixture and stir to combine. Gently fold in chocolate.
Using a cookie scoop ( or 1/4 cup measuring cup), scoop out dough and gently press together and flatten with your hands. They might crumble a bit but should form into a cookie once pressed together.
Place on lightly greased baking sheet and cook for 15 minutes until golden brown, check after 10 minutes.
Let cool completely before serving.
---