Packed with immune-boosting functional foods like miso, ginger, and mushrooms, this vegan miso soup is one not to miss during the winter months.
Is Miso Soup Vegan? This one is! Made with plant-based umami kombu, shiitake mushrooms and miso.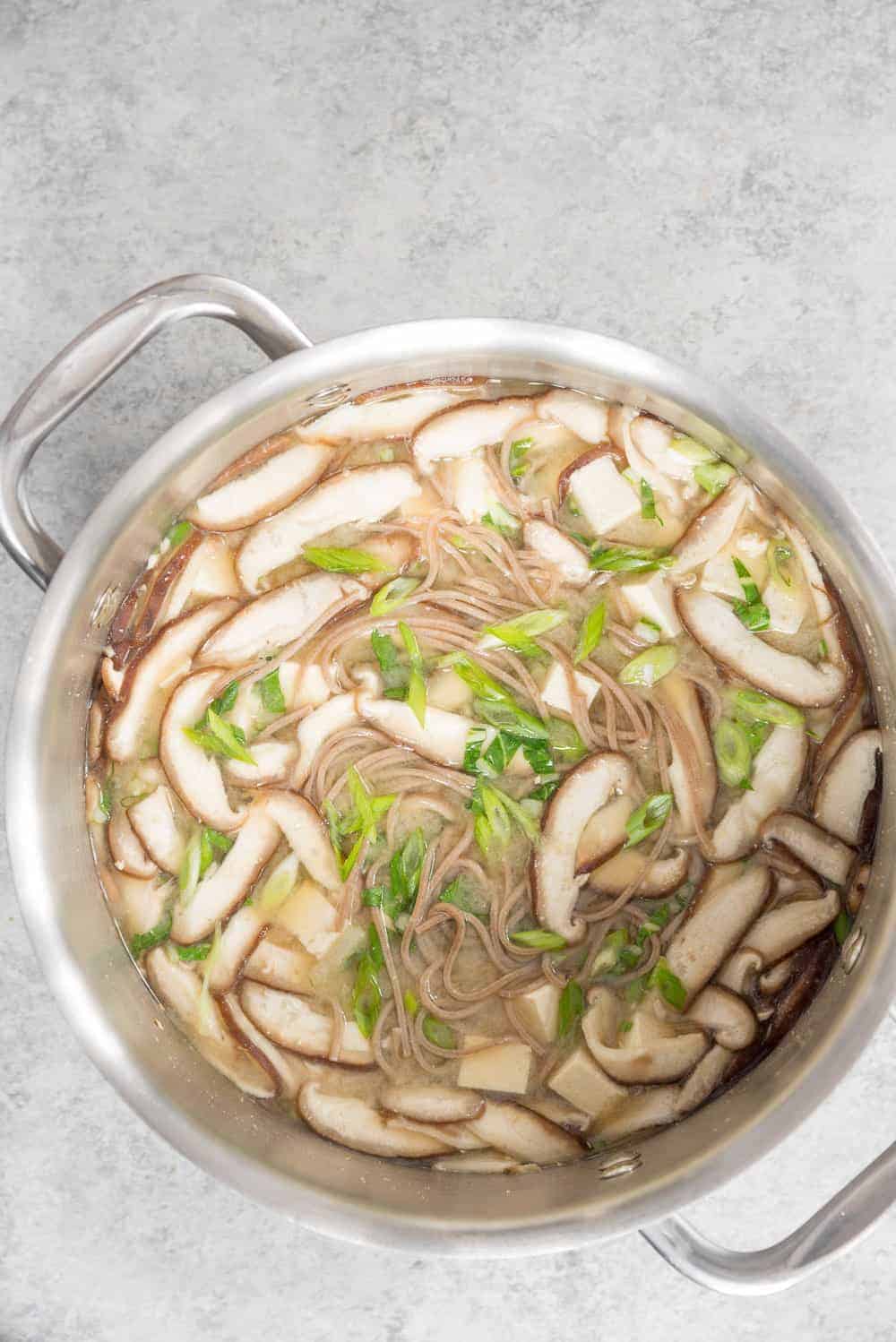 I'm making you a miso soup that's hearty enough for a meal! Yup, another miso soup. I just shared this chicken-less miso soup with you a few weeks ago, but I also wanted to have a version that was more traditional.
My family loves a good miso soup and I almost always order a cup whenever we head out for sushi. Miso soup, seaweed salad and a roll is one of my favorite meals, especially when I'm traveling.
The only downside about miso soup is that it's always an appetizer. Delicious as a first course but definitely not filling enough to make a meal. Well, we're changing that today.
This vegan miso soup has bok choy, shiitake mushrooms, tofu and chewy buckwheat noodles. We've been enjoying this one over and over again for a light dinner and it's so delicious, Van loves it too. I drain the broth off it and let him slurp down the noodles.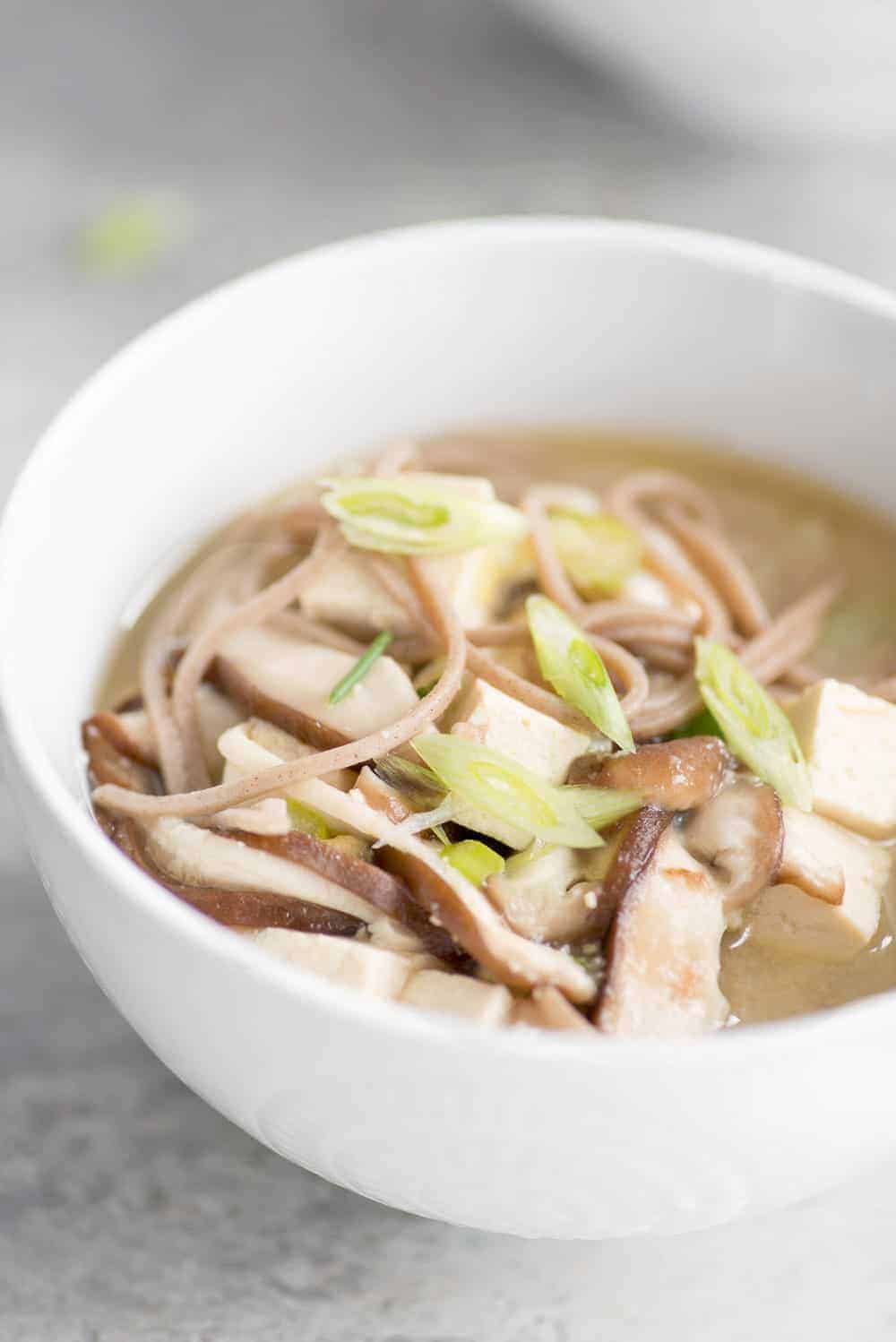 Is Miso Soup Vegan?
This miso soup is! However, not all miso soups are vegan, especially if you are enjoying them at a Japanese or sushi restaurant. Most miso soup contains bonito flakes, which are dried tuna flakes that provide umami flavor. However, you don't have to use bonito flakes for umami flavor as miso, shiitake mushrooms and kombu are all vegan sources of umami flavor.
Miso is a Good Probiotic
Miso soup is made with (you guessed it) miso, which is a traditional Japanese seasoning made from fermented soybeans. Fermented foods, like kimchi, yogurt, kombucha, pickles, tempeh, and miso, contain good-for-you, naturally occurring bacteria, also known as probiotics.
Probiotics help to restore the naturally occurring bacteria in your gut by kicking out the bad bacteria (that can accumulate from a processed diet, high in fat and sugar) and resetting it with the good stuff. Probiotics have a whole host of health benefits – everything from boosting the immune system to soothing digestive upset, to supporting metabolism.
And if probiotics weren't enough of an immune system boost for you, this soup is also packed with fresh ginger and shiitake mushrooms, both of which have immune-boosting properties. To retain all of the probiotic benefits, make sure not to overheat your miso. It's why I recommend removing some of the broth to whisk the miso paste into, then return it back to the soup off-heat. Cooking the miso will diminish the naturally occurring fermented bacteria and we want to keep as much as we can!
What's the difference between red miso and white miso paste?
White Miso is made from soybeans that have been fermented with rice; the color can range from white to a light yellow and white miso has a definite sweet taste. I usually use white miso in my vegan miso soup. Yellow miso is also made from soybeans and has been fermented with barley and sometimes rice. It's got a mild, early flavor and is amazing in miso soup as well!
Red Miso is typically fermented with barley or other grains and has a longer fermentation period. It contains more of a deep umami flavor than white or yellow miso; I usually only use red miso in sauces but you can use it in miso soup. Just know that it will create a deeper color and a richer miso taste.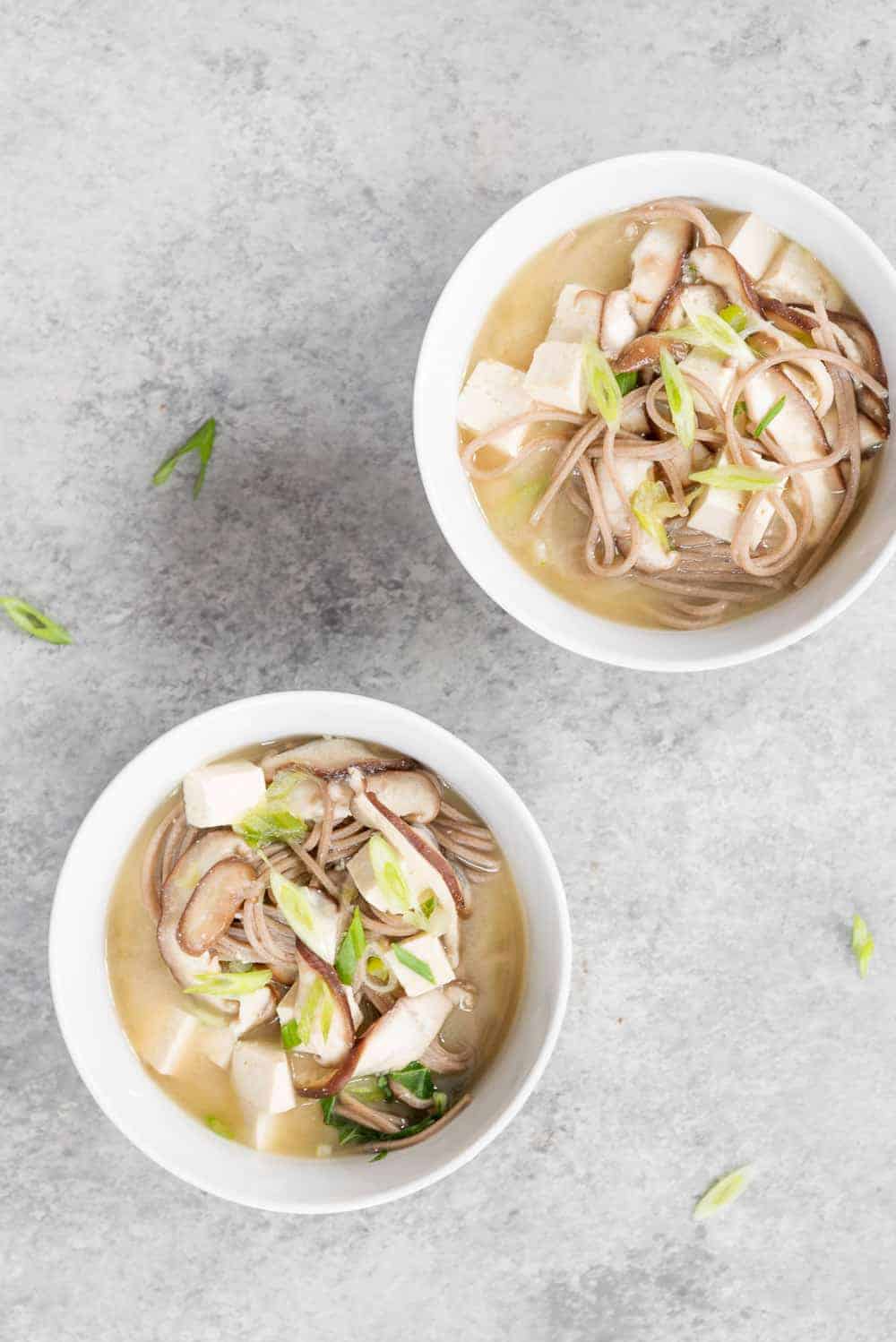 Have I mentioned this soup is deliciously comforting? The miso packs in a ton of flavor that is complemented with the spicy ginger, the mild bitterness of the green onion and bok choy. Plus, it's super satisfying with the meaty texture of the mushrooms, protein-packed tofu, and fiber-packed buckwheat soba noodles.
You can find kombu online or in Asian grocery stores/specialty stores. I grab mine at Whole Foods!
If you try this recipe, let me know! Leave a comment, rate it, and tag your Instagram photos with #delishknowledge . I absolutely love seeing your creations. Happy cooking!
Print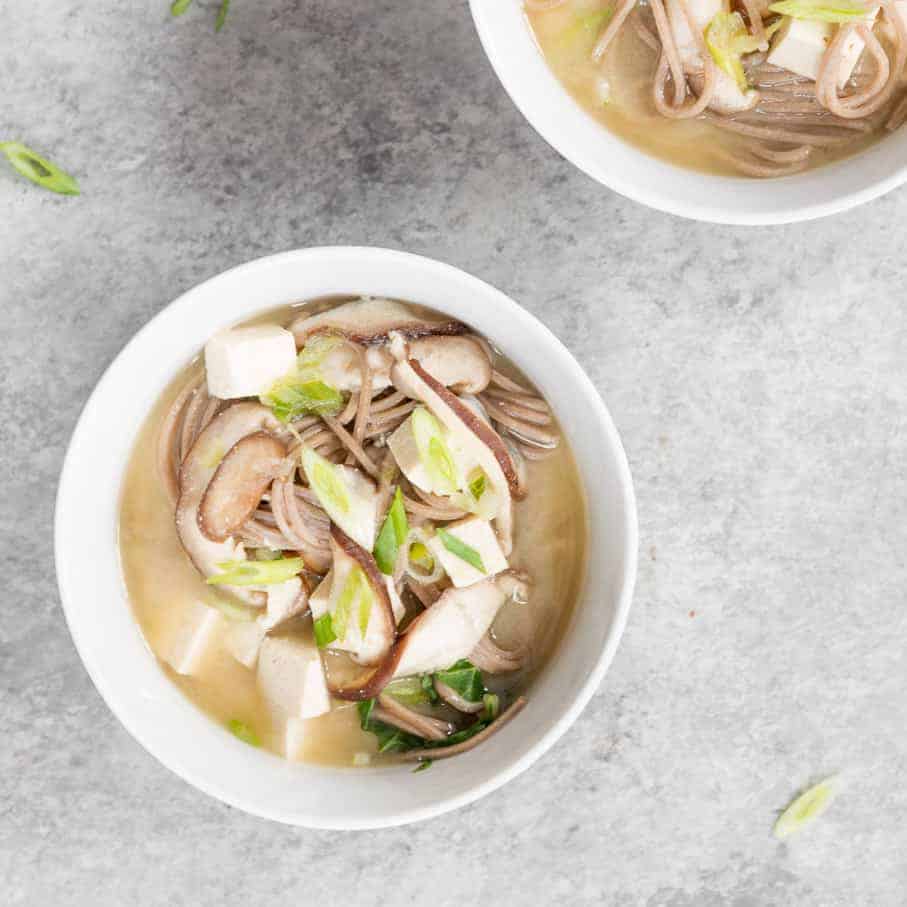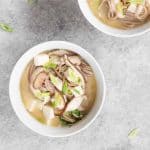 Vegan Miso Soup
Author:

Prep Time:

10 minutes

Cook Time:

25 minutes

Total Time:

35 minutes

Yield:

6

servings

1

x
Category:

Soup, Stew, Dinner, Entree, Main

Method:

stovetop

Cuisine:

Asian
---
Description
Packed with immune-boosting functional foods like miso, ginger, and mushrooms, this vegan miso soup is one not to miss during the winter months.
---
Scale
Ingredients
For the Dashi (broth):
8 cup

s filtered water

2

strips kombu

3

dried shiitake mushrooms

3

-inch piece of ginger, peeled, and sliced into thin coins
For the Miso Soup
1 cup

reserved Dashi

1/2 cup

brown rice miso

8oz

buckwheat soba noodles

2

cloves garlic, minced

1 tablespoon

s soy sauce

3.5oz

shiitake mushrooms, stems removed and thinly sliced

6

–

8

kale or bok choy leaves, stems removed, and roughly chopped

2

-inch piece of ginger, peeled and grated

7 oz

extra firm tofu, cut into

1

-inch cubes

3

–

4

green onions, finely chopped, light and dark green parts only
---
Instructions
For the Dashi (broth): Fill a large pot with water and add kombu, dried mushrooms, and ginger. Turn heat on to medium and let cook until just before the water begins to boil. Turn off the heat and remove the kombu, mushrooms and ginger with a slotted spoon.
For the Miso Soup: While the dashi is still hot, reserve about 1 cup and mix with the miso in a bowl until miso is smooth consistency, free of any lumps.
In a separate pot, cook the soba noodles according to the directions on the package (about 7 minutes in boiling water).
Continue to heat the dashi over medium heat and add the garlic, kale/bok choy, mushrooms, ginger, and tofu. Let cook until kale begins to soften but before it gets too wilted, about 5-10 minutes. Turn off heat and whisk back the reserved miso broth.
Separate the soba noodles into bowls for serving. Pour the miso soup over the noodles. Garnish with green onion.
---
Notes
Note: If you have extra time and want to make a more flavorful Dashi, soak the kombu in the pot of water for about 3 hours before heating it with the other ingredients.
I know you can technically slice the dried mushrooms after they have been cooked in the broth and add back to the soup, but I really dislike the flavor of cooked from dried mushrooms. Therefore, I add fresh ones!
Keywords: miso, vegan, vegetarian, dinner, soup