Nutella Truffles! Healthy truffles made with only 5 ingredients! Vegan, glutenfree and naturally sweetened. You've gotta make these!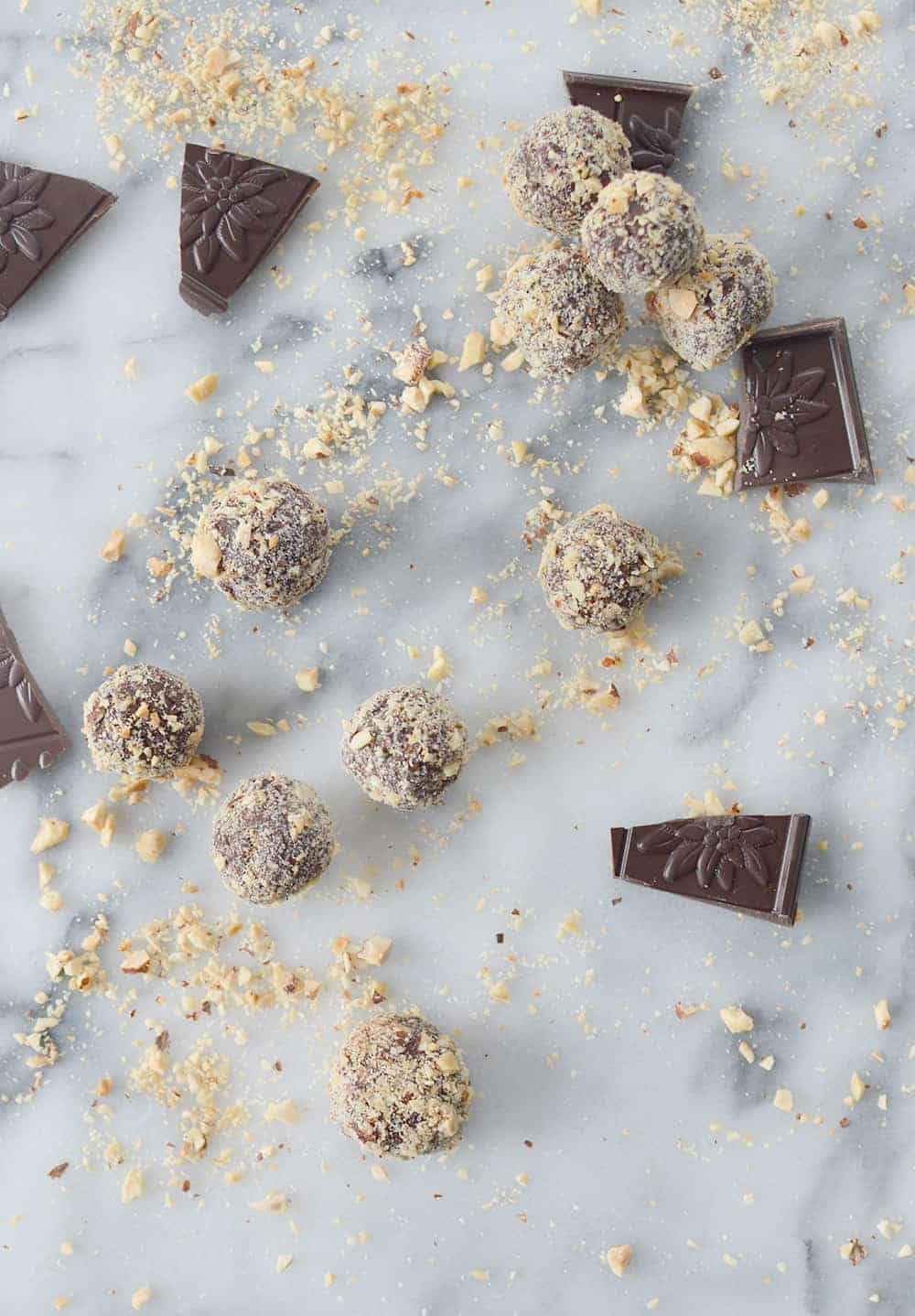 Trick or Treat! I've got something good to eat.
Not having a bit of chocolate after dinner is like not brushing my teeth before I go to bed, it just feels wrong. I don't need much to satisfy my sweet tooth, but I love a little creamy treat before I hit the hay.
I've been trying to up my sweet game because as much as I will forever love brownies, cookies, and candy, I know I need to design some mostly healthier alternatives. My love affair with chocolate isn't going to stop anytime soon, might as well create something I feel good about eating and sharing with others.
MY LATEST VIDEOS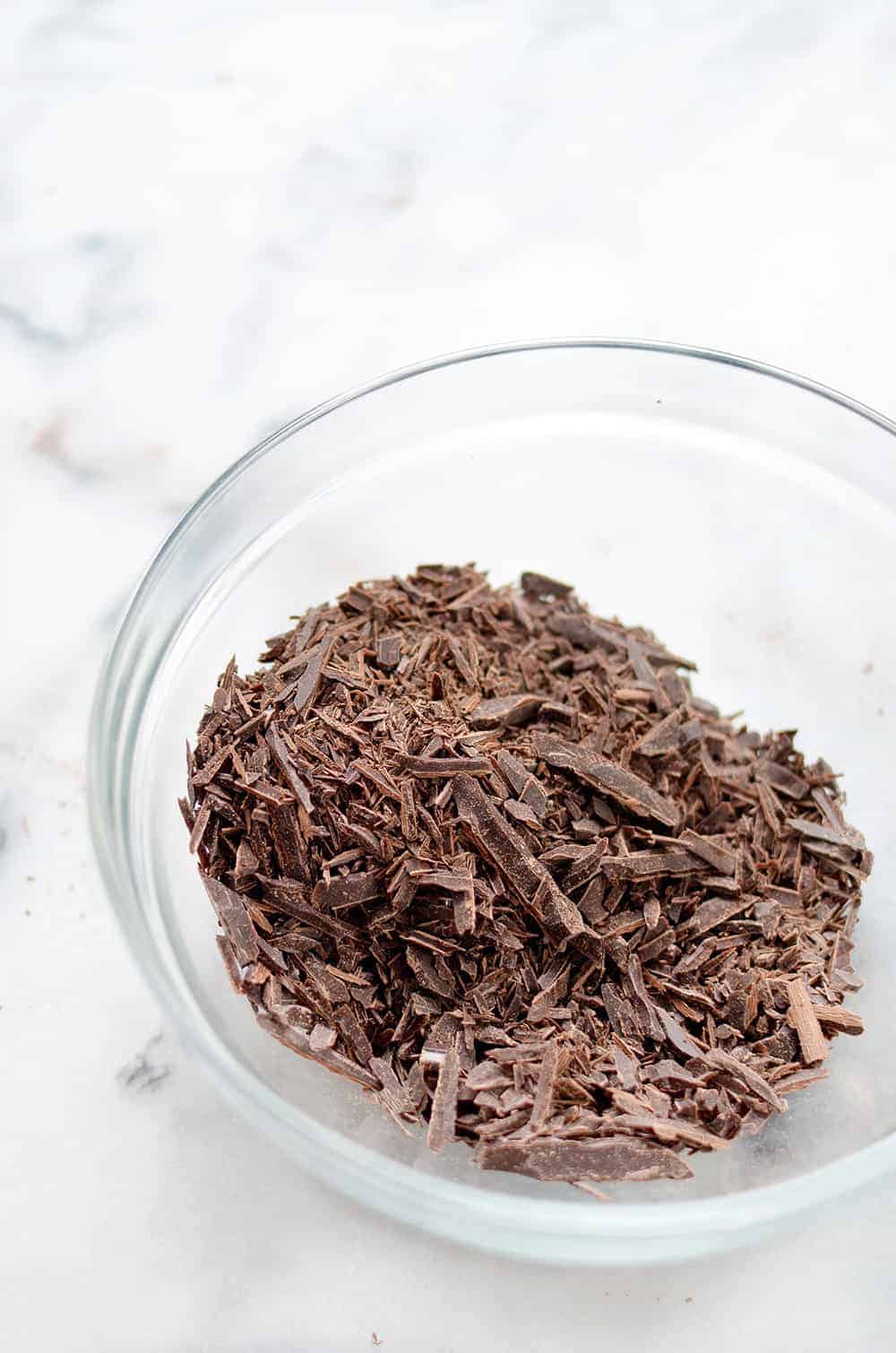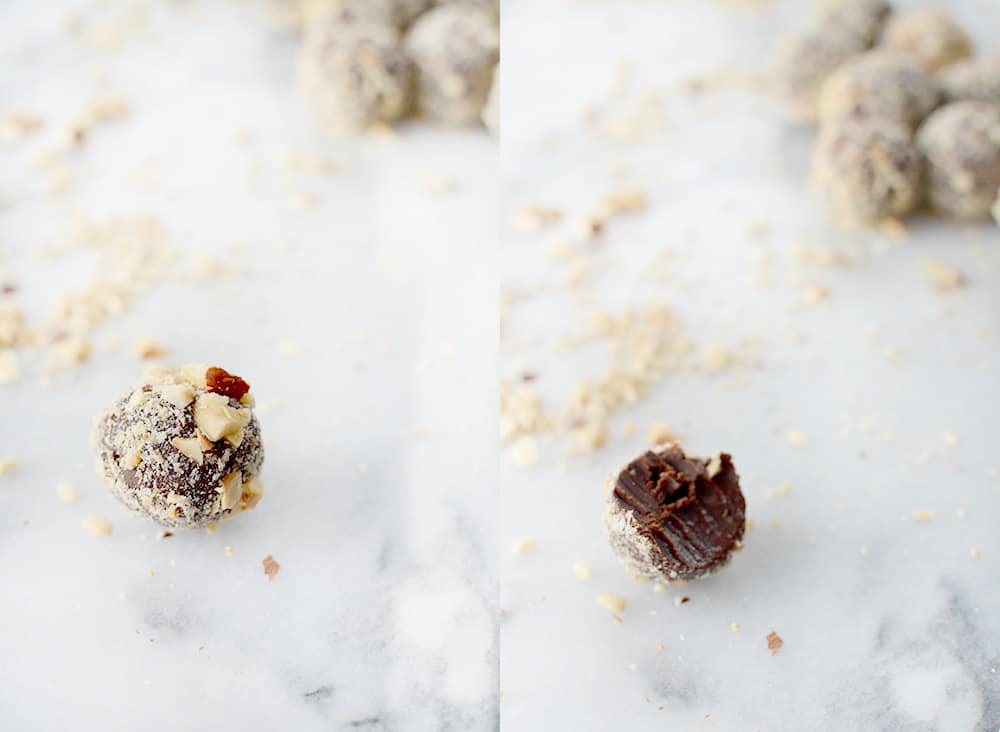 I'm so excited for Halloween tomorrow! My mom still rolls her eyes when I say that Halloween is my favorite holiday. (What? Were you expecting something more family oriented?) 
Costumes, candy, horror movies, and an excuse to put skeletons and fake crows all over my house? I lovvvvve it. BL and I are planning a romantic night in with back-to-back scary movies, delivery pizza, and these truffles for dessert. Also known as BL's most favorite date night idea.
This is the first year in a long time that we aren't hosting a Halloween party, mostly because we have a total of 3 friends in our new city. That's OK, I'm happy to hang up my own costume in exchange for handing out candy for the first time in my adult life. That's the fun thing about trading a condo for a house, we're actually expecting trick-or-treaters! I've gone all out with the Teal Pumpkin Project and lots of chocolate for those who want it.
Wishing you a wonderful Halloween- and an excuse to make these truffles!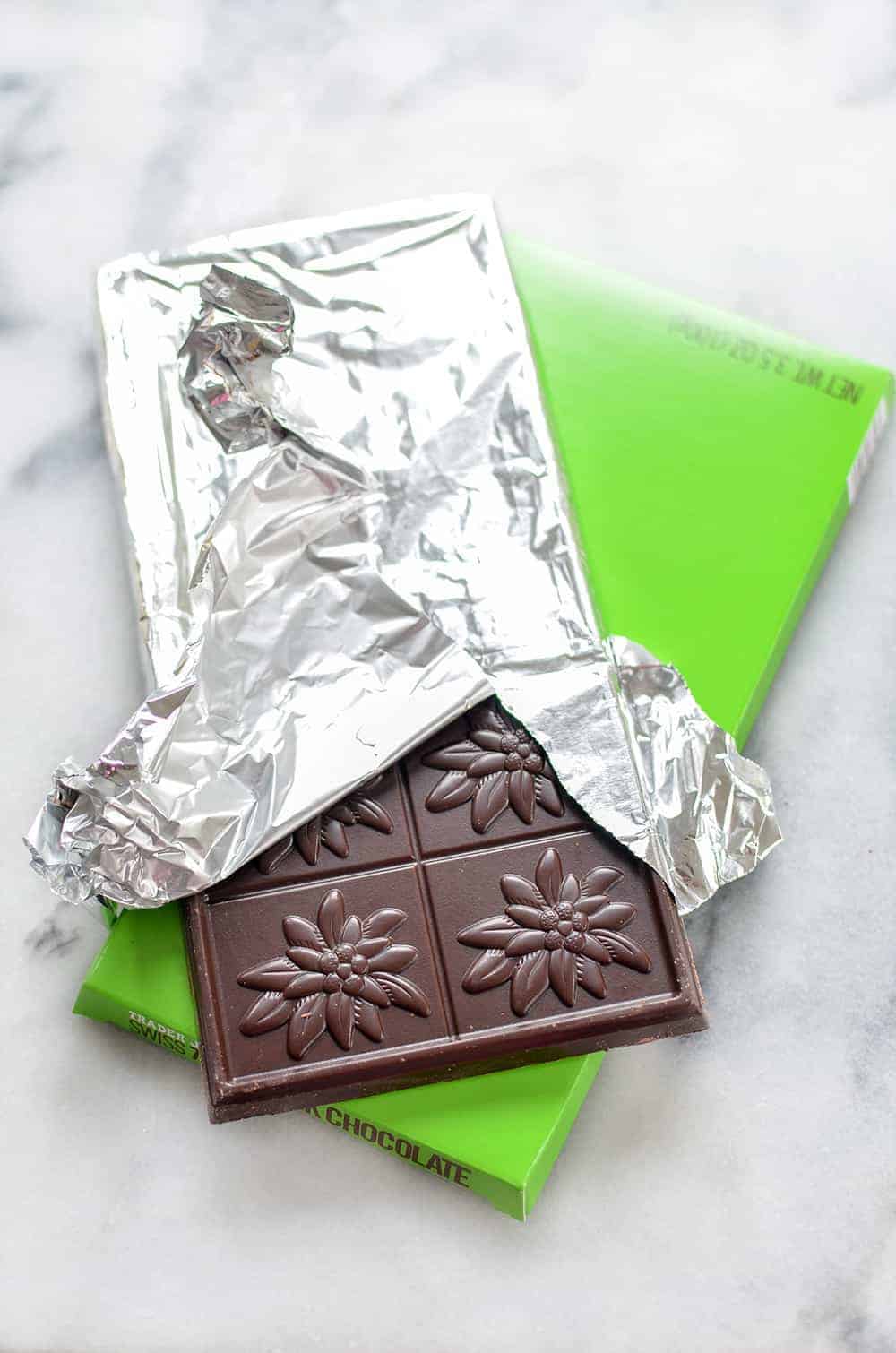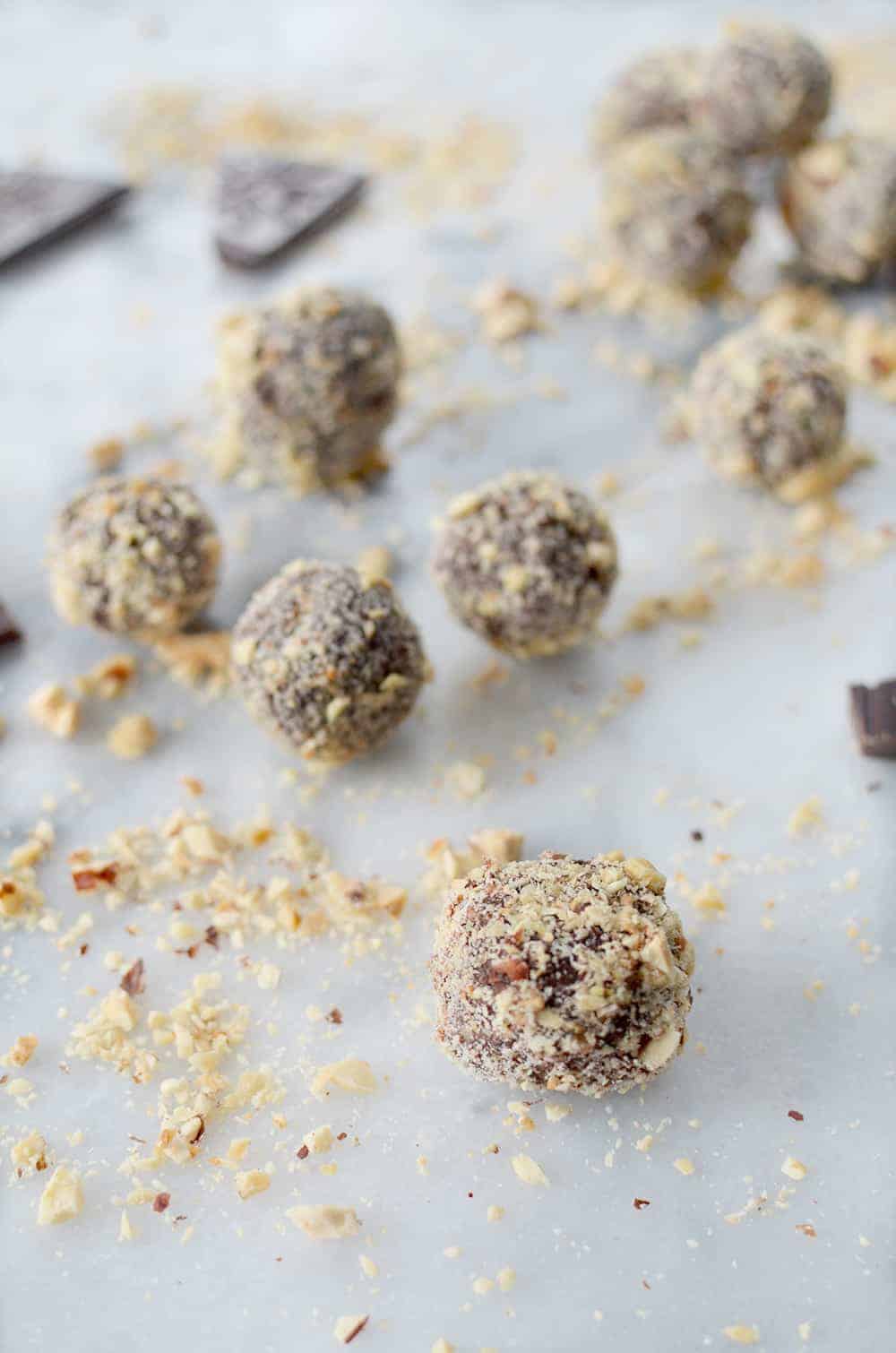 If you try this recipe, let me know! Leave a comment, rate it, and tag your Instagram photos with #delishknowledge . I absolutely love seeing your creations. Happy cooking! 
Print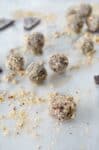 5 Ingredient Nutella Truffles
Author:

Prep Time:

10 minutes

Total Time:

10 minutes

Yield:

10 truffles

Category:

chocolate, healthy, halloween, holiday, easy, nutella, vegan, glutenfree
---
Description
Nutella Truffles! Healthy truffles made with only 5 ingredients! Vegan, glutenfree and naturally sweetened. You've gotta make these! | www.delishknowledge.com
---
Ingredients
3.5 ounces (about ~3/4 cup) very finely chopped dark chocolate
2 tablespoons full-fat coconut milk (or coconut cream)
1 tablespoon almond butter
1 tablespoon maple syrup
1/2 teaspoon pure vanilla extract (or a splash of rum!), optional
1/2 cup finely chopped hazelnuts
---
Instructions
Very finely chop the chocolate and place in a medium size bowl.
In a seperate, smaller bowl, whisk together the coconut milk, almond butter and maple syrup. Place in the microwave and cook until very warm but not boiling, about 30 seconds. (Alternatively, heat a small saucepan over medium heat until just simmering).
Add the coconut milk mixture to the chocolate and loosely cover with a towel to keep the heat in. Don't touch for 5 minutes. Remove the cover and use a spatula to gently stir the chocolate together, until it melts completely. Add in the vanilla extract and place the creamy, smooth chocolate mixture in the fridge until hardened, about 2-3 hours.
While the chocolate is firming up, finely chop the hazelnuts and set aside.
Once the chocolate is ready, remove from fridge and use a tablespoon to scoop out a hunk of chocolate and then roll with your hands into a ball. Immediately roll the ball into the hazelnuts to cover and set on a plate. Repeat with the remaining chocolate (you should get about 10 truffles)
Enjoy truffles immediately or refrigerate for another hour for more firm truffles.
Store in the fridge for up to a week. For best flavor, let stand at room temperature for 10 minutes before eating.