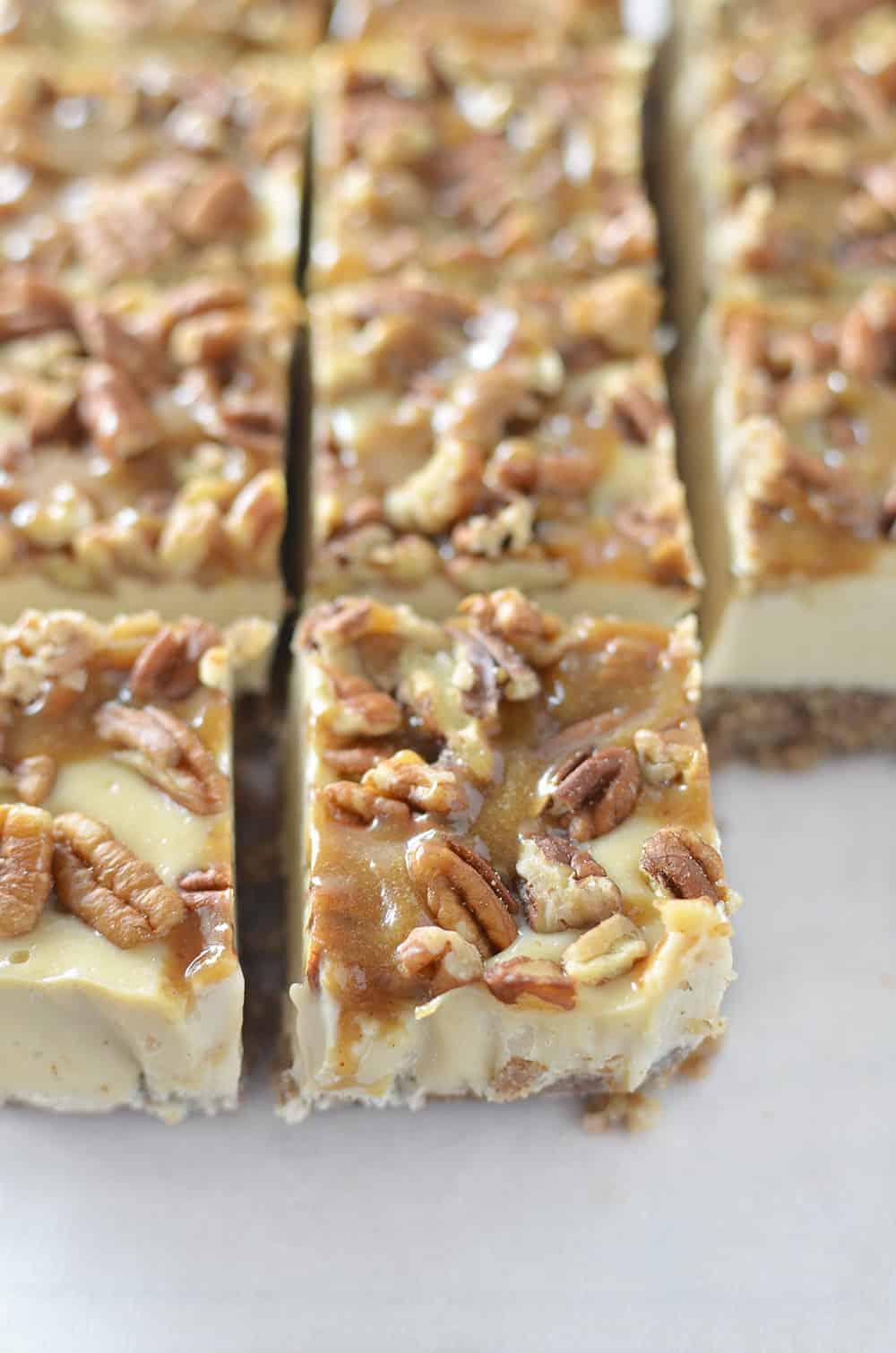 In light of events over the past few weeks, I am finding myself pulled more and more towards the season of thanks and gratitude. As recent news has reminded us, life is short, and I'm more thankful than ever for things I often take for granted: friends and family, a loving partner and security.
We're heading for Wisconsin early tomorrow morning and I am looking forward to unplugging for a few days to connect with loved ones, eat, drink and be merry. For me, Thanksgiving is a gentle reminder to become more present, putting down my phone and laptop, and spending quality time around the dinner table with people I hold most dear. Food is definitely my love language, it's how I bond and connect with others and I know this is true for so many of us. When we meet a new neighbor, we welcome with food. When a baby is born, we celebrate with food. When something tragic happens to someone we love, we console with food. It's an offering of care and consideration that can serve as a reinforcement or replacement for words. Food forges bonds and community.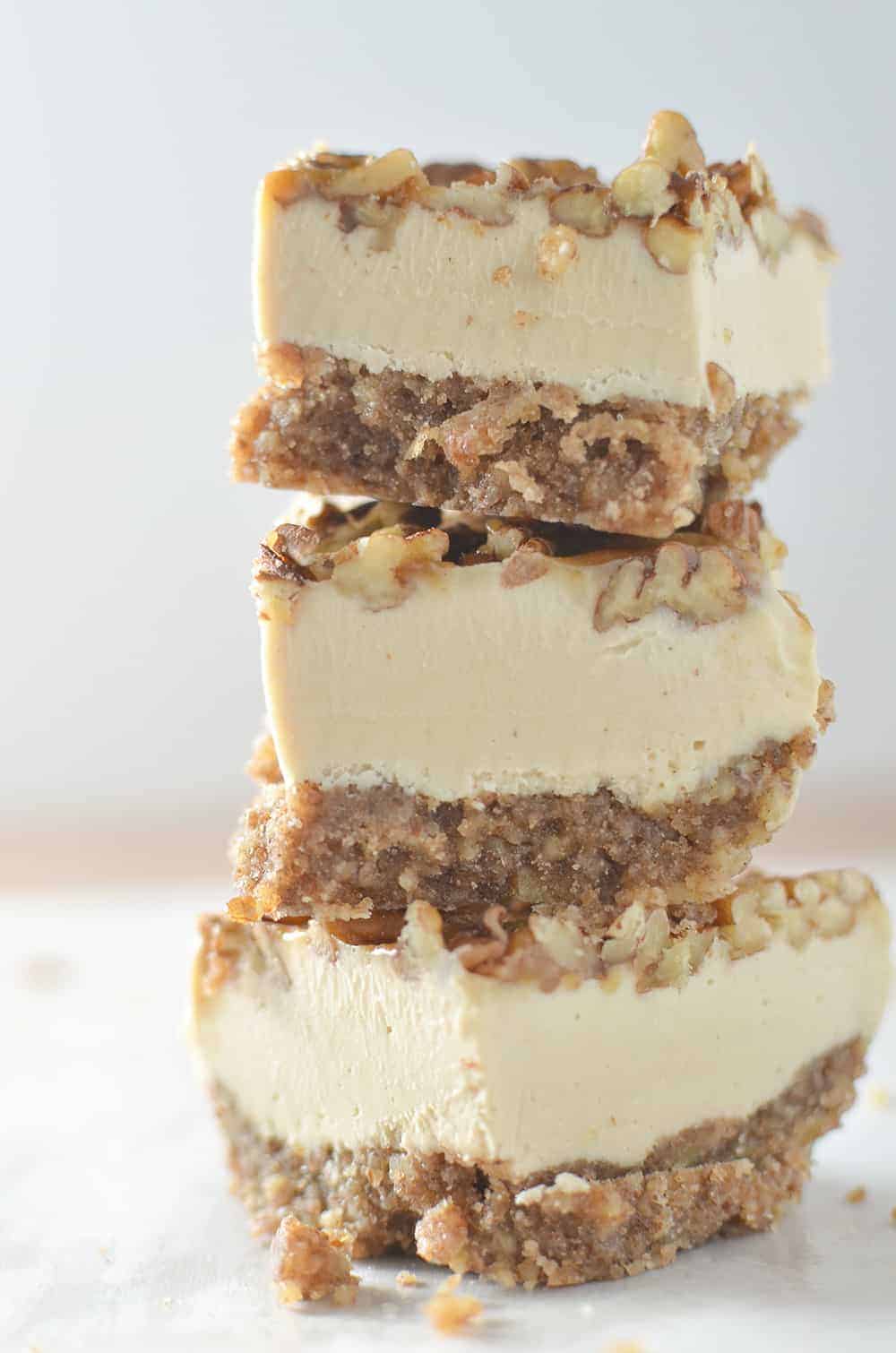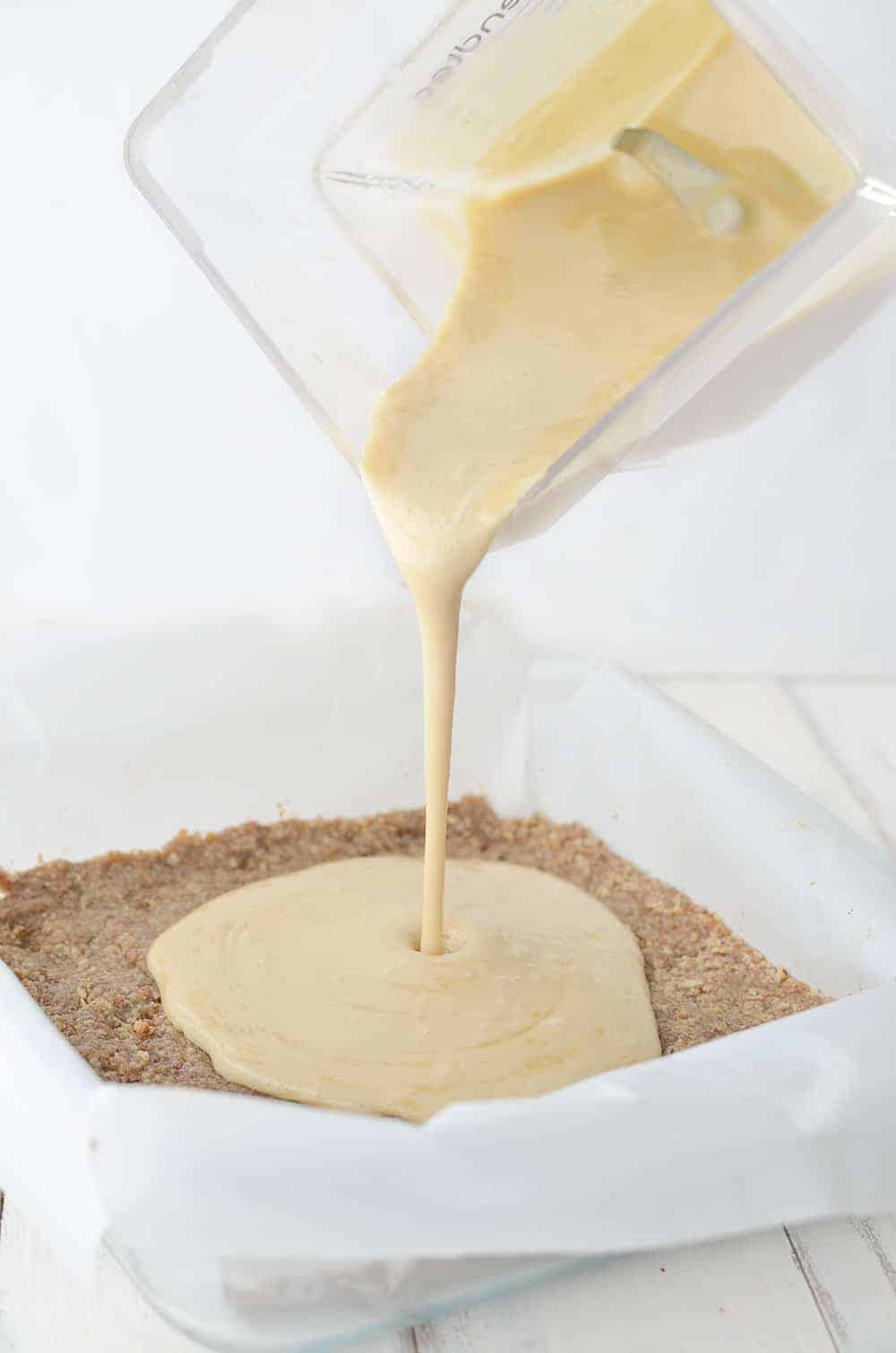 To showcase my gratitude to you, I want to share one of my favorite recipes of late, these no-bake pecan pie cheesecake bars. They are a slight riff on my pumpkin pie pecan bars that I shared last year, this time with a rich, creamy, dairy-free filling.
While these bars are definitely cleaner than most cheesecake bars, they are still an indulgent treat. I'm OK with that though. I care less about calories and fat grams than I do about what goes into my food. I'd much rather enjoy a dessert made from nuts and natural sweeteners then one laden with overly processed fare.
MY LATEST VIDEOS
The pecan pie base is so decadent, I don't blame you if you decide to forgo the cheesecake filling all together! I swear I eat about half of the filling before I get around to pressing it into the baking pan. It's sweet, salty, and buttery- just like I know pecan pie to be. The filling is a vegan cheesecake layer made entirely out of coconut, cashews, and maple syrup, a triple threat combination that won't have anyone missing the dairy. Even though it tastes very similar to traditional cheesecake, I prefer this combination as it doesn't come with that heavy cheese aftertaste.
I tested this recipe the same day I made a quick-caramel sauce for my Everyday Chef column and decided to drizzle the leftovers on these bars after they cooled. Naturally sweetened caramel sauce on top of pecan cheesecake bars? I don't know how it gets any better than this. It's optional, but if you have time, I highly suggest you make it. To save valuable oven space, make these a day or two ahead of time. They are best stored in the freezer and then pulled out to room temperature 15 minutes before serving.
Wishing you a wonderful Thanksgiving! ❤️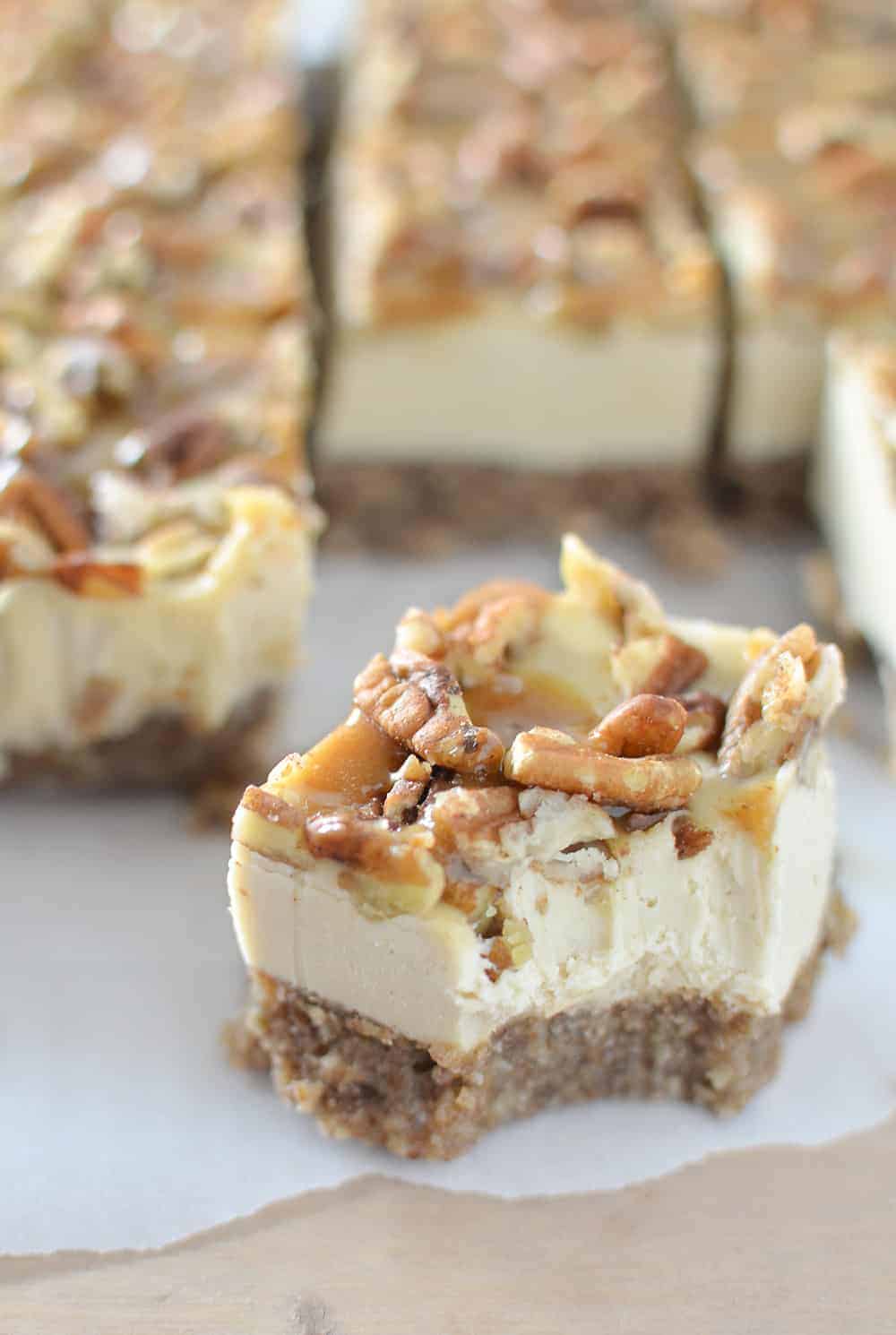 If you try this recipe, let me know! Leave a comment, rate it, and tag your Instagram photos with #delishknowledge . I absolutely love seeing your creations. Happy cooking! 
Print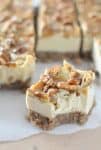 Vegan Pecan Pie Cheesecake Bars
---
Description
Vegan Pecan Pie Cheesecake Bars Recipe Type : pecan, cheesecake, desserts, sweet treats, glutenfree, vegan Author: Alex Caspero Prep time: 20 mins Total time: 20 mins Serves: 16 bars Pecan Pie Cheesecake Bars! Vegan and Gluten-Free! You are going to love these clean eating bars! Pecan Pie crust with dairy-free, no bake cheesecake filling. Topped with toasted pecans and maple-caramel syrup. A must make for Thanksgiving, Christmas or the Holidays!
---
Scale
Ingredients
Pecan Pie Crust

3 cup

s raw pecans, divided

5 tbsp

. light brown sugar

1 tsp

. cinnamon

½ tsp

. kosher salt

6 tbsp

. non-dairy butter, cubed (I like Earth Balance brand)
Vegan Cheesecake Filling

1 cup

raw cashews, soaked for at least 2-3 hours

1/8 cup

lemon juice

1/3 cup

melted coconut oil

1/2 cup

full-fat coconut milk (in the can, not in the carton. You need full-fat so it sets up correctly)

1/2 cup

maple syrup
Maple Caramel topping, optional

1/4 cup

real maple syrup

1 tablespoon

almond butter (peanut or other nut butter will work too)

1 teaspoon

s pure vanilla extract

¼ teaspoon

sea salt
---
Instructions
Preheat oven to 350° F. Place 2½ cups pecans, brown sugar, cinnamon, and salt in food processor and pulse until coarsely chopped.
Add butter and pulse until mixture is finely ground and resembles wet sand. Press the pecan mixture into a well-greased or parchment lined 8 X 8 pan. Bake 12-15 minutes until lightly colored and fragrant. Set aside until cool.
Place the drained and rinsed cashews, lemon juice, coconut oil, coconut milk, and maple syrup in a high powered blender and puree until creamy and smooth. This process may take up to 5 minutes, depending on the power of your blender. Pour cheesecake filling on top of crust.
Chop the remaining 1/2 cup pecans and sprinkle on the cheescake.
If using maple syrup topping, combine the maple syrup and almond butter in a small saucepan and cook over medium heat, stirring often until thick, about 2-3 minutes. Whisk in the vanilla extract and sea salt and let cool slightly. Drizzle over the cheesecake topping.
Place in the fridge/freezer for at least 4-6 hours until firm. These will set up better in the freezer, but will need to thaw at room temperature for 10 minutes until ready to cut.