Back in my grad-school days, pozole was affectionately known as the ultimate cure for any hangover. My roommates would rock-paper-scissor to see who got the chore of running down the street to the taqueria on Sunday morning to pick a few bowls up. I can still vaguely remember the smell of chili pepper, rendered fat and smoky broth.
A vegetarian by that point, I never got the chance to actually try pozole. While my roommates would argue over the last bite, I was always comforted in my cheese quesadilla or breakfast burrito, two fabulous hangover cures in their own right. But, like any good food-obsessive, I'm always curious on the traditional dishes that I miss out on.
A few weeks ago, I stumbled upon hominy in the grocery store. Like a memory magnet, I was instantly brought back to 2007, reminiscing about the previous evening over bowls of pozole. I'm sure hominy is used in countless dishes, but there's only one that I know about. So, I bought a few cans, came home and got to work. I can't promise that this is authentic pozole, but it's pretty damn good.
You'll need dried chilis to make the flavorful broth, which can be found in traditional grocery stores, specialty marts or online. I tend to find dried chilis near the produce section of my grocery store, so I'd start looking there if you don't typically buy them.
From there, it's all about layering chili spices, hominy and peppers. To up the protein, I added in kidney beans, which provide the right amount of bite and heft. Pozole is like chili, it doesn't really count if there aren't toppings. Try lightly fried tortilla strips, radishes, cilantro and avocado. Always avocado. 
This is one vegan stew you can enjoy all winter long, with or without a crazy night of tequila.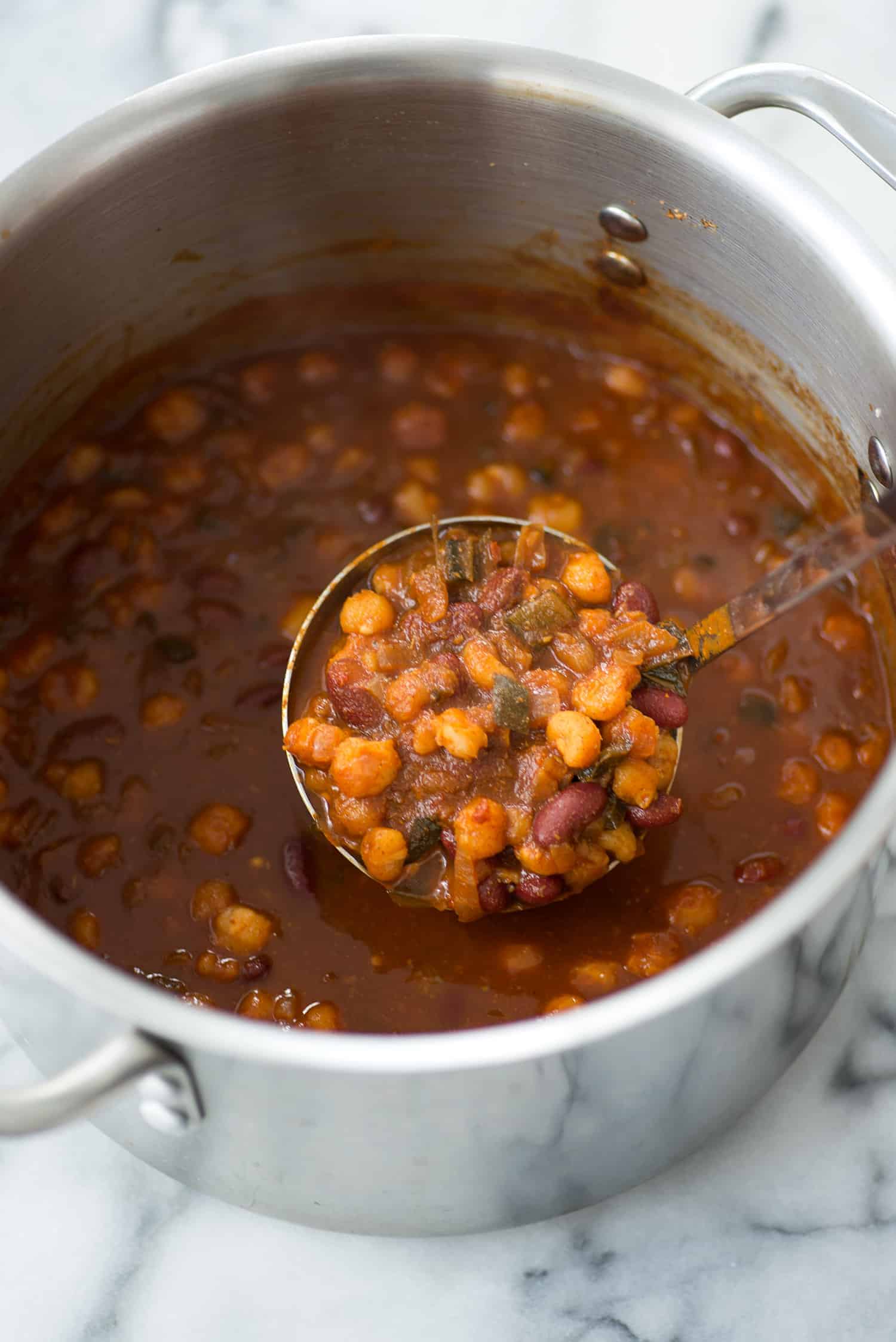 Vegan Pozole
Vegan Pozole! Hearty, protein-rich soup made with hominy, peppers and beans. Vegan and gluten-free.
Recipe type:
soup, dinner, healthy, vegan, glutenfree
Ingredients
½ cup dried chiles de arbol
2 dried ancho chiles
2 garlic cloves
1 tablespoon olive oil
1 yellow onion, diced
1 poblano pepper, diced
1 tablespoon chile powder
1 tablespoon ground cumin
1 teaspoon dried Mexican oregano (can sub regular oregano)
¼ teaspoon smoked paprika
2 15 ounce cans hominy, drained
1 15 ounce can kidney beans, drained and rinsed
4 cups vegetable broth (I prefer Pacific Food's vegetable broth)
1 bay leaf
1 lime, juiced
¼ cup chopped cilantro, plus more for garnish
toppings of choice: sliced radishes, diced avocado, cilantro, lime wedges, crispy tortilla strips
Instructions
Remove the stems from the dried chilis and as many seeds as possible. Place dried chilis in a bowl with hot water, submerging the chilis with a plate if needed until soft, about 15 minutes. Transfer the chiles and 1 cup of the soaking liquid to a high-powered blender along with the garlic. Puree until smooth.
In a stock-pot or dutch oven, heat the olive oil over medium heat. Add the onion and poblano pepper and cook until very soft and tender, about 15 minutes. It should be browned and very tender.
Add in the spices (chile powder, cumin, dried oregano, paprika) and cook another minute or two.
Stir in 1 cup of the chile sauce (can add more depending on spice preference), vegetable broth, bay leaf and bring to a boil.
Reduce heat to low, cover and simmer for 20 minutes, until thickened.
Stir in the lime juice and cilantro. Season to taste as needed, with salt and pepper.