Sesame Garlic Noodles! Udon noodles tossed with a gingery-garlic sauce and faux-fried tofu. Grab the chopsticks!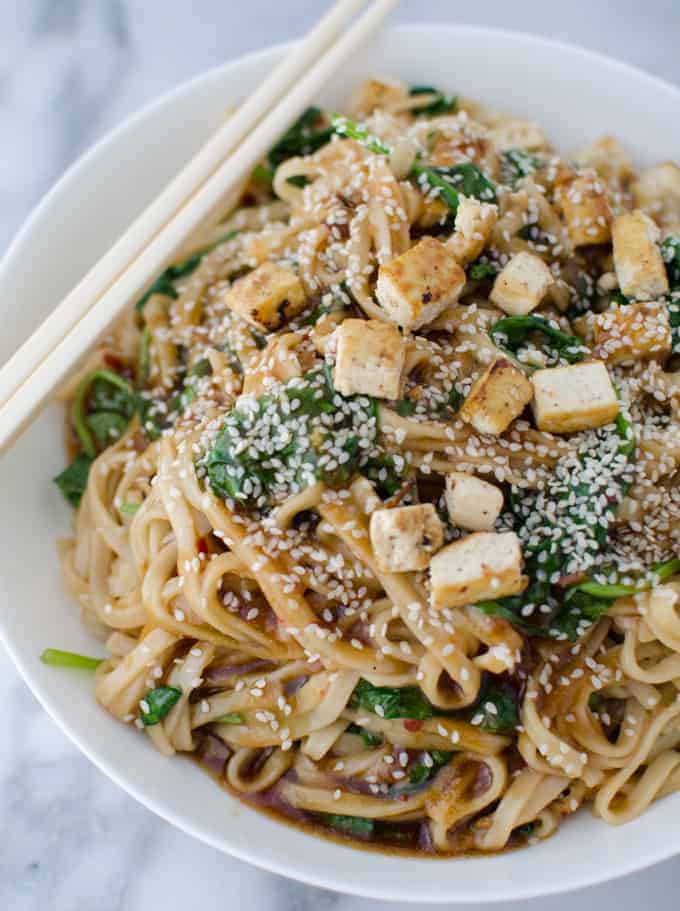 How do I even begin to describe the deliciousness of these stir fry noodles?
Quick sesame ginger stir fry sauce (healthier & much more flavorful than jarred stuff) stir fried with udon noodles, lightly fried tofu and spinach.
See BL, your wish is my command. You asked for more stir-fry, and you got it. Of course, you got stir fry NOODLES because I still had to get my pasta fix, and I will always choose slurpy, sauce-coated noodles over rice.  Every time.
I haven't even told you the best part! These stir fry noodles take less than 30 minutes to make from start to finish.
Press the tofu (more below), boil the water, make the sauce. Once everything is prepped, the entire dish is ready in less time than it takes to check your current facebook feed. Which, as we transition into the Fall Semester, is exactly what I need.
Healthy dinners that I can whip up (and my husband can clean up) in the time it takes me to catch up on True Blood.  It also leaves me enough time to enjoy my evening and quality time with B.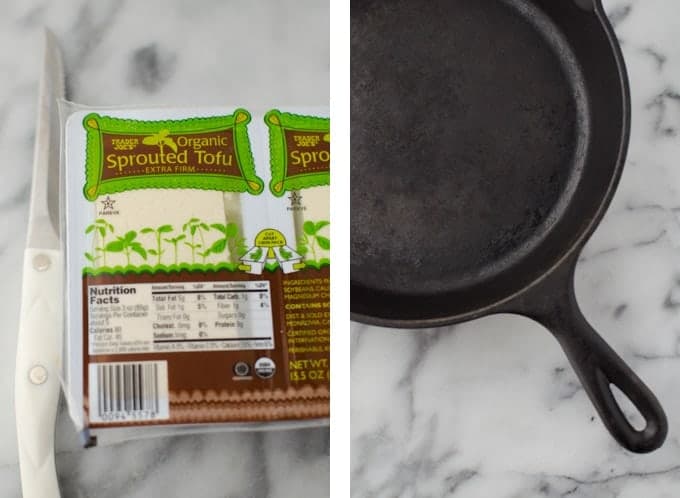 To start, you're going to need to press the tofu. This is one of those things that no one really talks about when it comes to tofu prep, but it is ESSENTIAL. Pressing tofu gets rid of extra moisture —-> needed for crispy, not-soggy cubes. Pressing also allows your tofu to soak up the flavor of whatever sauce you are using. A double shot of flavor in every bite!
Since I hate cleaning extra plates, I just use my heavy-duty cast iron to press the tofu. My cast-iron pan is my go-to pan for just about everything in life. Even though my cookware tops the $1000 range (please send help), I often find myself picking up my $30 cast-iron pan over and over again. Ironic, no? It's my favorite pan and the best for crispy tofu!
Remove the tofu from package and give it a quick rinse. Wrap tofu in-between a few layers of paper towels and place on a cutting board (or plate if you want to get fancy). Place a heavy pan on top and let sit for 5-10 minutes until most of the water is pressed out.
Gently pat tofu dry and cut into cubes. Now, we can fry!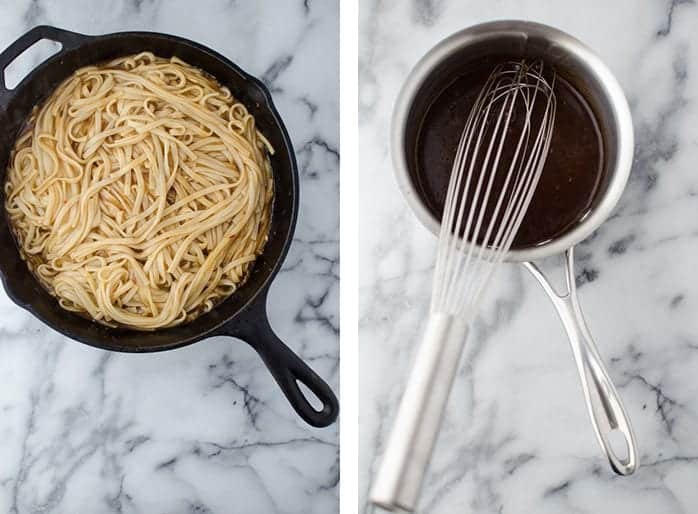 This stir-fry sauce is an old favorite, one I tweak from recipe to recipe depending on what kind of mood I'm in. To me, it's the perfect combination of the best stir-fry flavors: sesame, ginger, and garlic.
I like a little heat to balance the ginger so I added a generous tsp. of red pepper flakes. Add more or less to your liking.
Make the sauce while the udon noodles are cooking. I LOVE udon noodles and always have the same thought while I am making them — why don't I make these more often? They really hold up to a thick stir-fry sauce like this one.
I add spinach, for both color and nutrients but I think any vegetable would taste great here. Swiss chard, I'm coming for you in this dish next! If you are using a heartier vegetable, add it to the skillet before you add the noodles so they have more time to soften.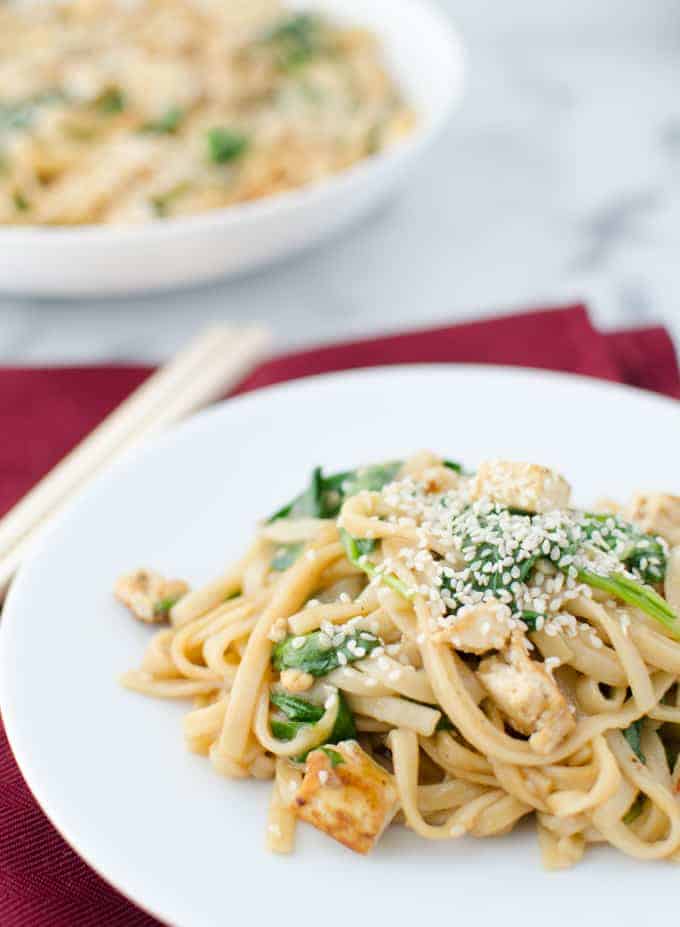 Yeah, it's as good as it looks. If you make it- let me know! I love seeing your photos and hearing about your customizations.
If you try this recipe, let me know! Leave a comment, rate it, and tag your Instagram photos with #delishknowledge . I absolutely love seeing your creations. Happy cooking! 
Print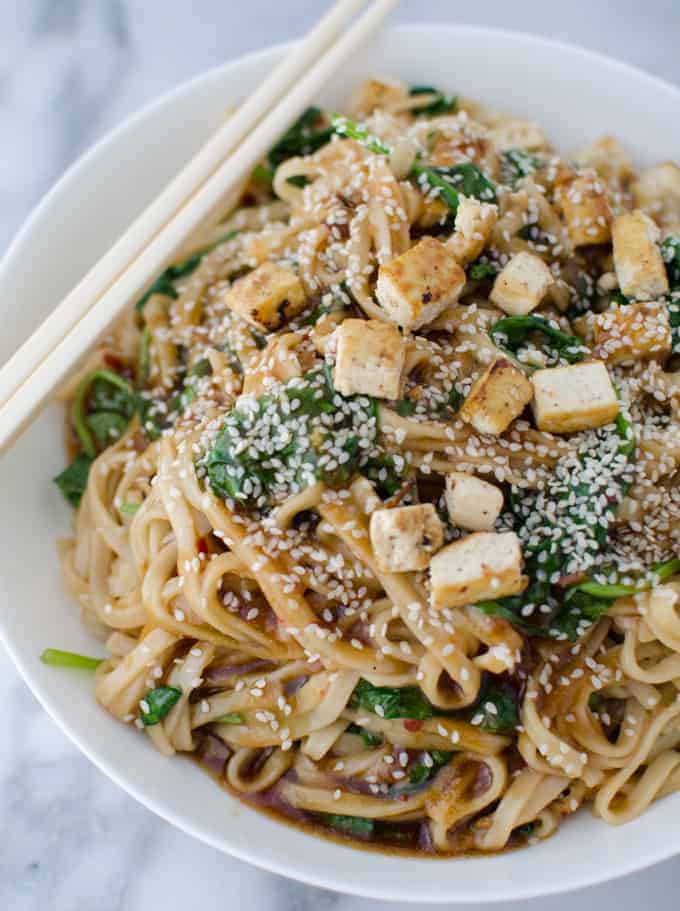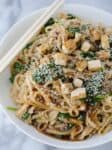 Sesame Garlic Stir-Fry Noodles
---
Description
Vegan sesame garlic stir-fry noodles. This quick and healthy meal comes together in less than 30 minutes! Recipe inspired by Pinch of Yum
---
Scale
Ingredients
1/2 cup

+

2 tbsp

. vegetable broth

4 tbsp

. soy sauce

1 tbsp

. rice wine vinegar

1 tsp

. corn starch, dissolved in water

1 tbsp

. sesame oil

1

garlic clove, minced

3 tbsp

. grated ginger

1 tsp

. crushed red pepper flakes

10 oz

. udon noodles

8 oz

. tofu, drained and pressed then cut into cubes.

1 tsp

. oil

4 cup

s spinach leaves
sesame seeds, for topping
---
Instructions
Bring a pot of boiled water to a boil. Add the noodles and cook for 2 minutes until soft but slightly undercooked. Drain and rinse with cold water (this will stop the cooking process).
Whisk together the corn starch slurry, vegetable broth, soy sauce, rice wine vinegar and sesame oil. Place in a small pot and bring the sauce to a boil. Reduce the heat to low and simmer, adding the ginger, garlic and red pepper flakes. Cook on low until thick and reduced.
Bring a large non-stick pot and heat the oil over medium-high heat (like a cast iron pan)
Add the diced tofu and stir fry until golden brown on all sides.
Add 2 tbsp. of sauce and quickly cover the tofu, taking care not to break the cubes.
Remove the tofu from the pan.
Add the cooked and drained noodles along with the spinach and sauce.
Stir fry for a few minutes until hot. If the sauce becomes too thick, add a tbsp. or two of water.
Toss the noodle mixture with the tofu and serve with sesame seeds.
---