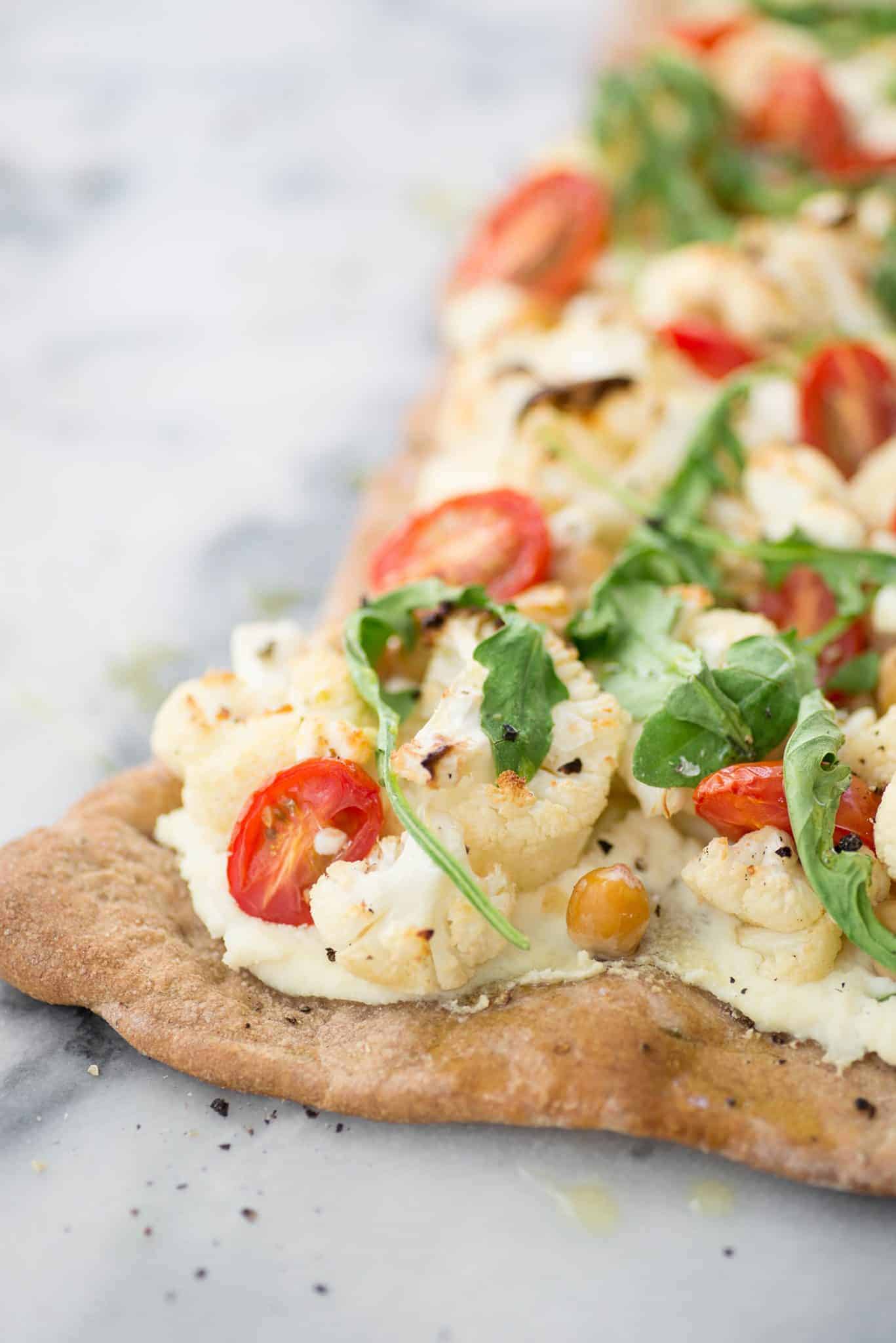 One of the most interesting things to me during my pregnancy thus far is my aversion to most red sauces. Pesto? I'll take it. Any sauce with lemon or avocado? Done. But plain ol' marinara? I don't even want to be in the same room.
Which, is ironic for lots of reasons, not the least of which because I wrote a cookbook last year on Italian cuisine. That baby is packed with recipe after recipe utilizing red sauces. Hoping this is a temporary thing and not a permanent one.
So, I'm getting creative with my pizzas because BREAD is most certainly still a favorite food. I suppose I don't even need toppings, just the crust will do for me. But, since this is a place where we share actual recipes and ideas, I made you one with crispy cauliflower, arugula, chickpeas and juicy tomatoes.
Because right now, raw tomatoes > cooked tomato sauce.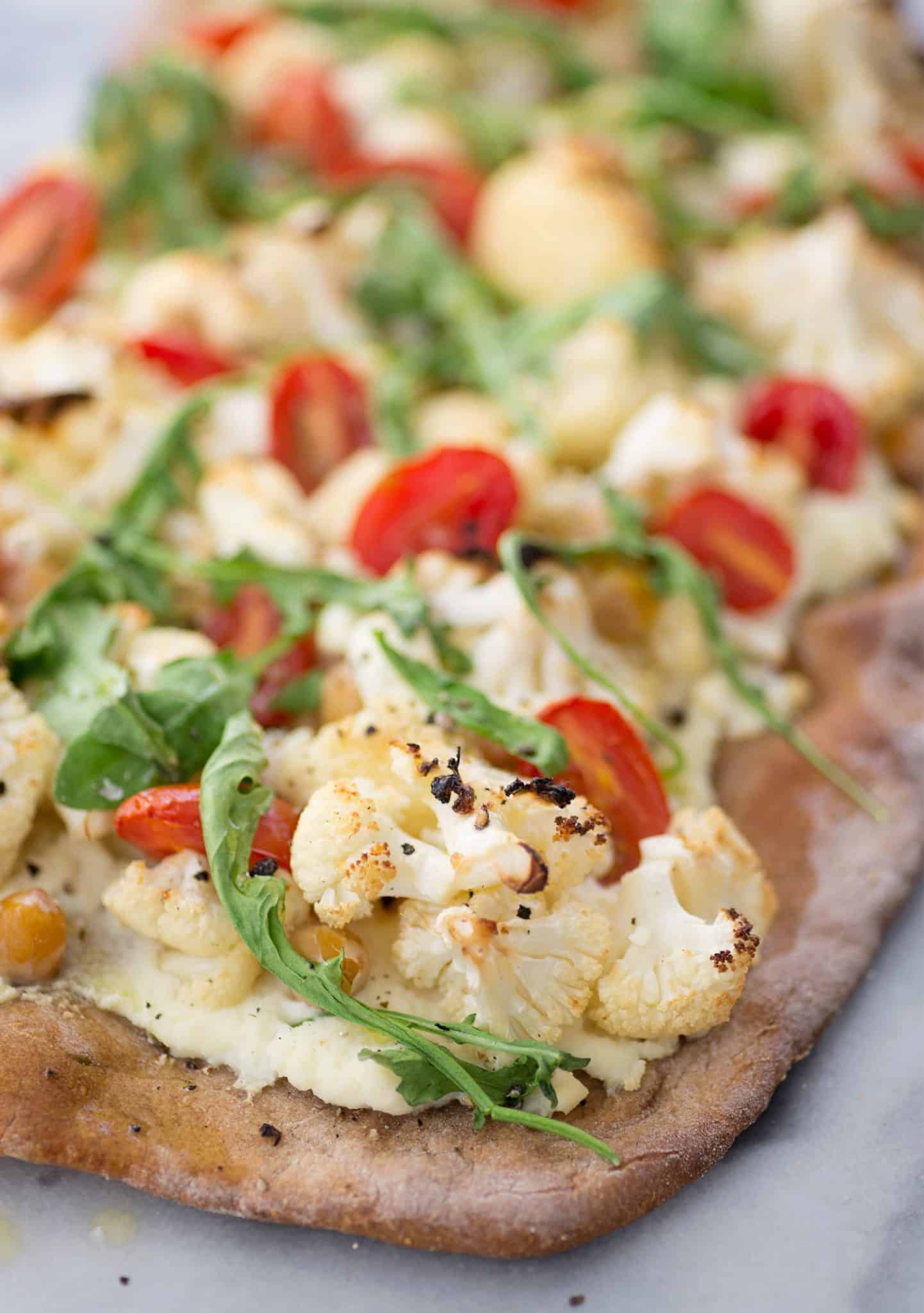 Cauliflower has been my main vegetable of choice for a while now. Perhaps because it's so versatile and fairly bland. I can eat batch after batch of steamed cauliflower without batting an eye.
Roasting takes it to a whole new level, even with the added prep, it's worth it. If you're like me, it's worth making extra cauliflower as you'll end up eating half the tray while prepping the pizza.
For the pizza, I used two different kinds of cheese: ricotta and goat. For my dairy-free friends, I think a plain cashew white sauce or nut ricotta should work in it's place. I haven't tried it, but if I was going to do a substitute, that's what I would try.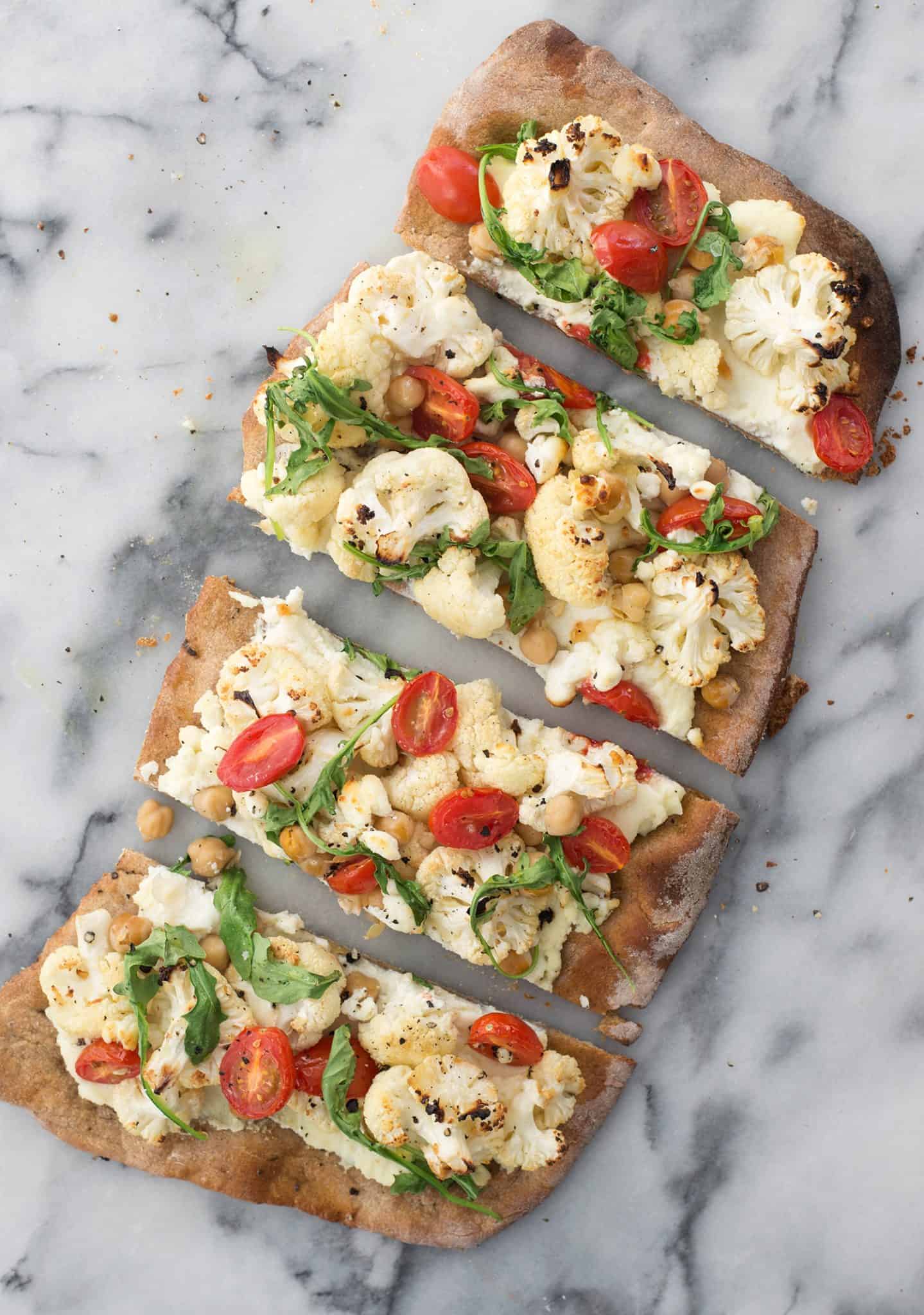 When I was testing this one, I couldn't get over how delicious it made my kitchen smell. The sweet, caramelized scent of roasted cauliflower, bubbly cheese and pizza crust. If this was a candle, I'd burn it all day long.
Lastly, don't omit the drizzle of olive oil at the end. I've gotten into this habit recently with my soups and thought it would be a nice touch on the flatbread as well. It's a game changer, a light scent of fruity olive oil pulls everything together. You don't need much, a tiny shake will do.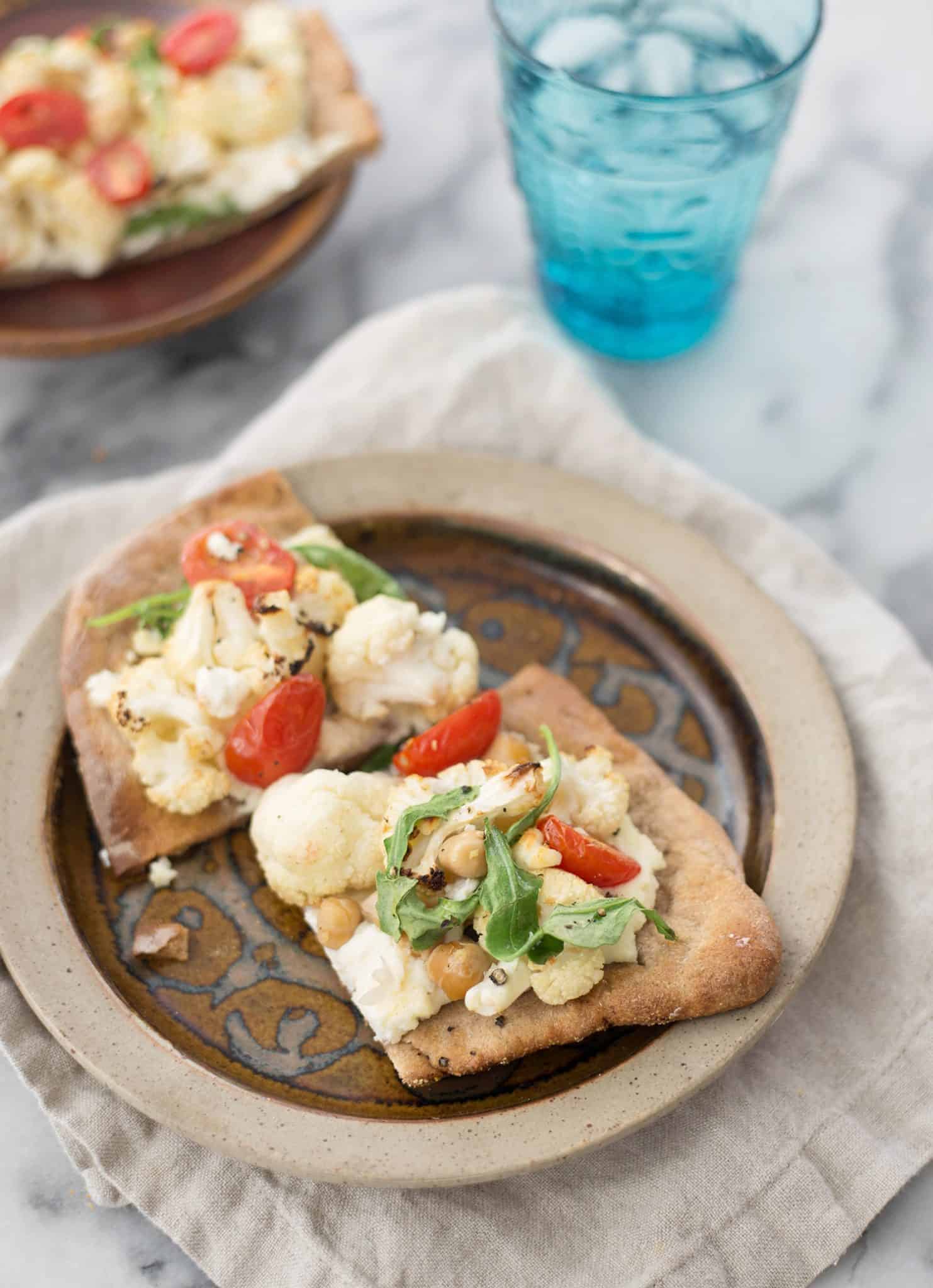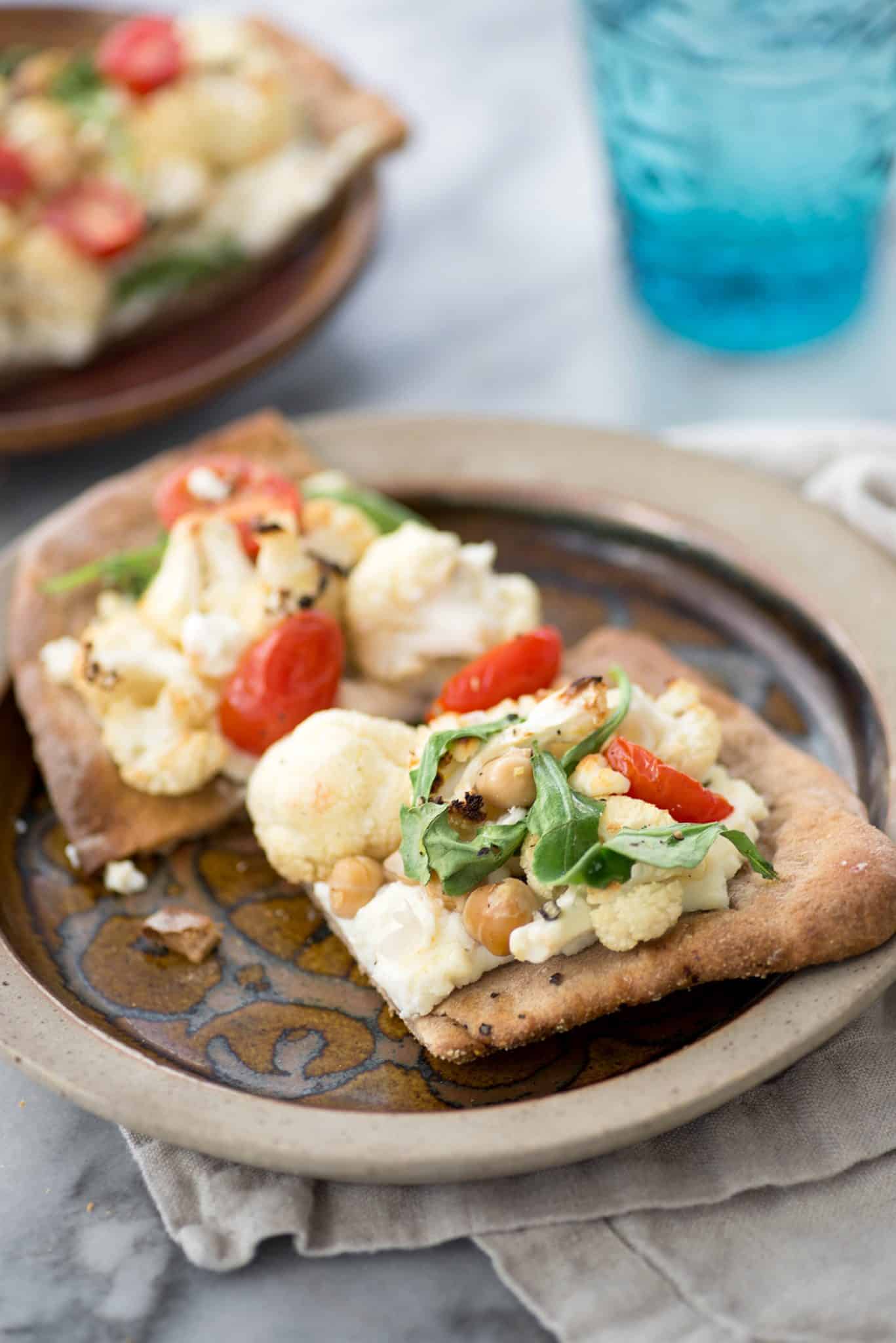 If you try this recipe, let me know! Leave a comment, rate it, and tag your Instagram photos with #delishknowledge . I absolutely love seeing your creations. Happy cooking! 
Print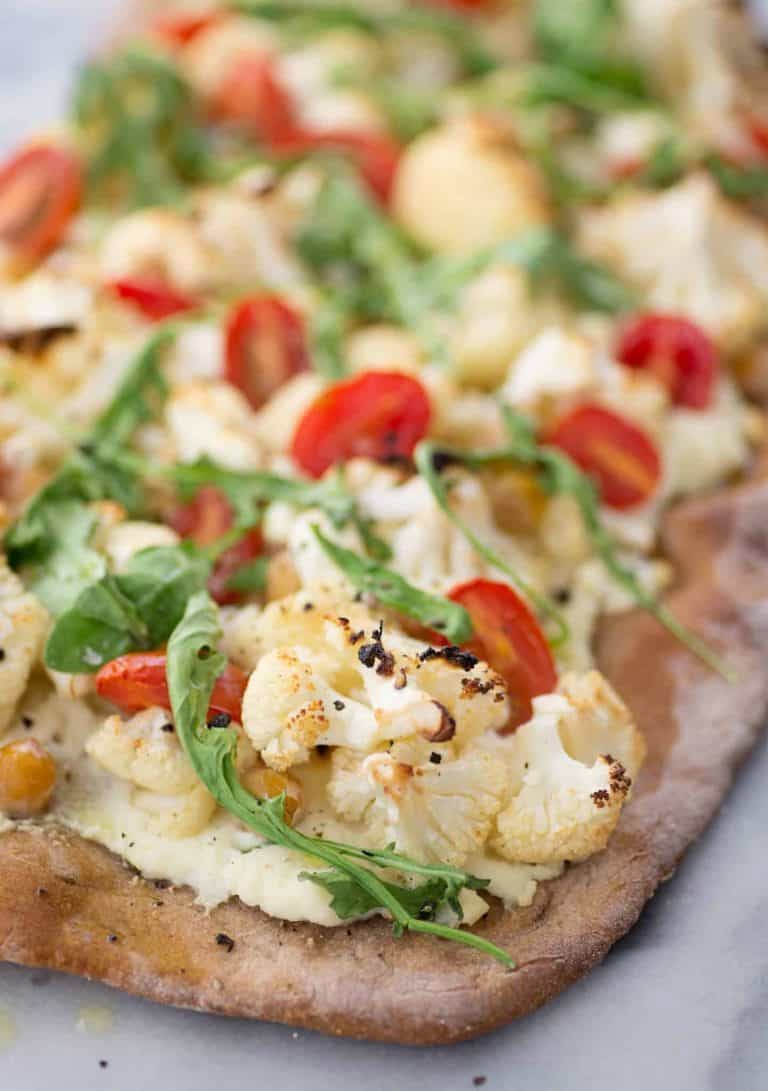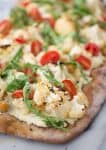 ---
Description
Cauliflower White Pizza. This Cauliflower, Chickpea and Arugula Pizza with tomatoes, ricotta and goatcheese is a delicious vegetarian option. 
---
Scale
Ingredients
1

head cauliflower, cut into small-sized florets

2 tablespoon

s canola oil

2

garlic cloves, minced

1 teaspoon

salt

1 teaspoon

black pepper, ground

1 teaspoon

onion powder

1

pre-made pizza dough 

½ cup

 ricotta cheese

½ cup

 cherry tomatoes, halved

3 oz

. goat cheese

4 oz

.  canned chickpeas

¼ cup

 arugula
extra-virgin olive oil for drizzling
---
Instructions
Heat oven to 400˚ Toss cauliflower florets with canola oil, garlic, salt, pepper, and onion powder.
Roast for 25 minutes or until they are tender and slightly charred. Remove from oven and set aside.
Heat up oven to 500˚ Place pizza stone in oven to heat up.
On lightly floured surface, roll and stretch out dough into long rectangle that is approximately ¼- ½ inch thick.
Take out pizza stone from oven and spread cornmeal out where dough will lay. Gently transfer dough to pizza stone and back for 5-7 minutes or until dough is crispy yet still slightly doughy.
Remove pizza stone and dough from oven, spread ricotta leaving ¼- ½ inch of space for crust.
Over top of ricotta, distribute cauliflower, tomatoes, goat cheese, and chickpeas.
Bake for 10 more minutes, then add arugula to flatbread.
Continue to bake until crust is golden brown. Finish with olive oil and course black pepper.
---