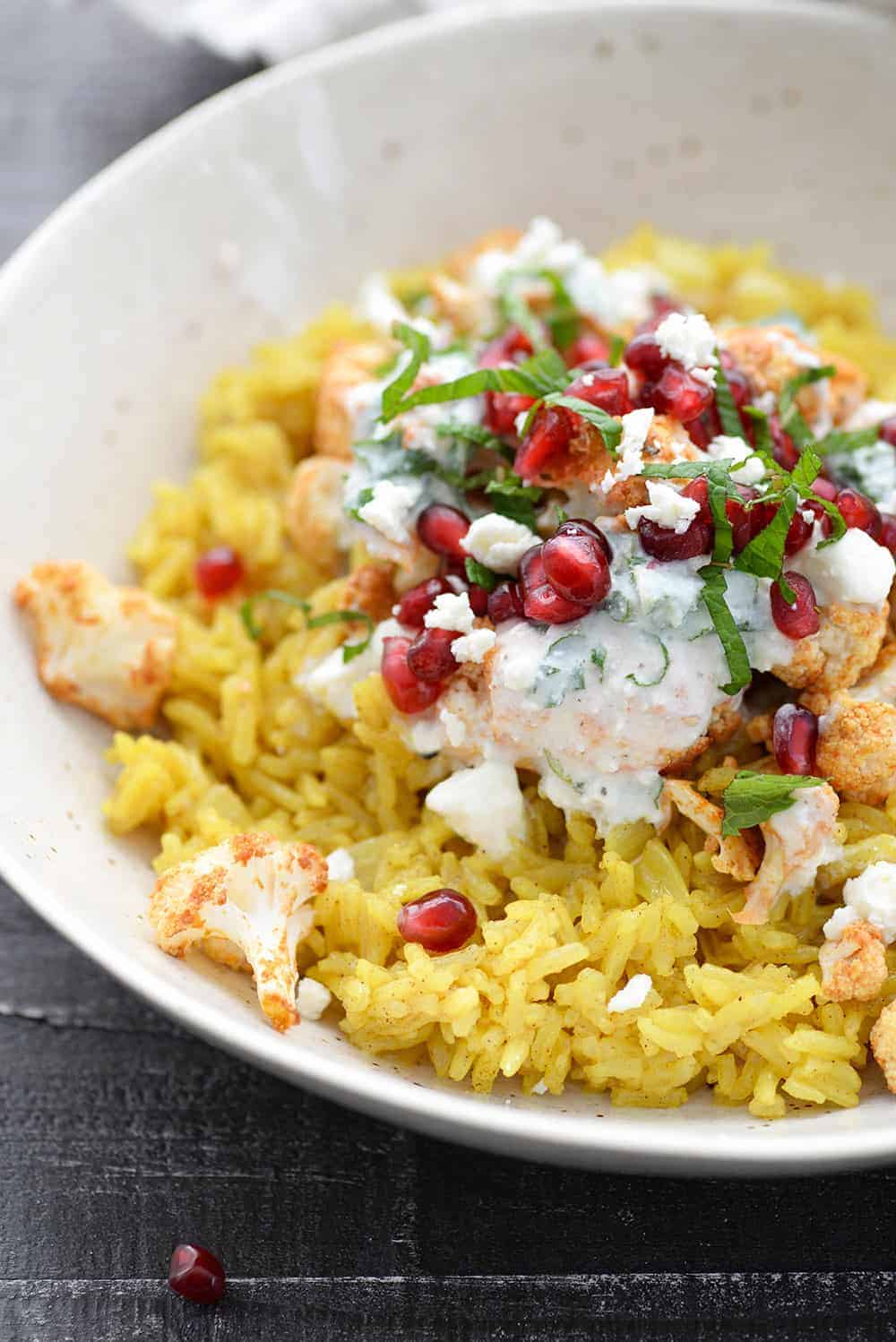 I've got dinner for you tonight! It includes the BEST basmati rice, tender tandoori cauliflower, a yogurt-feta sauce and lots of fresh mint and pomegranate seeds.
Are we still on the bowl kick? I swear I eat bowls like this a few times a week. They're like salads, but heartier. Especially in the winter months, I cannot live on crisp romaine and raw vegetables. I rarely crave salads this time of year, but bowls? Gimme all the grains, roasted vegetables and a yummy sauce.
These are inspired by one of my favorite cuisines, Indian food. Did you know I have an Indian husband? Well, sorta an Indian husband. An Indian food husband! My actual husbands' best friend is Indian and over the course of sharing 100+ meals together, I've decided that we have the exact same flavor palate.
I call Harnoor my food husband because his food heart is my food heart. We both see no problem in ordering double brunch entrees so we can enjoy savory and sweet, and we both understand the desire to flavor grub even if we aren't hungry. Flavor grubbing = eating delicious food just because you can.
While I won't pretend that I know my way around an Indian kitchen, I've definitely picked up a few (read: begged for his family recipes) tricks from Harnoor along the way. I don't know if this tastes like Tandoori chicken because I've never actually had Tandoori chicken, but I have had this tandoori cauliflower bowl and it rocks.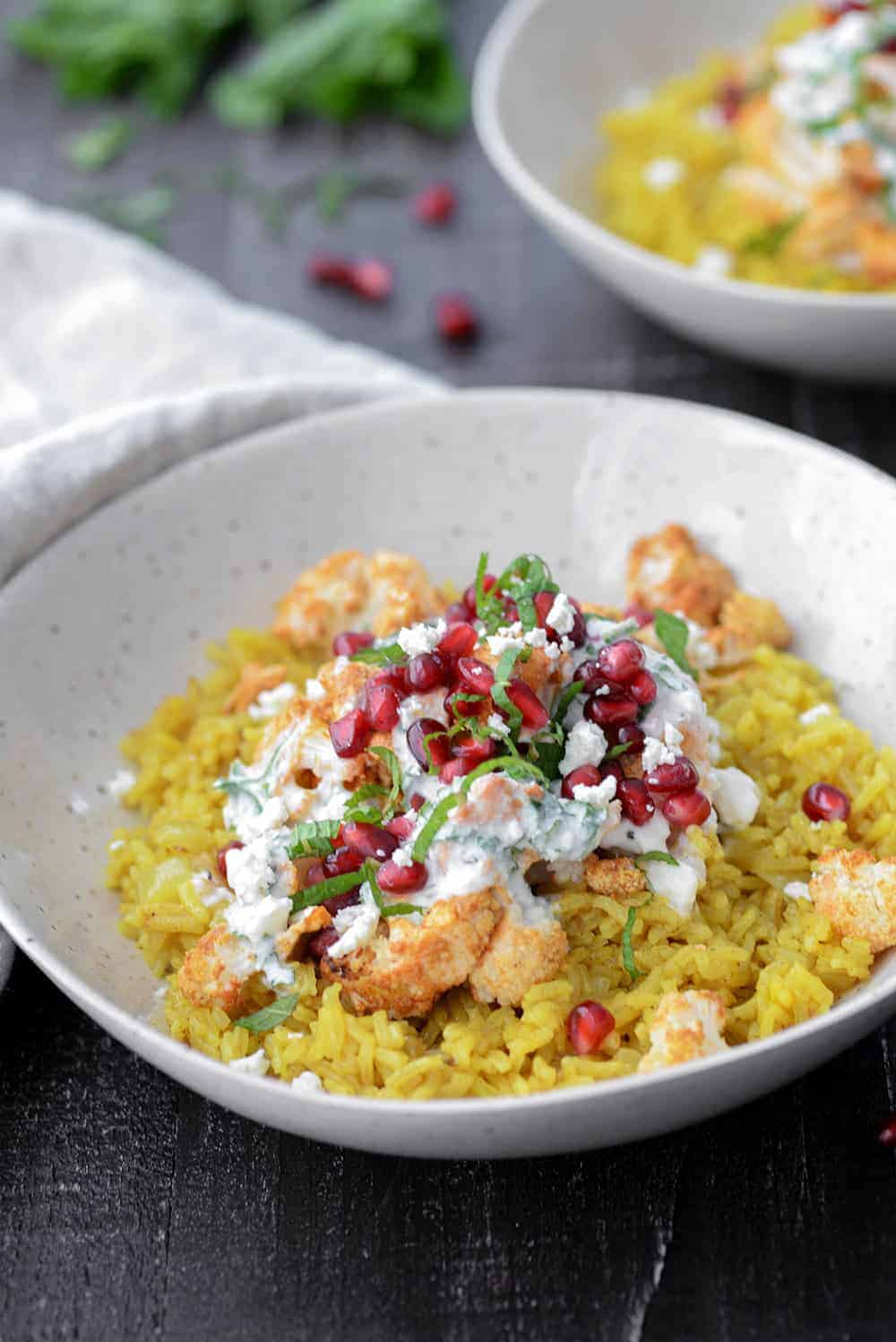 Even if you don't make the cauliflower, will you promise me you will make this rice?
I don't want to eat another bowl of plain steamed rice again. This rice is so unbelievably good you'll just have to trust me. Make extra. Double the recipe. Triple the recipe. You'll likely be sorry you didn't once you dig into that first bite.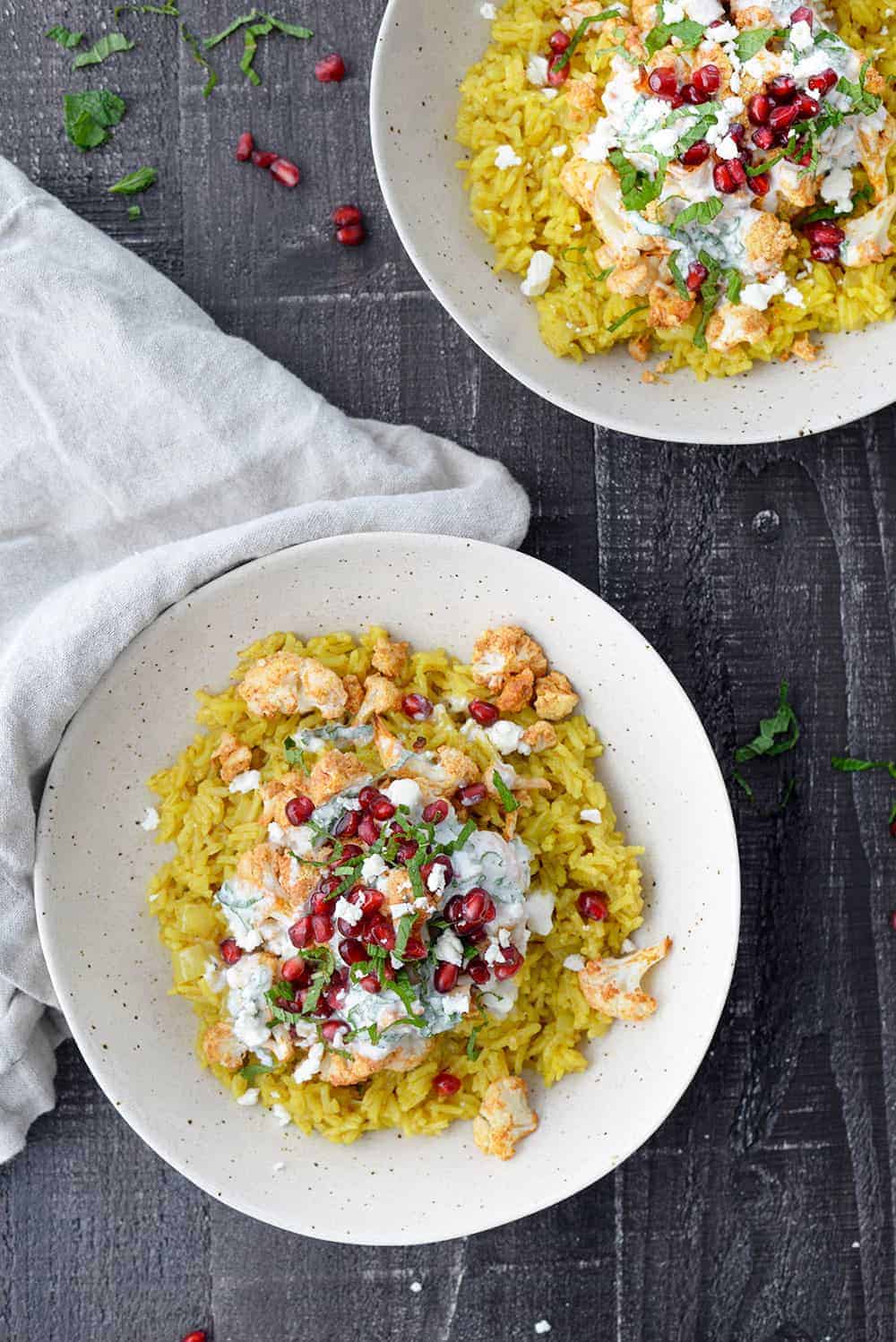 Before I leave, can we talk about Weight Watchers a little bit?
If you didn't see, I wrote a post on Facebook and Instagram earlier this week on my thoughts about Weight Watchers announcing that they were giving teens a free membership this summer.
I know I see things through an eating disorder lens. I cannot help it. I've been working with eating disorder clients for over 10 years now and fairly or unfairly, it's colored the way I view diets- even those that are well intentioned.
I've received so many emails from you who are on Weight Watchers and believe in its mission. I hear you. I understand that WW can be a good place. Especially with their new point system, there is more of an emphasis on whole grains/fruits/vegetables than before. And, there is the motivation to exercise. ALL of these are awesome things. And ALL of these things can be taught without the additional pressure of having to "weigh in" each week or track points. Counting points is just a fancier way of counting calories.
I've lost count of how many clients have been triggered by those damn weekly weigh-ins. Literally skipping meals beforehand if they've been "bad" that week so they aren't shamed by the leader asking, "what did you do this week that would make you gain weight?"
Of course, I know that not everyone who goes on a diet develops an eating disorder. And, for most adults, we can separate the idea of weight loss and 'you are not enough.' Because on some level, that's what every diet plan tells you. You aren't healthy/attractive/good enough the way you are but you will be if you lose weight.
I know that to be true because I hear it over and over again from my clients of all ages, but especially my teens. The American Academy of Pediatrics thinks this as well. Which is why last year they advised parents and providers to not encourage weight loss or dieting for children and teens, and instead focus on promoting healthy behaviors. Studies have shown putting children on diets results in a twofold risk of them actually becoming overweight, and that dieting is the strongest predictor of their developing an eating disorder.
So, that's my peace. I'm advocating for Weight Watchers to #wakeup and not target teens. You can read my full post here and you can let me know your thoughts on that post or in the comments below. As always, I value your thoughts and point of view. Even those that differ from mine.
Now, go eat some Tandoori Cauliflower! xo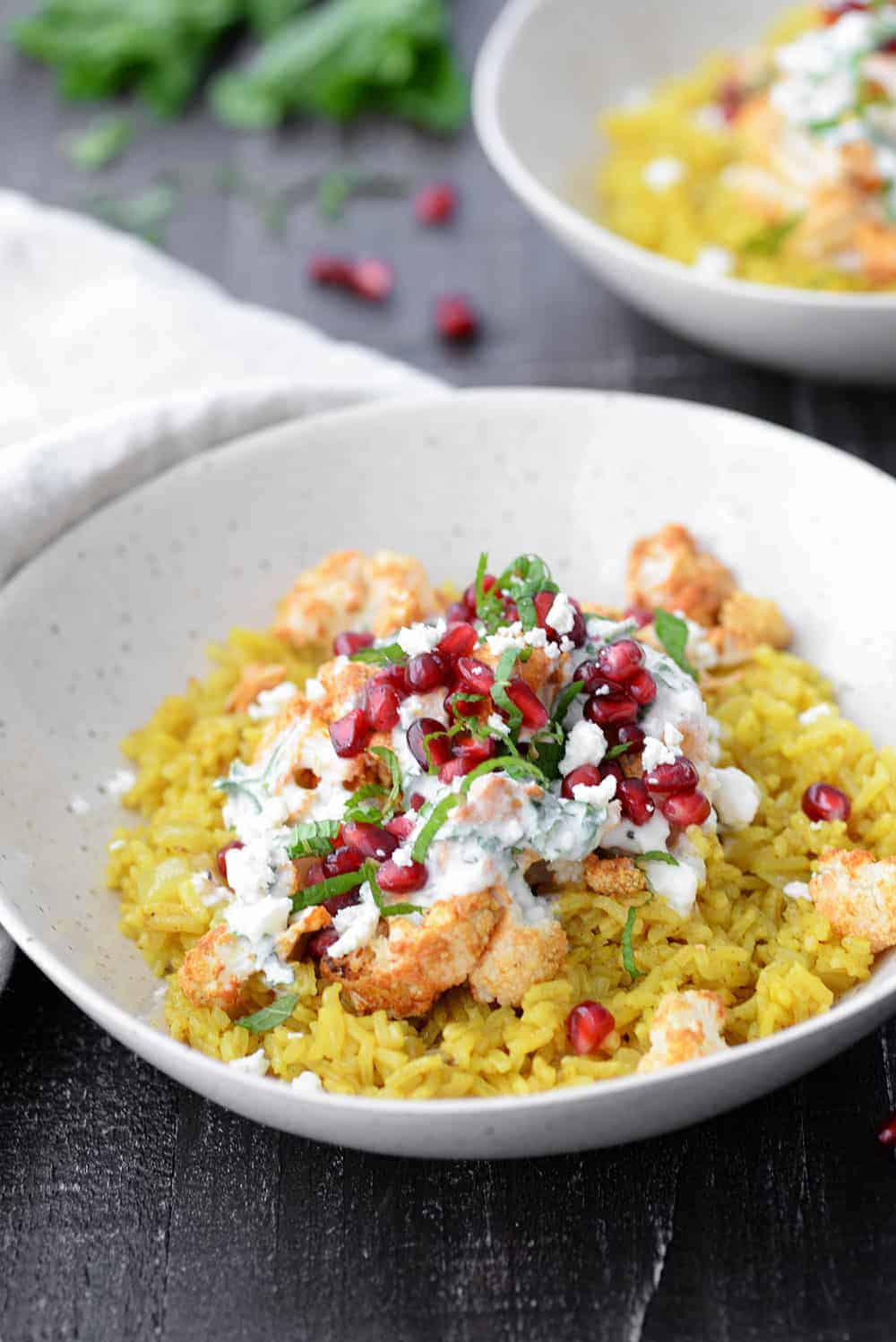 If you try this recipe, let me know! Leave a comment, rate it, and tag your Instagram photos with #delishknowledge . I absolutely love seeing your creations. Happy cooking!
Print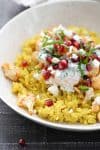 Tandoori Cauliflower Rice Bowls
---
Description
Vegetarian Tandoori Cauliflower Rice Bowls! These bowls are so delicious and healthy! Turmeric Basmati Rice with Tandoori Cauliflower, a feta-yogurt sauce, mint and pomegranate seeds. 
---
Ingredients
Tandoori Cauliflower: 
1 head cauliflower, cut into florets
1/2 cup plain yogurt
2 tablespoons minced fresh ginger
3 cloves garlic, minced
1 lemon, zest and juice
2 tablespoons Tandoori Masala spice
Feta Dressing:
1/3 cup plain yogurt
1 ounce crumbled feta cheese
3 tablespoons fresh chopped mint (can also substitute parsley)
1/4 cup milk of choice
1/2 lemon, juiced
salt/pepper 
Turmeric Rice:
2 tablespoons coconut or olive
1 onion, chopped 
1/4 teaspoon salt 
1 1/2 cups basmati rice
3 cloves garlic, minced 
1/2 teaspoon turmeric 
1/2 teaspoon cumin
1/2 teaspoon cinnamon
2 1/2 cups water
1/2 cup pomegranate seeds
---
Instructions
Preheat the oven to 400 degrees F. Combine cauliflower with yogurt, ginger, garlic, lemon zest and juice and Tandoori seasoning, salt and pepper and toss until well coated. Spread in a single layer on a baking sheet and roast for 35 minutes until tender and slightly golden. 
While the cauliflower is cooking, make the rice. Heat the oil in a medium saucepan over medium heat and add the onion and 1/4 teaspoon salt. Cook until onion is tender, about 5 minutes. Stir in the rice, garlic, turmeric, cumin and cinnamon and cook until toasty, about 2 minutes. 
Add in the water, then bring to a boil. Reduce heat to low, cover and cook until tender, about 17 minutes. Remove from heat and remove the lid. Cover with a clean dish towel and replace the lid. Let sit for 10 minutes to finish steaming, then fluff with a fork. 
Whisk together all ingredients for the feta dressing and set aside. 
To assemble: divide rice among 4 bowls and top with cauliflower mixture and 2 tablespoons pomegranate arils. Drizzle with feta sauce and garnish with more mint/parsley, if desired. 
See how to make the Tandoori Cauliflower here: