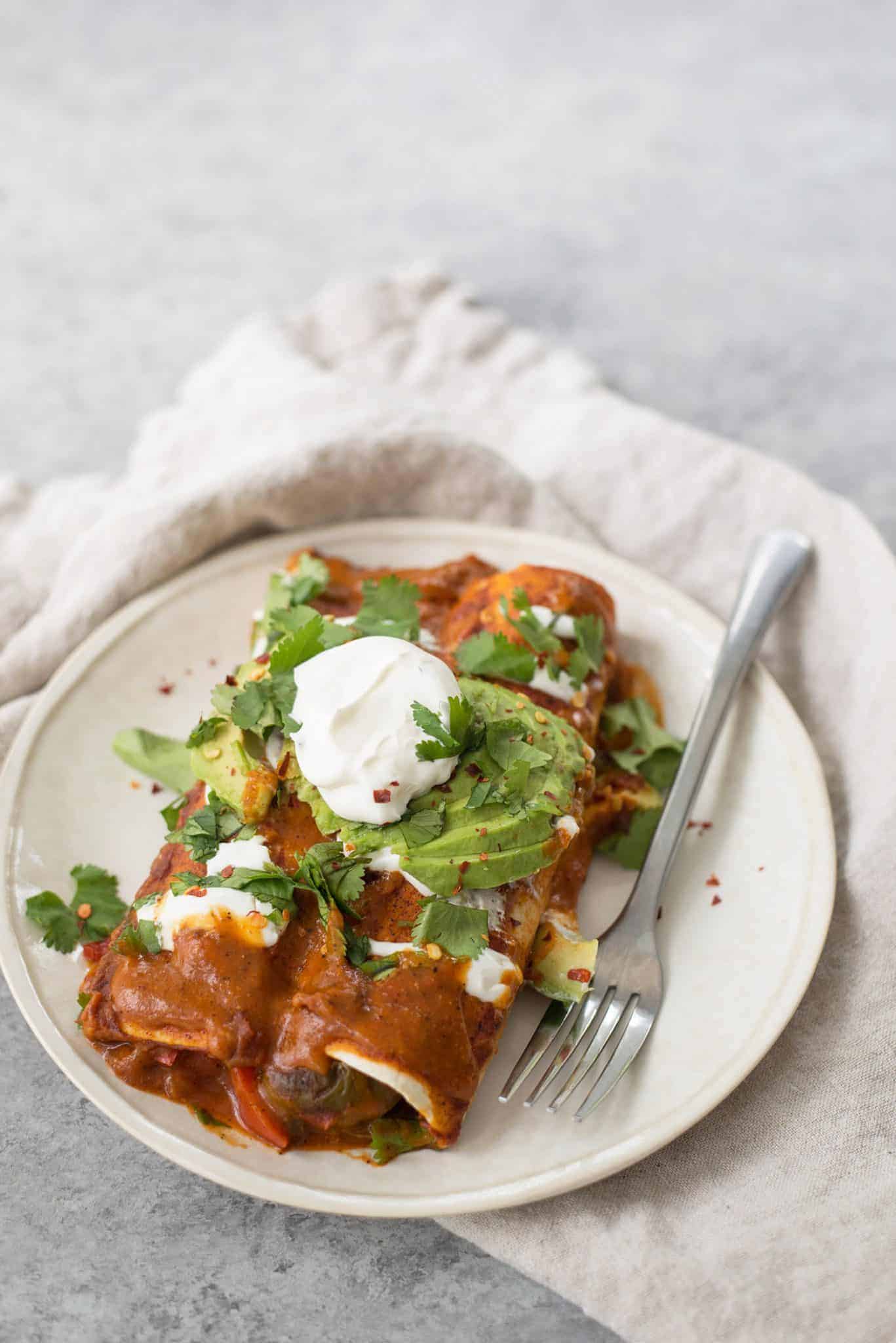 If there's one thing that's been on my mind lately (besides, OMG. We are about to be parents! I feel so ready and so unprepared at the same time) it's how to make meal planning easier.
I know that my time in the kitchen is about to be cut drastically short. If my friends with babes are any indication, the days of spending an hour and a half on weeknight dinners are long over. Therefore, I've been stocking up on my easy button meals. Those that I can repurpose from leftovers or those that take 30 minutes or less.
I dedicated an entire post last week on how I meal plan. And, I said it there and I'll say it again: sometimes I'm really good at this and sometimes I'm not. So, if you're in the not camp more often, it's OK. Not every meal has to be balanced, or include a variety of vegetables (or even one!) Sometimes our dinner is cereal, sometimes it's Amy's frozen lasagna and sometimes it's box mac and cheese and a veggie burger. I'm fairly certain that these trends will continue well into this babe's childhood, and I'm OK with that.
Like most things in life, it's about progress, not perfection.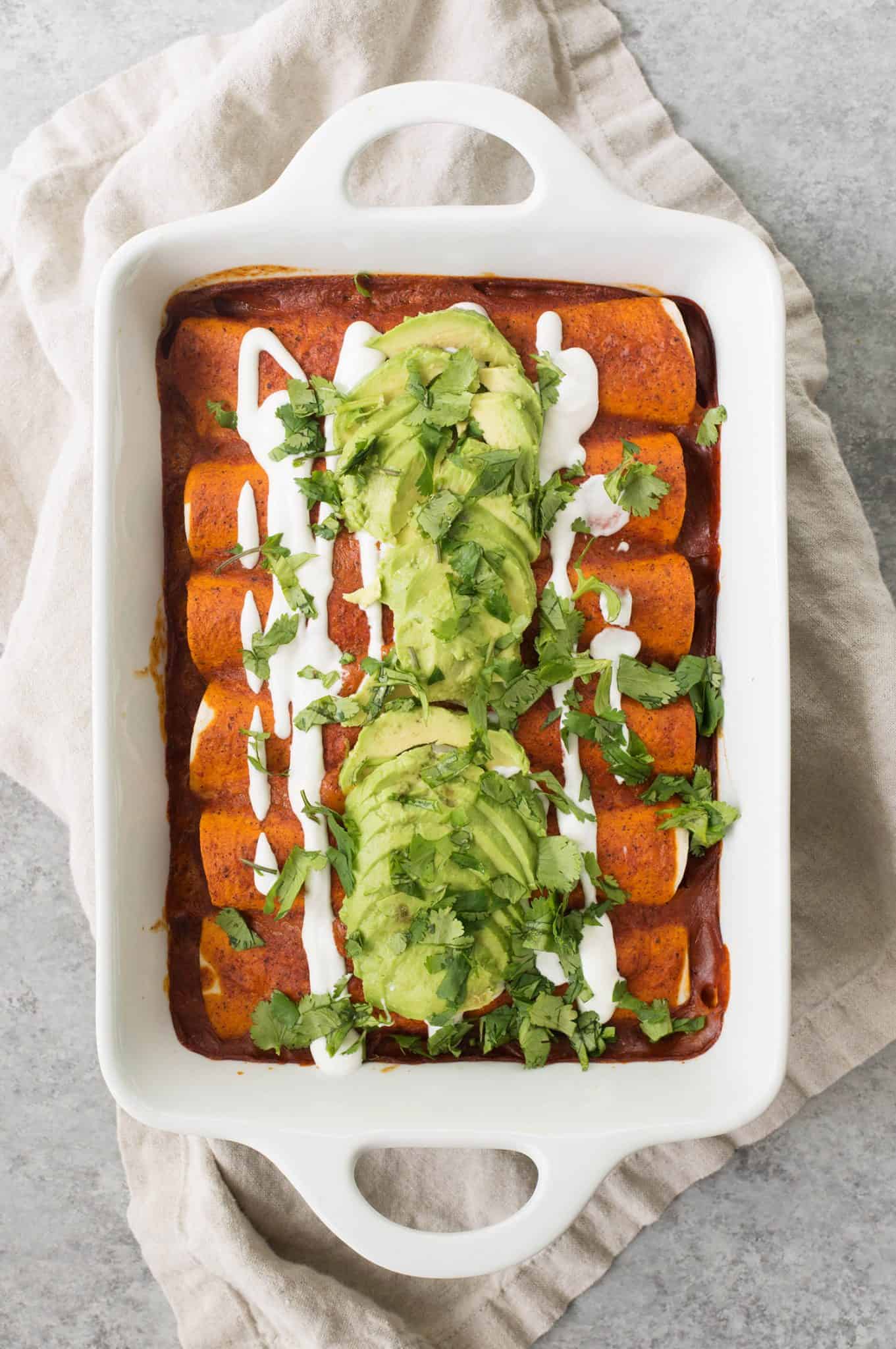 So, when I created these enchiladas that do double duty from fajitas the other night, I did a happy dance.
Meal planning, we can do this! I can do this!
Make a double batch of the oven roasted fajitas that I shared on Wednesday. Then, tuck the leftovers into tortillas with black beans, top with a homemade enchilada sauce (or canned- who's counting!?) then bake until bubbly and hot. Want cheese? Add cheese. Want to keep them vegan? Slather with avocado and a sprinkle of cilantro.
As good weeknight meals should be, these are completely customizable to whatever you are in the mood for.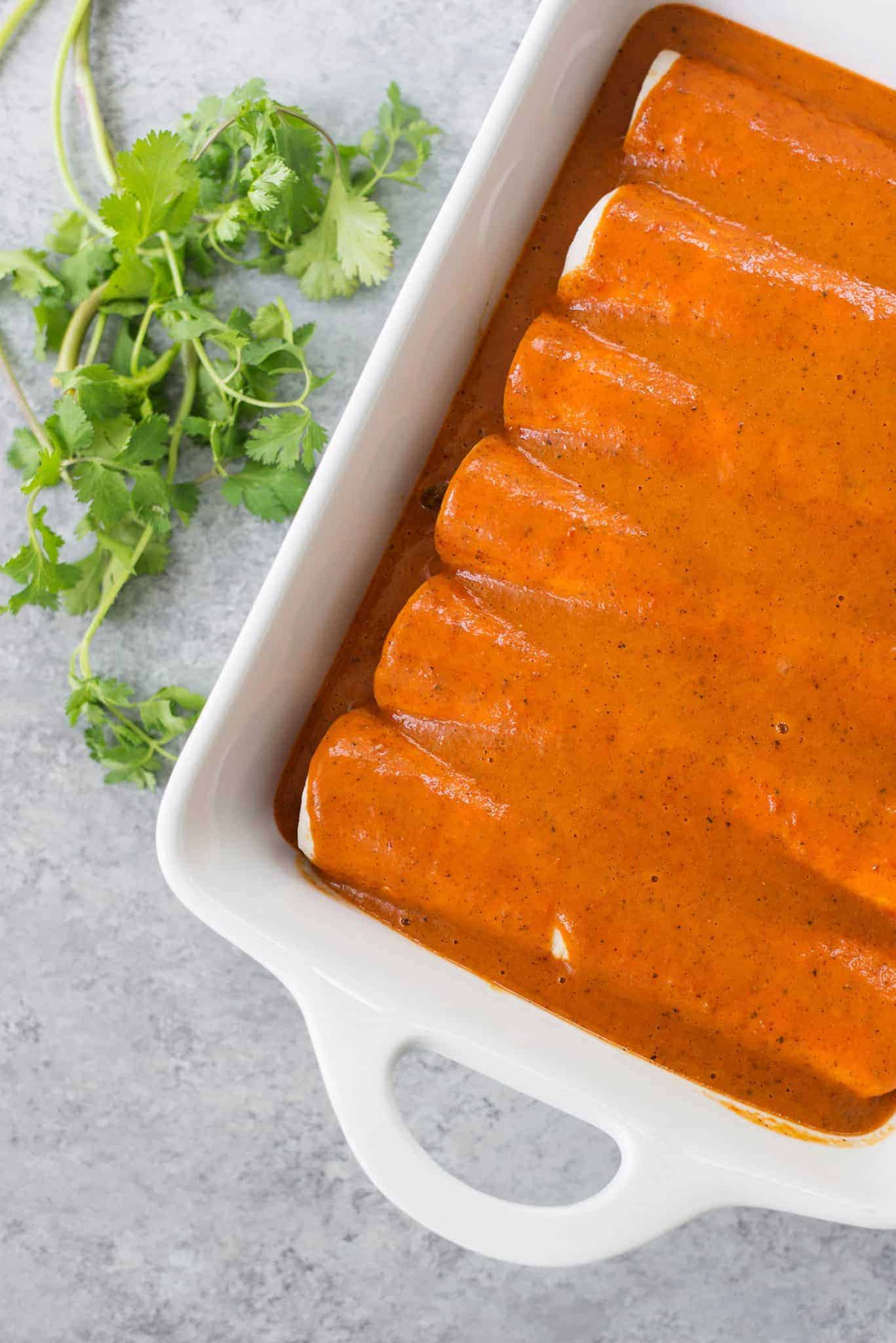 Can't stomach the idea of eating a similar meal the next night? I'm happy to say that sans cheese/avocado/cream topping, these enchiladas freeze beautifully. I like to wrap them unbaked in plastic, then a layer of foil. Place in the freezer and they'll keep for up to six months.
Remove the foil and wrap, then bake straight from frozen.
I'm already planning on keeping a few batches of these in the freezer for when our little teddy bear makes his/her arrival. I can already picture the scene: baby and I curled on the couch, BL coming home from work and this pan of enchiladas in the oven.
At least, that's my day-dream. I'm sure reality will be different but for now, I'm stockpiling yummy meals to try and make this happen.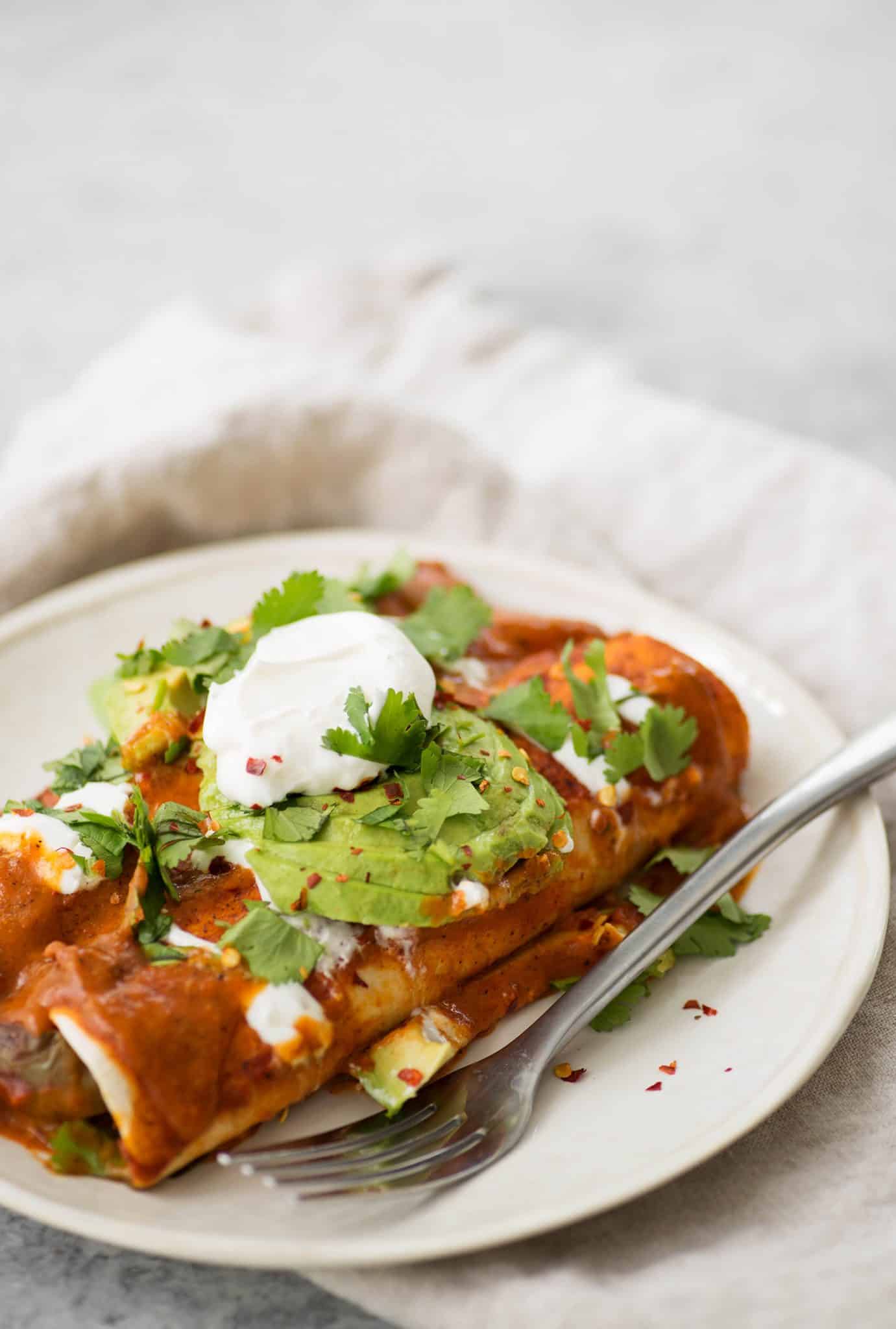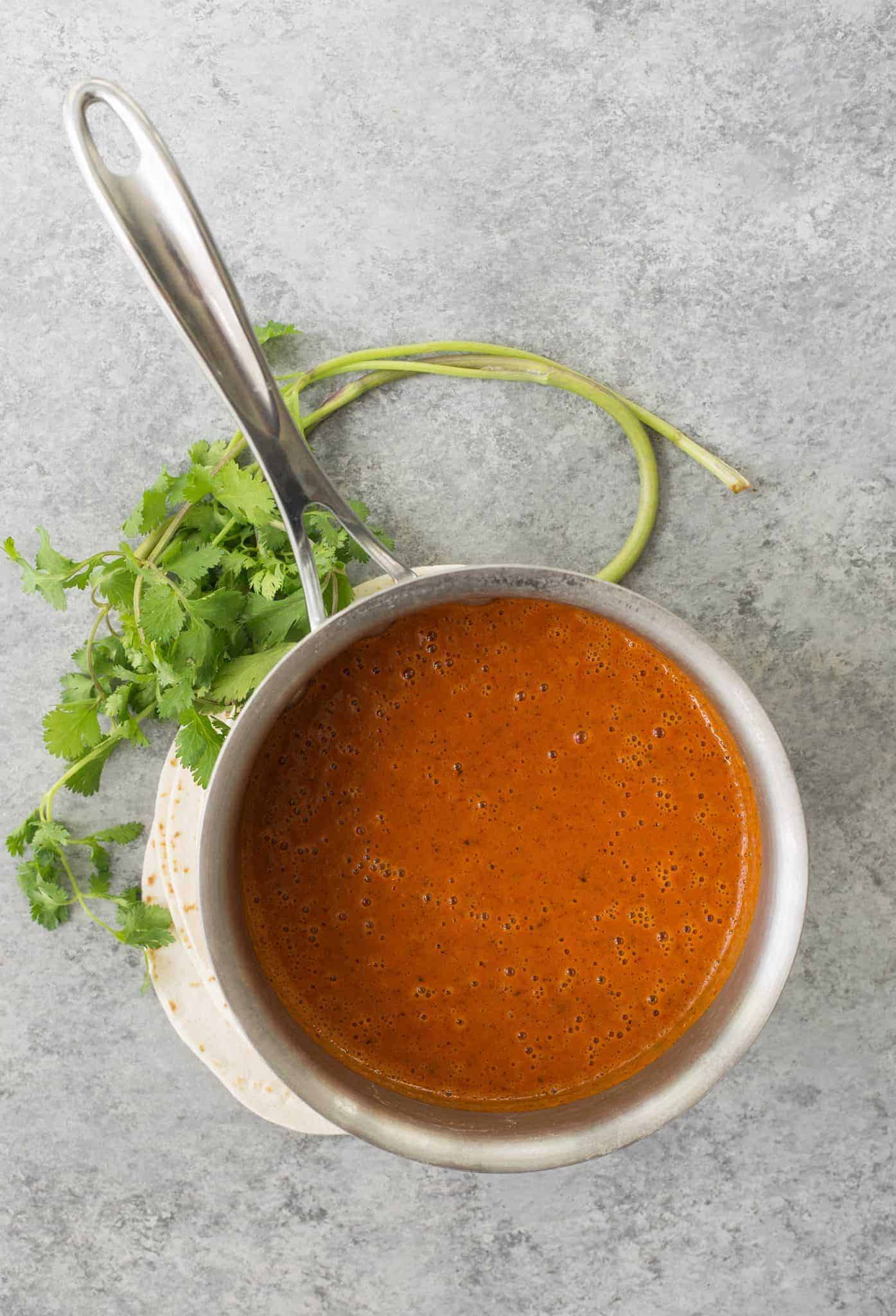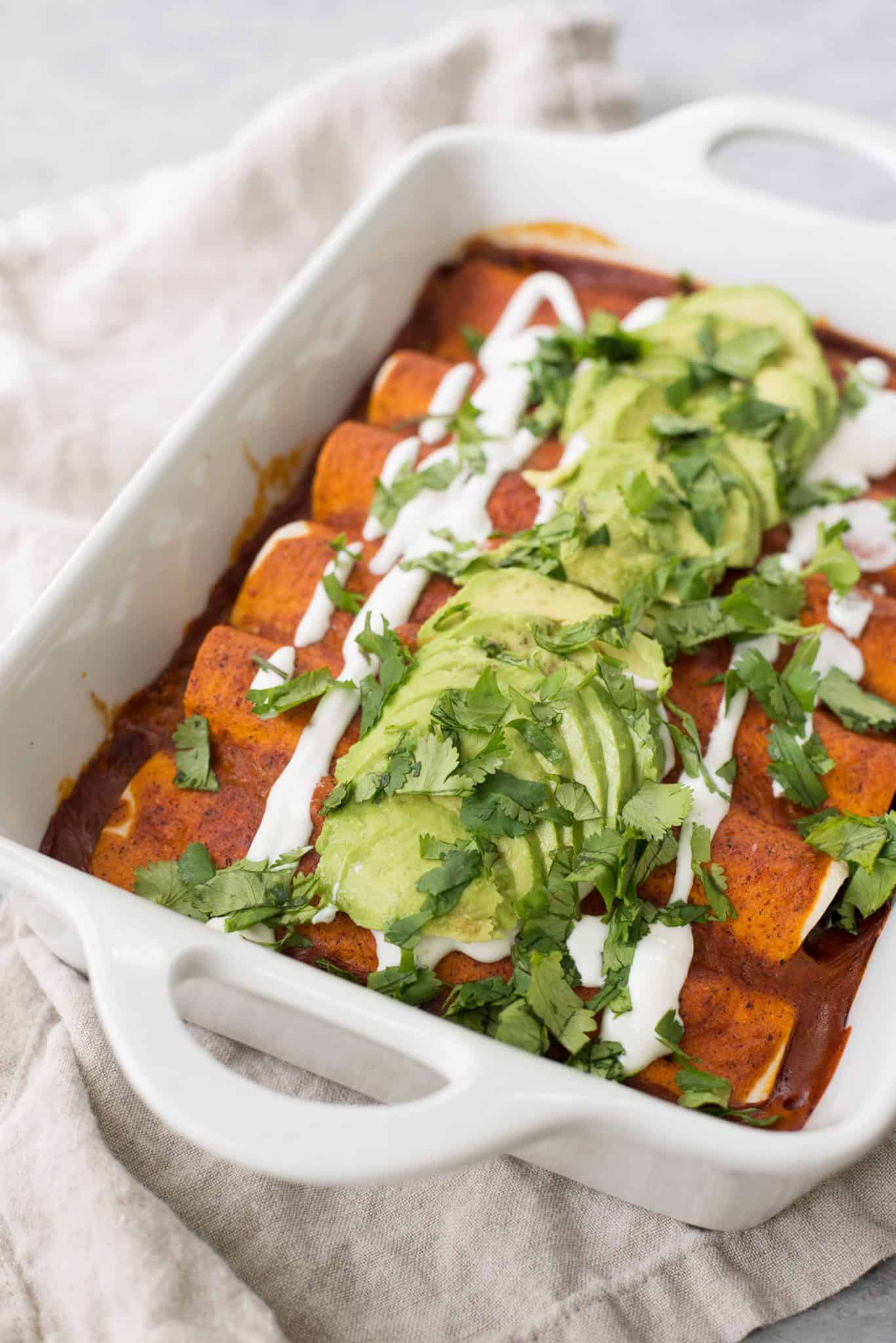 If you try this recipe, let me know! Leave a comment, rate it, and tag your Instagram photos with #delishknowledge . I absolutely love seeing your creations. Happy cooking! 
Print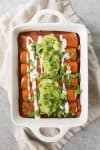 Veggie Fajita Enchiladas
---
Description
Vegan Fajita Enchiladas! These enchiladas are perfect for Cinco de Mayo. Roasted peppers, onions and beans covered in a homemade enchilada sauce and avocado. 
I know this recipe looks like a lot of ingredients- but it's mostly the same spices over and over again. Feel free to use whatever color peppers you want! 
---
Ingredients
Enchilada Sauce
3 tablespoons oil
3 tablespoons all-purpose flour 
1 tablespoon chili powder
1 1/2 teaspoons ground cumin
1/2 teaspoon garlic powder
1/2 teaspoon oregano
1/4 teaspoon salt
1/8 teaspoon cinnamon
1/4 teaspoon ground cayenne 
1 (15 ounce) can crushed tomatoes 
1 1/2 cups water
Enchiladas 
2 bell peppers, sliced thin
2 red bell peppers, sliced thin
1 orange bell pepper, sliced thin
1 yellow bell pepper, sliced thin
1 onion (white, yellow or red), sliced into thin strips
1 tablespoon olive oil 
1 teaspoon chili powder
1/2 teaspoon cumin 
1/4 teaspoon salt
1/4 teaspoon ground cayenne (optional) 
1 (15 ounce) black beans, drained and rinsed
1/2 cup chopped cilantro, plus more for garnish 
8 tortillas
1 large, ripe avocado (for serving)
Dairy-free sour cream (thinned with water for drizzling, optional)
---
Instructions
Preheat the oven to 425 degrees F. 
Toss the sliced peppers and onions with 1 tablespoon olive oil, chili powder, cumin, salt and cayenne pepper. Toss well to combine, then place in a single layer on a baking sheet. Roast for 25-30 minutes, until tender. 
While the peppers are cooking, make the sauce. Heat the oil in a medium sauce pan over medium heat. Add in the flour, then quickly whisk together until combined. Add in the remaining spices and toast until fragrant, another minute or two. 
Add in the tomatoes and water, then bring to a simmer. Cook over medium heat until thickened, about 5-7 minutes. Puree with an immersion blender or place the mixture in a blender and puree until smooth. 
Place 1/2 cup of the enchilada sauce in the bottom of a rectangle or square baker (I used a 4 qt. baker), set the rest aside. 
Remove the peppers from the oven once done, then mix with black beans, cilantro and a little of the enchilada sauce. Place some of the mixture onto a flour tortilla, roll up and place seam-side down in the pan. Continue with the rest of the tortillas, squeezing in as much as possible. (Depending on how much your peppers cooked down and how well you filled them, you may get more than 8 enchiladas. If they will fit in your pan- add 'em!)
Reduce the oven to 350 degrees F, then cover the enchiladas with the rest of the sauce. Place in the oven and cook for 25 minutes. 
Remove and let cool slightly. Top with thinned sour cream (if using), sliced avocados and chopped cilantro. 
---
Notes
To make this meal even easier, I usually double the recipe for my veggie fajitas, then use the leftovers to make this dish.