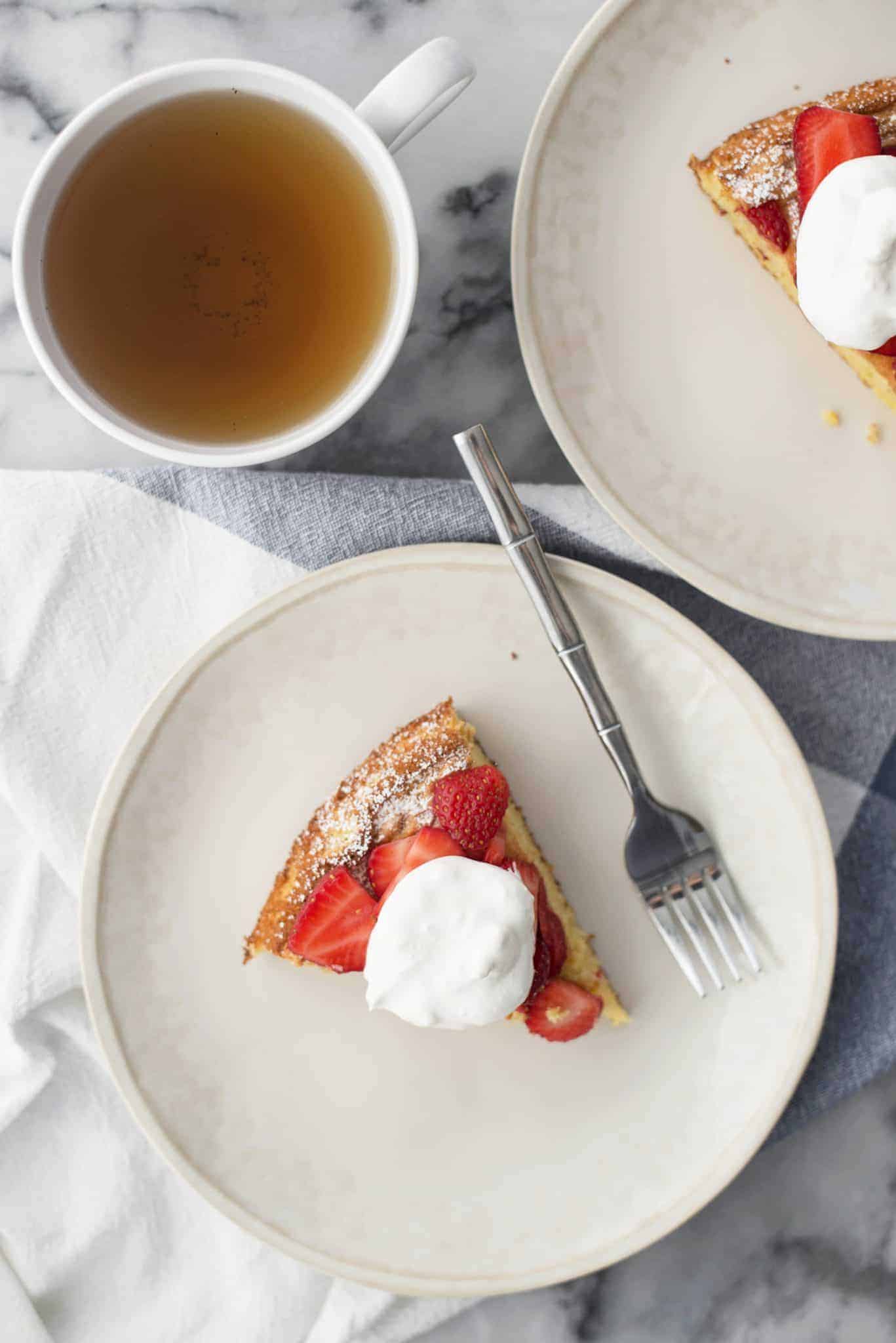 There's so much to love about this cake. Since developing it almost a month ago, I've made it countless times: for a friend, when my in-laws were visiting and for a lazy Sunday where brunch cake sounded necessary.
I'm not a big baker. I think it's because I'm not a perfectionist. Sure, I've got some Type-A personality traits that come up often, but perfectionism doesn't tend to be one of them. I'm a rule-breaker and if I don't complete a task with 100% focus, I'm OK with that. B+ is good enough for me.
I think it's why baking and I never got along. I don't want to measure, I want to wing it. Cooking feels intuitive to me, I improvise almost everytime I make a recipe- a pinch here, a pinch there, tasting and feeling as I go. Baking doesn't allow for much wiggle room; trust me, I've tested this theory a dozen of times with nothing but hockey-puck cookies, undercooked cakes and flat quick-breads to show for it.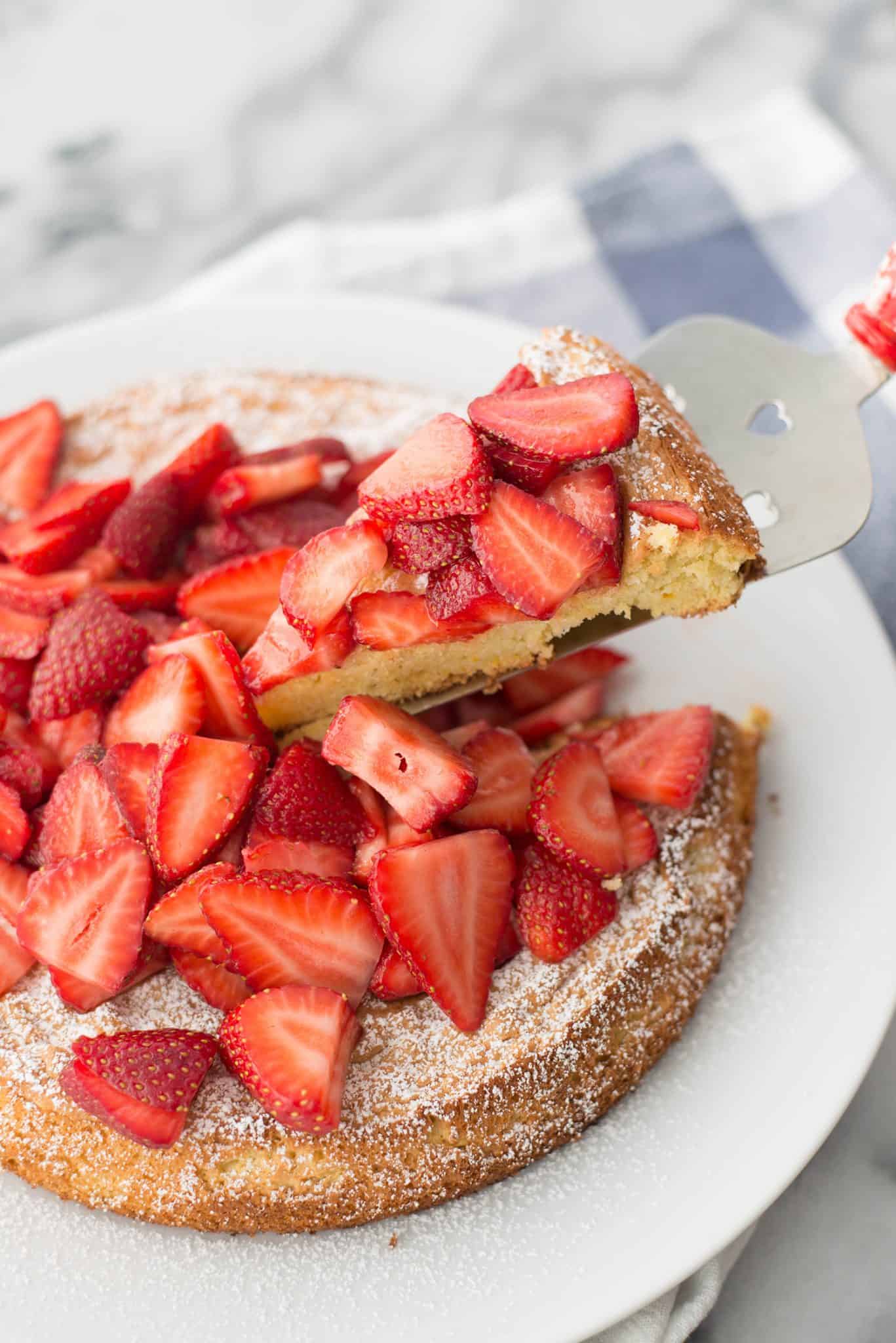 But this cake doesn't feel hard. It's not fancy, like most frosted cakes. In fact, it's supposed to look rustic, a term I most certainly overuse to add charm to imperfections. It's a thick, dense, lightly sweetened cake that's perfect paired with an afternoon cup of tea or served for brunch.
As I've become older, my preference for sweets has changed dramatically. Sure, I love a good brownie every now and then, but I'm much more partial in my dessert choices. For the most part, I enjoy sweets that almost border on savory; sweet, but not cloyingly so.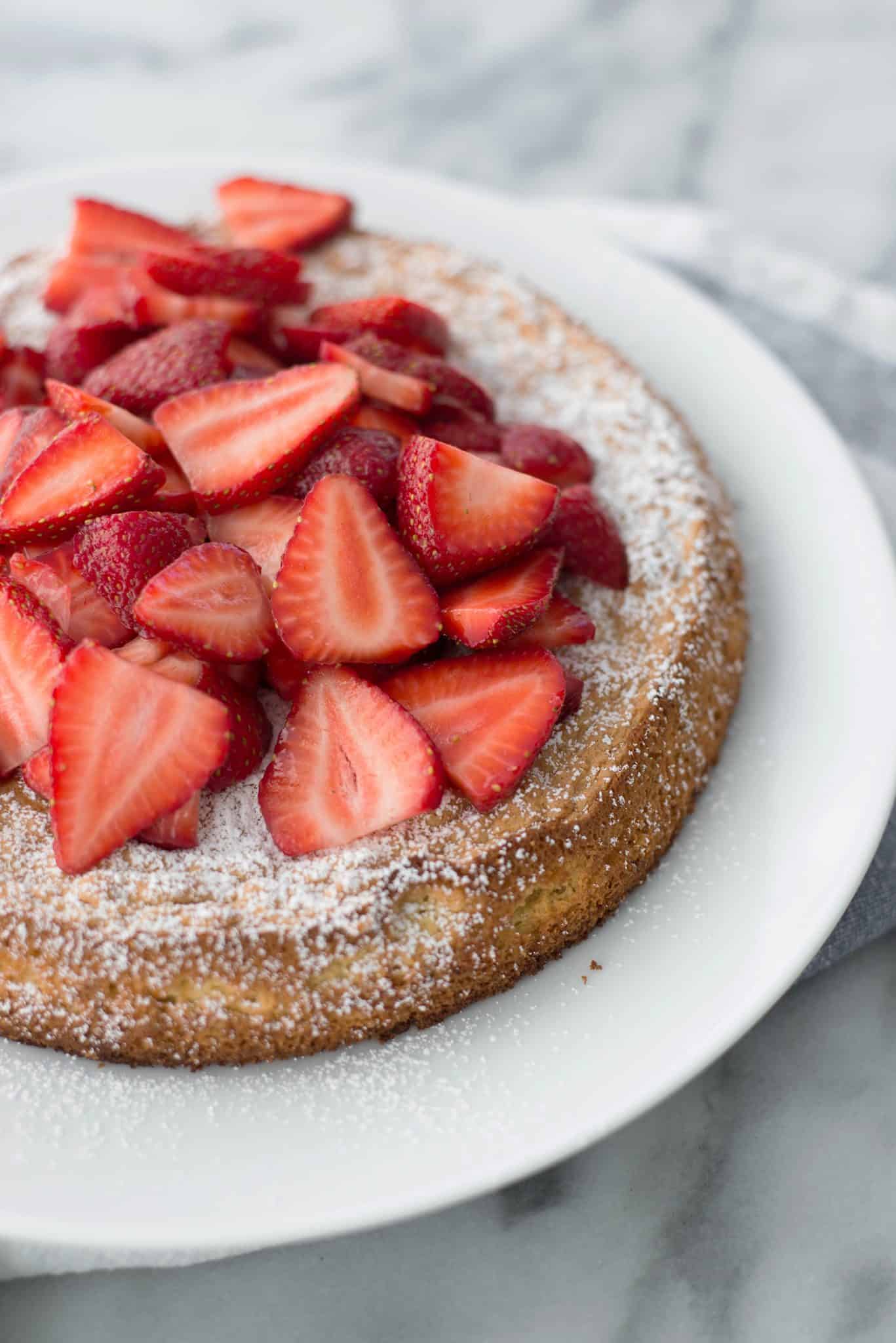 The base of this cake is almond meal, which adds both flavor, texture and density to the cake. It's also the perfect substitute for all-purpose flour, making this one naturally gluten-free. To add body and depth, a custard of egg yolks and sugar are whipped together before folding in stiff egg-whites. This two-step process is a must; without it the cake will fall flat and not rise correctly.
Since it's almost strawberry weather, I thought this cake would be perfect slathered in freshly sliced berries and a dollop of whipped cream. Spoiler alert- it's good. Really, really good. Though, don't add the berries until right before serving, as they will weigh down the cake if they sit too long. If you don't plan on enjoying the cake in it's entirety in one sitting, add berries after slicing and plating.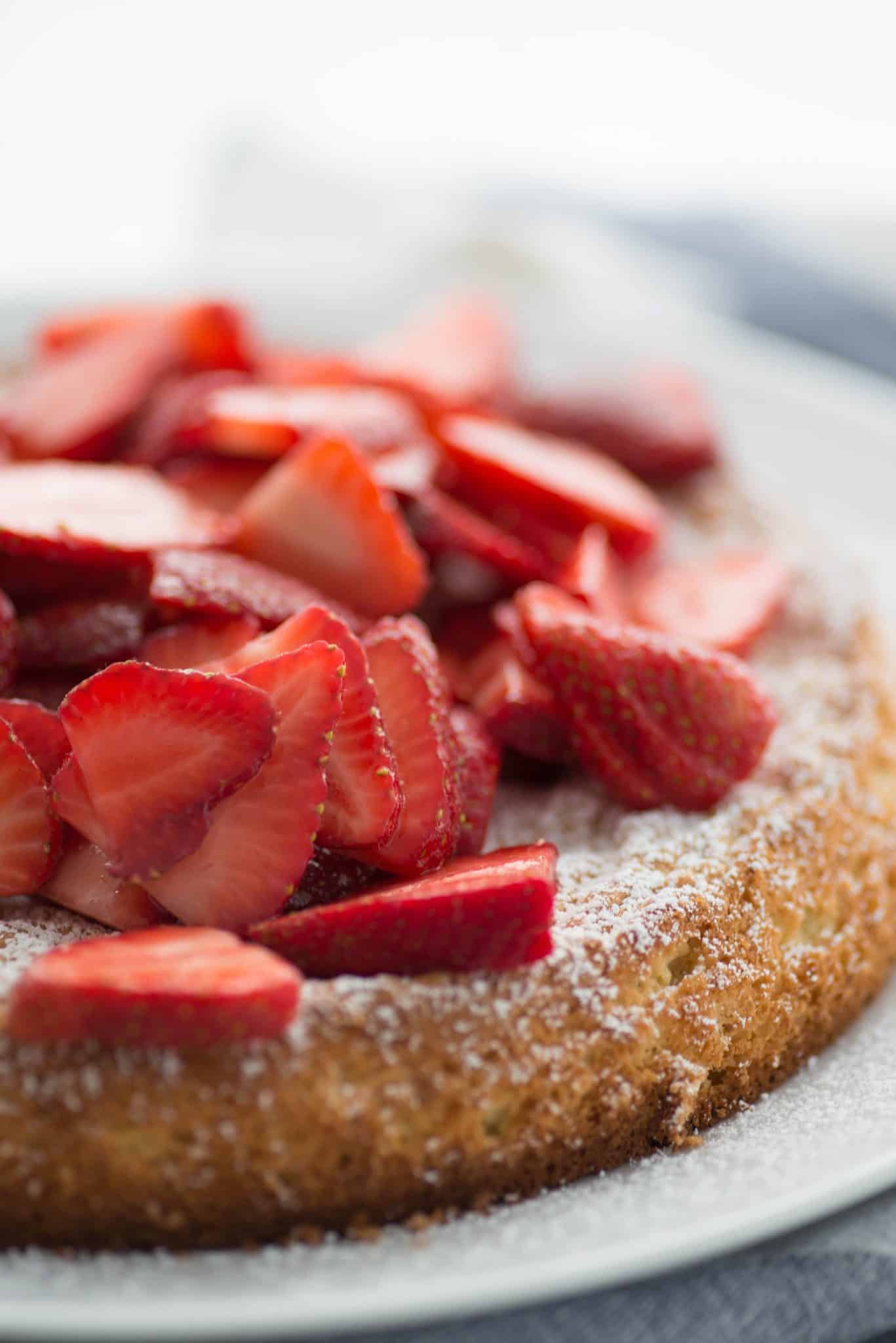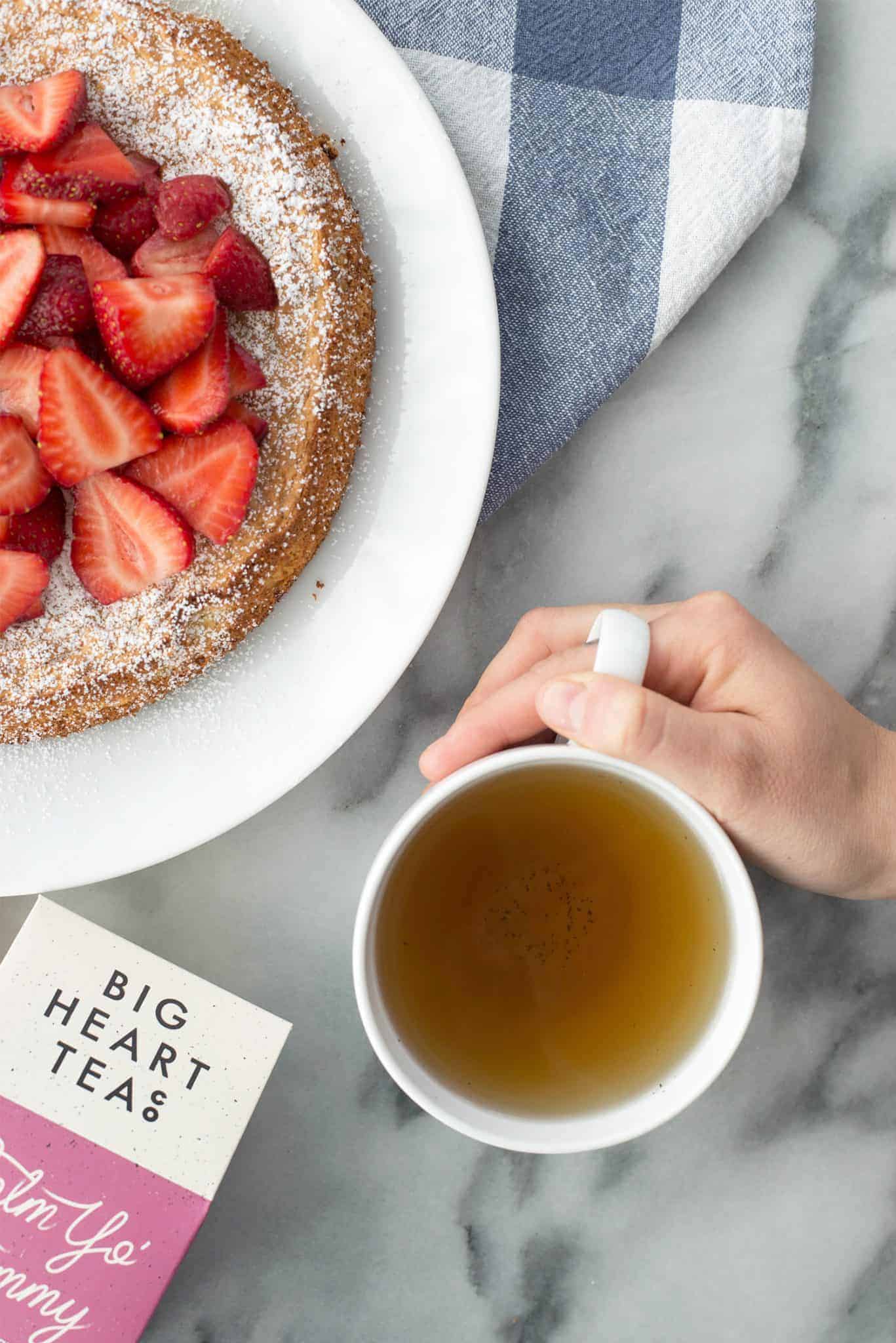 If you try this recipe, let me know! Leave a comment, rate it, and tag your Instagram photos with #delishknowledge . I absolutely love seeing your creations. Happy cooking! 
Print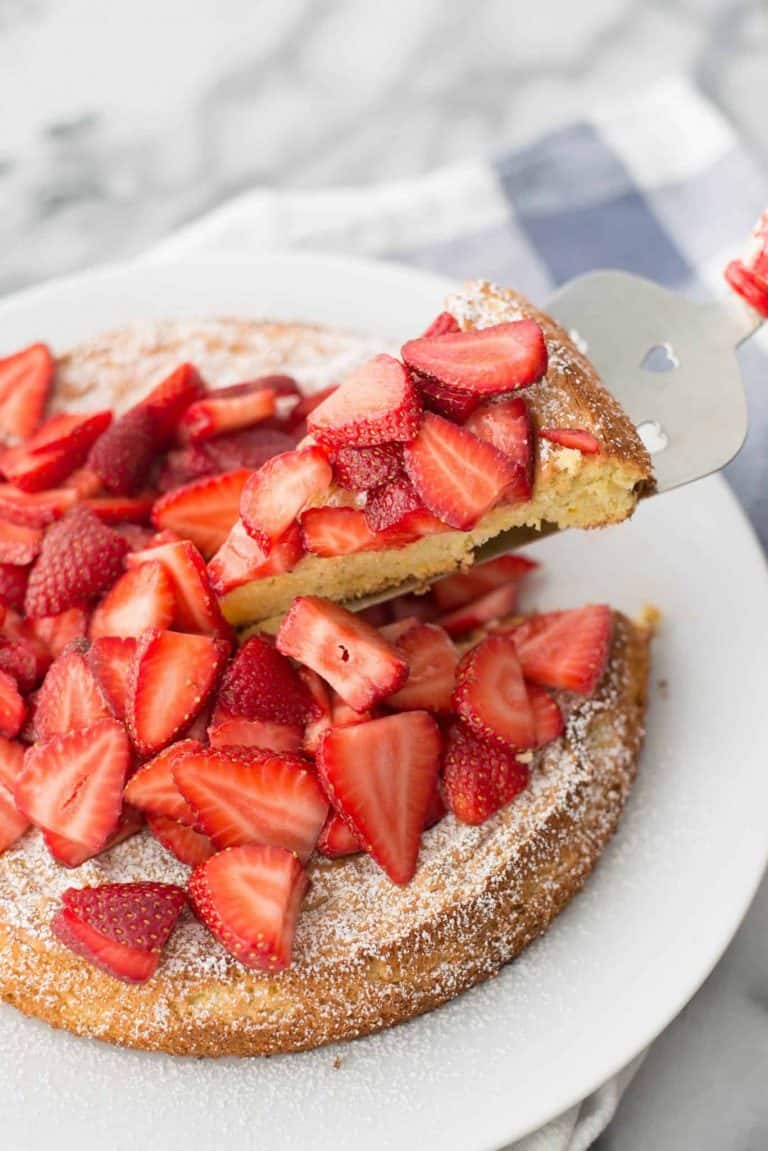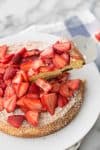 ---
Description
Almond Strawberry Cake. The perfect brunch cake, lightly sweetened almond cake topped with orange-scented berries. 
---
Scale
Ingredients
½ cup

+

2 tablespoon

s sugar

4

large eggs, separated

1 teaspoon

vanilla extract

1 1/4 cup

s almond meal

1 teaspoon

baking powder

¼ teaspoon

 salt

1

–

2

cups fresh strawberries, sliced

1

orange, zested and juiced

¼ cup

powdered sugar

½ tablespoon

butter
---
Instructions
Preheat oven to 350˚Butter sides of spring form pan and sprinkle 2 tablespoons of sugar on the bottom.
In a bowl, beat together yolks, ¼ cup sugar and vanilla extract.
In a separate mixer, whip egg whites to soft peaks, then slowly beat in remaining sugar.
Whisk together dry ingredients (almond meal, baking powder, salt) then add to egg yolk mixture. Stir in orange zest.
Gently fold in whipped egg whites to the batter in ½ cup increments. 
Pour batter into pan, bake for 30-35 minutes or until inserted toothpick comes out clean.
While baking, slice strawberries and let sit in orange juice.
After cake is done baking, let cool and finish with powdered sugar and marinated strawberries.
---