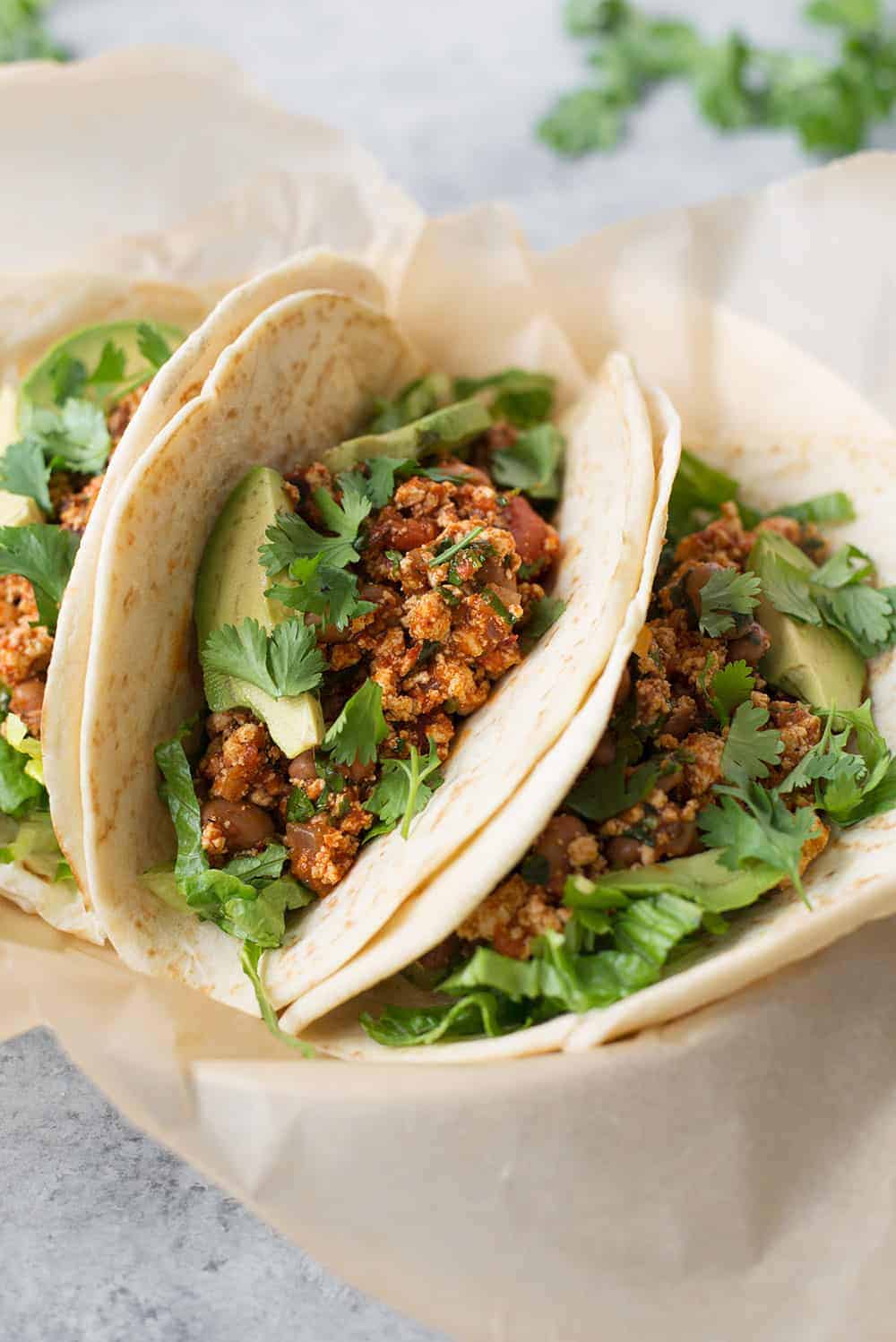 We are big fans of Chipotle. Since french fries are the only vegetarian option at 99% of most fast-food restaurants, it's nice to have a national chain that we know we can grab a fairly healthy plant-based meal at.
When we lived in California, we road tripped all the time. What, with Lake Tahoe, San Francisco, Monterey and Napa all within a two hour drive. Completely spoiled with all of the wonderful places around us, we traveled often as we weren't quite sure how long we would actually be in Northern California.
After a quick weekend away, we'd often stop by Chipotle on the way home. A quick, easy and accessible stop for a late lunch on the road, knowing that the fridge would be almost empty upon our return.
MY LATEST VIDEOS
I can't remember when they introduced tofu sofritas but once we both tasted it, it became our go-to pick. Spicy, chewy and perfect on taco bowls, tofu sofritas is one of our favorite taco fillings.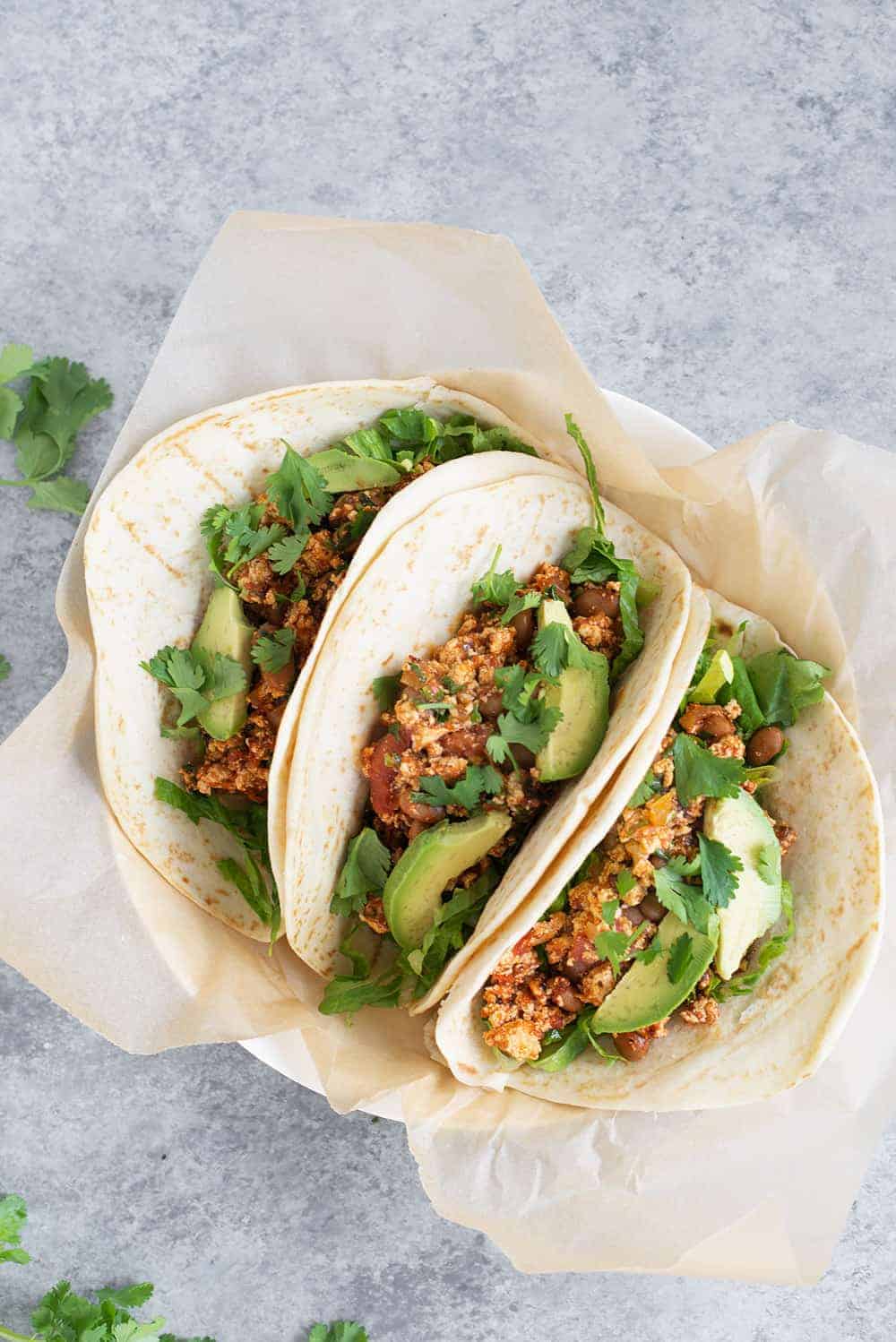 While the sauce has a few steps, it comes together rather easily. Roast the poblano pepper, then throw into a blender with chipotle peppers in adobo sauce, fire-roasted tomatoes and a few spices.
Saute the tofu until tender, then braise in the spicy tomato sauce until tender. I added in pinto beans for extra protein and fiber, but black beans or kidney beans would also work. Or, you can leave them out together.
In true Chipotle fashion, serve these any way you like. I prefer it in tortillas with shredded lettuce, avocado, brown rice and cilantro. The filling will keep for a while in the fridge, so feel free to make a batch to eat throughout the week!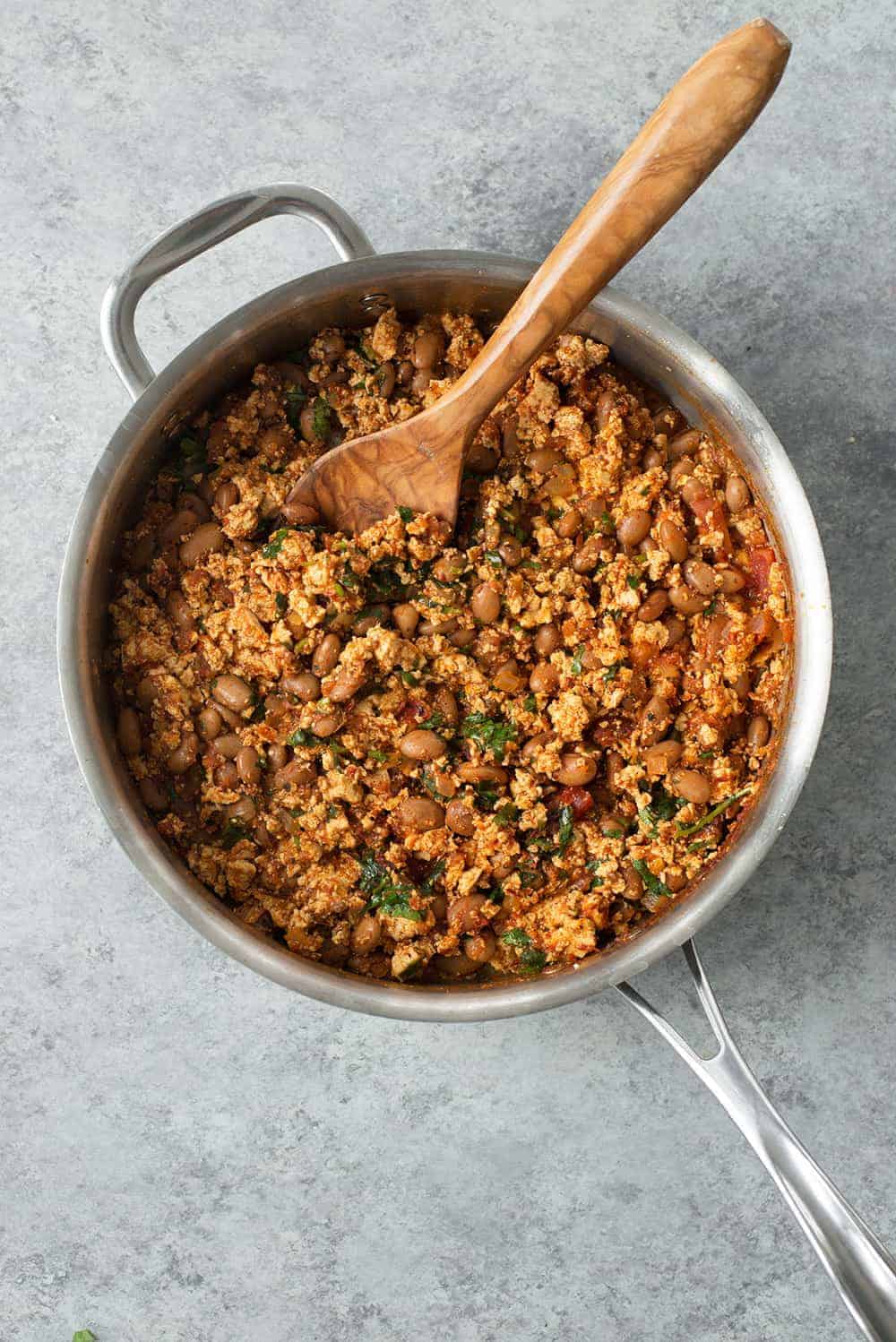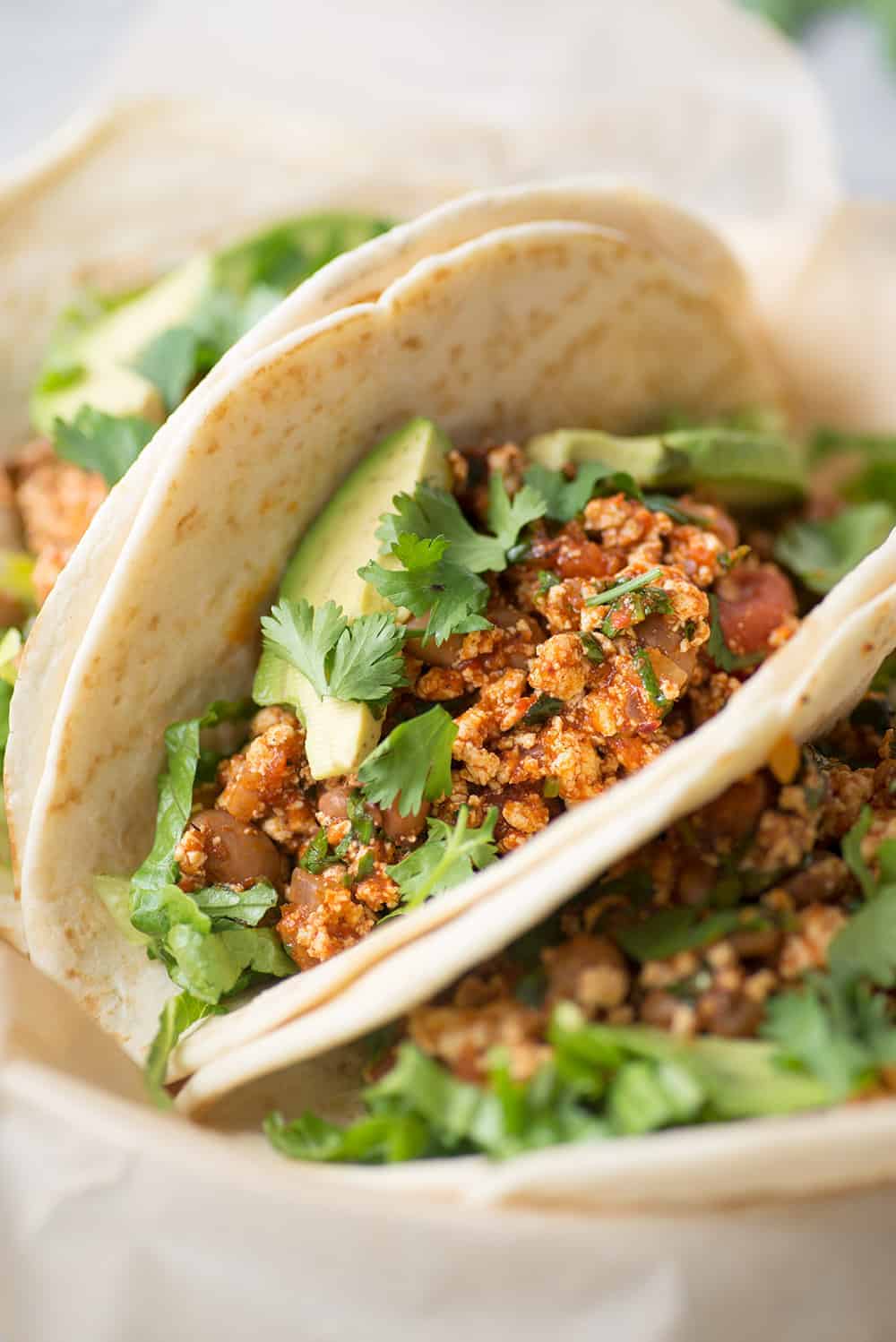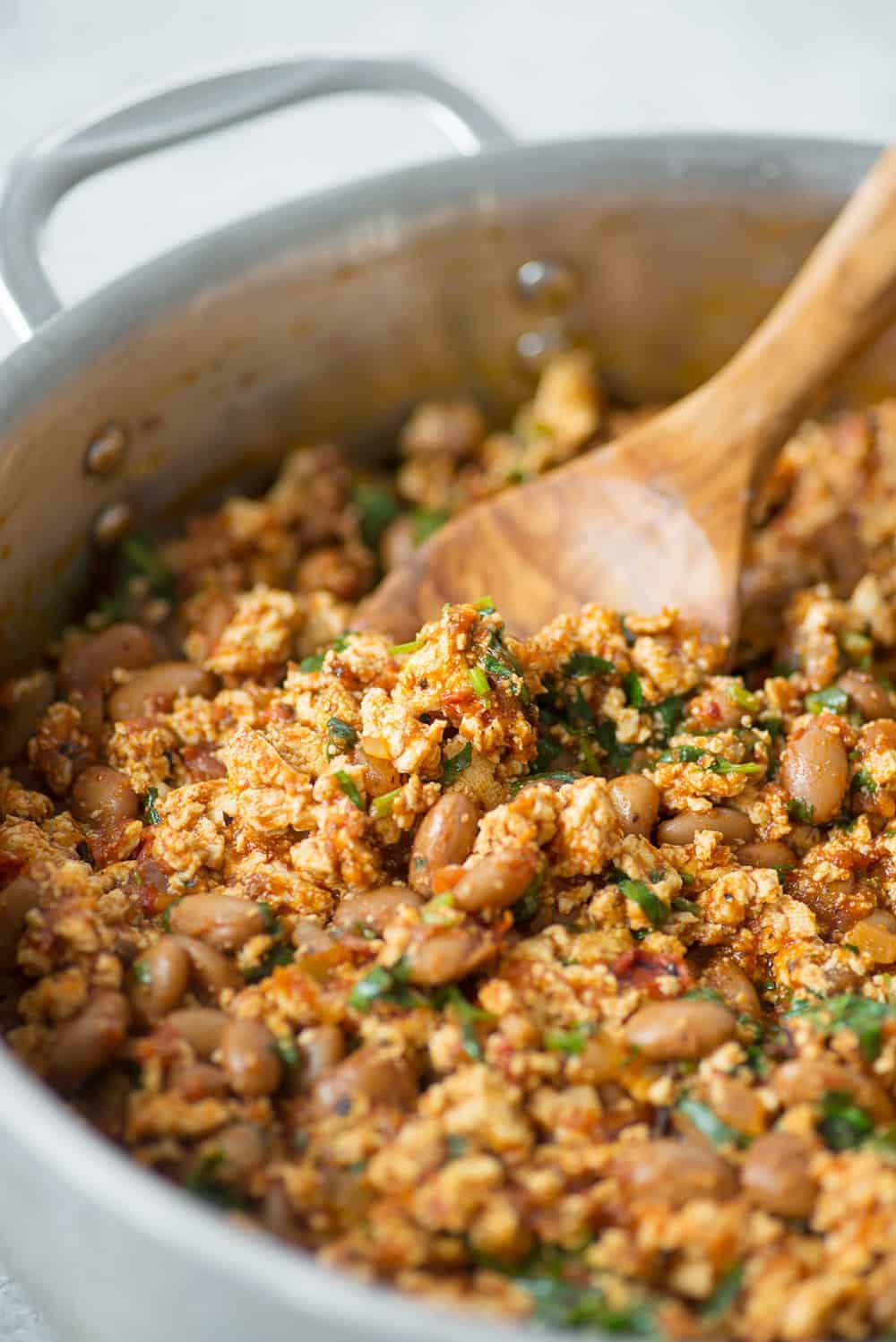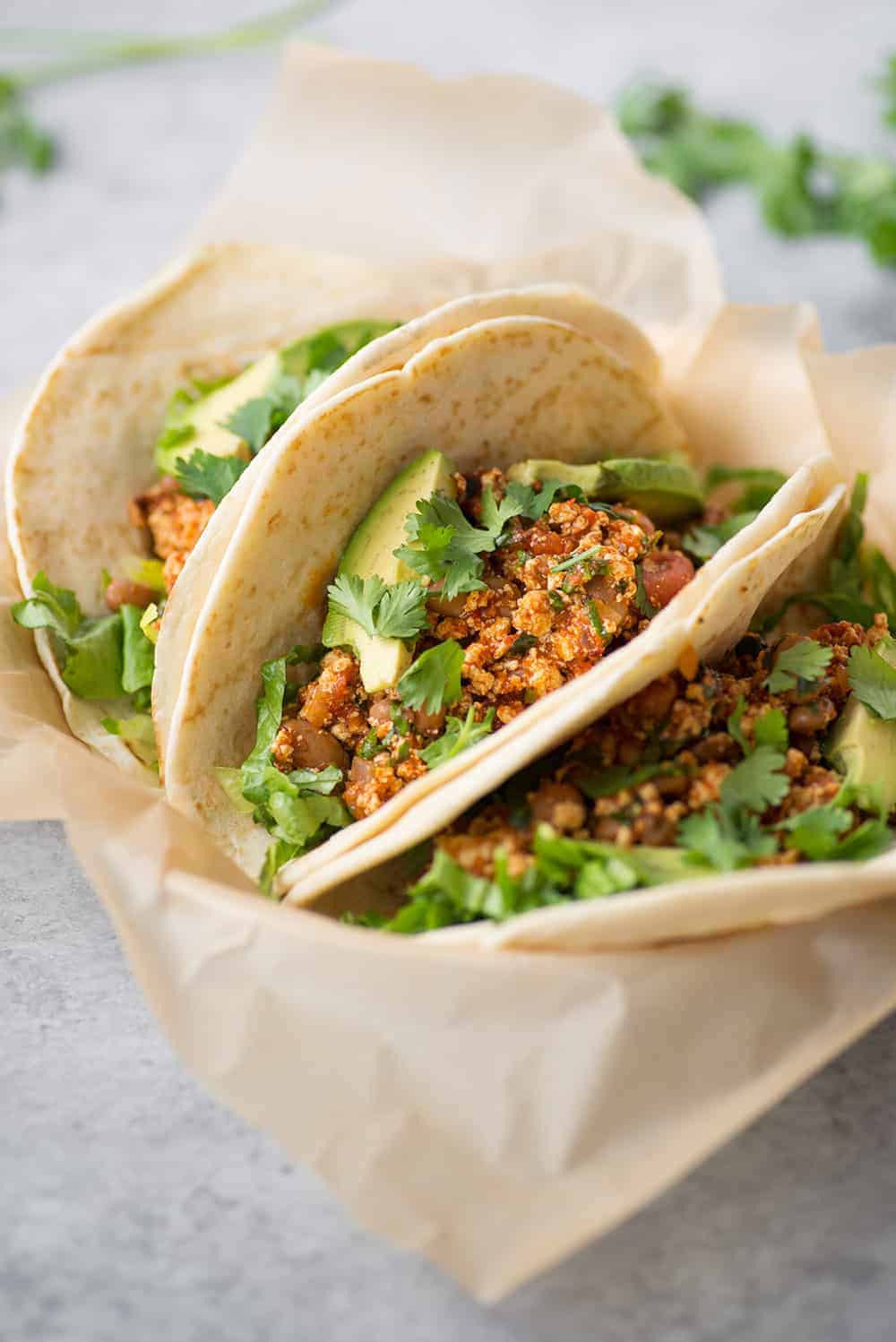 If you try this recipe, let me know! Leave a comment, rate it, and tag your Instagram photos with #delishknowledge . I absolutely love seeing your creations. Happy cooking! 
Print
Tofu Sofritas Tacos
Yield 8-10 tacos
Vegan Tofu Sofritas Tacos! Copycat Chipotle Sofritas filling, perfect for tacos! Braised tofu in a spicy adobo sauce with pinto beans.
Ingredients
1 poblano pepper 
2 tablespoons chipotle peppers, canned in adobo sauce
2 tablespoons adobo sauce
3 cloves garlic
1 cup canned, drained, fire-roasted tomatoes
1/2 teaspoon ground cumin
1/2 teaspoon smoked paprika 
1/2 teaspoon salt
1/2 teaspoon sugar
2 tablespoons canola oil
1/4 cup chopped onion 
1 (15 ounce) container extra firm tofu, drained and pressed (see notes) 
1 can pinto beans, drained and rinsed
1/4 cup chopped cilantro 
8 tortillas, for serving
Any taco toppings you like
Instructions
Preheat oven to 425°F. Rub the poblano pepper with a little oil, and place on baking sheet. Roast 15-20 minutes, or until charred on all sides, turning with tongs. Transfer to bowl, cover, and let steam for about 10 minutes. Rub off skins. Remove stem and seeds and roughly chop, then place in the blender. 
Place the chipotle peppers, adobo sauce, garlic, tomatoes, cumin, salt and sugar in the blender (or food processor) and puree until smooth. 
Crumble the tofu with your hands or use a box grater. Place in a bowl and set aside. 
Heat olive oil over medium heat and add the onion. Cook for 4-5 minutes until softened, but not browned Add in the tofu and stir fry for 2-3 minutes until tofu starts to get crispy and slightly golden. Use a wooden spoon to break up any large tofu pieces. Add the sofritas sauce and pinto beans, then simmer for 15 minutes, adding a splash of water as needed until the tofu mixture thickens, reduces and is heated through. 
Serve in tortillas with toppings. We love this best in flour or corn tortillas with shredded lettuce, rice, avocado and lots of salsa! 
Notes
New to pressing tofu!? Wrap in a paper towel and place a heavy object on top. Or, use a tofu press. 
Courses dinner
Cuisine mexican, main, vegan, vegetarian