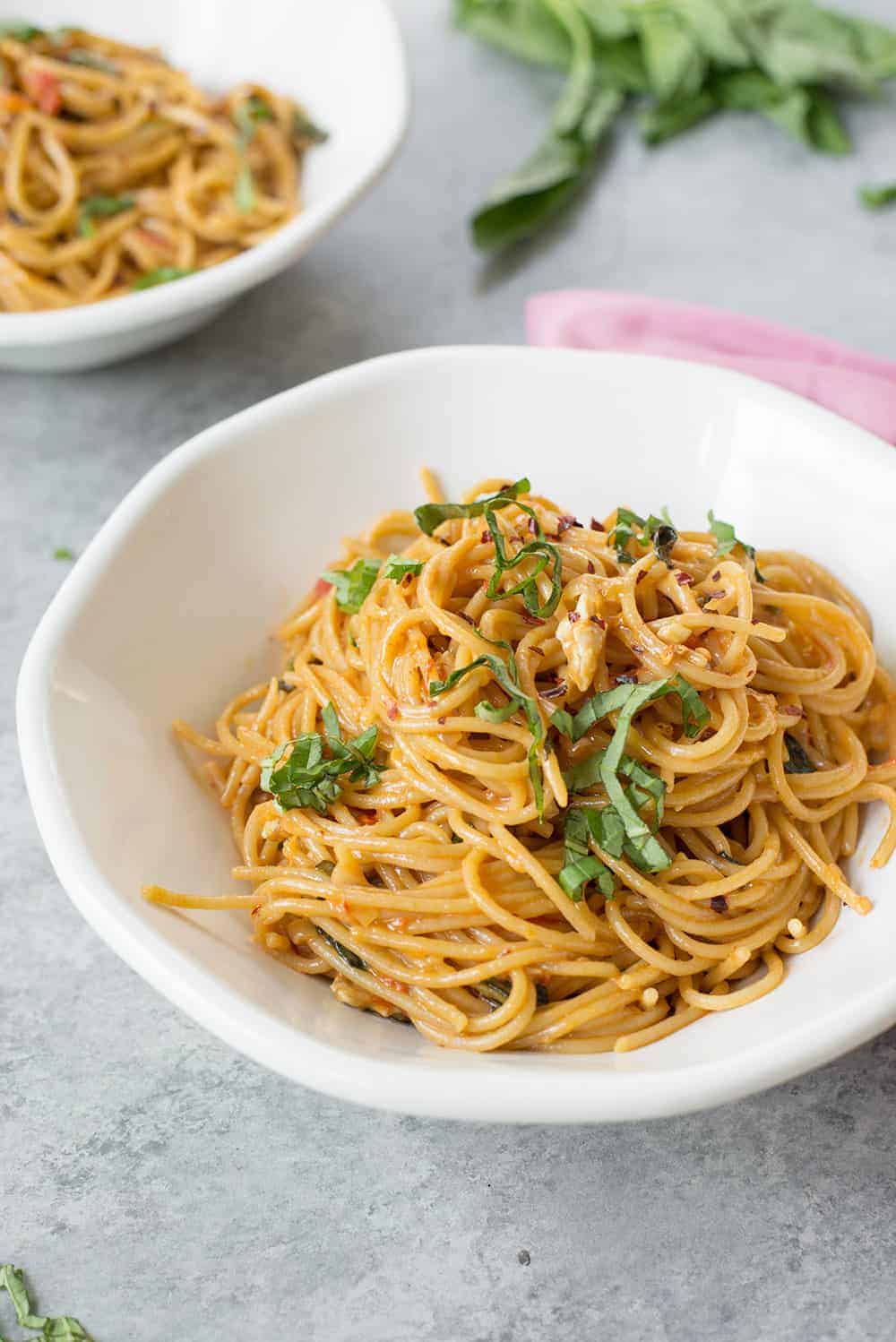 Really wish this website had taste-o-vision so you could be slurping up these cheesy noodles while I tell you how amazing they are. I'd remind you how simple this recipe is and you, after taking another bite, would confirm that yes, these really are some of the best noodles you've ever had.
It all started with a leftover half wheel of brie.
We had a bunch of friends over a few weekends ago and I decided to make my frozen sangria and a giant cheese plate. BL was craving some good cheese after our Wisconsin weekend and I thought it would be fun to have friends & babies over on our back deck for drinks, cheese and laughs.
St. Louis is definitely growing on me and I finally feel like we've got a good friend group. As I've learned after moving a few times post grad-school, it's much harder to make new friends the older that you get. While it's taken a few years, we both feel like we have met some incredible people in St. Louis and know they they will be in our lives for years to come.
MY LATEST VIDEOS
So, why not celebrate with drinks and cheese?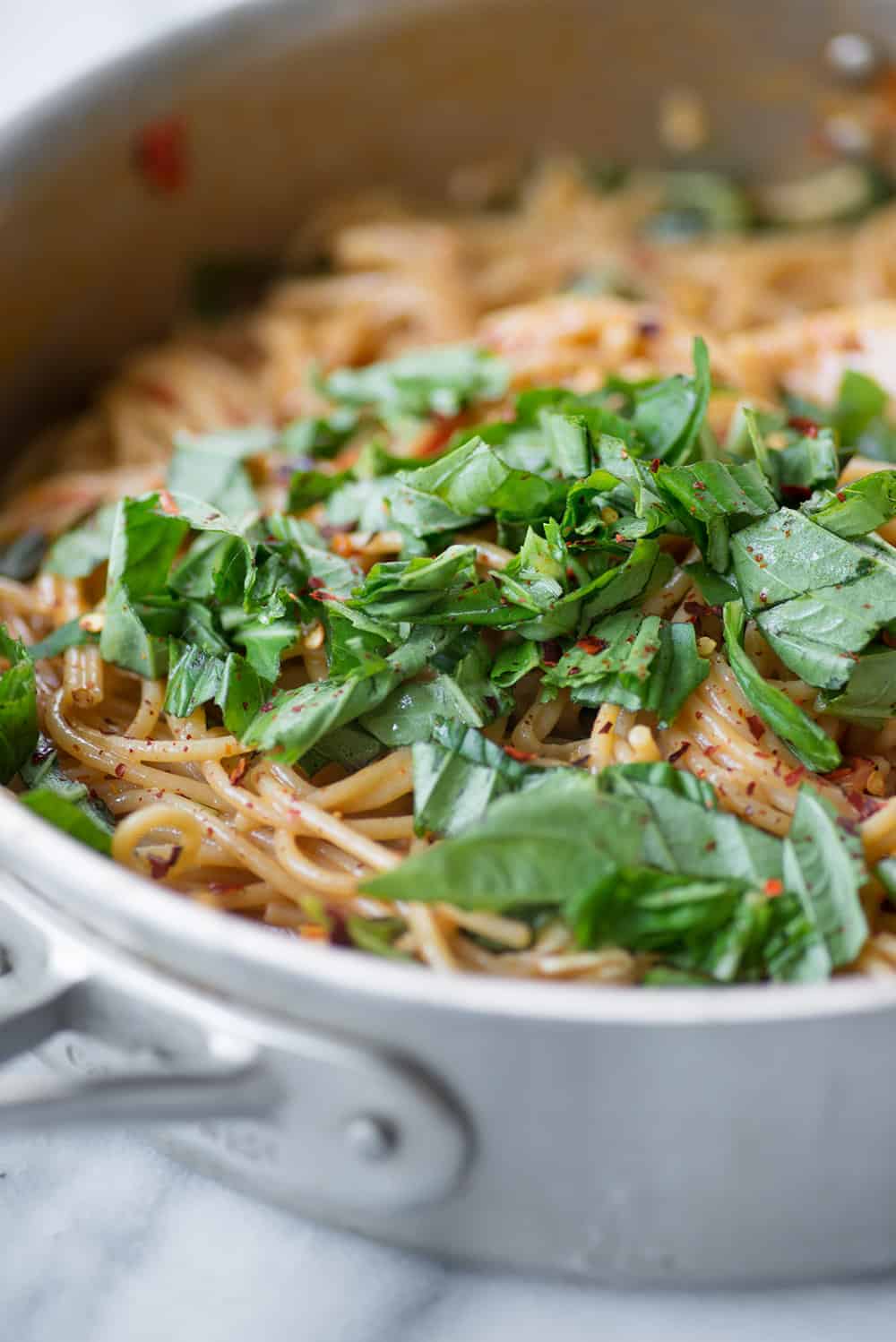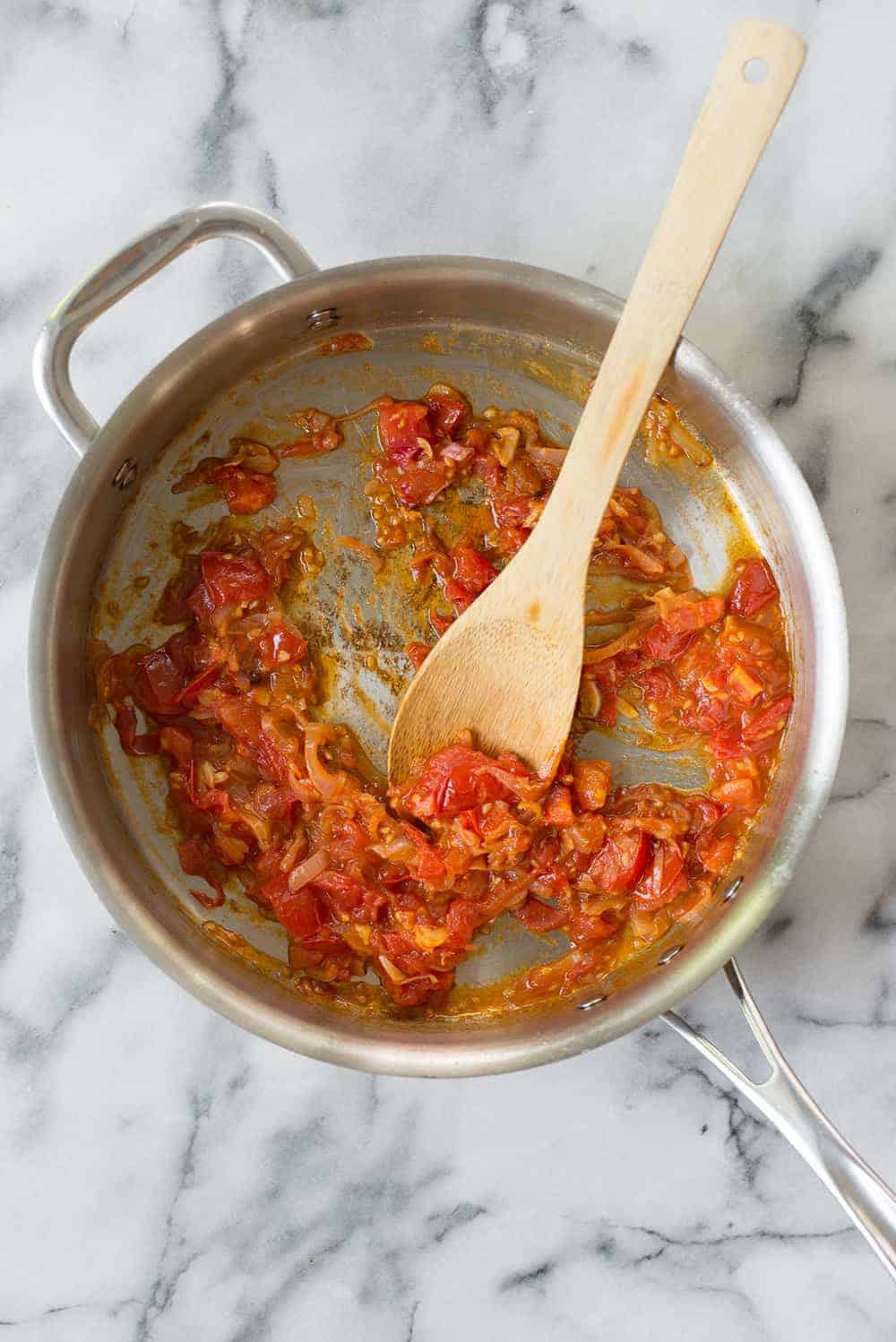 The next night I decided to put the leftover brie that I had from that cheese plate to work. I'm not a huge fan of brie on it's own and I knew that BL wouldn't touch it. Since I love melted goat cheese in my pasta, I thought that brie would act in a similar way.
Bingo. Oh my, if you love the flavor of brie and super cheesy, saucy pasta than this is for you. Cook the tomatoes until tender, then add in cubes of brie cheese. The heat from the pasta and a little pasta water will melt the brie into creating a sauce the clings to the noodles in the most delicious way. Add in tons of fresh basil an you've got a killer weeknight dinner.
Have you noticed a theme with my recipes lately? Most of them are ready in less than 30 minutes. As a new mom, I'm focused less on what we are eating and more that we are eating together. It's why these quick meals have become my staples. I can make this pasta in the time in takes BL to walk in the door, change his clothes, and cuddle with Vander for a few minutes. He takes the babe, I plate our meals and minutes later, we are eating.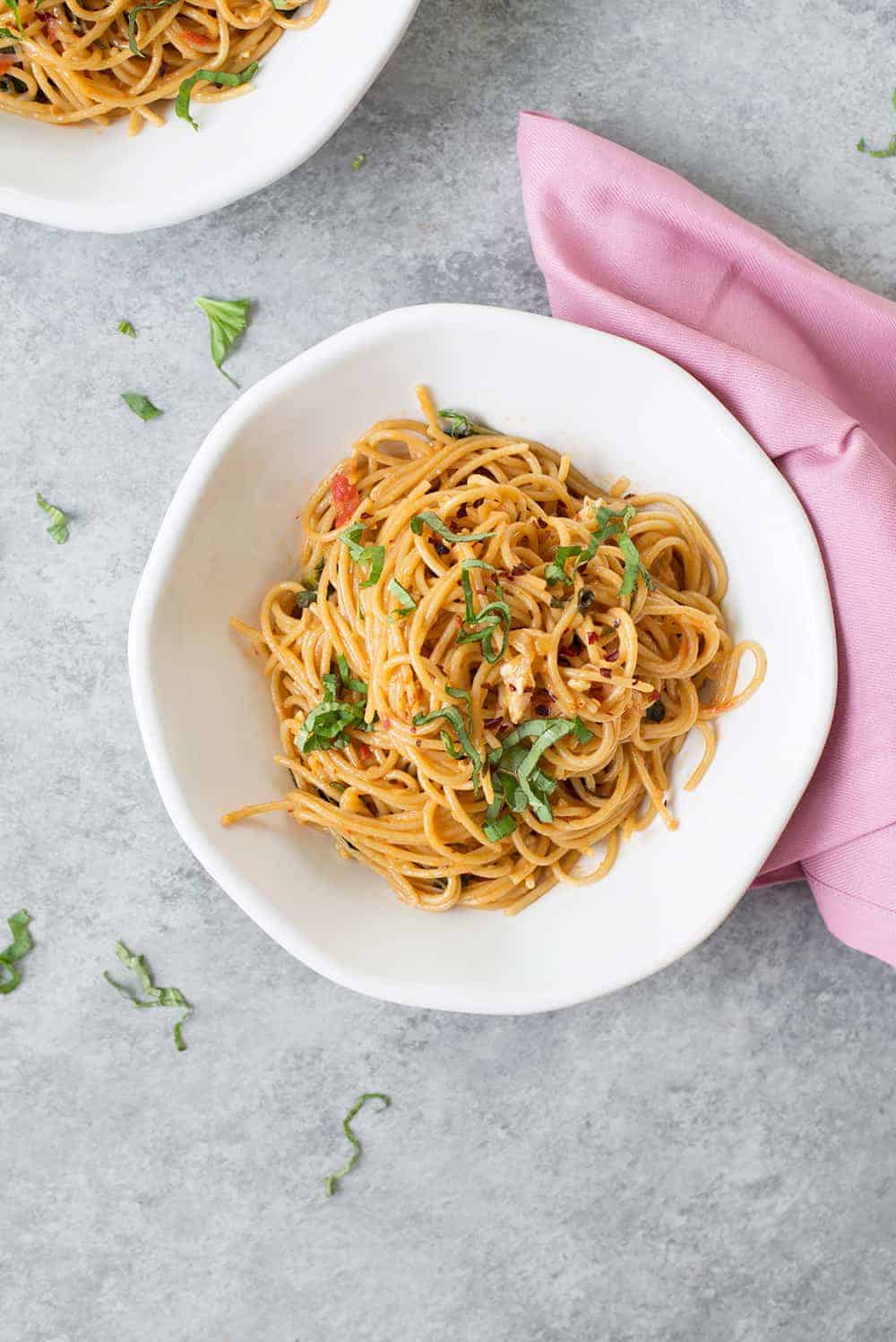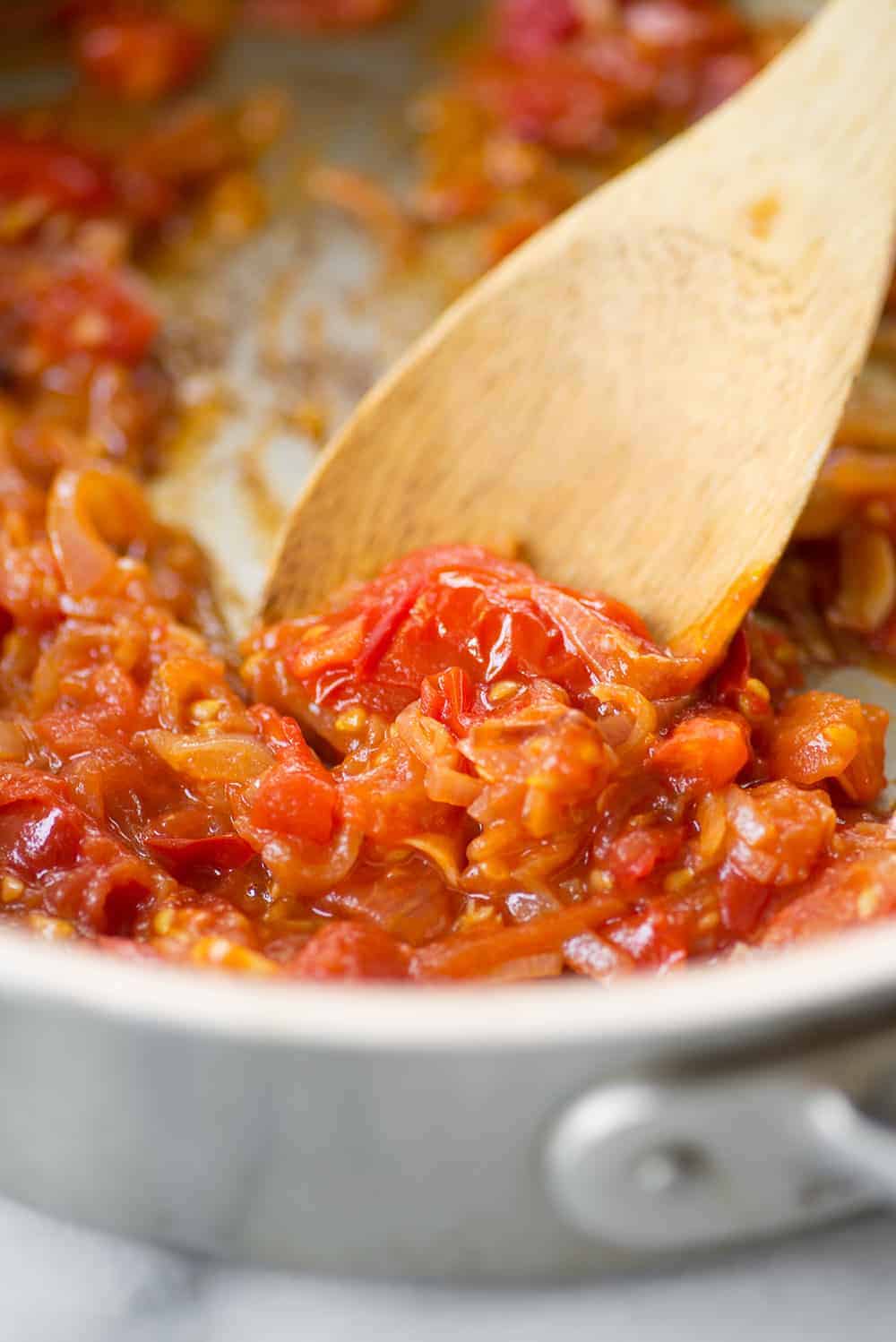 Few tips for creating killer pasta:
I don't cut the rind of my brie, but that's because I'm lazy. You are welcome to do so if you want a sauce that melts completely.
I did pop the wheel of brie in the freezer for 10 minutes while I made the tomatoes to make it easier to cube. You don't have to do this, but if you have the time and remember to do so, it'll make slicing go faster.
Make sure your water is salted before adding the pasta in. This is how you flavor pasta and you'll have to add more salt afterwards if the pasta isn't flavored while it's cooking. I dump in a palmful to my pot of boiling water.
Cook the pasta just under al dente, then transfer to the pot where you've made your tomato sauce. Reserve some of the pasta water, then add in a bit as you toss, toss, toss the pasta while it finishes cooking. This allows the pasta to finish in the flavorful sauce and helps the sauce cling to the pasta. This one trick will completely transform the way you make pasta, trust me.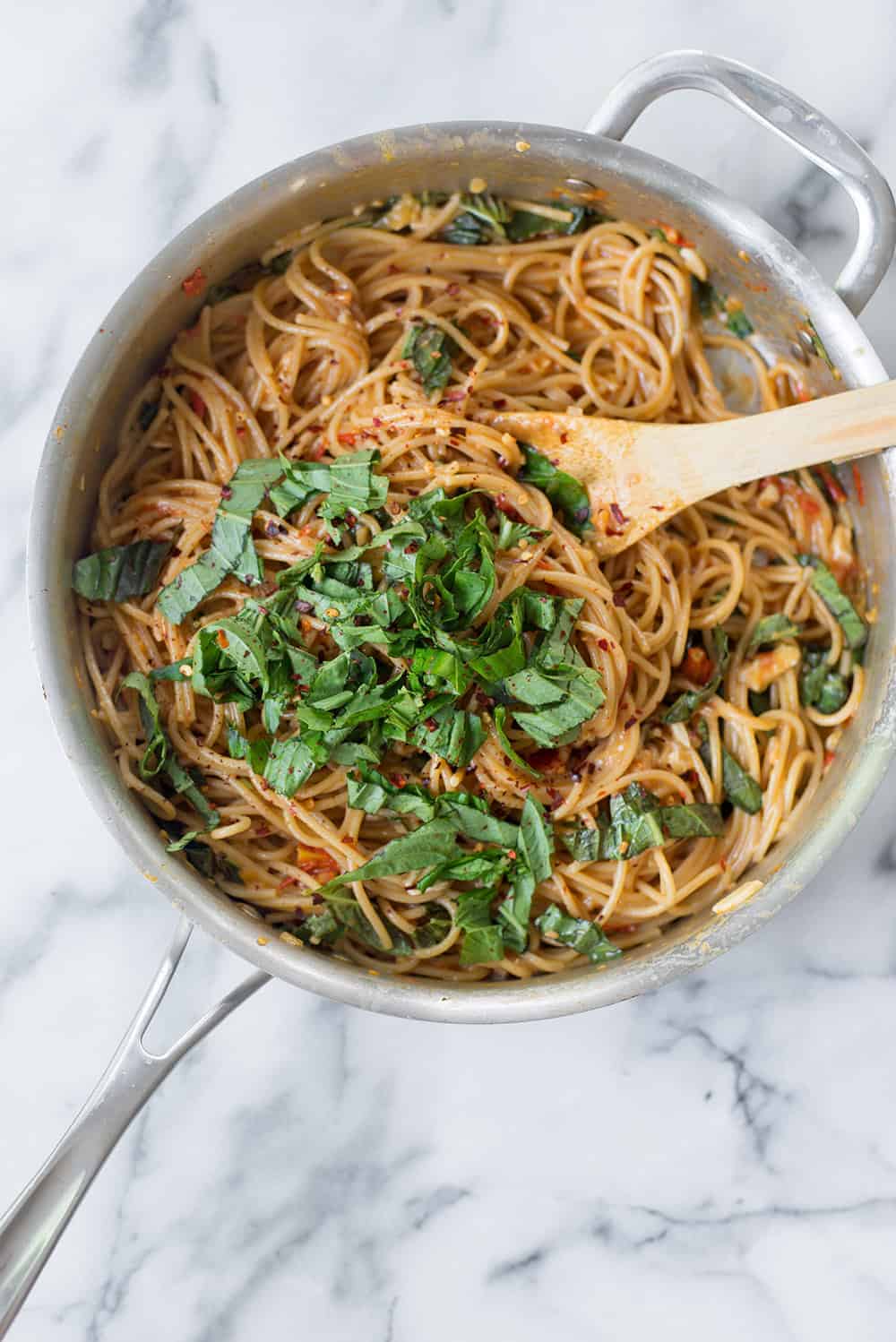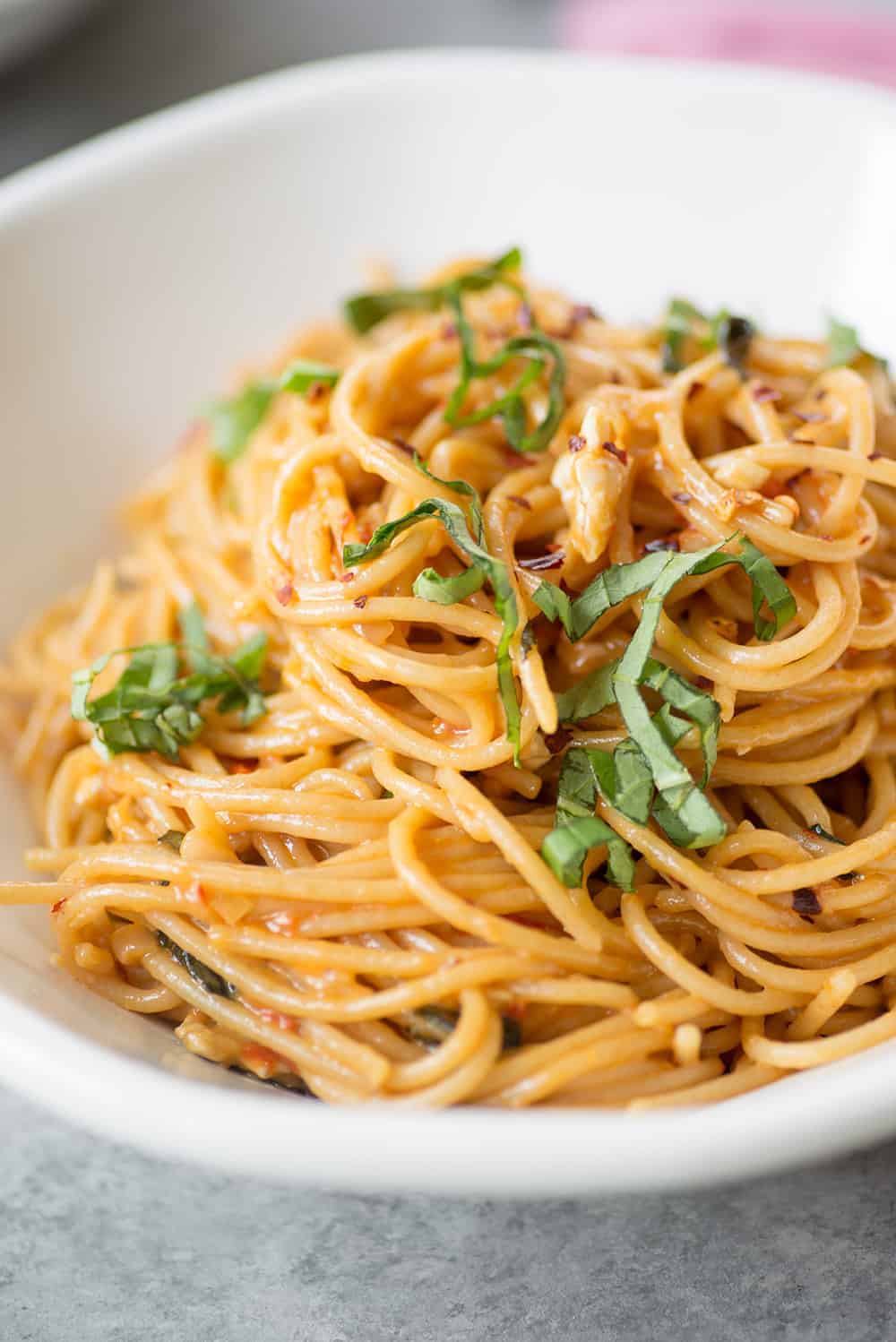 Print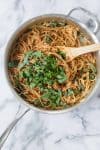 Easy Caprese Brie Pasta
Author:

Prep Time:

10 minutes

Cook Time:

12 minutes

Total Time:

22 minutes

Yield:

4 servings

Category:

main, dinner

Cuisine:

Italian, Vegetarian
---
Description
Easy Vegetarian Caprese Pasta! Ready in just 20 minutes featuring brie, summer tomatoes and fresh basil. 
---
Ingredients
1 tablespoon butter
2 shallots, chopped
2 cloves garlic, thinly sliced
1 cup chopped fresh tomatoes
1/2 teaspoon salt
1/4 teaspoon red pepper flakes
1 cup cubed brie*
10 ounces whole wheat spaghetti 
1 cup torn basil leaves
1 teaspoon balsamic vinegar 
---
Instructions
Bring a large pot of salted water to a boil. 
While the pasta is boiling, make the sauce. Heat the butter in a large skillet over medium heat and add the shallots and garlic. Cook, stirring continuously, until shallot is softened, about 3-4 minutes. Add the tomatoes, salt and red pepper flakes and cook an additional 4-5 minutes until tomatoes have softened. 
While the sauce is cooking, add the spaghetti to the water and cook until just al dente according to package directions, drain reserving 1 cup of the pasta water. 
Add the brie to the skillet along with 1/2 cup of the reserved pasta water (the pasta water will help the sauce cling to the pasta and will melt the brie.) Stir, stir, stir, gently melting the brie into the sauce. 
Add the pasta to the skillet and toss, toss, toss again until the sauce thickens and clings to the noodles. If the sauce is too thick, add a little of the reserved pasta water to thin. 
Remove from heat and add in the basil and balsamic vinegar. Stir, then serve! 
---
Notes
I made this recipe after having some leftover brie from a cheese plate, but any super melty cheese will work. I wouldn't use mozzerella as it will likely clump when the hot pasta water is added. If you don't have brie, then try a little bit of finely grated parmesan. 
To make the brie easier to cube, I put it into the freezer for 10 minutes. 
---
Nutrition
Serving Size:

1/4th recipe

Calories:

109

Sugar:

4 g

Sodium:

527 mg

Fat:

14 g

Saturated Fat:

8 g

Unsaturated Fat:

6 g

Carbohydrates:

56 g

Fiber:

10 g

Protein:

19 g

Cholesterol:

44 mg