Perfect hostess gift and healthy snack! Espresso Glazed Mixed Nuts! Just a handful of ingredients, ready in 30 minutes.
Have questions about nuts? I answer common myths below!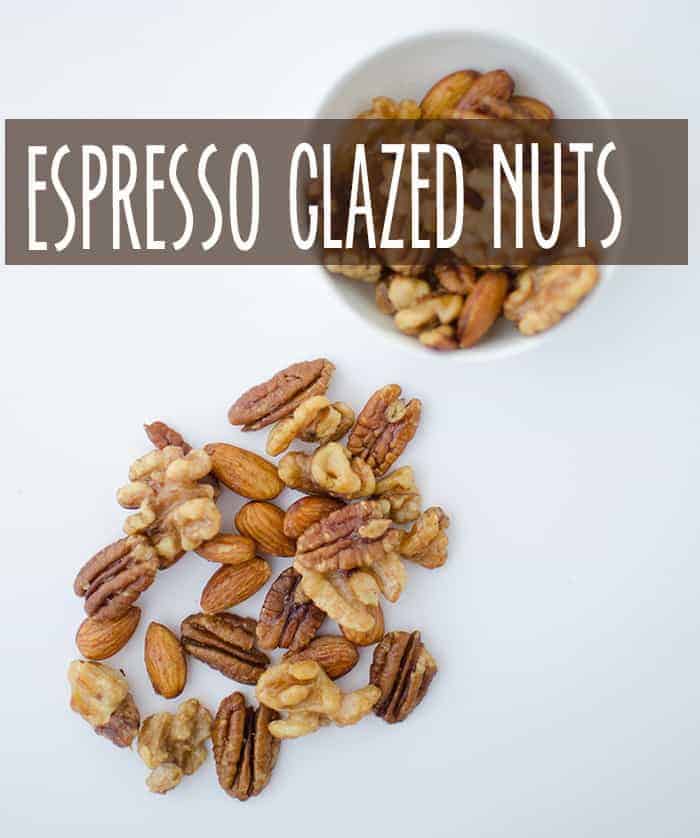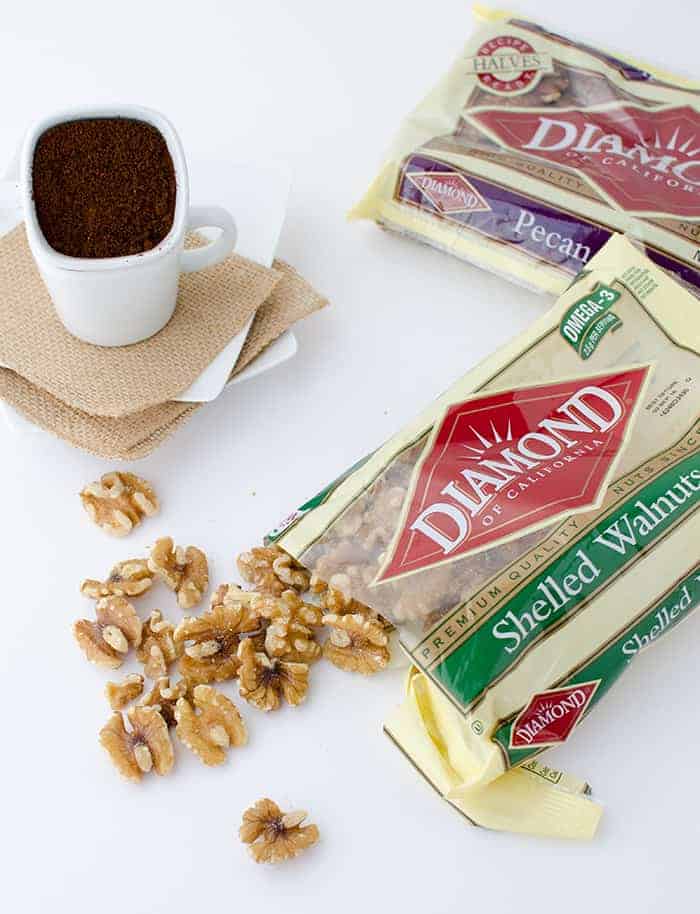 Is it too early to think about Christmas gifts? I always envied people who were able to complete Christmas shopping before Halloween. While it might be a tad obsessive (yes, sister- I'm looking at you), I secretly love the idea that once gifts are done, the real focus can begin: on baking, on eating, on socializing.
Of course in my world,  BL and I can be found mere days before the holiday running around the mall like crazed Christmas elves trying to check off everyone on our list. Then, we usually decide that I'll just bake something and call it a day. And then swear it will be different next year.
Well, no more. This year everyone's getting nuts, and that's all there is to it. Kidding, but of course- not kidding.
MY LATEST VIDEOS
I made these Espresso Glazed nuts a few weeks ago and have not been able to get the idea of Christmas gifts out of my head. Can you imagine how cute these will be in a little jar, some red and white twine and an adorable recipe label that also features my face? Merry Christmas to all. 
For those of you who are screaming into your computer that it's only October 17th, I say to you- you're right. It's just hard not to think of gifting these nuts to friends and colleagues. Slightly sweet with a hint of cinnamon and bitter espresso, these are adult nuts made for sharing.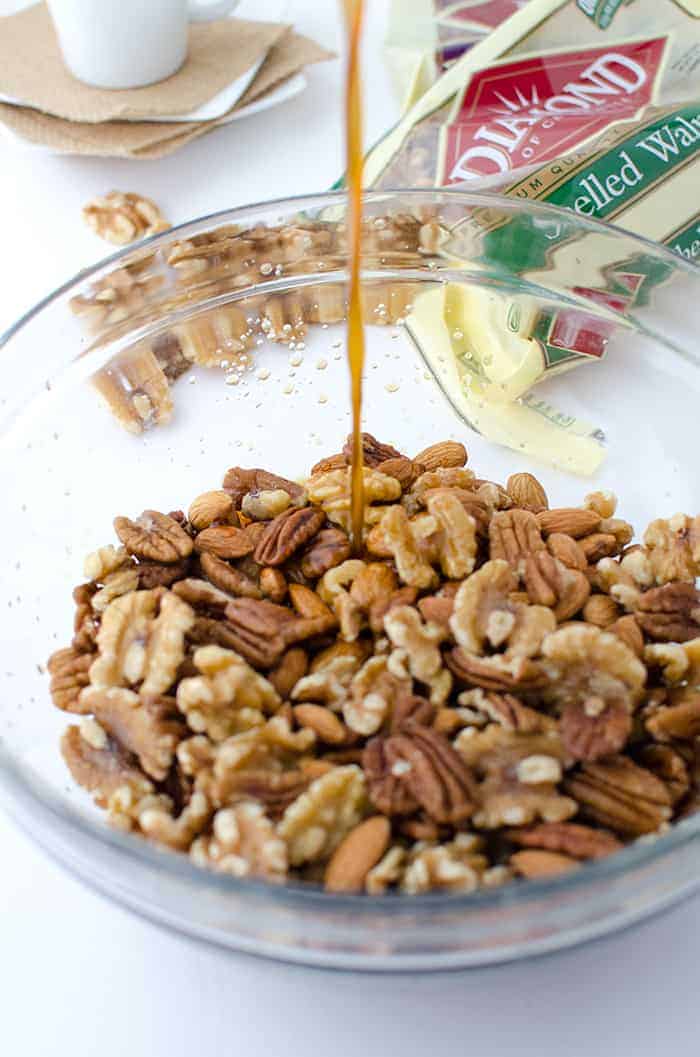 Last night, I had the pleasure of speaking with health & nutrition bloggers about one of my favorite foods- NUTS! Sadly, they're a misunderstood food. To me, nuts are one of my favorite ways to enjoy healthy fats, and I personally eat a serving every single day. Below are two frequently asked nut questions along with my responses.
       1. Should I limit my nut consumption? I hear they are high in fat/calories:
Fat is good for us! Our diet should provide 25-30% of calories from fat, mostly in the form of healthy poly-unsaturated and mono-unsaturated fats. Incorporating nuts into your diet helps you meet your fat goals in a healthy way! The average serving of nuts contain 15g of fat, comparable to 1 ½ tbsp. of oil. While both of these fat sources contain heart-healthy fats, nuts also contain fiber, protein, and nutrients like vitamin E, phosphorus, magnesium and others. Oil is almost 100% fat. This is why I call nuts a nutrient dense food; they contain a lot of nutrients in addition to calories and fat.
      2. Do you need to soak nuts before consuming?
Seeds like nuts, edible seeds, beans and grains store phosphorus as phytic acid, also known as phytate. Phytic acid acts similar to vitamins, with research showing protection against cardiovascular disease, cancer and diabetes! When phytic acid binds with minerals, it prevents the formation of free radicals- compounds that can lead to chronic disease.
Of course, like all things, more doesn't mean better. Phytic acid can bind minerals in digestion and reduce the digestibility of starches, proteins, and fats. This can be problematic for people who have a hard time digesting essential nutrients- like calcium or iron, and don't eat a balanced diet. While our bodies can handle phytic acid, some people find that they digest nuts better when they are soaked. Soaking (and cooking) can reduce the phytates in foods and change the taste! Some people find that they prefer certain nuts soaked, especially ones in the skin, like walnuts or almonds, since soaking nuts removes some of the bitter tannins. If you do soak your nuts, you can eat them as is or rinse and lightly toast or dehydrate. Just make sure you discard the soaking water!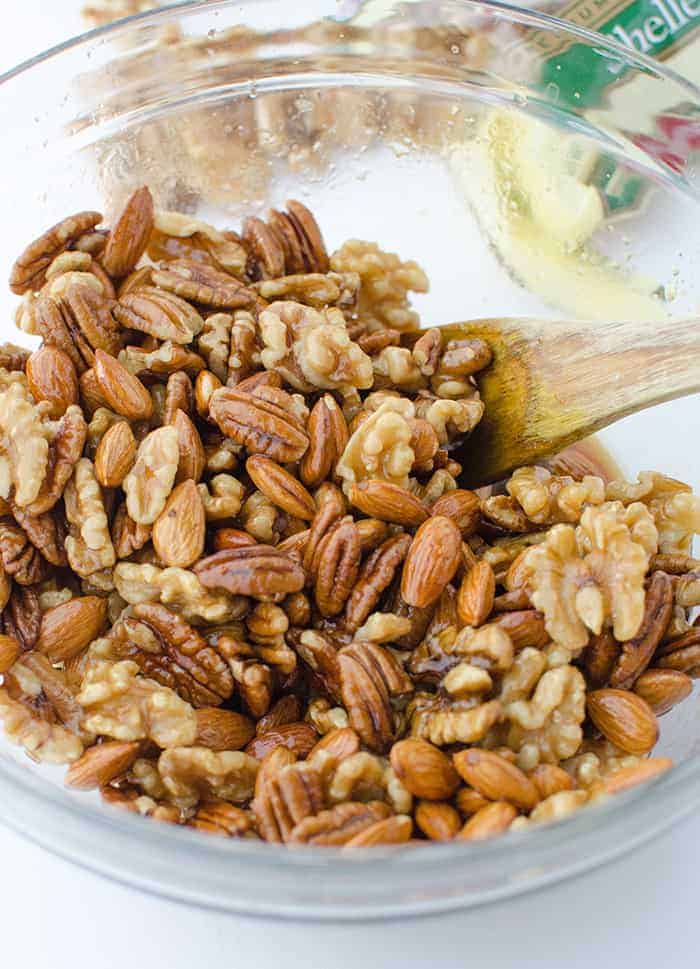 Ready to go nuts? Besides these Espresso Glazed Nuts (pinkie promise me you will try them!), I love to use nuts wherever I want a little crunch! Toss them into salads, grain dishes, baked goods and oatmeal!
And sure, while snacking on nuts is a delicious way to enjoy them, there are so many ways to enjoy these healthy fats: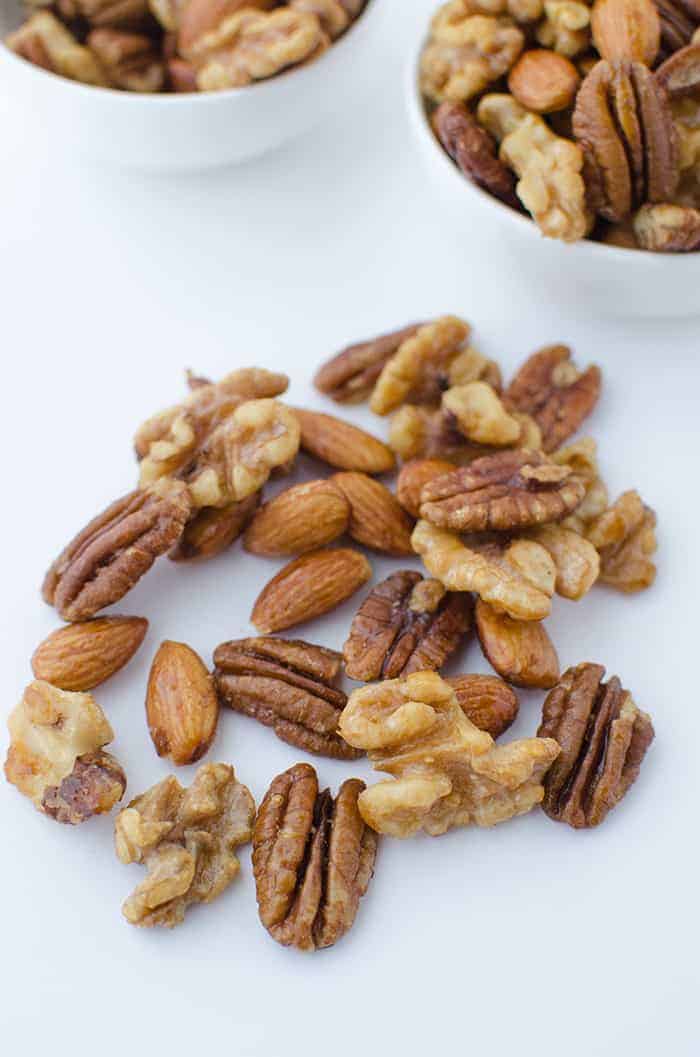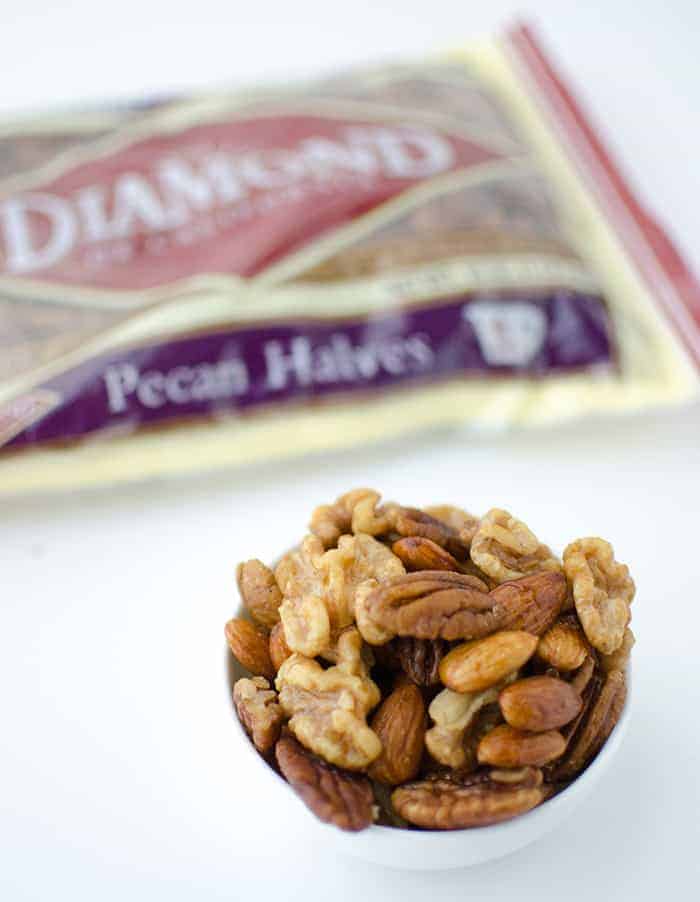 Enjoy your weekend! I hopped on a plane early this morning to head to the annual Food and Nutrition Conference in Atlanta, with stops afterwards in Richmond,VA and Phoenix. Traveling for two weeks straight means a lot of delicious noms along the way. I'll be showcasing my adventures on Instagram!
If you try this recipe, let me know! Leave a comment, rate it, and tag your Instagram photos with #delishknowledge . I absolutely love seeing your creations. Happy cooking! 
Print
---
Scale
Ingredients
1 cup

whole almonds

1 cup

whole pecans

1 cup

whole walnuts

1

espresso shot (about

2.5 oz

.)

1/2 cup

maple syrup

1/2 tbsp

. pure vanilla extract

1/8 tsp

. cinnamon

2 tbsp

. coconut oil
---
Instructions
Preheat the oven to 300 degrees F.
Line a baking pan (not a sheet, the juices will run off!) with parchment paper or a non-stick mat like siplat.
Whisk together the espresso shot, maple syrup, vanilla extract, cinnamon and coconut oil. Toss with almonds, pecans and walnuts and let sit for 10 minutes.
Using a slotted spoon, remove the nuts and place in a single layer on the baking pan.
Drizzle with leftover espresso sauce.
Place in the oven and bake for 10 minutes.
Remove and gently stir the nuts in the pan. Place back in the oven and cook an additional 7-10 minutes until toasted!
Remove and let cool completely.
Store in an airtight container or jar. These make the perfect hostess gifts!