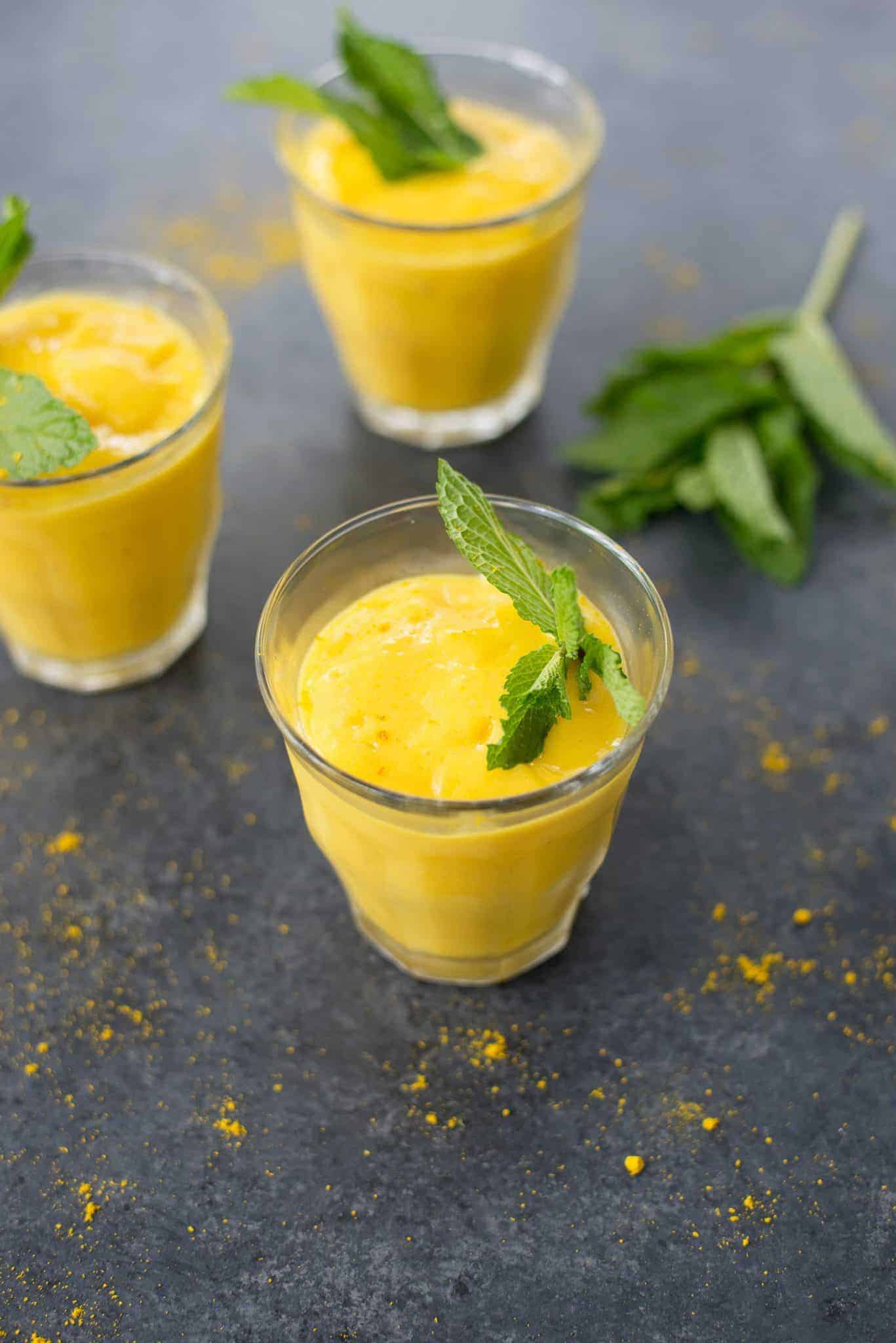 I might not be that into vegetables right now, but fruit, you are my #1 love.
I'm at Costco at least weekly, stocking up on grapes, berries, mangos and frozen fruit. Gosh, it's just so delicious and refreshing. I'm anticipating a very hot & sticky pregnant summer with lots and lots of fruit. You've been warned in advance if this space turns into nothing but smoothies, juices and popsicles.
This smoothie is a variation of one that I've been making often. It's the perfect afternoon snack when I'm hungry and thirsty, but don't really feel like cooking. I swear the first smoothie was created by a pregnant women, it's the easiest way to get in nutrition with the least amount of effort.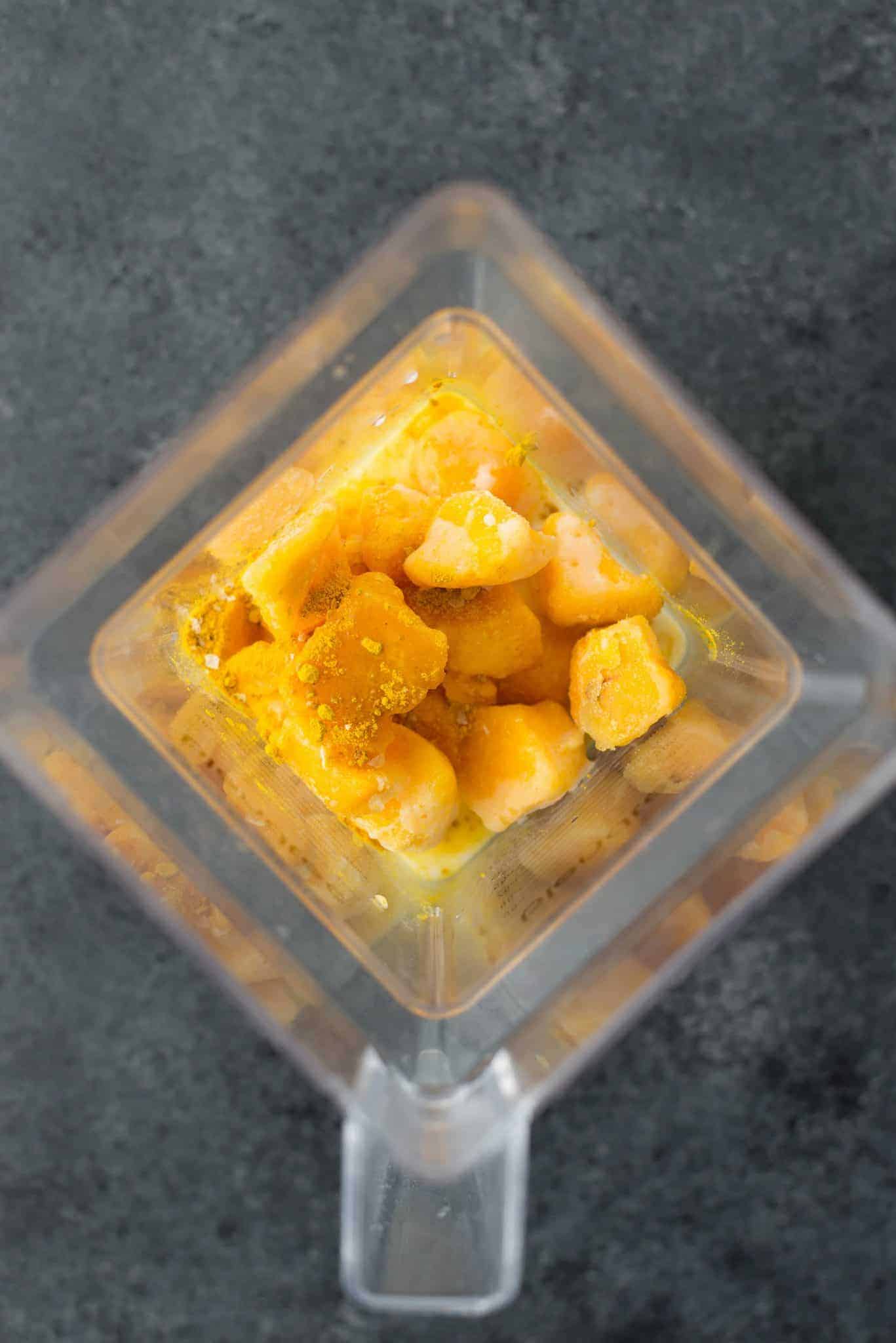 Frozen mango is on my list every time I head to the grocery store. It's the perfect addition to smoothies, oatmeal or thawed and eaten on it's own. It's one of the few frozen fruits that I don't mind eating this way; I empty a cup or two into a bowl to place in the fridge for a few hours, then eat as is.
For extra nutrition, I sprinkled in a bit of Cup of Sunshine dust into this smoothie. If you're not familiar with CoS dust, it's made by my friends over at Big Heart Tea. I mentioned them a few weeks ago in my first-trimester essentials post and I've been slowly making my way through all the St. Louis coffee houses where their tea is served. Tea can be this good.
The dust is a pulverized version of their Cup of Sunshine tea, it's packed with turmeric, ginger, lemongrass and peppercorn. It's warming, fiery and loaded with antioxidants; it genuinely warms my heart every time I sip it. I know that peppercorn can sound odd in a tea, but combining turmeric and pepper together increases bioavailability of curcumin, the active ingredient in turmeric.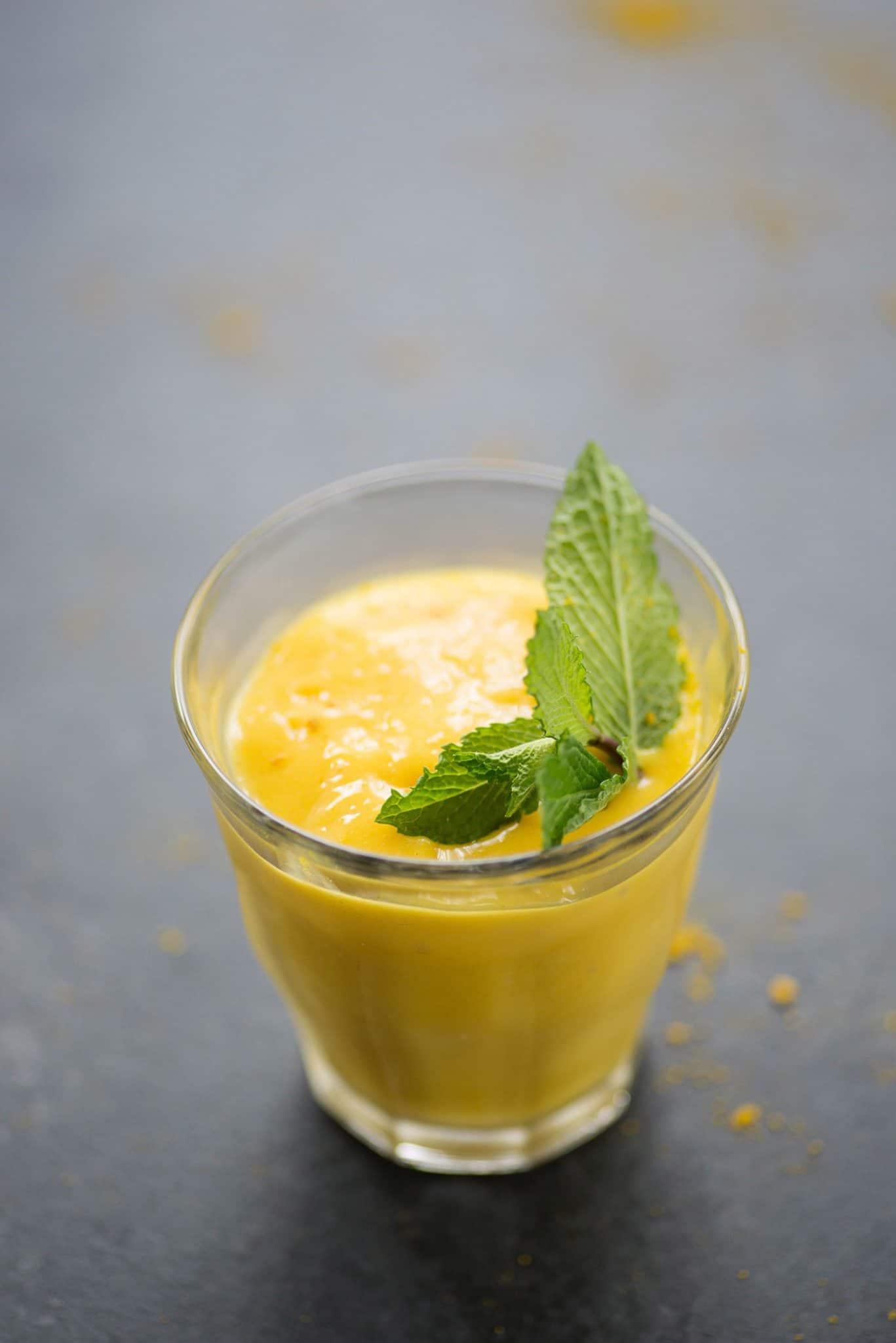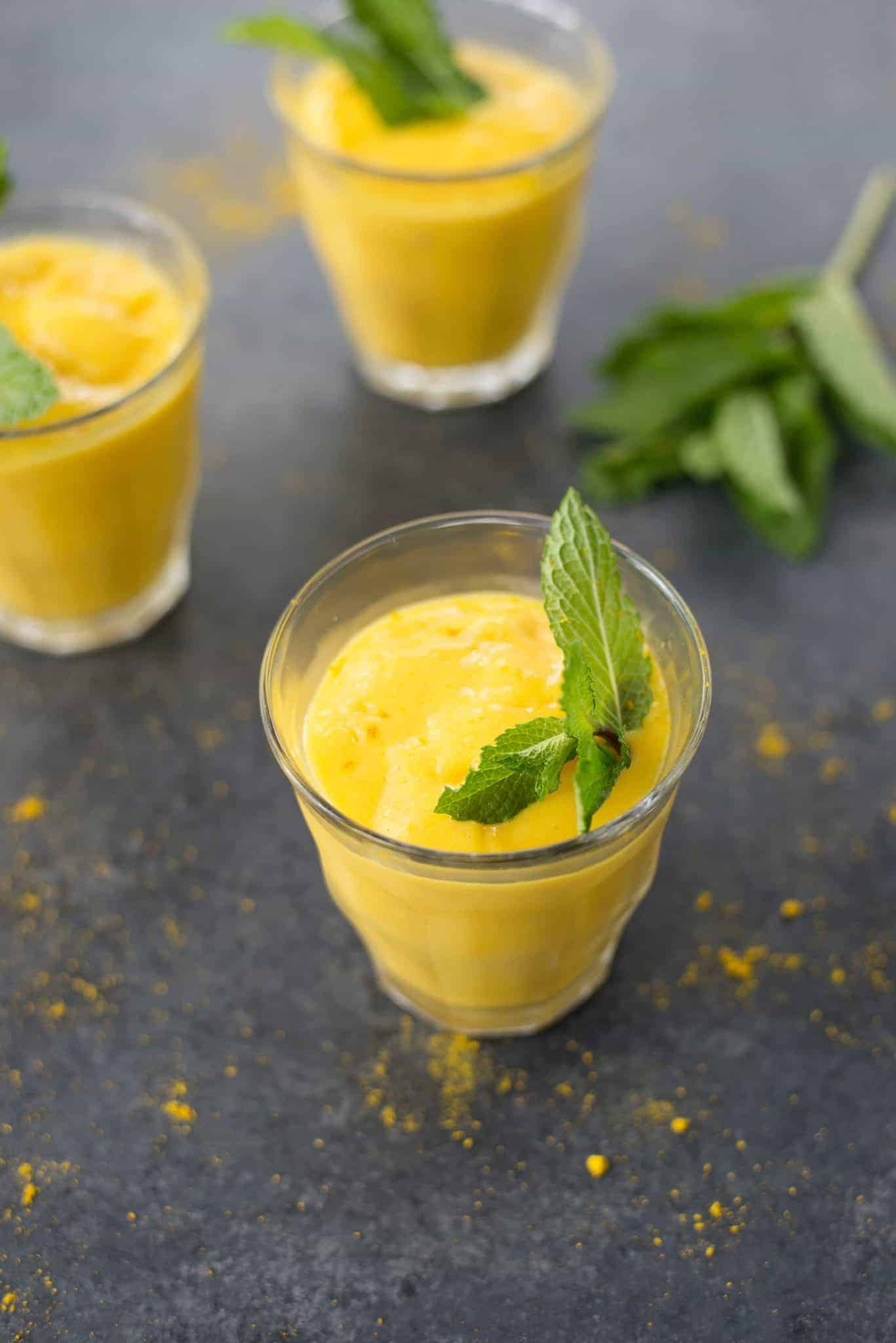 I know that a traditional lassi has yogurt in it, but I thought that coconut milk would be an acceptable substitution. It balances the sweet mango and spices perfectly, without adding much of a competing flavor. If you're mango isn't frozen, back off a bit from the coconut milk. This lassi should be thick like a frosty, easy to eat with a spoon if you'd like.
If you're new to turmeric, go slow. I usually start off with 1/2 teaspoon of the dust, then work my way up from there depending on my mood. Sometimes I'm fiery, sometimes I'm sweet.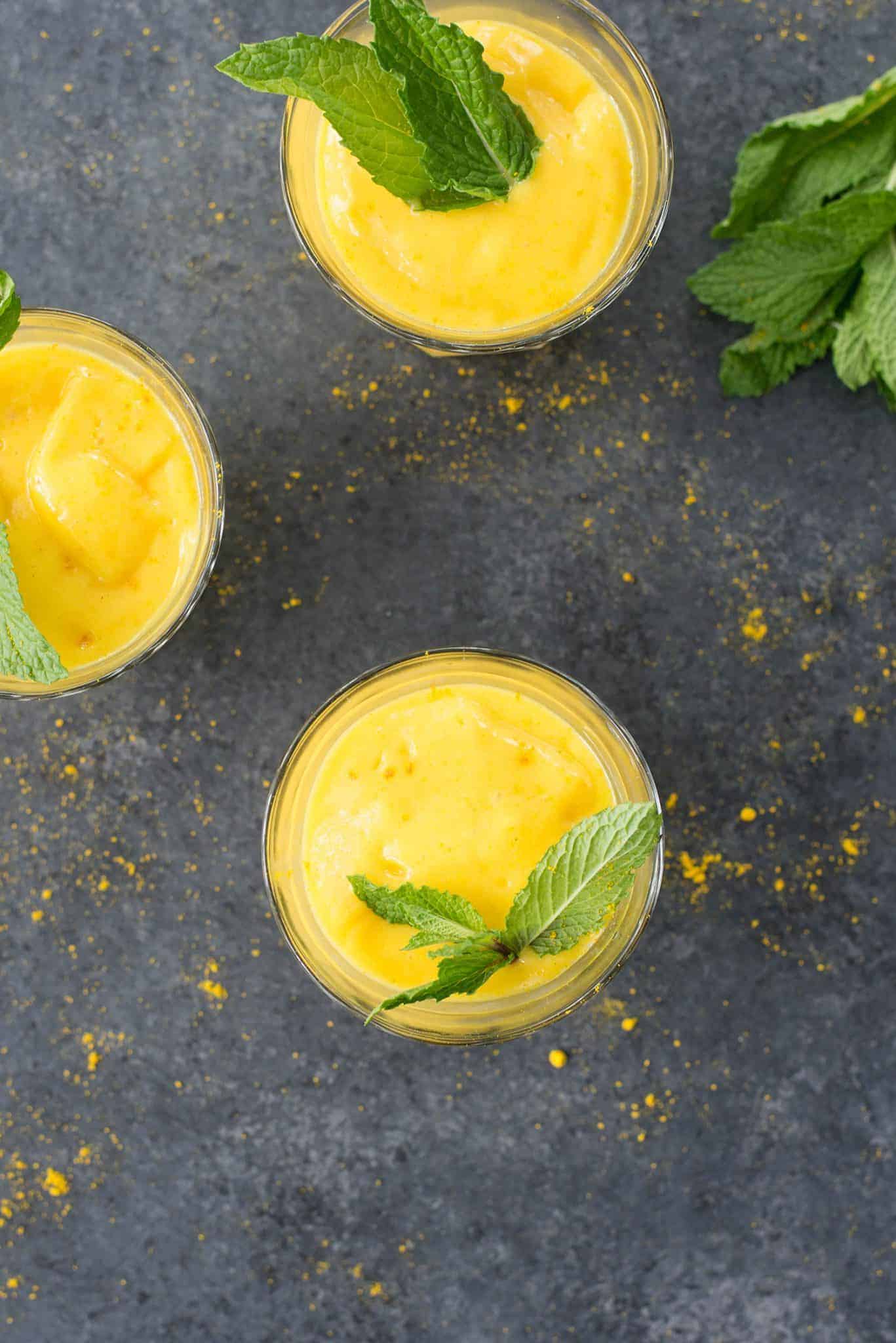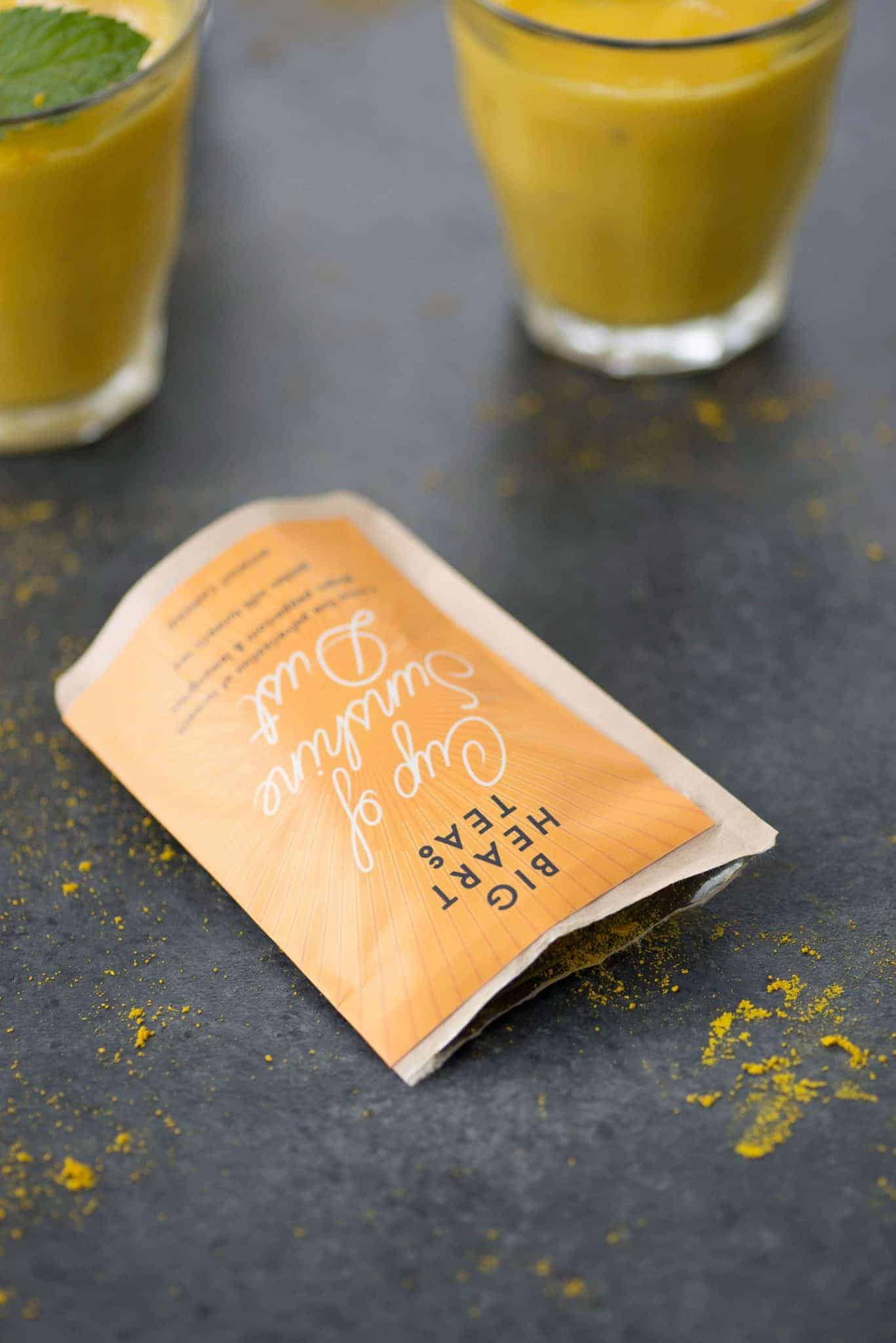 If you try this recipe, let me know! Leave a comment, rate it, and tag your Instagram photos with #delishknowledge . I absolutely love seeing your creations. Happy cooking! 
Print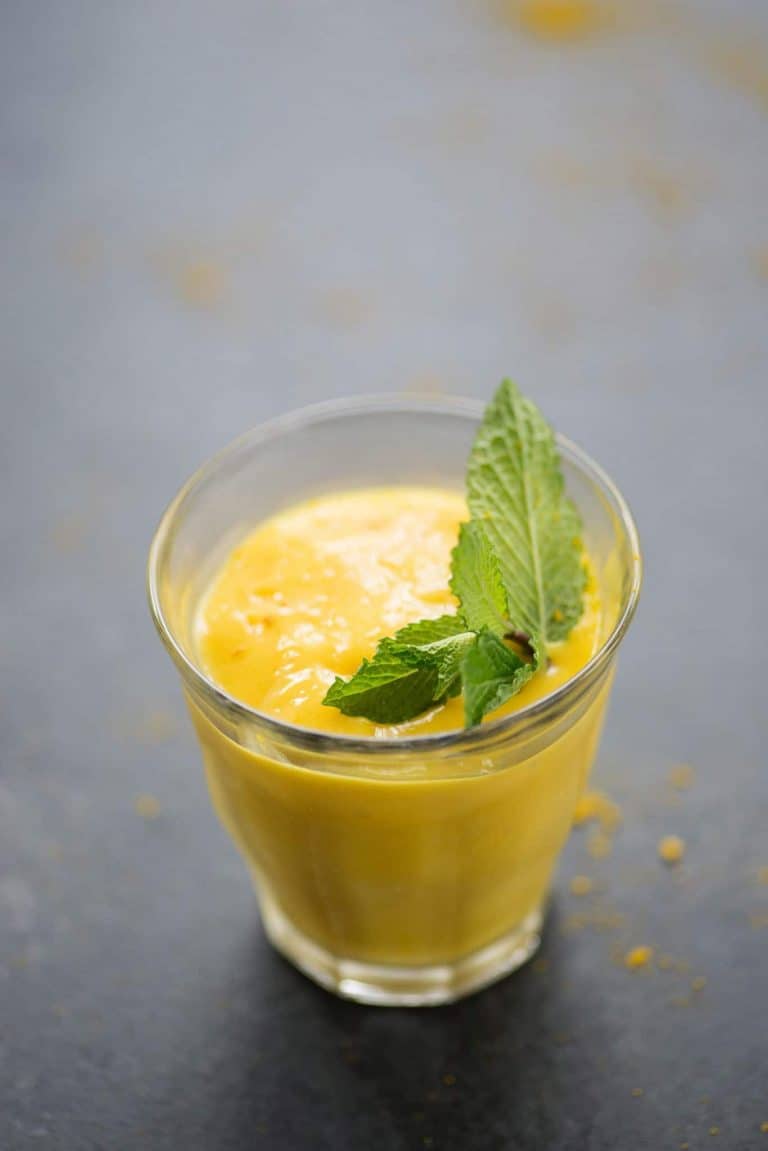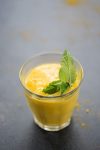 Frozen Mango Lassi
Author:

Prep Time:

5 minutes

Total Time:

5 minutes

Yield:

2

-

4

servings

1

x
Category:

breakfast, smoothie, beverage
---
---
---
---
This post is NOT sponsored and does NOT contain any affiliate links. I just really love BigHeartTea and wanted to share this yummy recipe with you. xo