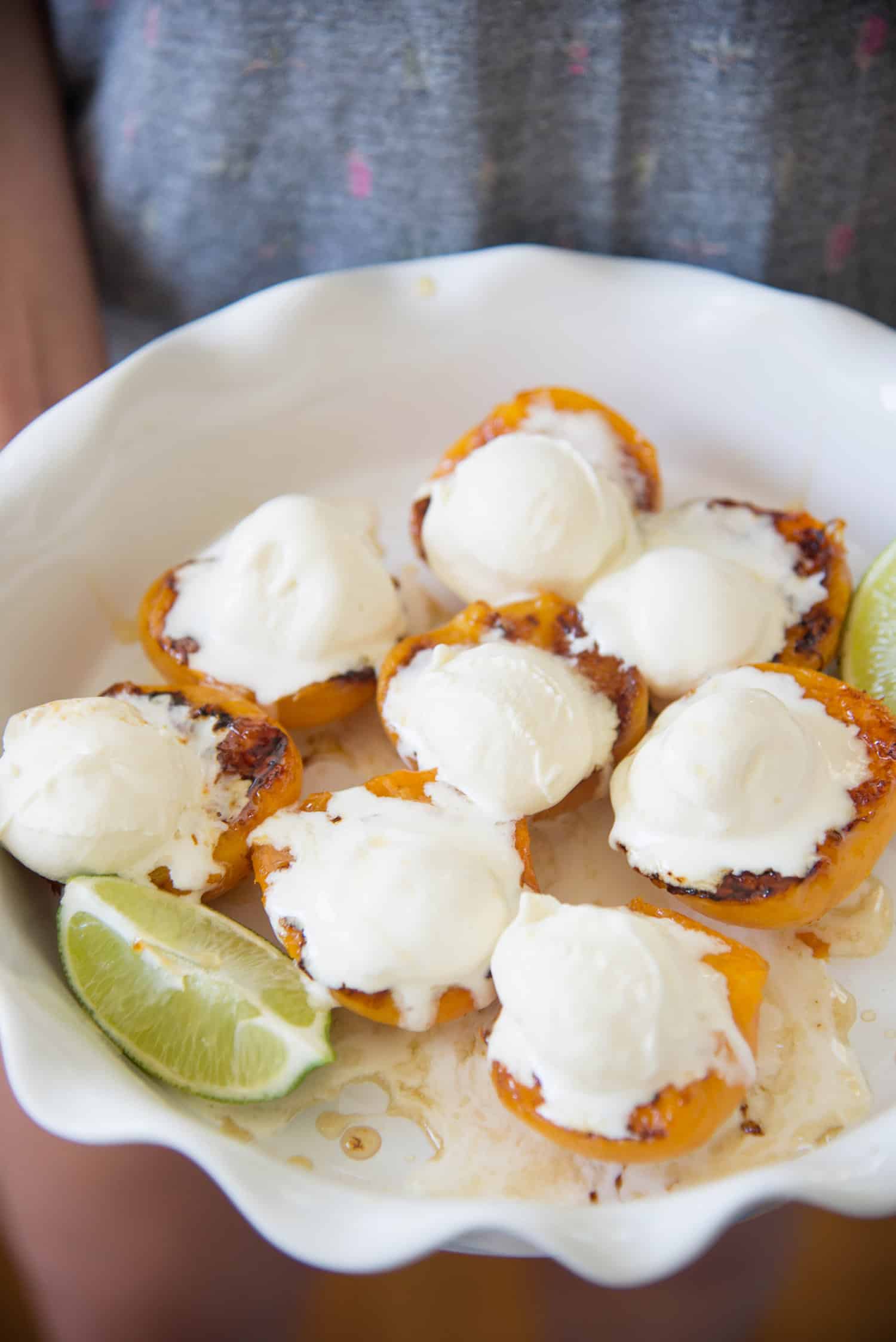 Can we take a moment to appreciate how amazing summer produce is? Gosh, I feel like a kid in a candy store every time I head to the market.
I'll take some plums, peaches, apricots and fresh corn. Oh! And don't forget about the watermelon. And cantaloupe. And heirloom tomatoes. And then I have to remind myself that we are still a family of two and my cart can easily feed ten. (But I still push through because, summer produce.)
While 95% of the time I prefer to eat my fresh fruits plain, I enjoy coming up with fun ways to prepare them. I love the ritual of making desserts, whether it's rolling out a crust for fresh cherry pie, slicing up peaches for pie bars or tossing everything in the fridge together for a refreshing fruit salad.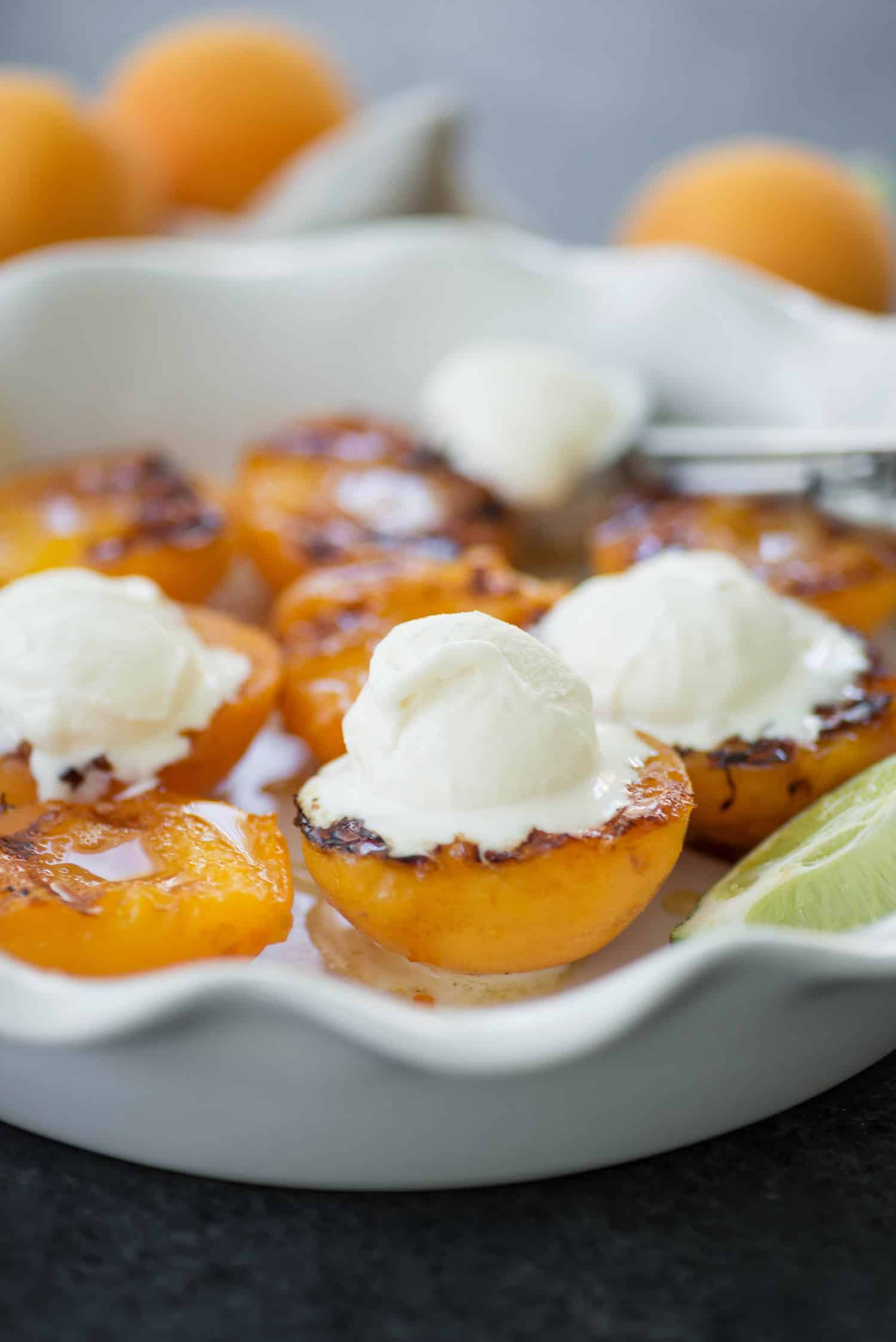 If you've ever grilled stone fruit before, you know what a yummy treat this dessert is. And how effortlessly it comes together. Which, is really how I prefer my summer meals to be.
MY LATEST VIDEOS
You know how I feel about entertaining. It's probably a blessing that we are still making friends here in St. Louis as I'd happily have friends over nightly for dinner, especially in the summertime. There is something so rewarding about cooking for others. I mean, I suppose it's my life's passion. Here, I love you and I made you some food. 
But, I don't want to spend too much time in the kitchen while you're here. And I definitely don't want to spend any time in the kitchen cleaning up after you've left. So, let's put things on the grill or make a big salad and call it a day.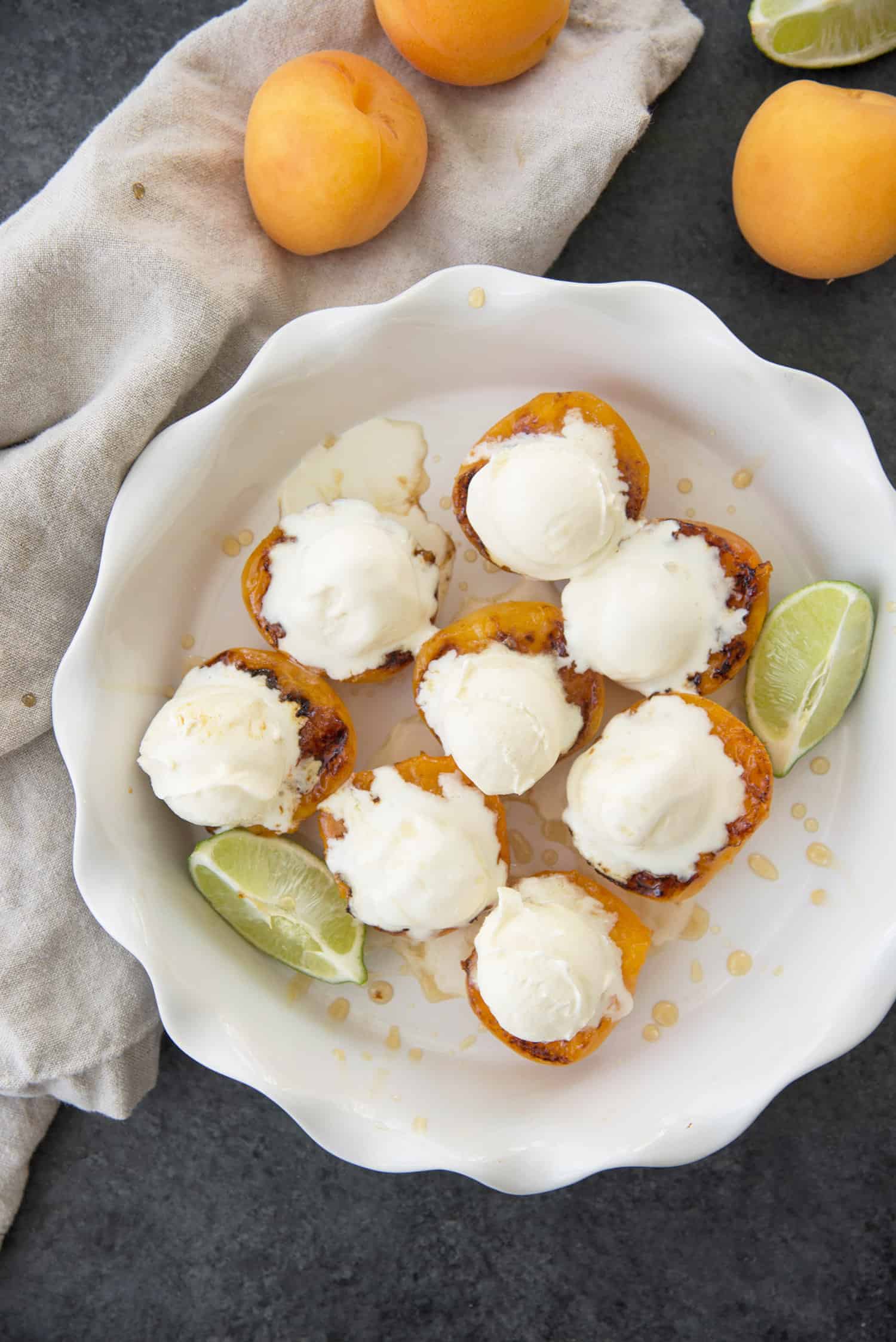 That's where this dessert comes in. It's perfectly bite-sized for an after-dinner treat, yet easy to whip up whenever the craving strikes.
To start, I made a simple honey-ginger-lime glaze to brush on the apricots as their grilling. I suppose you could just use honey or maple syrup if you're in a hurry, but the added zest of lime and warmth from the ginger really elevate these simple grilled apricots.
That's it! Then you put on a plate and top with ice cream. I've been obsessed with homemade coconut milk ice cream and personally think it's the perfect compliment with these ginger-lime apricots. But, whatever floats your boat. Since the apricots are so small, a 1 tablespoon dollop fits the crevice perfectly.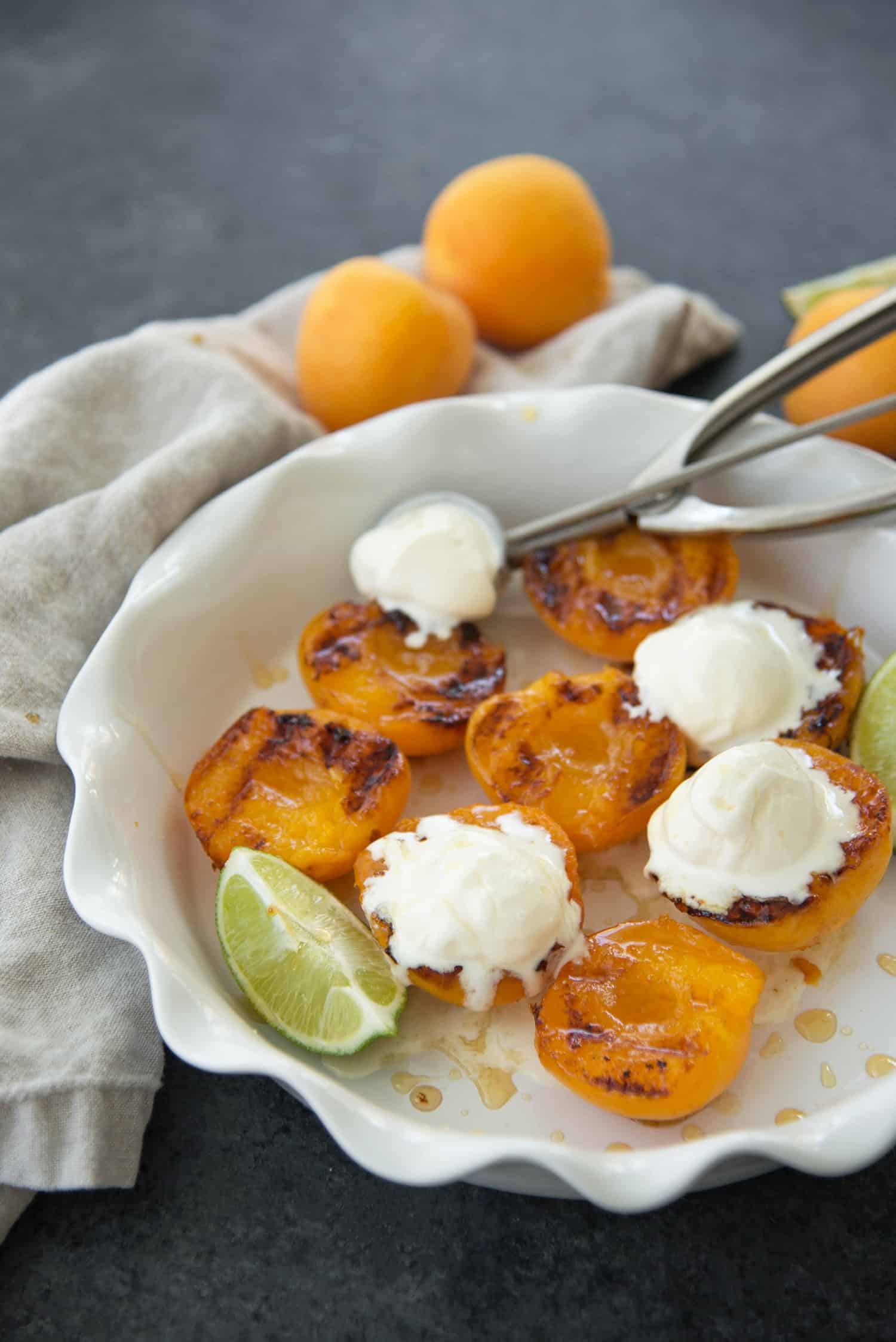 If you're serving these to a crowd, I like to place the grilled apricot halves in a pie dish, then top with ice cream right before I'm ready to serve. Friends can then pick up a little half with their hands (um, this works better if you're outside) or use a spatula to transfer onto their plates.
Grilled apricots! A perfect two-bite dessert.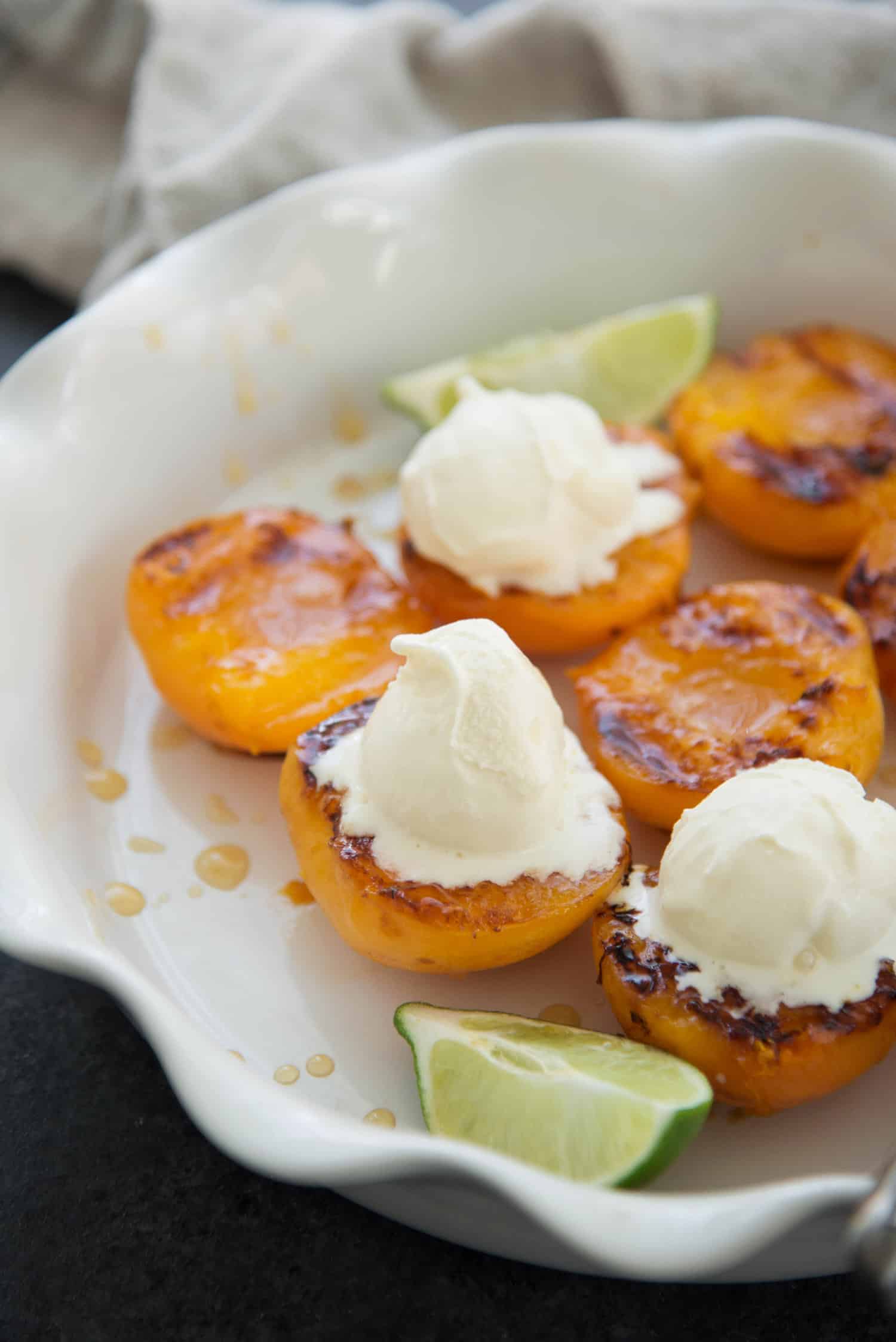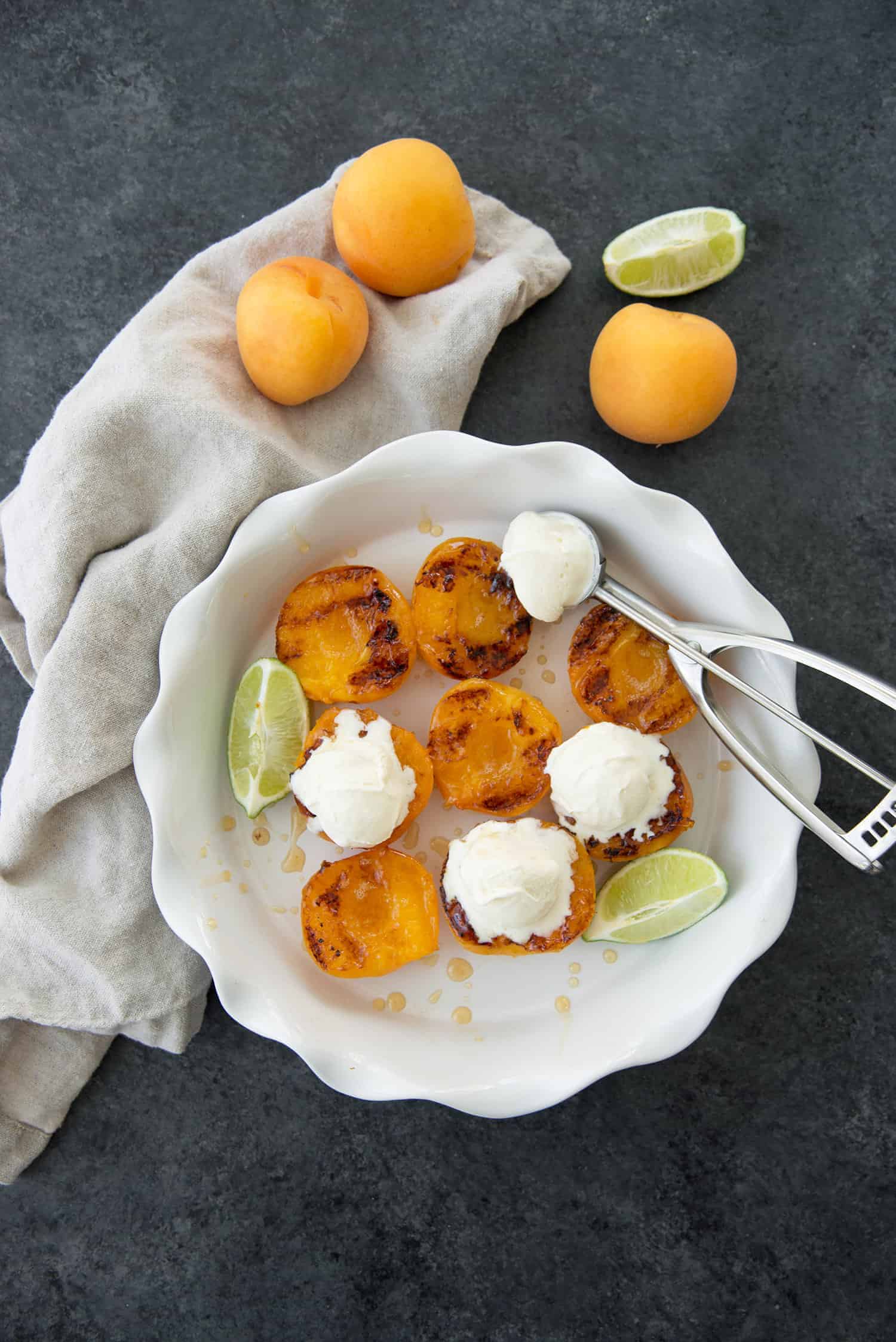 If you try this recipe, let me know! Leave a comment, rate it, and tag your Instagram photos with #delishknowledge . I absolutely love seeing your creations. Happy cooking! 
Print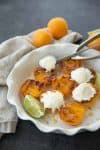 Grilled Honey Ginger Apricots with Ice Cream
---
Description
Grilled Honey Ginger Apricots with Ice Cream. This summer dessert is so easy, perfect for an easy entertaining dessert. Gluten-free and easily vegan. 
---
Ingredients
4 apricots halved & pit removed 

¼ cup honey

1/2 lime, juiced and zest 

½ teaspoon grated ginger

Ice cream, for serving (I love these paired with coconut ice cream, like a tropical treat!) 
---
Instructions
Preheat and grease grill or grill pan to medium heat.
In a small bowl, whisk together the honey, ginger and lime juice/zest together. Place bowl in microwave (or on stovetop) and heat for 15-20 seconds until warm and easily pourable. 
Brush (I use a silicone pastry brush) the cut side of the apricots with the syrup, then place on the grill, cut side down. Let cook for 3-4 minutes until grill marks appear and apricots can be easily flipped. 
Right before flipping, brush with more honey mixture, then grill an additional 2-3 minutes on the other side. 
Remove and drizzle with remaining honey sauce. 
Right before serving, dollop with 1 tablespoon scoop of ice cream and serve. 
Happiest of birthdays to the Recipe Redux! Crazy to believe that they turn 6 this month. I love getting to participate in these fun challenges each month. To celebrate, we're all sharing our favorite small bite dessert recipe. Click the link for more healthy dessert inspiration!