Peach Pie Bars! The perfect way to enjoy ripe peaches. Vegan and easily gluten-free.
I know it's been a little dessert-heavy over here lately. I just can't help it. The abundance of fresh summer fruit has made me crave cobblers, crisps, ice cream, pie and more.
So, here we are again. Peach pie bars! For those of us who love the idea of peach pie but don't want to spend an hour in the kitchen making said pie. Easy, fuss-free, handheld. I like to think of these as my millennial bars. For my friends who are daunted by the task of rolling dough and making pie, but still want a yummy, produce heavy dessert. These are for you.
A tender oat and pecan crust bursting with fresh, juicy peaches. I can't get enough of peaches this time of year; that perfect moment when you bite into one and the juices can't help but roll down your chin and your arm. When you need a napkin (or a bath) after eating your peaches, it's time to make these bars.
MY LATEST VIDEOS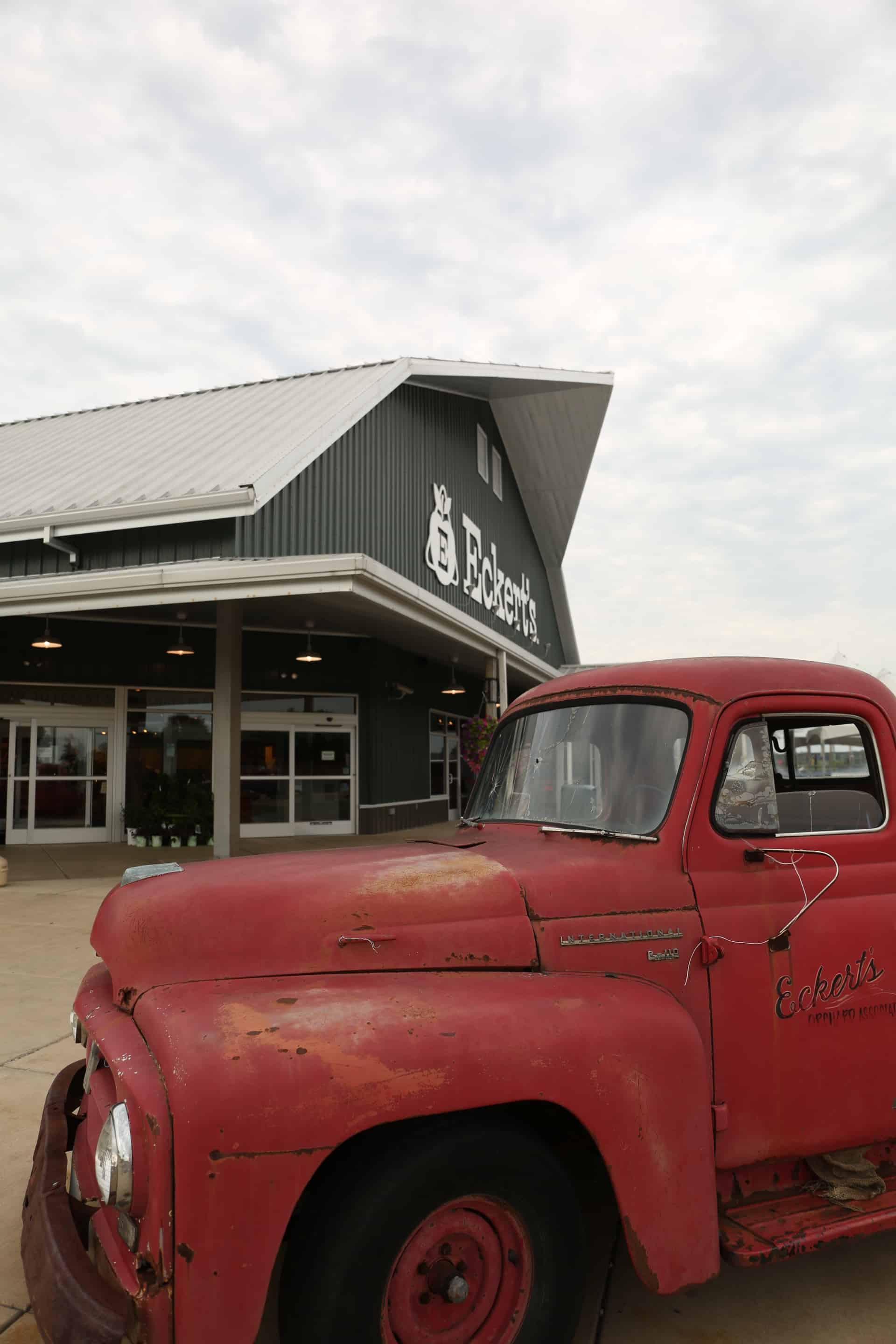 I had the pleasure of spending last Thursday evening at Eckert's Farm, a gorgeous pick-your-own farm and country store located just outside St. Louis in Belleville, Il. Local friends, this is a must-stop place and one BL and I will be frequenting season after season. Strawberry picking in May, peaches in July, pumpkins in October… this is going to be fun. I've got my eye on the upcoming Wine & Apples in the Orchard event this September. Apple picking and wine tasting!? It's like I'm back at Apple Hill.
Since moving to St. Louis, I've been struggling to find the perfect balance of local produce that was so abundant in Northern California. When you were spoiled with farmer's markets every single day of the week, it's hard not to sound like a brat leaving that behind. While we've rotated through a few CSA's here and there, I'm leaning towards hitting up Eckert's weekly for fresh, local produce, homemade bread and flowers. For just $20/half bushel, I can head to the farm and pick whatever vegetables are in season. Amazing. I'm blown away by not only the quality of produce, but the prices as well.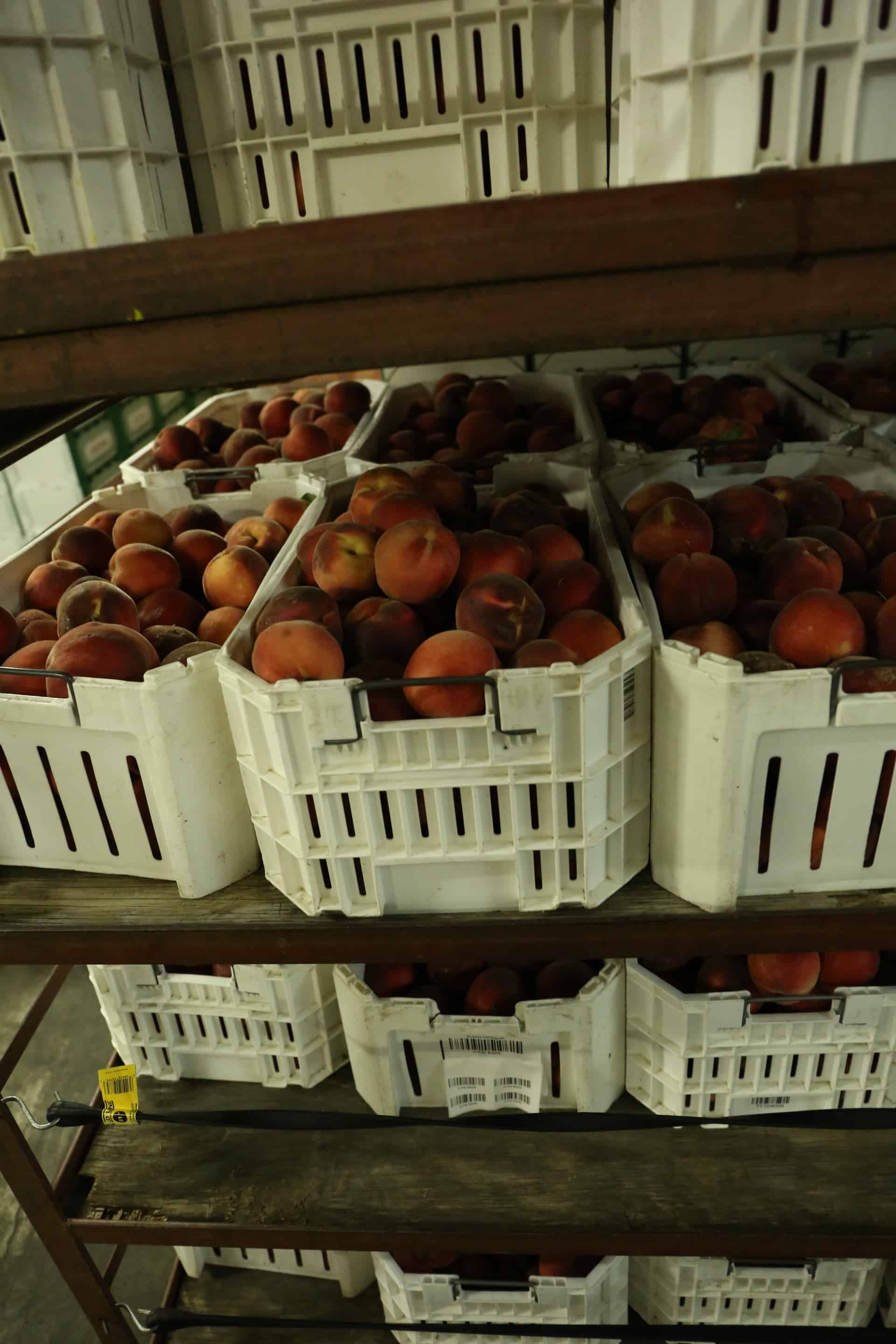 Dinner at Eckert's was hosted by two of my local blogging friends, Sherrie and Julia. Two talented chefs in their own right, pairing them together for this incredible night was a dream come true.
We started dinner in the country store, enjoying a chamomile peach wine spritz and impressive fruit and cheese display. The spritz was a refreshing start to the evening, a balance of crisp white wine, flowery tea, peach syrup, lemon thyme and a bit of club soda for fizz. Sipping on drinks, eating a bit of cheese, and chatting it up with fellow bloggers and chefs. Not even mad that this is real life. 
After a wagon ride through the farm (with stops to taste fresh sweet corn and peaches along the way!), we were greeted to this table setting below. I'm constantly in awe of artistic friends, as my idea of setting a fancy table involves busting out the placemats and the cloth napkins. Fresh flowers, mini vases, personal jars of peach butter and produce centerpieces are just showing off.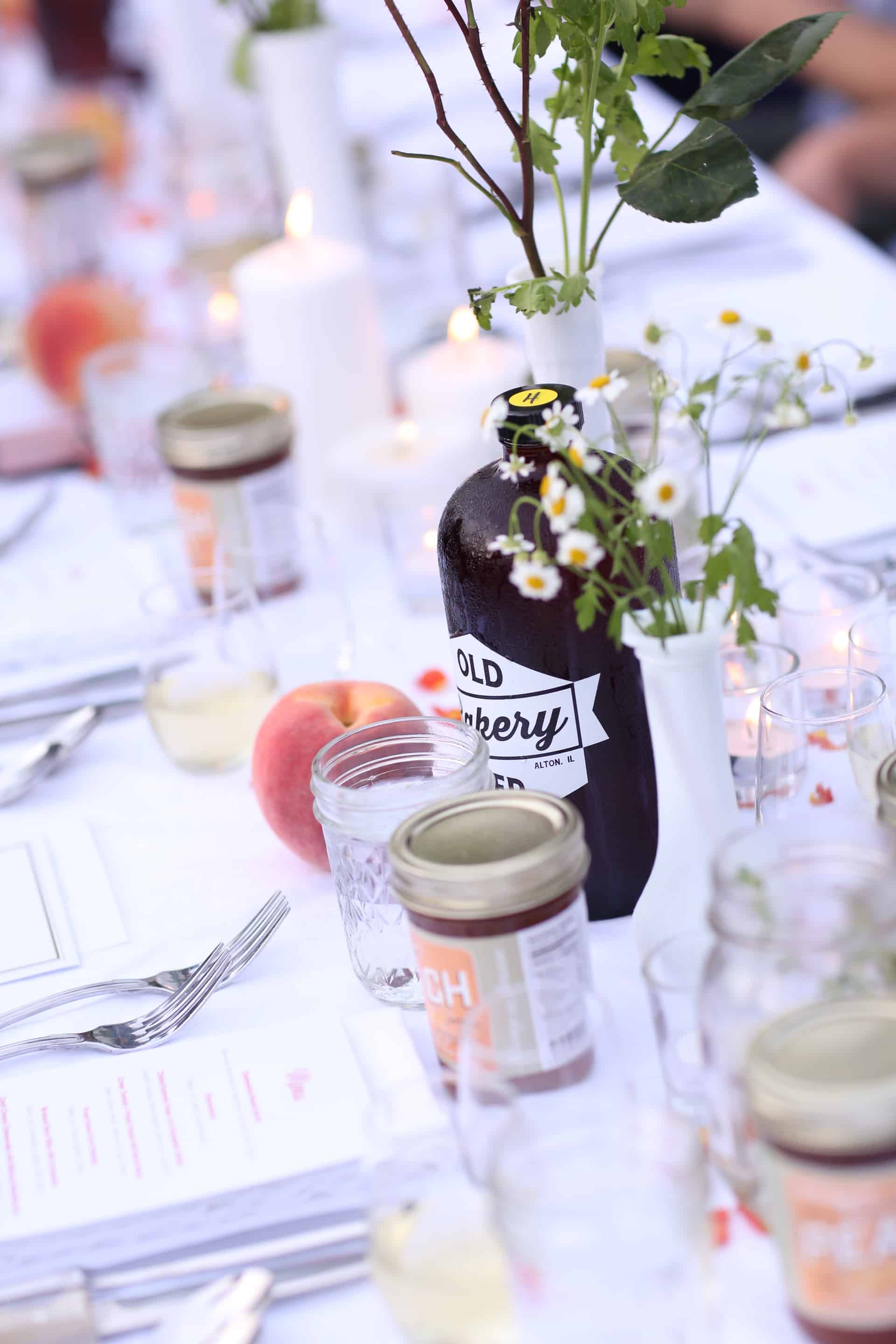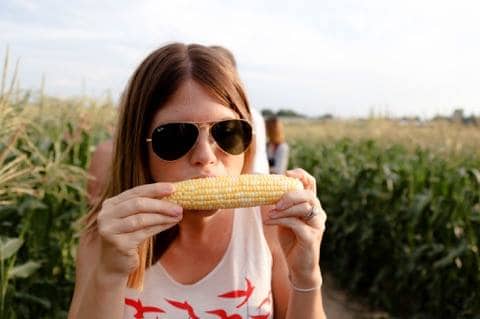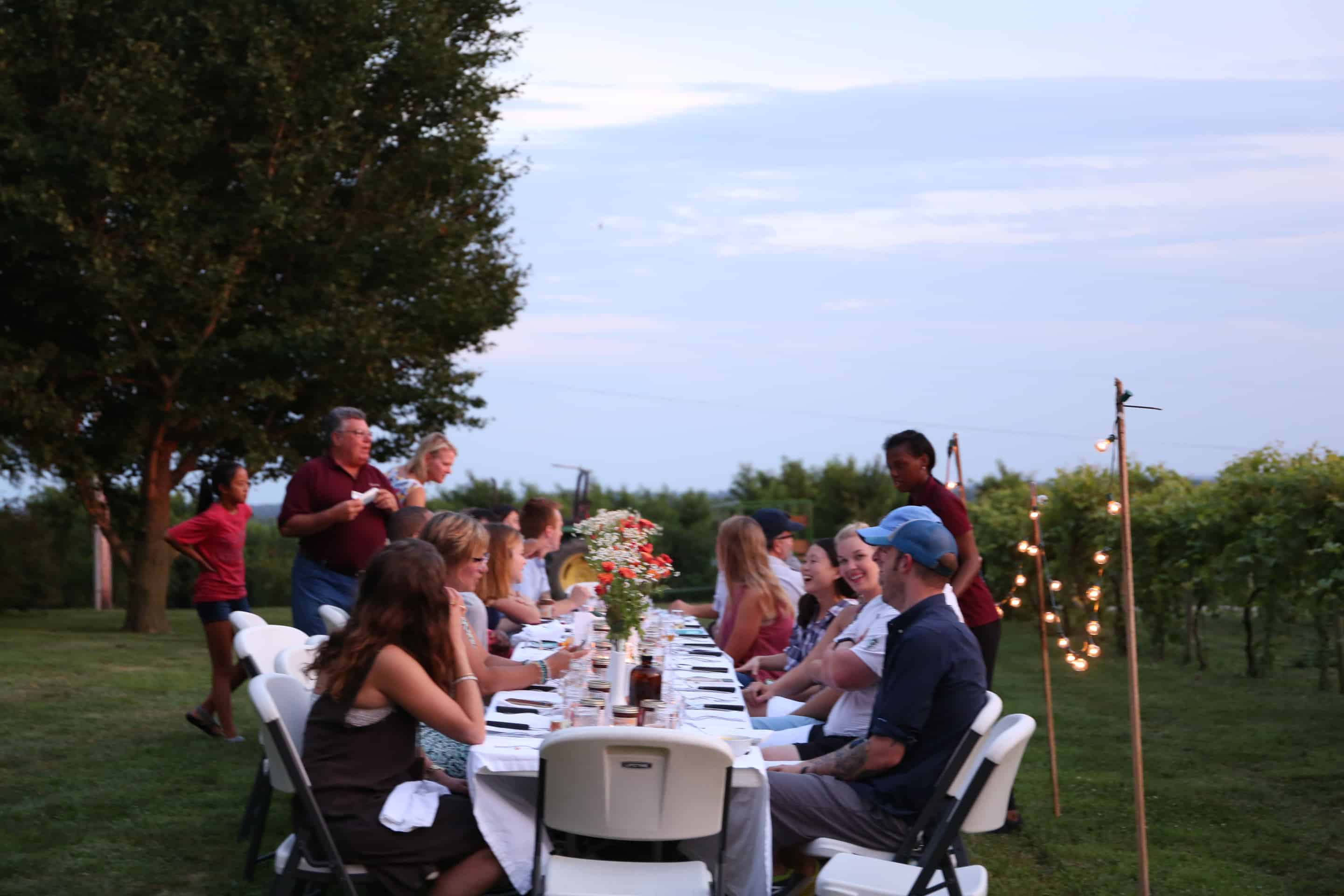 I knew that the food was going to be incredible (it was Sherrie and Julia after all), but I don't think I was prepared for how good.
The plant-based feast started out with this chilled summer soup, which quite possibly was my favorite dish of the night. If gazpacho and corn chowder had a love child, this would've been it.
The soup was then followed up by a gorgeous presentation of green tomatoes and peaches in a creamy basil sauce. As a southern gal, I only know green tomatoes to be deep-fried and then covered in aioli, so this was a welcome treat.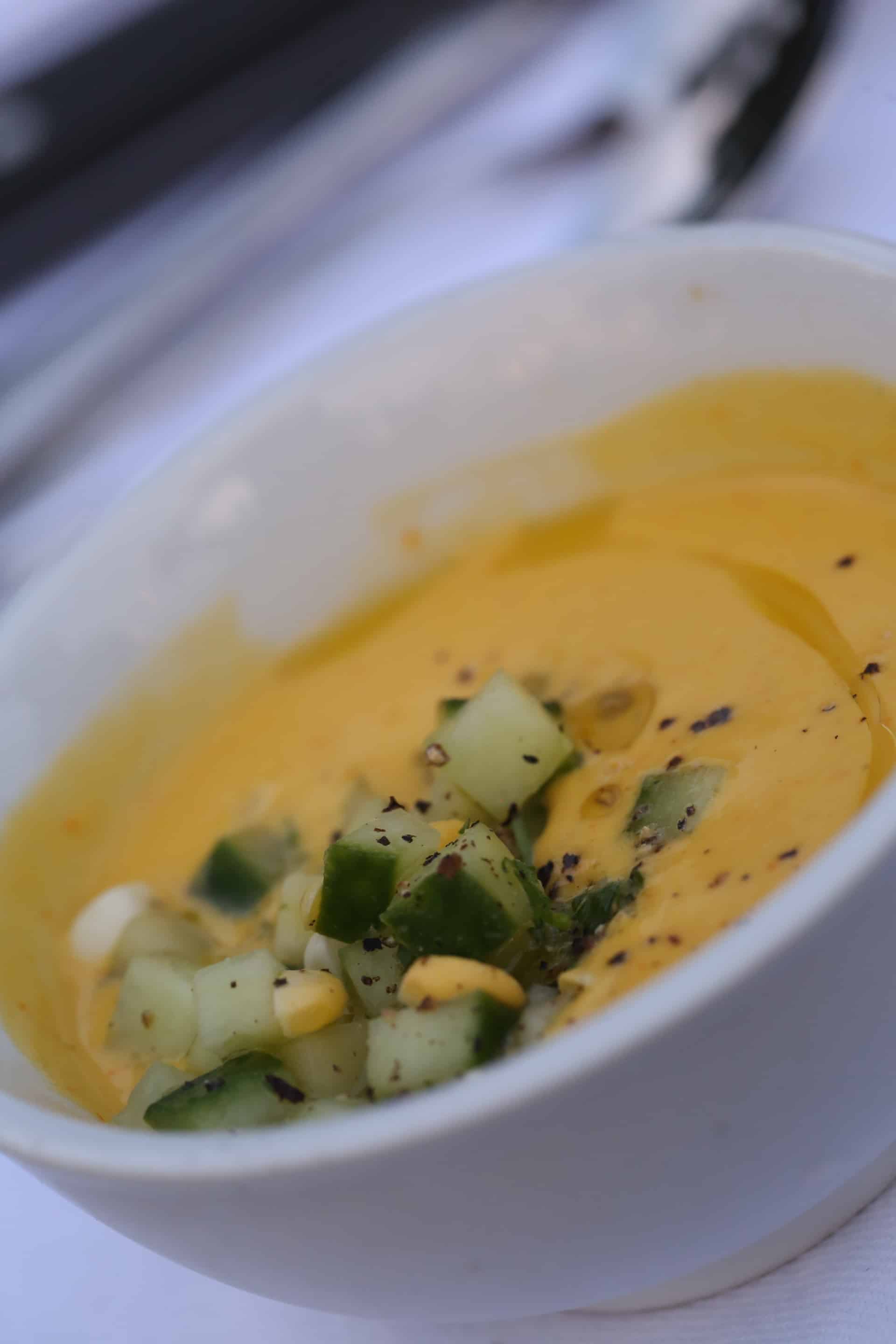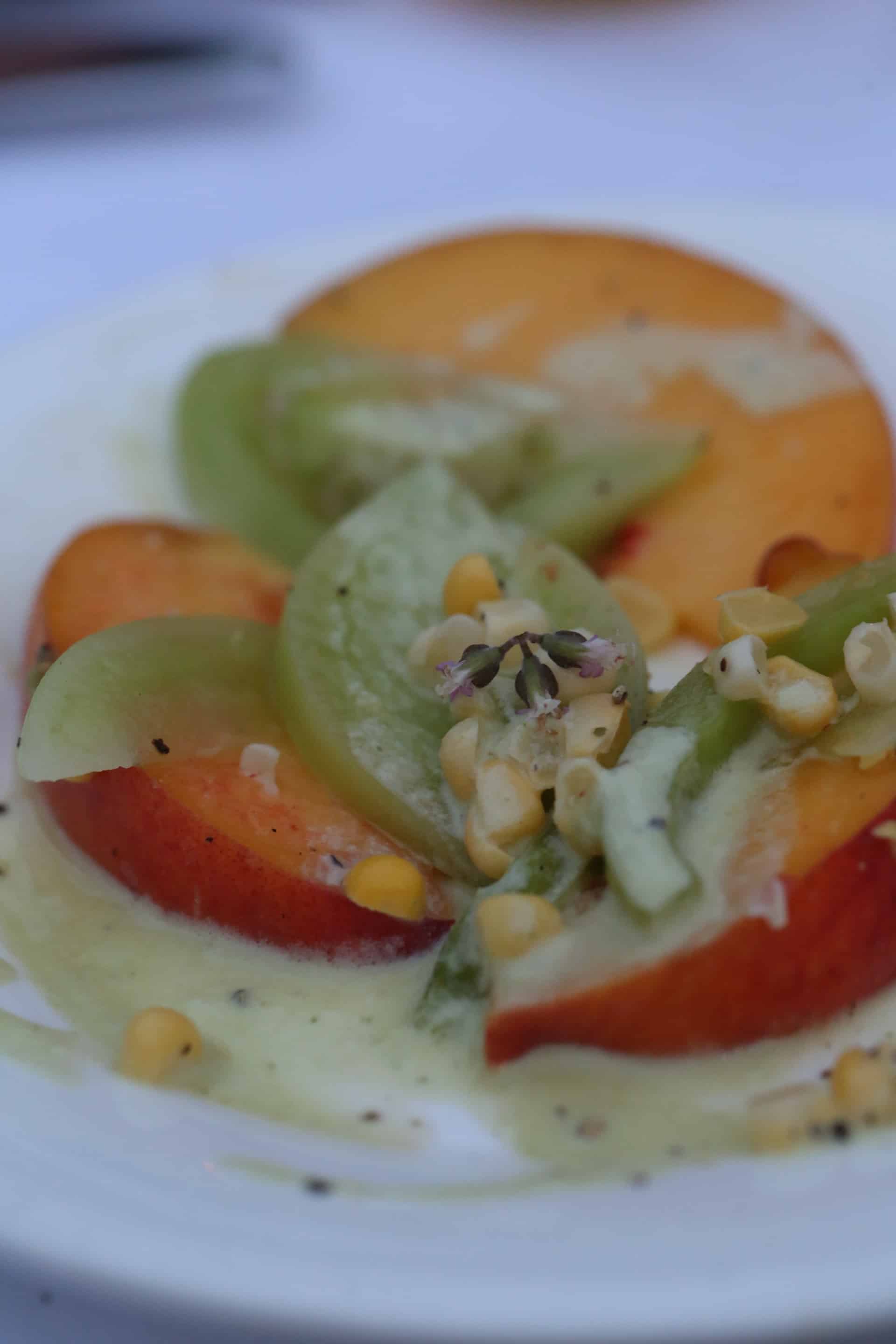 Just when I thought things couldn't get any better, this polenta came out. I knew that BL had turned me into a corn monster, but I didn't realize how much. I feel like I'm catching up from all the years that I didn't think I liked corn. Since BL can throw down 4 ears in a sitting, I've grown to not only appreciate it, but absolutely crave it.
This polenta cemented my love for sweet corn forever. I had two helpings of it and only stopped because my mother taught me the concept of sharing. Fresh sweet corn, white cheddar and parsley. Simple and perfect.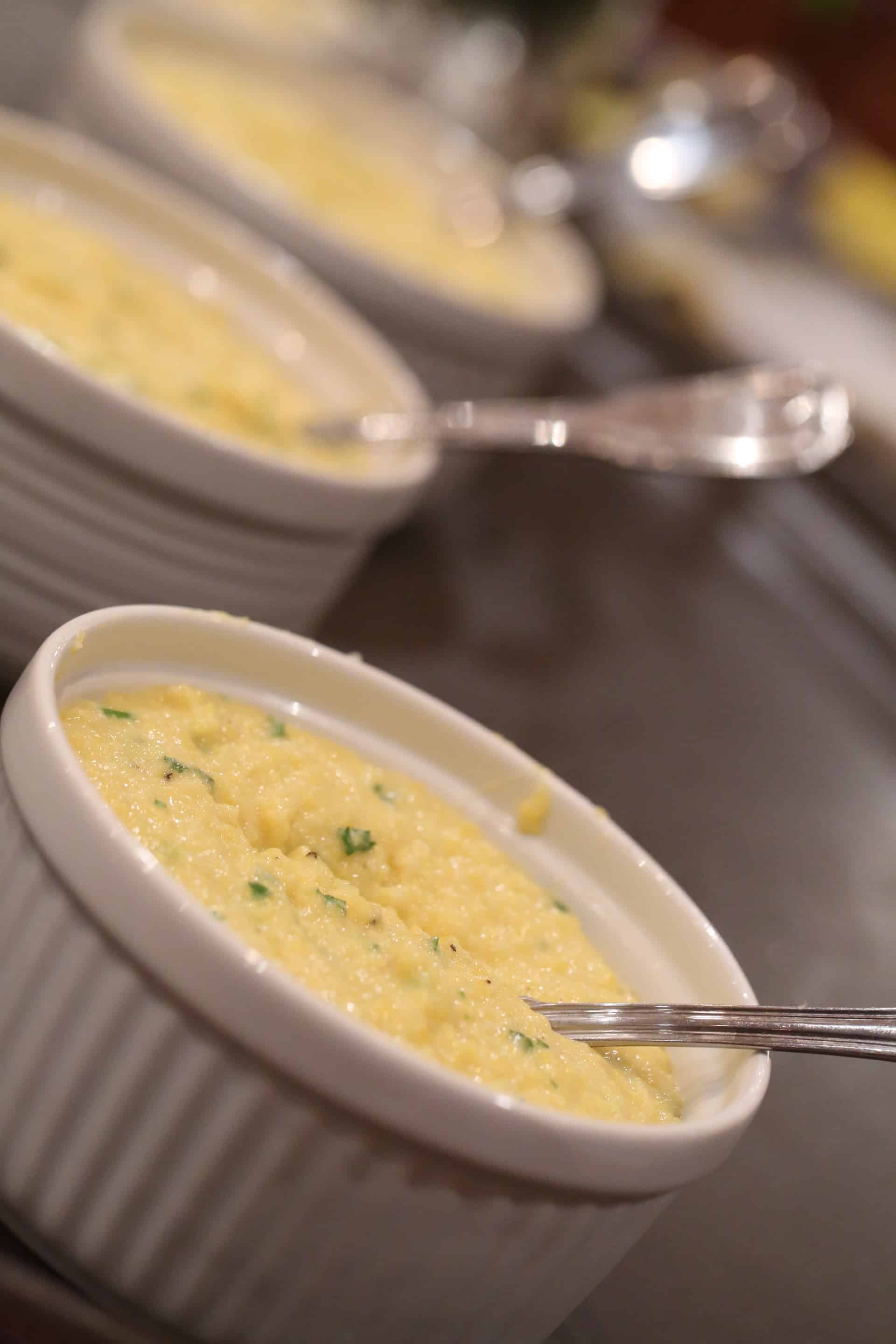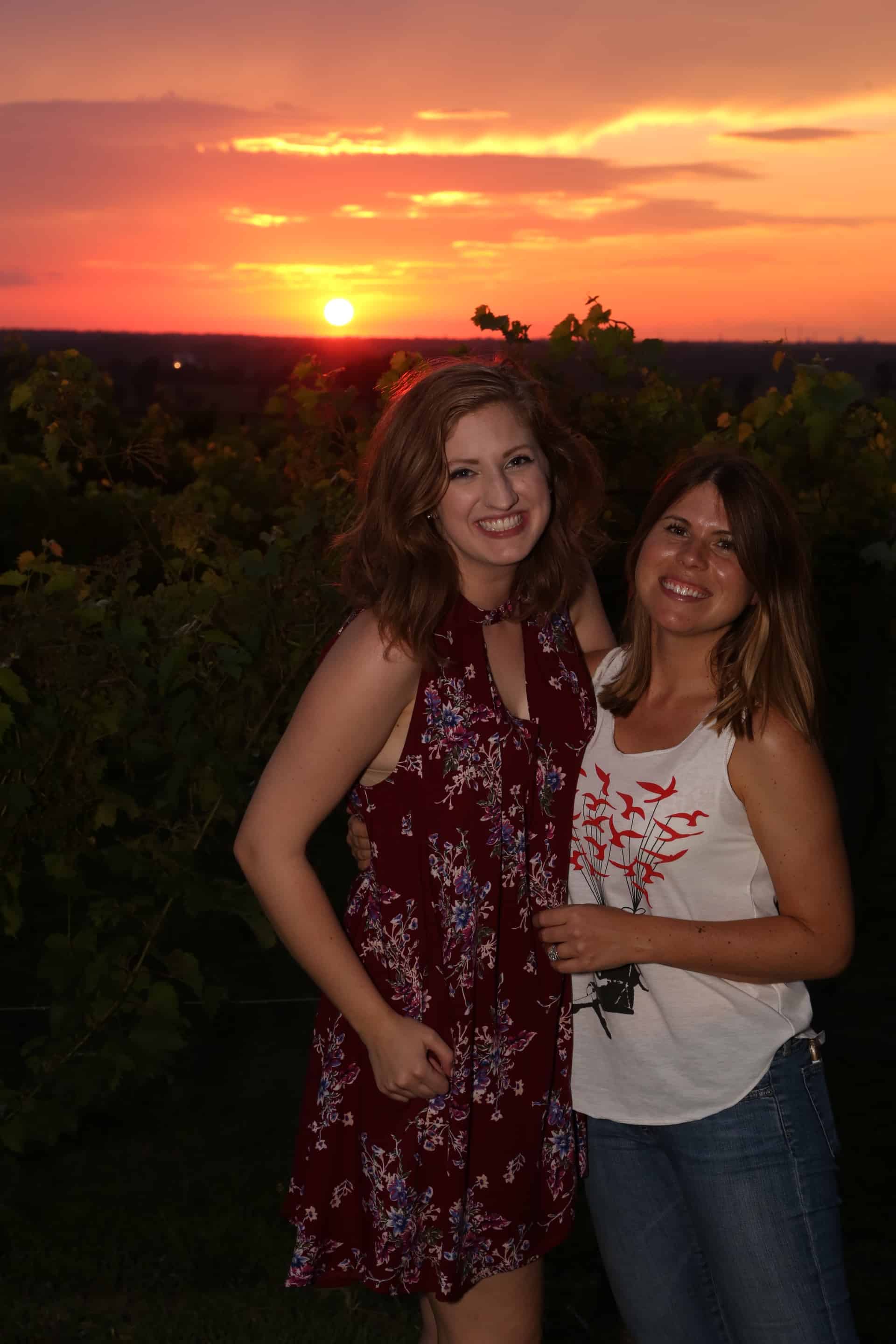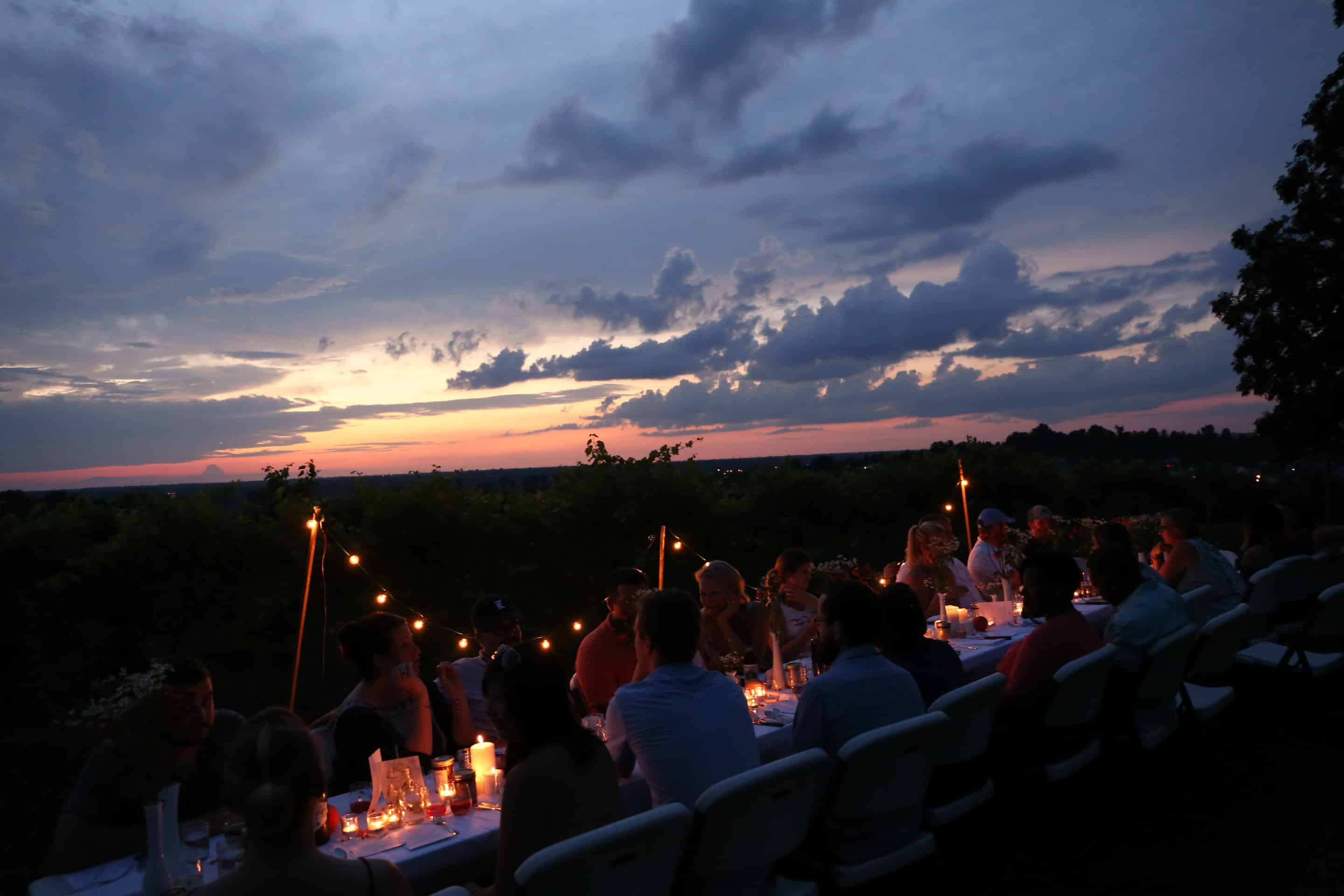 Isn't the set-up amazing? Though I'm fairly certain I'm a forever city-gal, there is a small part of me that dreams of giving it all up, moving to the middle of nowhere and settling into life as a farm wife. I want what the Pioneer Woman has, um, minus the whole raising cattle part. Of course, that dream is quickly brought back to reality when I realize that it's taken all of my might to grow a few cherry tomatoes this year.
If I can't keep a mint plant alive, then I think I better stick to purveying farmer's markets and hoping I get invited to more dinners like these.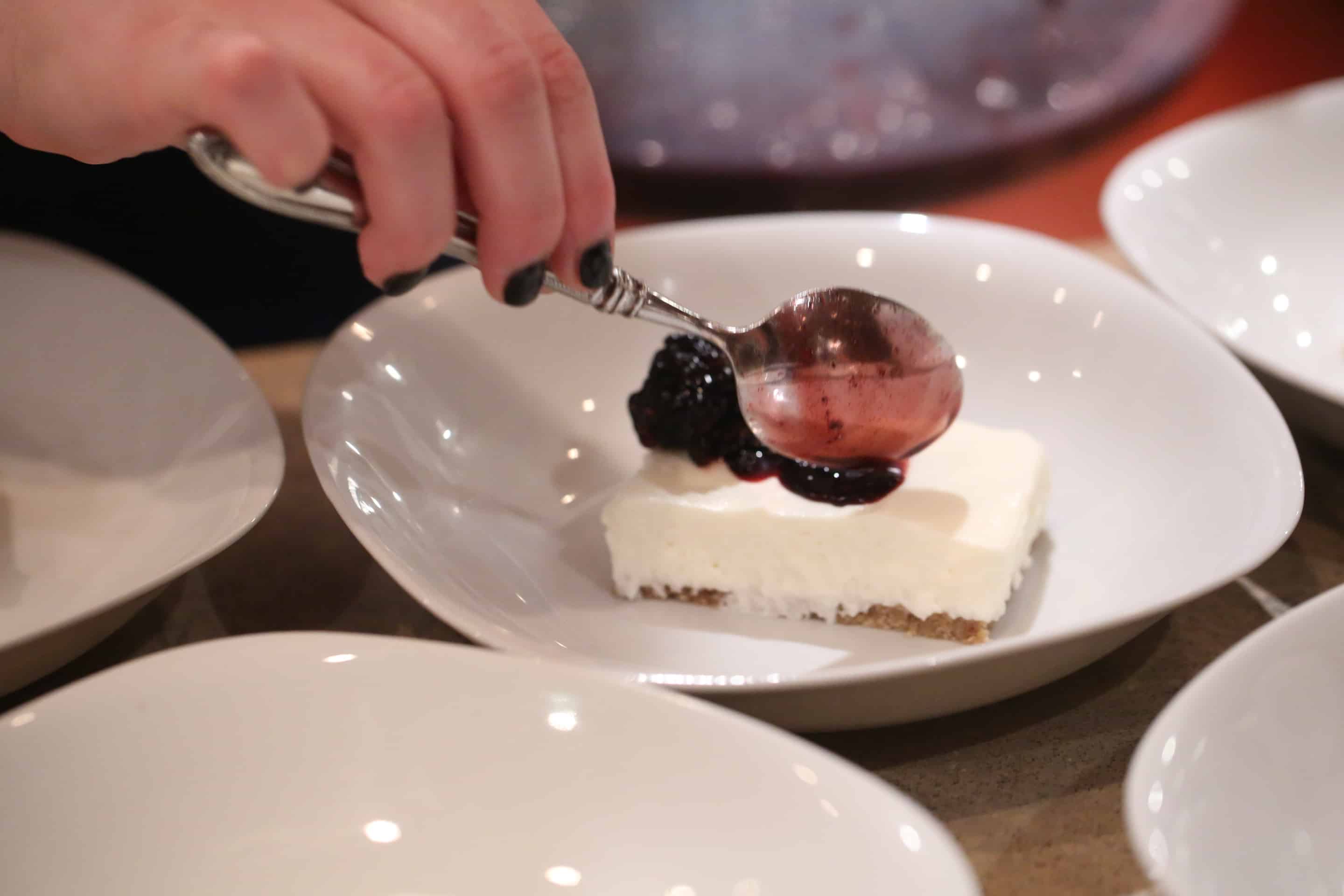 Lastly, dessert! Goat cheese cheesecake (goat cheesecake?) with hibiscus blackberry sauce. Also known as another dish that I would have licked clean if I wasn't in public. Tangy, tart and bright, this dessert was the perfect choice to end the meal with.
Besides getting the chance to spend the evening among friends in the most gorgeous setting, I loved knowing that the food we were eating was literally grown just steps away. That's a pretty powerful connection. I know I say this often, but there really is a huge taste difference in local food that's enjoyed in-season. When mother nature is at her best, you don't need to do much.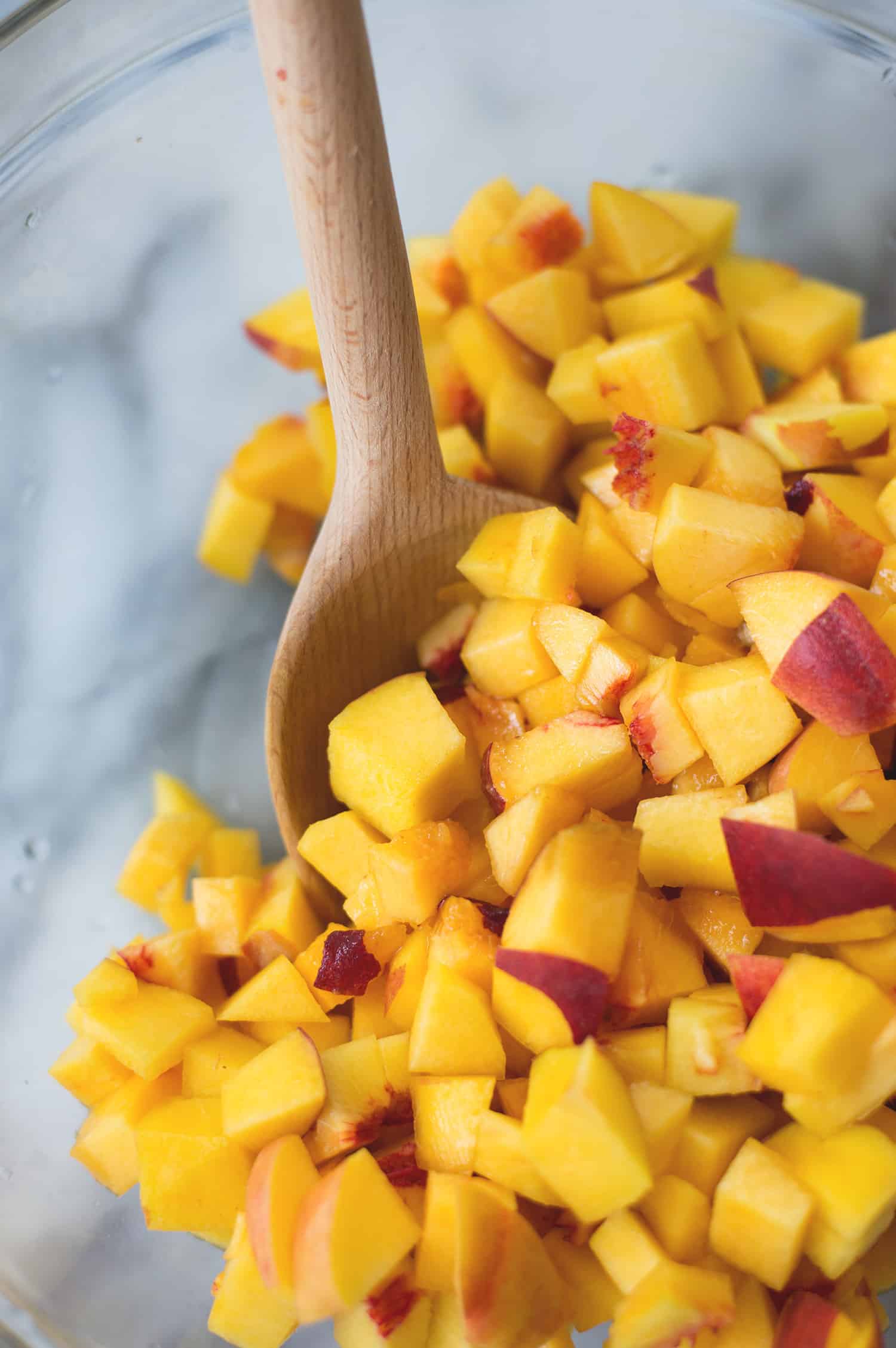 These peach pie bars are the perfect example of this. They are delicious because the peaches are delicious, you know? Making them with un-ripe peaches or out-of-season peaches changes the bar entirely.
I won't claim that these bars are necessarily healthy. Sure, they have a bit of rolled oats and fruit in them, but they are a pie first and foremost. Also, that's OK. While I love creating healthier versions of my favorite foods, there's a time and a place for enjoying the real thing without any guilt or consequence.
Eat one, eat two. Savor every last bite of summer.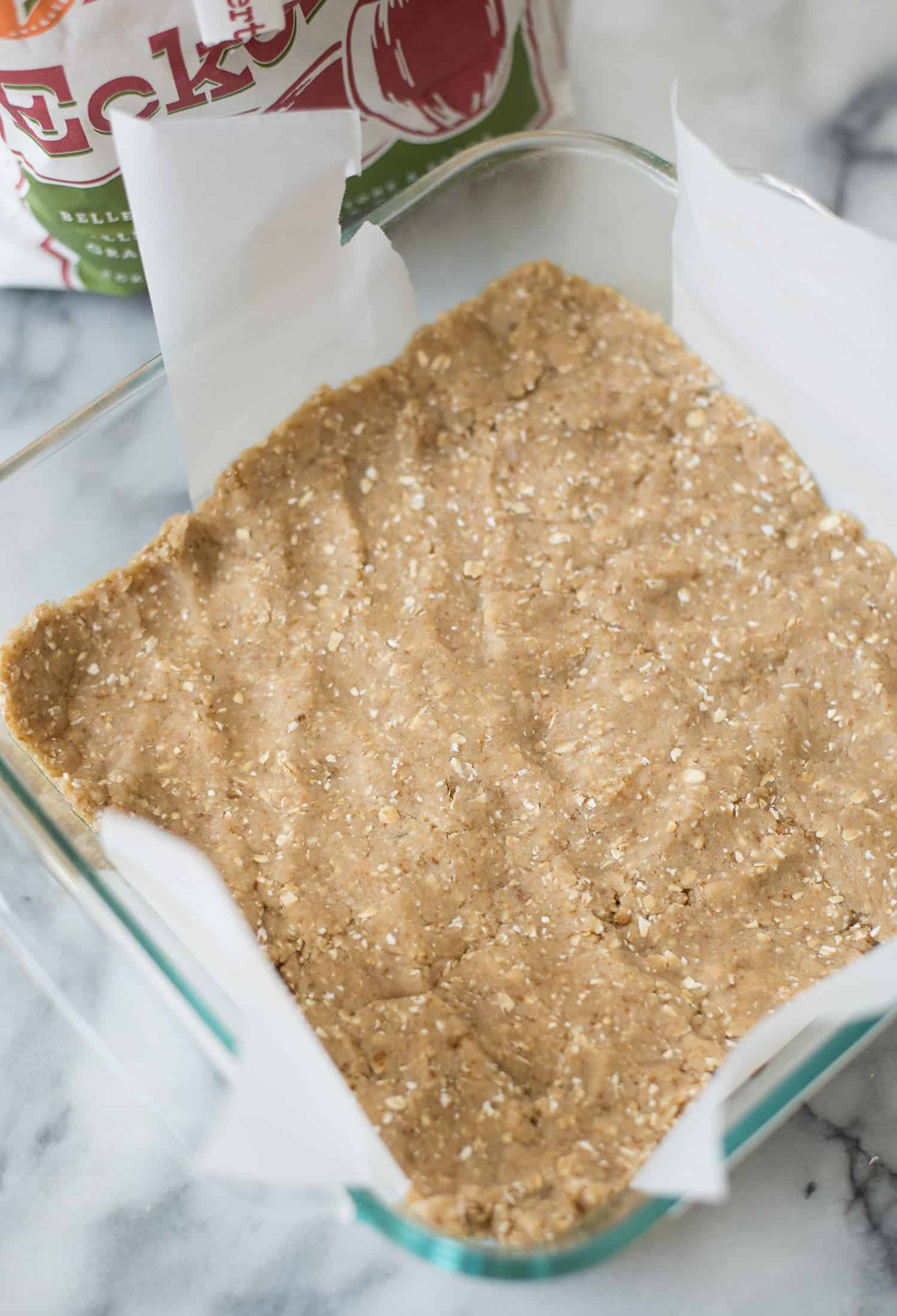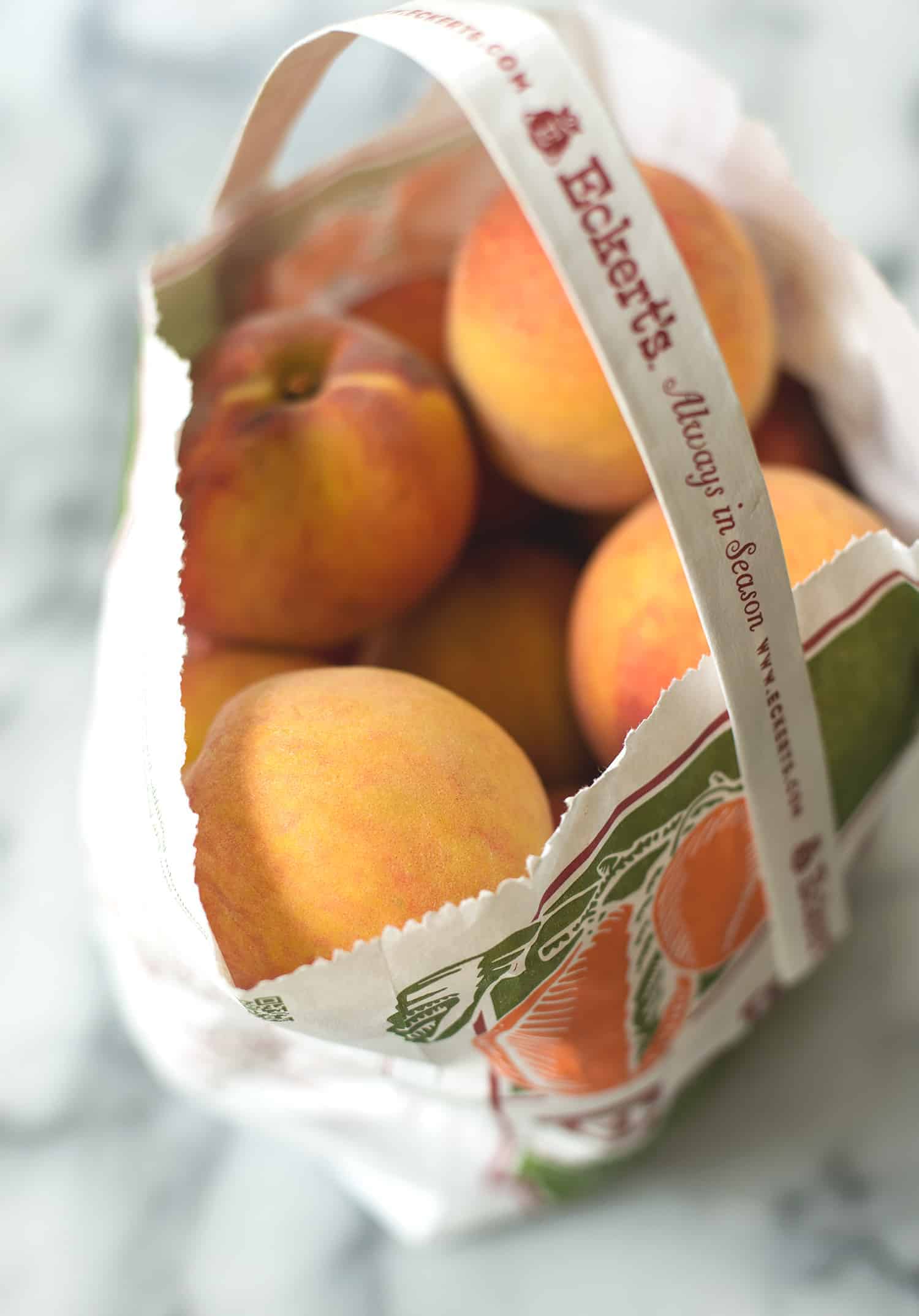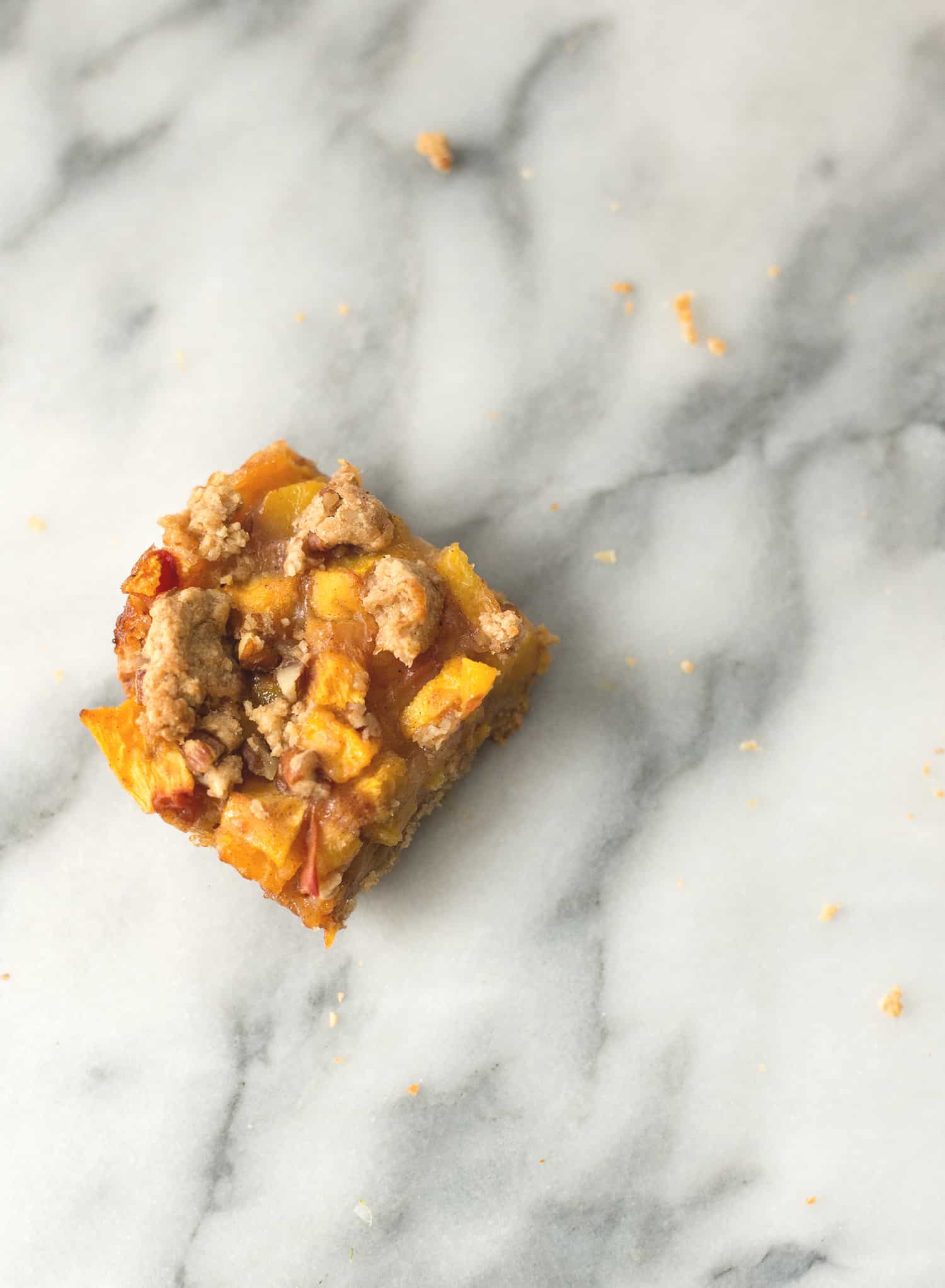 If you try this recipe, let me know! Leave a comment, rate it, and tag your Instagram photos with #delishknowledge . I absolutely love seeing your creations. Happy cooking! 
Print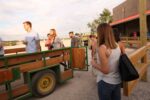 Peach Pie Bars
Author:

Prep Time:

15 minutes

Cook Time:

40 minutes

Total Time:

55 minutes

Yield:

12

bars

1

x
Category:

dessert, bar, peach, vegan
---
Description
Peach Pie Bars! The perfect way to enjoy ripe peaches. Vegan and easily gluten-free.
---
Scale
Ingredients
1 cup

plus 3 tablespoons flour (can use a mix of whole-wheat)

1/2 cup

rolled oats

1/3 cup

cane sugar

1 teaspoon

ground cinnamon, divided

7 tablespoon

s vegan butter (I love Earth Balance sticks)

2 tablespoon

s cold water

1/2 cup

pecans, finely chopped

4

peaches, chopped

1 teaspoon

pure lemon juice

1 teaspoon

vanilla extract

1 tablespoon

cornstarch

1/4 teaspoon

ground nutmeg

3 tablespoon

s brown sugar
---
Instructions
Preheat the oven to 350 degrees F. Prepare a 8×8″ baking dish with cooking spray or overlapping parchment paper for easy removal.
Whisk together 1 cup flour, rolled oats, cane sugar, 1/2 teaspoon ground cinnamon in the base of a food processor fitted with a dough blade or a large bowl.
Add in the butter, one tablespoon at a time, either pulsing the butter into the food processor or cut the butter into the dough using a dough cutter until crumbly.
Add in the water and pulse or stir until the dough comes together.
Remove 3/4 cup of the dough and set aside.
Press the rest of the dough into the prepared pan.
Stir together the chopped peaches, remaining 3 tablespoons flour, 1/2 teaspoon cinnamon, lemon juice, vanilla extract, cornstarch, nutmeg and brown sugar until well combined.
Pour on the prepared crust in a single layer.
Mix together the remaining dough with chopped pecans and sprinkle on top.
Bake for 35-40 minutes until golden brown.
Remove from oven and let cool completely. The bars need to cool completely for the filling to set.
Slice into 12 bars and serve.
---
Notes
You are essentially making a quick dough for the crust of these bars, so if you have a gluten-free or another vegan dough option that you love, use it here! Just add a bit of crushed pecans to the dough.