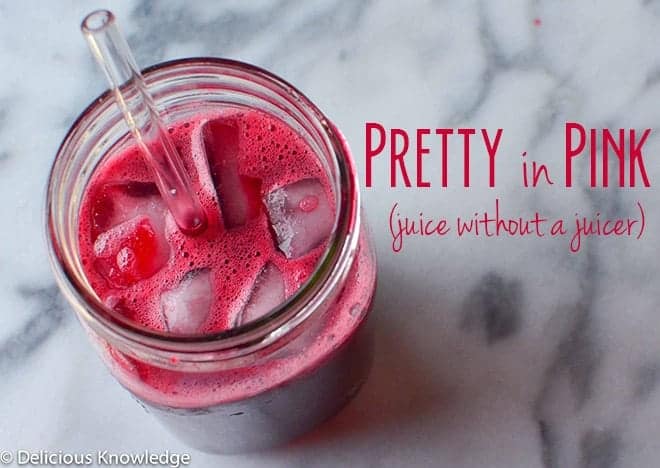 Juice without a Juicer!?
It's possible.
While I have no problem justifying a zillion kitchen gadgets, I do have to be selective to which products get top-billing counter space.
The BlendTec? Front and center. Along with my Kitchen Aid, food processor and cappuccino machine. Since I use these items multiple times a week, if not daily, I can handle a clunky counter filled with my most prized possessions.
I've often thought about making room for a juicer. While I'm not a huge fan of the idea of "juicing" for weight loss, "detoxing" ect., I love the idea of making my own fresh juice, especially vegetable juice. Over the past few months, in preparing for our upcoming wedding and registry, I've done a lot of research in determining which juicer would be best. In short, I prefer a masticating juicer that's easy to use and can hold up to fruits & vegetables.
MY LATEST VIDEOS
In a recent weak moment/craving, I almost pulled the plug and bought it.
Thankfully, I was in the kitchen at the time and noticed the absurd amount of filled counter space and the lack of room for a brand new juicer. (who knew I'd be thankful for clutter?)
Hmm…there must be a simpler way.
Of course there was a simpler way! A less expensive, more resourceful way, that I wish I had thought about earlier.
If you love the idea of fresh juice, but don't want to purchase a juicer- this method is for you. It's also another powerful testament if you've needed encouragement in taking the plunge for a high-powered blender. I really do use mine almost every day, between smoothies, soups, homemade hummus and now- juice. I love you BlendTec. 
In addition to a high-powered blender, you will need a nutmilk bag. This inexpensive bag will make juicing a lot less messy than using a fine mesh strainer; I buy mine on amazon for less than $10.
The great news is that you can do this with any juice recipe! I've included Pretty in Pink, one of my favorites that's a great introduction to vegetable juices. If you like it sweeter, add another apple!
Throw all ingredients into a high powered blender and let puree for 1-2 minutes until really smooth. On the BlendTec, I push the "Whole Juice" button twice. Place the nutmilk bag over a large container (like a canning jar) to strain. Using your hands, gently press on the bag to get all of the juice out. Discard the pulp or use to make muffins, crackers, granola, anything.
Serve over ice and enjoy!
Print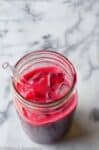 Pretty in Pink (making juice without a juicer)
Author:

Category:

beverage, juice, smoothie
---
Ingredients
1 beet, peeled and chopped in 1/2
1 apple, cored and chopped (I don't peel mine, but it's up to you!)
1 pear, cored and chopped (same on the peel above)
1 " piece of ginger
1 cup cold water
---