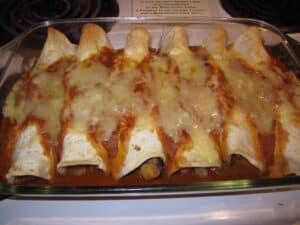 Time for another Recipe Redux and this month's theme is appropriately "Fresh from the Pumpkin Patch." A delicious and versatile vegetable, pumpkin can be used in sweet dishes (like my pumpkin pancakes) or savory entrees. Fresh pumpkin is very easy to use but feel free to substitute the canned variety. I am a huge squash lover, I think I ate zucchini almost every day this summer and am starting to do the same with pumpkin. I can't get enough. Besides eating it I recently made this body butter, a perfect way to use up leftover canned pumpkin- I highly recommend it!
These enchiladas are amazing. Homemade tortillas stuffed with black beans and pumpkin (can sub sweet potatoes) topped with a smoky chipotle-pumpkin sauce. These orange and black enchiladas would also be perfect for Halloween!
Black Bean & Pumpkin Enchiladas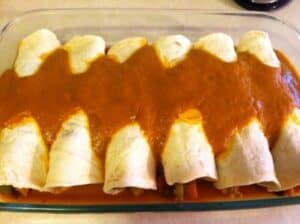 Filling:
1 1/2 cups pumpkin and/or sweet potatoes, chopped
1 small onion, chopped
1 can black beans, drained and rinsed
3 zucchini or squash, chopped
2 tsp. cumin
1/2 tsp. salt
1/2 tsp. black pepper
1/2 tsp. cayenne pepper
1/2 tsp. oregano
1/2 tsp. chili powder
1/4 cup cilantro, finely chopped
MY LATEST VIDEOS
Flour tortillas (or corn tortillas)
Enchilada Sauce:
1 cup pumpkin puree
2 cups vegetable broth
1/2 tsp. cumin
3 tbsp. enchilada sauce
4 dried chipotle chilis
salt/pepper
To make sauce: Reconstitute dried chipotle chilis in hot water. Let soak for 10 minutes. Drain water off chilis and place into a blender.  Add the rest of the sauce ingredients and puree until smooth. If too thick, add a bit more broth. Set aside until enchiladas are prepped.
To make enchiladas: Cook onion in a medium sauce pan with 2 tbsp. olive oil. Add spices and sweat for 5 minutes. Add the pumpkin/potatoes and cook for 15 minutes adding a bit of vegetable broth if potatoes start to stick to the bottom of the pan. Add the squash and cook until soft. Stir into black beans.
Now you are ready to make the enchiladas. Pour 1/2 cup of the sauce into a 9X13 casserole dish. Place 1 tortilla on a cutting board and add ~1/4 filling, may need more or less depending on the size of your tortilla. Roll up and place seem side down in the casserole dish. Continue with the rest of the tortillas and cover with the rest of the enchilada sauce. Top with cheese, if using, and bake for 30 minutes at 350 degrees.
Enjoy!