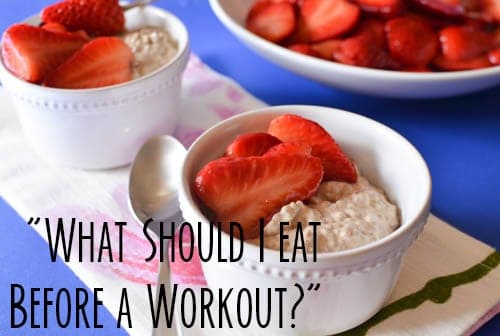 It's a question I get about 10 times a day, and my answer varies depending on who I am talking to and what their goals are.
Many of you know that my 'real life occupation'  is being the Sports Dietitian for University of the Pacific's Division 1 athletic program. It is literally my job to figure out the best pre and post workout meals for athletes and ensure that they are consuming the right types of nutrients.
But, I am guessing that few of you reading this are competing at that level. While I sometimes wish that I could be forced into two-a-day workouts before I head on vacation, that type of time and effort isn't happening anytime soon.
I'm assuming most of you are like me. Individuals who enjoy working out for the physical and mental benefits, not because someone's job depends on our athletic ability. Sure, there might be a race or event here are there that we train for but for the most part, its about being fit for life.
MY LATEST VIDEOS
And that changes how I view a pre-workout meal and what I recommend.
Let's start with the basic premise that carbs give you energy. Even if you are scared of carbohydrates and all the imaginary evil they give off- we must admit the facts. If you want to provide your muscles with longer lasting fuel, carbs are the way to go. And- just so we are on the same page- the carbs I am talking about include items like fruit, starchy vegetables, bread, cereals, rice, whole grains.
The pre-exercise meal should also be low in fat and fiber. Why? Well, these two items slow down emptying of the stomach, not something we are going for when we eat food before a workout. You also want to be cautious on not having too much food in your stomach, as that can also slow you down. When we start exercising, blood that is in your digestive tract is shunted to the muscles to provide more oxygen. Eating too much food before a workout causes undigested food in your intestines, resulting in cramps or pain.
Now that we know what you are eating, we need to ask when you plan on working out. Do you roll out of bed and onto the treadmill? Are you an after work exerciser or lunch-time gym rat? That will first determine when and how much you need to eat before a workout.
What I say next might surprise you:
I don't usually recommend eating anything before a morning workout.
Ok, actually that's not the whole truth. I subscribe to the thought that a fasted state is better for increasing the use of fat as an energy substrate in exercise. Basically, you will use more "fat as a fuel" in the fasted state over a fed one. This isn't for everyone and that's OK. I have some clients who try it and realize they couldn't go as far or intense as they usually do. That's the opposite effect we want. As I mentioned before, I'm usually not training for anything so my goals are primarily weight management and fat loss.
If you do want to eat in the morning, or if you exercise during lunch or in the evening- you want your meal or snack to consist primarily of carbs with a little protein. How much and when depends on the activity. If you need enough energy for a 2-hour run, then you will probably want to have a carb heavy meal 3-4 hours before hand and another snack 1-2 hours after that. If you need enough energy to get through Zumba at 5:30, a mid afternoon snack of banana and peanut butter should do the trick.
My favorite pre-workout meals and snacks:
1. Whole wheat sandwich with 1-2tbsp. of hummus & tomatoes
2. Fruit, yogurt, and granola
3. Overnight oatmeal I make this and take it to work with me. It's my favorite afternoon snack, especially on days I teach spin in the evening.
4. Pasta with marinara sauce– an oldie but goodie. I usually have this a few hours before I do an evening run.
5. Carrot Juice: Blend or Juice together 1 pound of carrots,  1-inch piece of fresh ginger, 1 orange, peeled, 1 lemon, peeled. No juicer available? Not a problem- mix together carrot juice, splash of orange juice, and 1 tsp. grated ginger. Stir to combine.
6. Apple slices and almond butter topped with 1/4 cup raisins
7. Pre-workout shake: Blend together 1 banana, 1/2 cup frozen mango or pineapple chunks, 2 cups water, 1 teaspoons spirulina or wheat grass powder (optional, but a great source of protein, vits & minerals)
So, to recap: carbs are good. Especially when it comes to pre-workout fuel. The closer you get to your workout, the simpler, smaller and more refined your food needs to be. Eat enough to sustain you, not too much to give you discomfort.
Now it's YOUR turn! What do you eat before a workout?