Crispy Smashed Potatoes with Creamy Chimichurri Sauce! You'll want to bring this to your next cookout or potluck! Vegan and Gluten-Free.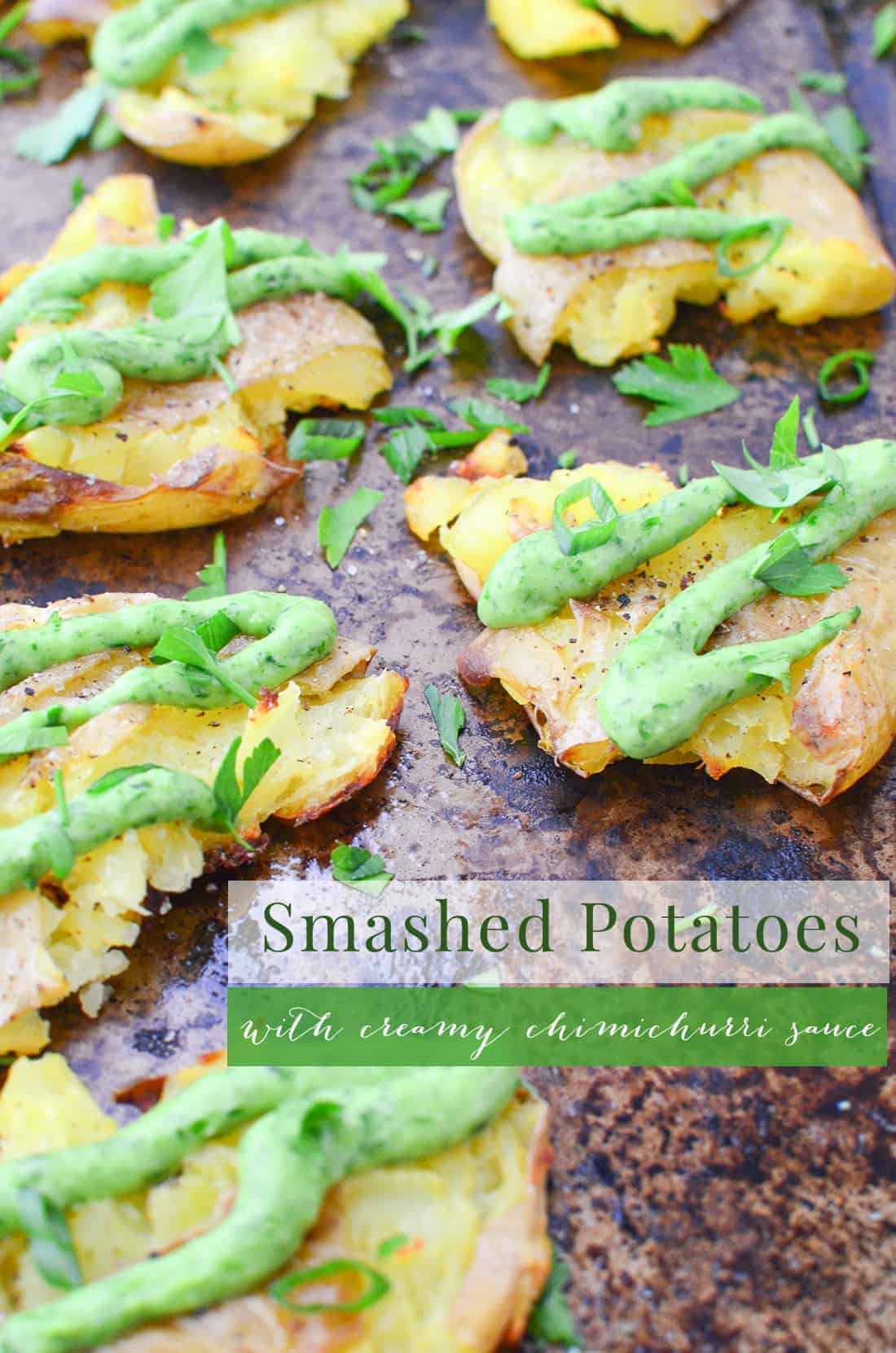 Crispy smashed potatoes with creamy chimichurri sauce. Try saying that 5 times fast.
These potatoes are making me want to fast track it to summer, where I can show up to BBQs and potlucks with a giant plant of these. Crispy, smashed fritters drizzled with the best part about this dish –> creamy chimichurri sauce.
Yup, third sauce in a week. Clearly I have a preferred way of eating: anything and everything + sauce.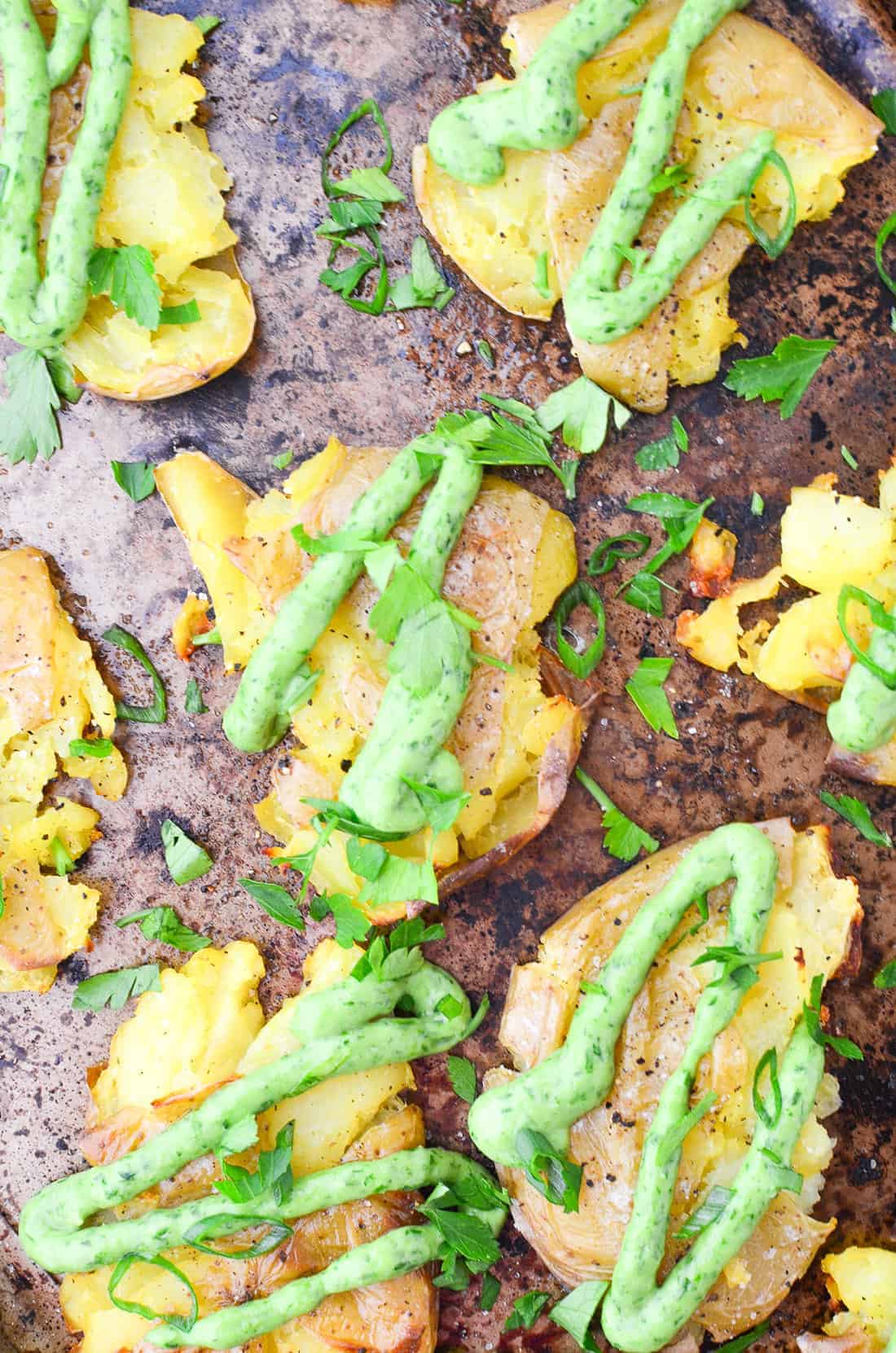 I think this recipe is also a testament to the idea that healthy eating doesn't have to be difficult. OK, I honestly hope that this blog is a testament to the idea that healthy eating doesn't have to be difficult, and this recipe is a shining example.
When I meet with clients, I focus on quick cooking tips that they can use to transform a variety of dishes. You don't have to be a chef to know how to cook healthy food. I am most certainly not a chef (although I play one on TV). However, I've picked up enough kitchen know-how through the years to feel both comfortable and confident in my cooking.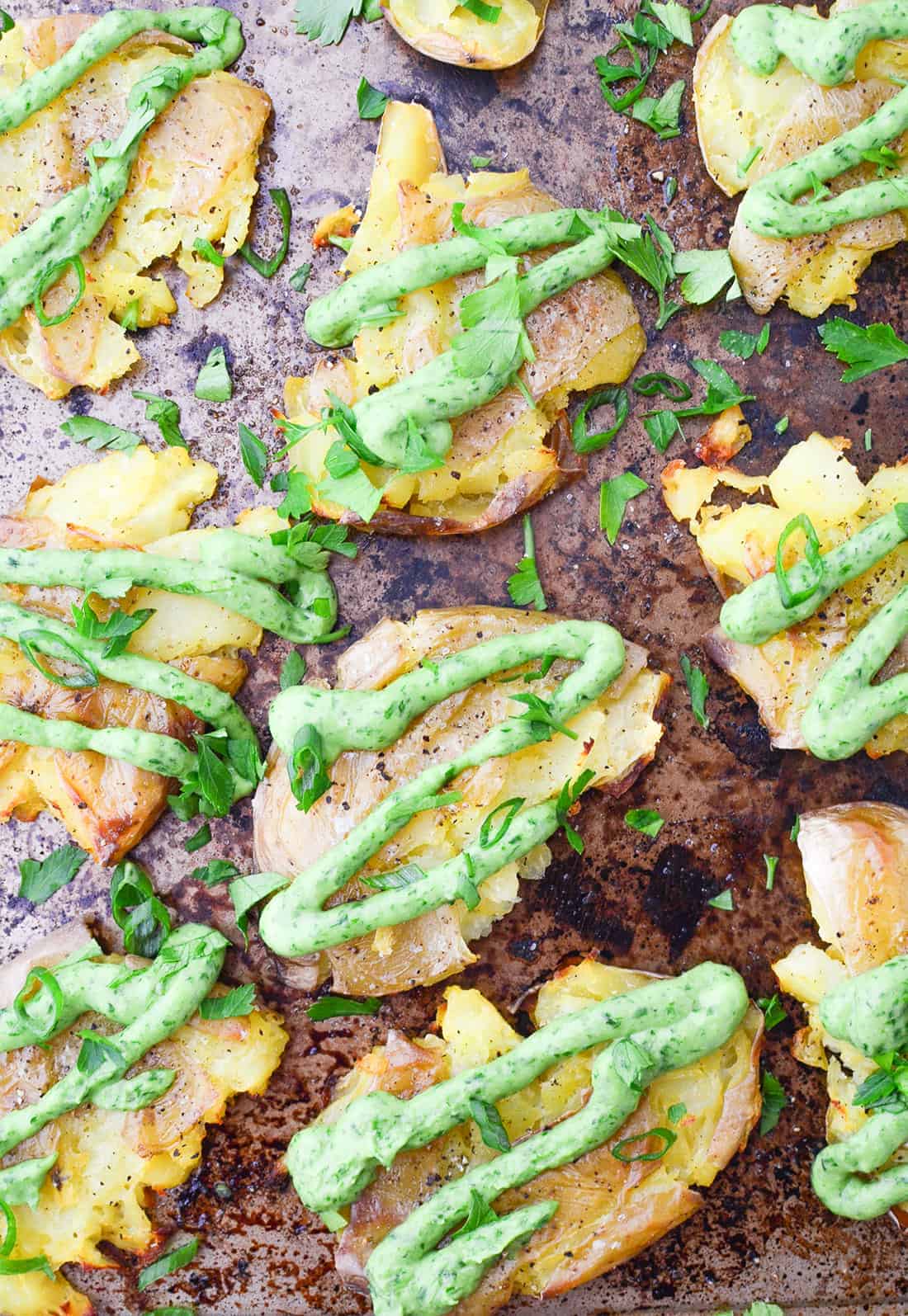 Tip #1: Learn the swaps. You guys know I'm all about the swaps (and the sauces…just saying).
Want a savory cheesy sauce without the cheese? Ton of options here: sweet potatoes, cashews, or cauliflower.
Craving a creamy dessert without the cream? Hello, coconut milk.
And, of course, if you want to omit the sour cream and mayo from traditional dishes- turn to the avocado. Similar texture, better fats.
Once you learn the ratios, transitioning from not-so-healthy dishes to better-for-you-ones is much easier. This creamy chimichurri sauce is a take on my mom's steak sauce, swapping in the avocado for mayo and swapping in crispy, smashed potatoes for the meat. Place everything in a blender, and you've got an incredibly flavorful sauce that will elevate anything you put it on. Save any extras for a sandwich spread later in the week.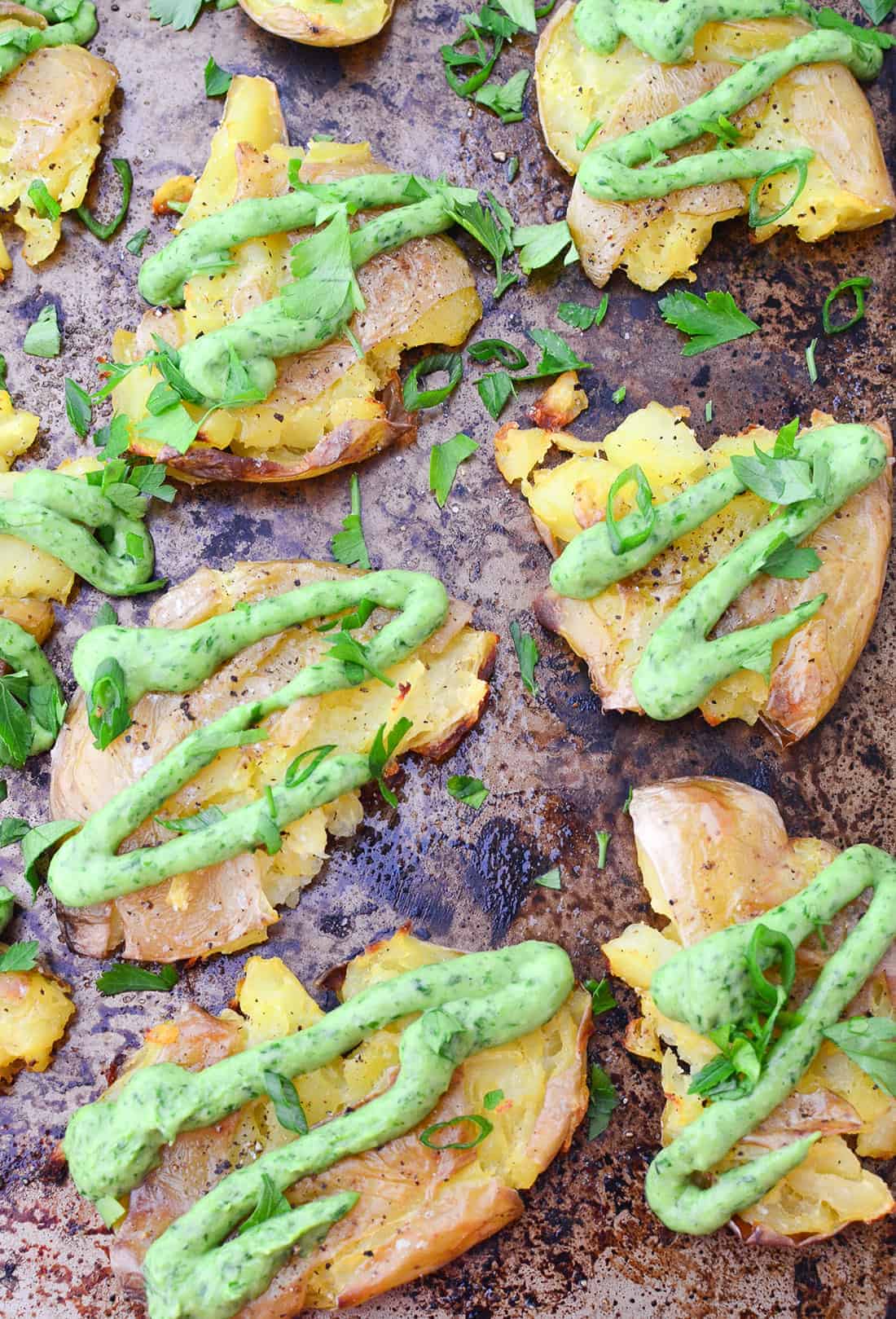 While I have no problem scarfing down potatoes of any kind, smashed potatoes like this might be my favorite way of serving them. I first had potatoes like this at a wedding a few years ago and promptly ran up to the caterer to ask how she prepared them. See? I get my kitchen-know-how anyway I can get it, fancy wedding dinner or not.
I love when things are easy! Just boil, smash with a potato masher (can also use the back of a wooden spoon or spatula), and bake until crispy. Ta-da! You've now got the perfect canvas for soaking up all the sauce.
For a complete meal, I think these potatoes would be great with a big salad or a veggie burger on the grill.
Summer, I'm coming for ya.
If you try this recipe, let me know! Leave a comment, rate it, and tag your Instagram photos with #delishknowledge . I absolutely love seeing your creations. Happy cooking! 
Print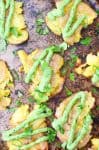 Smashed Potatoes with Chimichurri Sauce
Author:

Prep Time:

10 minutes

Cook Time:

45 minutes

Total Time:

55 minutes

Yield:

2

lbs. potatoes

1

x
Category:

side dish, vegetable, sauce,
---
Description
Smashed crispy potatoes with creamy Chimichurri sauce. This garlicky herb sauce goes with just about everything and is a great way to use up leftover parsley.
---
Scale
Ingredients
2

pounds Dutch yellow baby potatoes (or any small potato)

1 tbsp

. olive oil (or cooking spray)

2 cup

s fresh parsley plus more for garnish

2

scallions, roughly chopped

4

cloves garlic

1/4 cup

olive oil

1 tbsp

. fresh lime juice

1

avocado, peel and pit removed
salt/pepper to taste.
---
Instructions
Cover the potatoes in cool water in a medium saucepan. Bring the water to a boil and cook the potatoes for 20 minutes or until fork tender.
Preheat the oven to 450 degrees F.
Drain the potatoes, place on a lightly sprayed baking sheet and smash down to flatten, using either a potato masher or back of a wooden spoon.
Spritz a little oil or cooking spray over the potatoes and sprinkle with salt and pepper.
Bake for 20-25 minutes until golden brown and crispy.
While the potatoes are cooking, make the sauce.
Place the parsley, scallions, 4 cloves of garlic, olive oil, and lime juice in a food processor or high powered blender until finely chopped.
Add in the avocado and a generous pinch of salt and pepper and blend until just combined.
After the potatoes come out of the oven, drizzle with sauce and garnish with parsley and minced scallions.
---