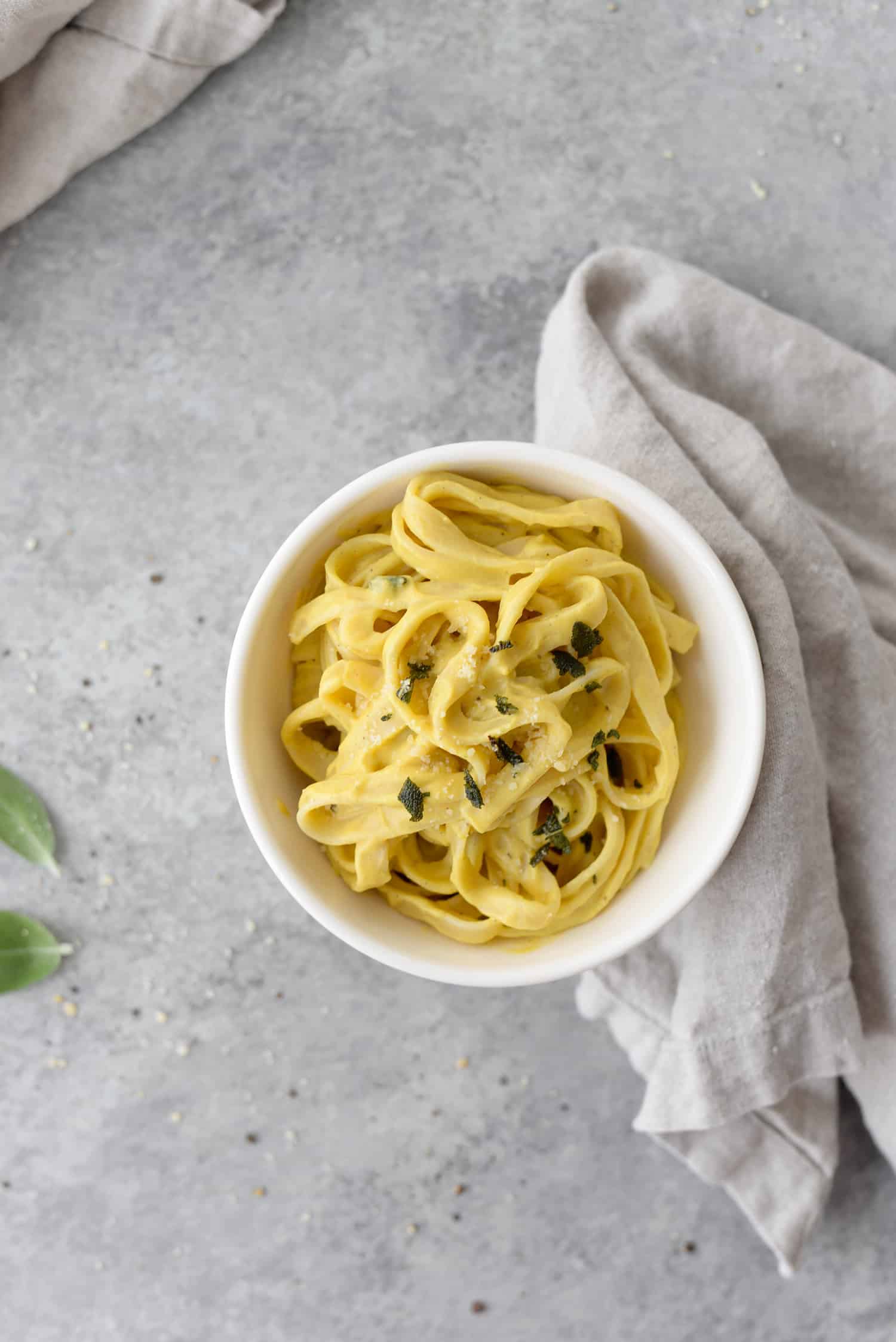 Here's your daily reminder that pasta is my favorite food group. I feel like I spend a good amount of time talking about the fact that pasta shouldn't be eliminated completely from our diets. In fact, I wrote an entire cookbook as a love note to my beloved pasta. (If you love Italian food as much as I do, then check it out.)
In these days of paleo and keto and Whole30; pasta gets such a bad rap. I know that carbs in general are feared and while I don't advocate filling our plates with lots of refined starches and sugar, I'm also fairly confident that the occasional bowl of pasta is right in line with the healthiest eating patterns on the planet. We see this time and time again in longevity population studies; those who eat a fairly low to moderate fat diet, filled with plant foods and whole grains tend to not only live longer, but a lower rate of chronic disease. And yes, a serving of pasta fits into this equation.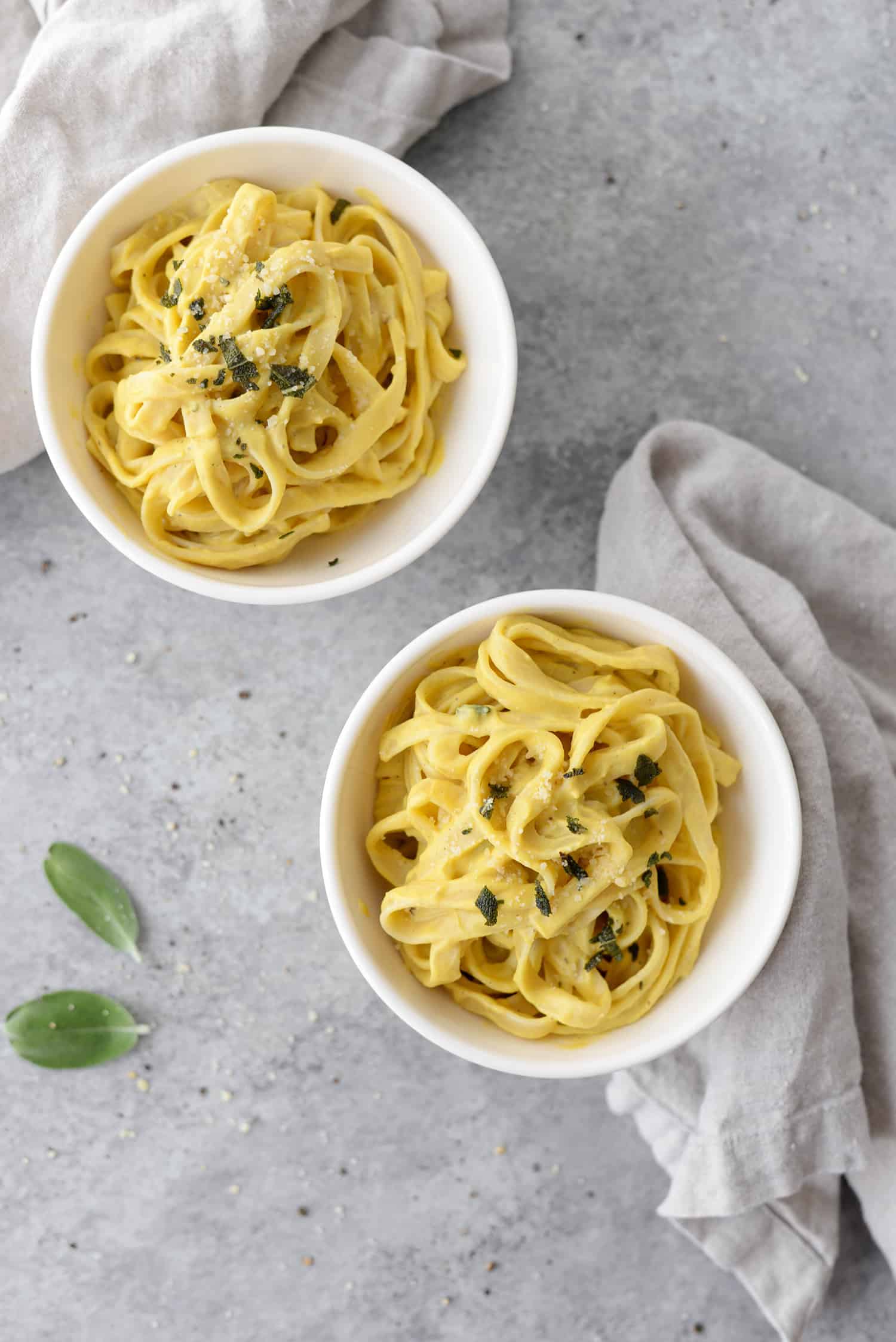 This pasta is similar to my pumpkin fettuccini, one of my favorite Fall recipes that I make over and over again this season. The sauce is so incredibly silky, it coats each strand of fettuccini so beautifully the entire dish almost melts in your mouth. For added punch, I sprinkled on fried sage at the end for texture, color and even more flavor.
As I mentioned in my Autumn salad post, I almost always buy pre-cubed butternut squash at the grocery store. I'd like to think it's because my time to cook has now been dwindled down to 15 minutes a day, but really, I was doing this even before Vander was born. I usually pick up 5-6 containers at a time when I make my bi-weekly trip to Costco. It's less than $5 for 2 lbs. worth and I can freeze whatever I don't use in the week. Trader Joe's and most other stores carry pre-cubed squash in the produce section. Or, you can obviously just peel and chop it yourself.
MY LATEST VIDEOS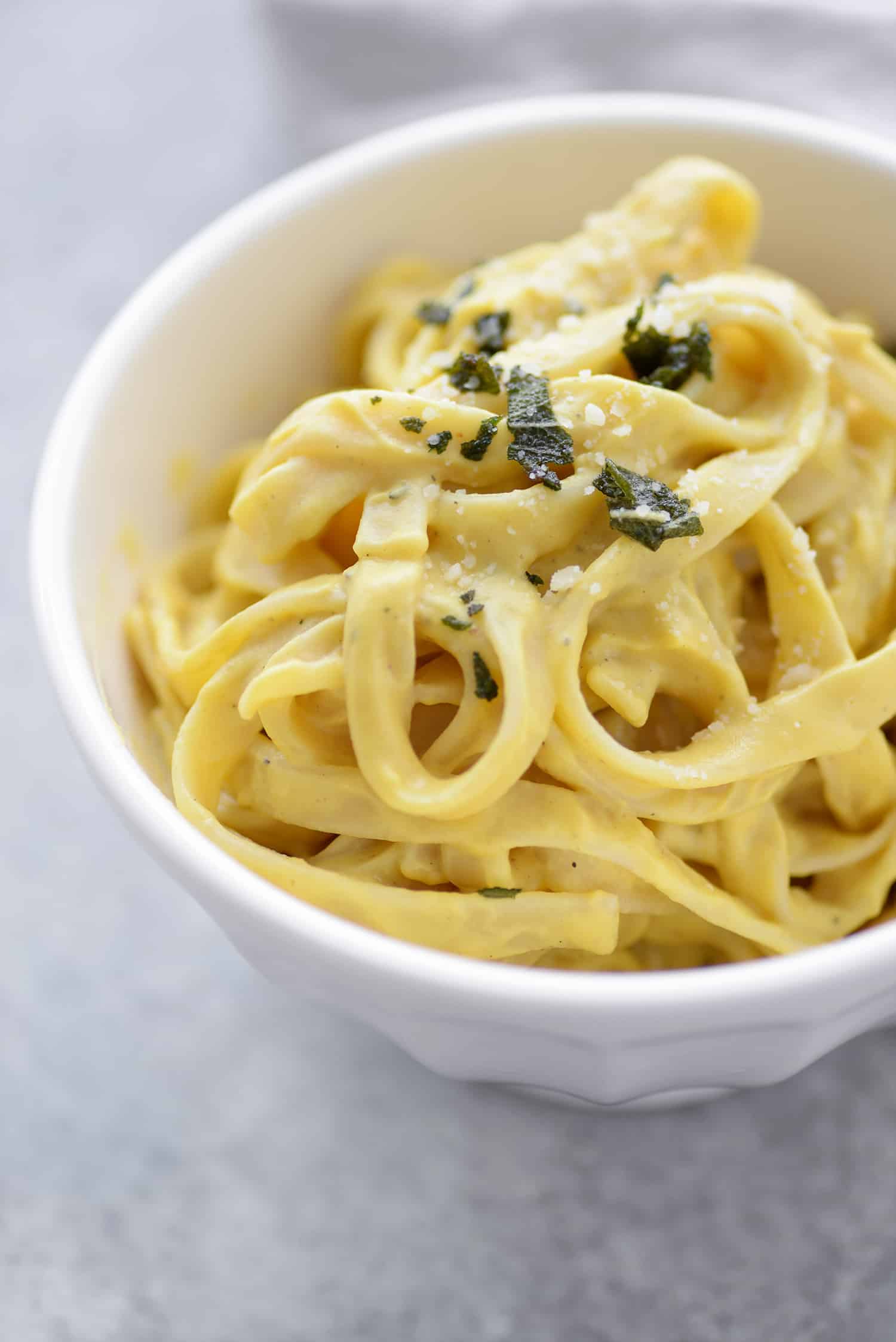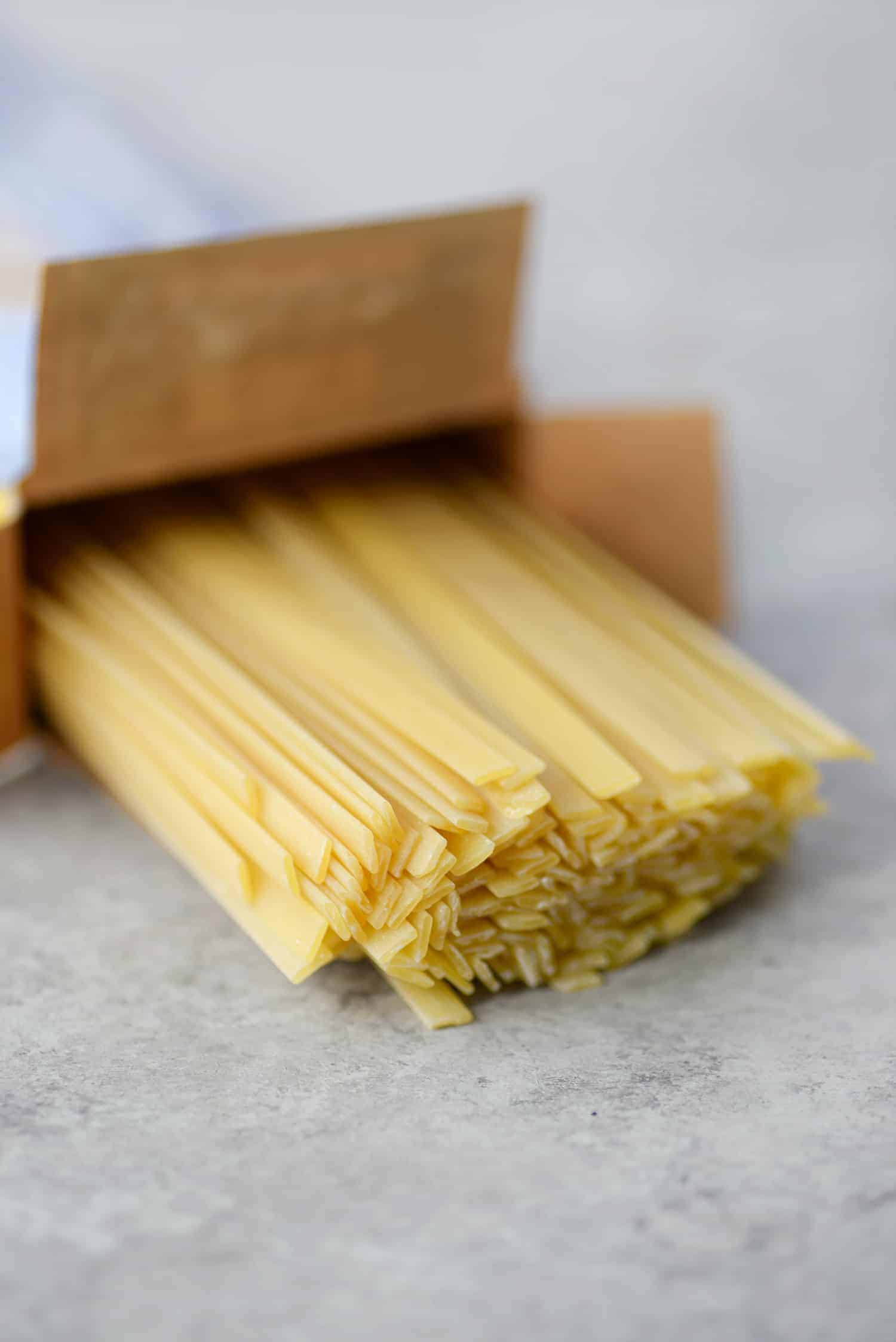 Roasted squash might be one of my favorite Fall vegetables. I find myself roasting a few pounds on the weekend and then using it in just about every recipe from there on out. It's fabulous thrown in salads, tacos (that recipe coming soon), burrito bowls, chili, soup, hummus and more.
To make this pasta dish come together even faster, you can roast the squash ahead of time for easy assembly for weeknight dinners. It will keep for a few days in the fridge already cooked. The sauce will also keep for a few days, though I don't recommend adding the sauce to the pasta until right before serving. It will thicken as it cools, so you want to enjoy it right away.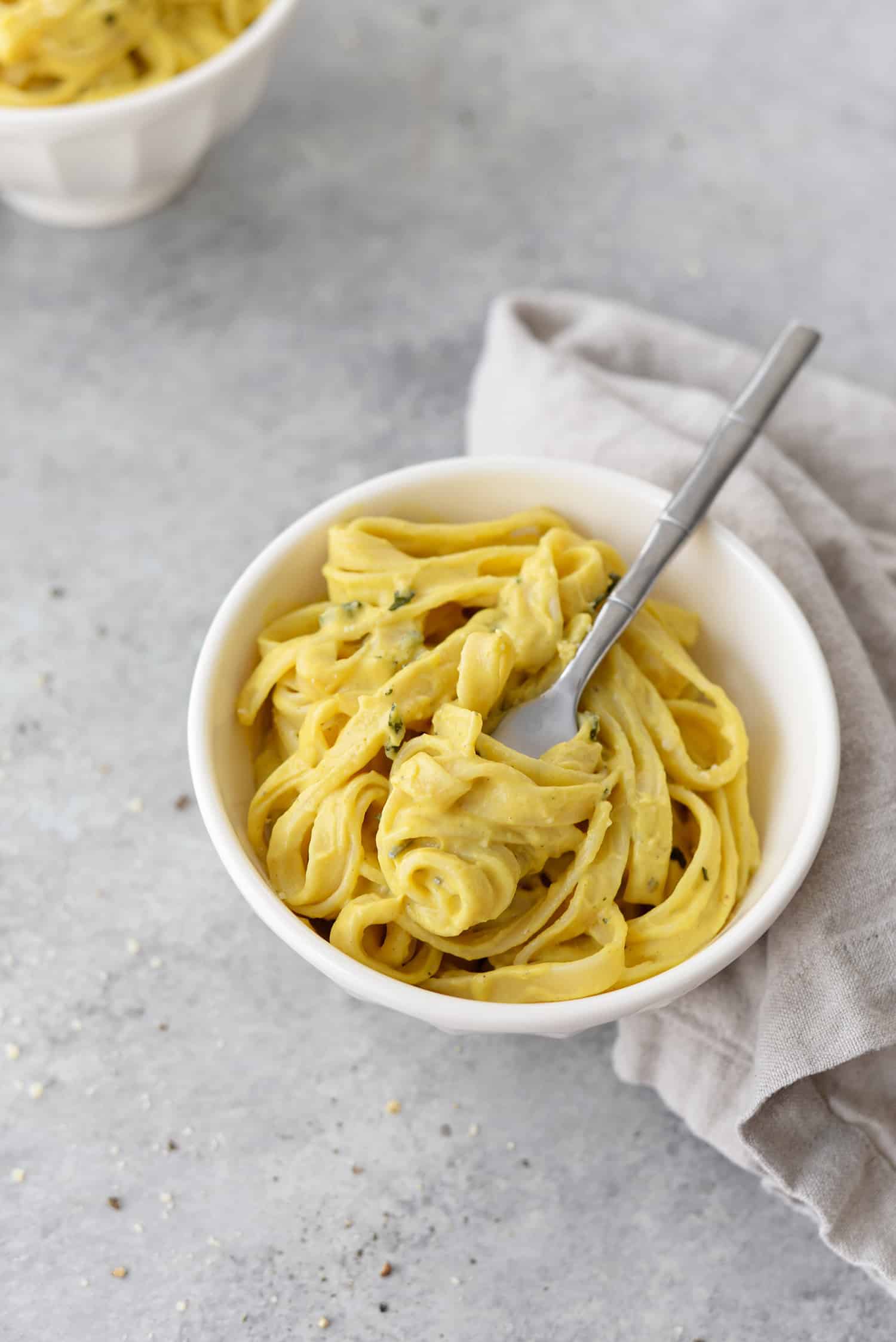 If pasta is my first love, cashew cream is a strong second. I LOVE how creamy cashews make everything! It's my secret weapon in most of my pasta sauces (and this incredible chili 'cheese' dip) and I promise you that if you haven't tried cashews in a sauce before, they don't taste like nuts. Cashews are perfectly bland, creating a creamy base with just about anything they are pureed with.
Adding in roasted squash with spices and cashews creates a thick and creamy pasta sauce, without a drop of heavy cream or dairy. It's pretty incredible and I can't wait for you to try it. Hope you enjoy this one as much as I do. If you love it, you'll want to try the pumpkin version next!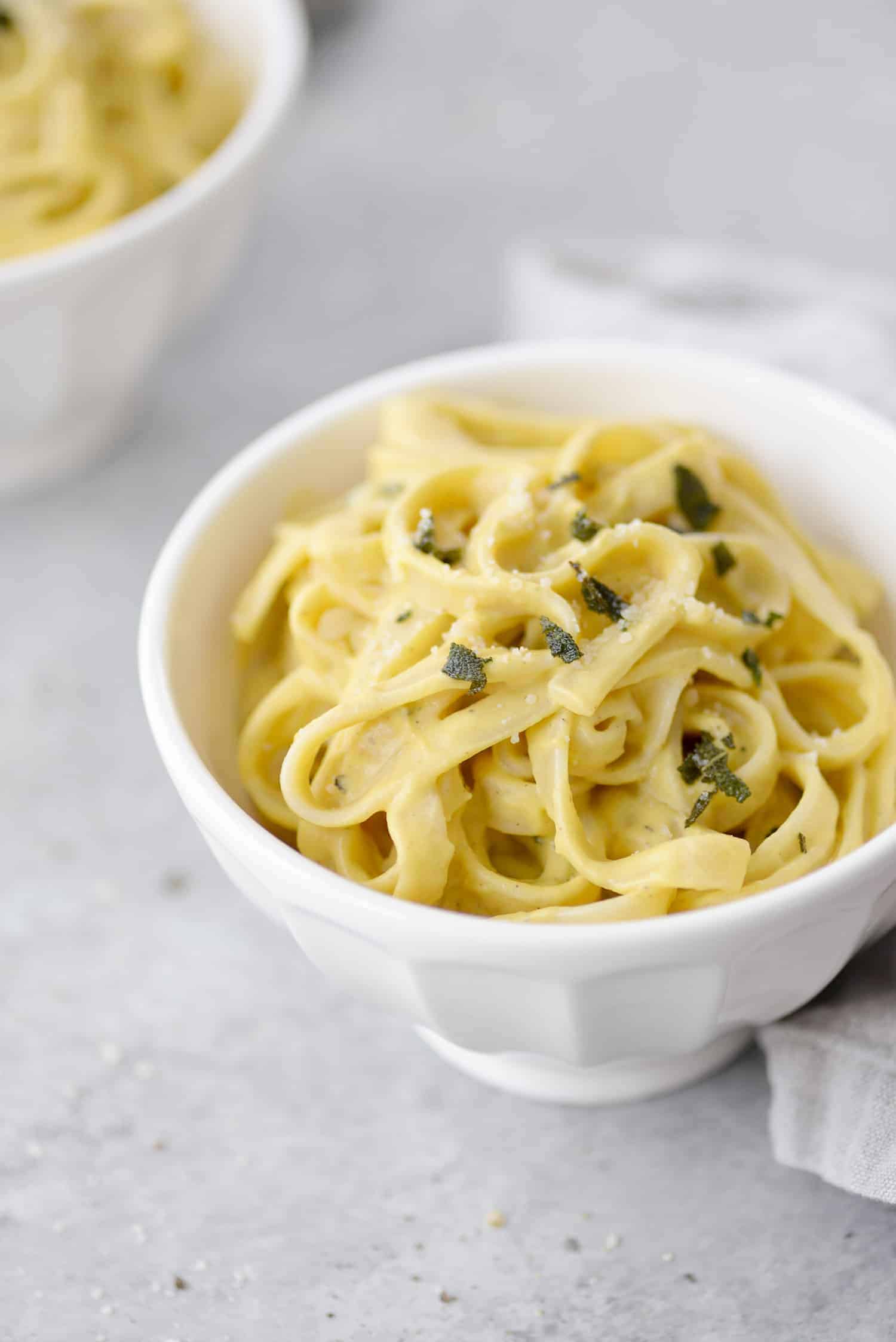 If you try this recipe, let me know! Leave a comment, rate it, and tag your Instagram photos with #delishknowledge . I absolutely love seeing your creations. Happy cooking! 
Print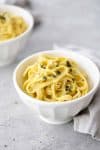 Creamy Vegan Butternut Squash Fettuccini
---
Description
Creamy Butternut Squash Fettuccini! You'd never guess that this incredible meal is VEGAN. Creamy pasta sauce made with sage, nutmeg, roasted squash and shallots tossed with fettuccini noodles. 
---
Scale
Ingredients
1

medium butternut squash, peeled and cut into cubes (about

1

pound of cubed squash) 

3

shallots, halved 

3

garlic cloves, peeled 

1 tablespoon

olive oil 

1/4 teaspoon

dried rubbed sage (I buy this at Penzey's Spices but regular dried sage will also work) 
scant

1/8 teaspoon

ground nutmeg 

1/2 teaspoon

salt 

1/4 teaspoon

freshly ground pepper

1

–

2

cups vegetable broth 

1/2 cup

raw cashews, preferably soaked for at least 20 minutes 

12 ounce

s fettuccini noodles 
---
Instructions
Preheat the oven to 425 degrees F. Toss cubed squash, shallots, garlic with olive oil, sage, nutmeg, salt and pepper. 
Place in a single layer on a baking or roasting sheet and roast for 25-30 minutes until squash is very tender. 
While the squash is cooking, bring a large pot of salted water to a boil. Add the fettuccini and cook until al dente according to package directions. Drain, do not rinse, and reserve 1 cup pasta water (different than regular water, the pasta water has starches that help the sauce cling to the pasta.
Place the roasted squash mixture into a blender along with 1 cup of the vegetable broth and cashews. Puree until silky and smooth. Depending on the power of your blender, you may need to add more broth. I usually end up using 1 1/2- 1 3/4 cup broth. Taste for seasoning, adding salt/pepper if needed. The mixture should be the consistency of thick pasta sauce. 
Add the pureed mixture to the noodles along with a splash of pasta water. Toss, adding more pasta water as needed. 
Serve immediately. 
---
Notes
I served this with fried sage for garnish. Optional if you want to be a little more fancy, but not needed. To do, melt butter (regular or dairy-free) in a small saucepan. Add fresh sage leaves and cook until just crispy. Remove and chop, then garnish!