Tempeh Bacon Carbonara! Creamy cauliflower sauce with whole wheat pasta and homemade tempeh bacon! A healthy, low-fat recipe that tastes like the creamiest pasta you've ever had! 
OK, before I get into the amazingness of this creamy, isthisreallife? pasta, I have to tell you….
We made a video! Another "t" crossed on the blogger checklist. I mean, don't get me wrong, we've made videos before, but that was back in the day when I was still using my phone as a camera so just use your imagination for how those turned out.
It was so fun pretending that BL and I had any knowledge about production, microphones, or how to shoot a cooking video, but we did it and had a blast! You can check it out at the bottom of this post. But first, some photos of my new favorite pasta.
MY LATEST VIDEOS
Note to self: Always have a plate of the food you are blogging about in front of you when sitting down to write!
I don't even know where to start with this one… the crispy tempeh bacon crumbles, the creamy low-fat sauce, how it just comes together perfectly and leaves you wanting to make this dish every night for a week straight?
We'll start with bacon. Veggie friends, can we talk for a moment about how weird America's obsession with bacon has become? Is it just me or do you feel like everywhere you turn someone is trying to put bacon where it doesn't belong? I've seen bacon microwave cups, bacon brownies, and Sacramento restaurants even feature a Bacon Week every winter. What the what? I honestly don't get it. While I haven't eaten real bacon in eons, when I did, I don't remember the full-on pandemonium that seems to accompany it now.
So veggie or not, we are starting this pasta with tempeh bacon. If you haven't had tempeh bacon before, prepare for your mind to be blown! Not only is it packed with healthy protein, it also doesn't contain the cholesterol or saturated fat of traditional bacon, which is a win-win even if you aren't vegetarian.

To mimic the bacon flavor, we liberally marinade the tempeh clusters in soy sauce, maple syrup, cumin and balsamic vinegar. The steamed tempeh then soaks up every last drop of flavors only to be lightly fried in a pan later.  Now, tempeh bacon obsession is something I can totally get behind. 
Since I wanted to go for a carbonara-like pasta, I knew I needed a creamy base to hold the bacon clusters and pasta together. While I tend to favor my heavier, richer cashew-based sauces, I needed a little break.
Cauliflower to the rescue, again! I initially made this video to show everyone how to create a thick, luxurious sauce using cauliflower! Steamed cauliflower, some almond milk and a few spices completely transform the vegetable into a versatile sauce that is just perfect in this carbonara dish. Even though it's low fat, it doesn't taste that way. Aha! Magic. 
To my gluten-free friends, you can make this dish, too! Just swap in your favorite gluten-free pasta and you are good to go. I have been loving Trader Joe's brown rice & quinoa linguine and think that would make the perfect swap here.
Cook the pasta, toss with the sauce and add the tempeh bacon! I also like to add a generous garnish of fresh parsley as it helps to cut through some of the richness of both the sauce and the tempeh bacon.
Let's get a few more close-ups and then it's show time, um, video time! If you liked it, I would love for you to subscribe to my new youtube channel. Enjoy!

If you try this recipe, let me know! Leave a comment, rate it, and tag your Instagram photos with #delishknowledge . I absolutely love seeing your creations. Happy cooking! 
Print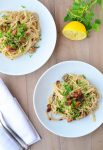 Tempeh Bacon Carbonara
Author:

Prep Time:

10 minutes

Cook Time:

20 minutes

Total Time:

30 minutes

Yield:

4

large servings, 6 normal size servings

1

x
Category:

pasta, entree, dinner, main
---
Description
Tempeh Bacon Carbonara! Creamy cauliflower sauce with whole wheat pasta and homemade tempeh bacon! Such a healthy, low-fat recipe that taste like the creamiest pasta you've ever had!
---
Scale
Ingredients
8 oz

. tempeh

3 tbsp

. soy sauce

2 tbsp

. maple syrup

2 tbsp

. olive oil, divided

1 1/2 tsp

. balsamic vinegar

1/2 tsp

. cumin

1

head cauliflower, chopped

2

cloves garlic

1/2 cup

unsweetened milk

2 tbsp

. nutritional yeast

1 tbsp

. fresh lemon juice

1/2 tsp

. onion powder

1/4 tsp

. garlic powder

1

lb. whole wheat pasta
fresh parsley, chopped (for garnish, optional)
---
Instructions
Place the tempeh in a steamer basket and steam for 10 minutes until soft. Remove from basket and crumble into a bowl. Add soy sauce, maple syrup, 1 tbsp. olive oil, 1 1/2 tsp. balsamic vinegar, 1/2 tsp. cumin. Marinade while you prepare the cauliflower.
Chop the cauliflower and place in a steamer basket. Cook for 10 minutes until cauliflower is soft.
Place cauliflower in a blender along with the remaining tbsp. olive oil, garlic, milk, nutritional yeast, lemon juice, onion powder and garlic powder. Blend until silky and smooth, about 3-4 minutes.
Heat a large non-stick skillet on medium heat. Add the marinated tempeh and cook until crispy and golden, about 10 minutes.
Bring a large pot of salted water to a boil and add the pasta. Cook until al dente.
Add the cauliflower sauce to the whole wheat pasta (you may not need all of it, start with a cup or two and toss, add more if you'd like). Add the tempeh bacon and toss again.
Garnish with fresh parsley.