Vegan Apple Pie Cinnamon Rolls! Just try to say "apple pie cinnamon rolls" without smiling. It's almost impossible. Layers of flaky apple pie studded dough with cinnamon, pecans, and more apples!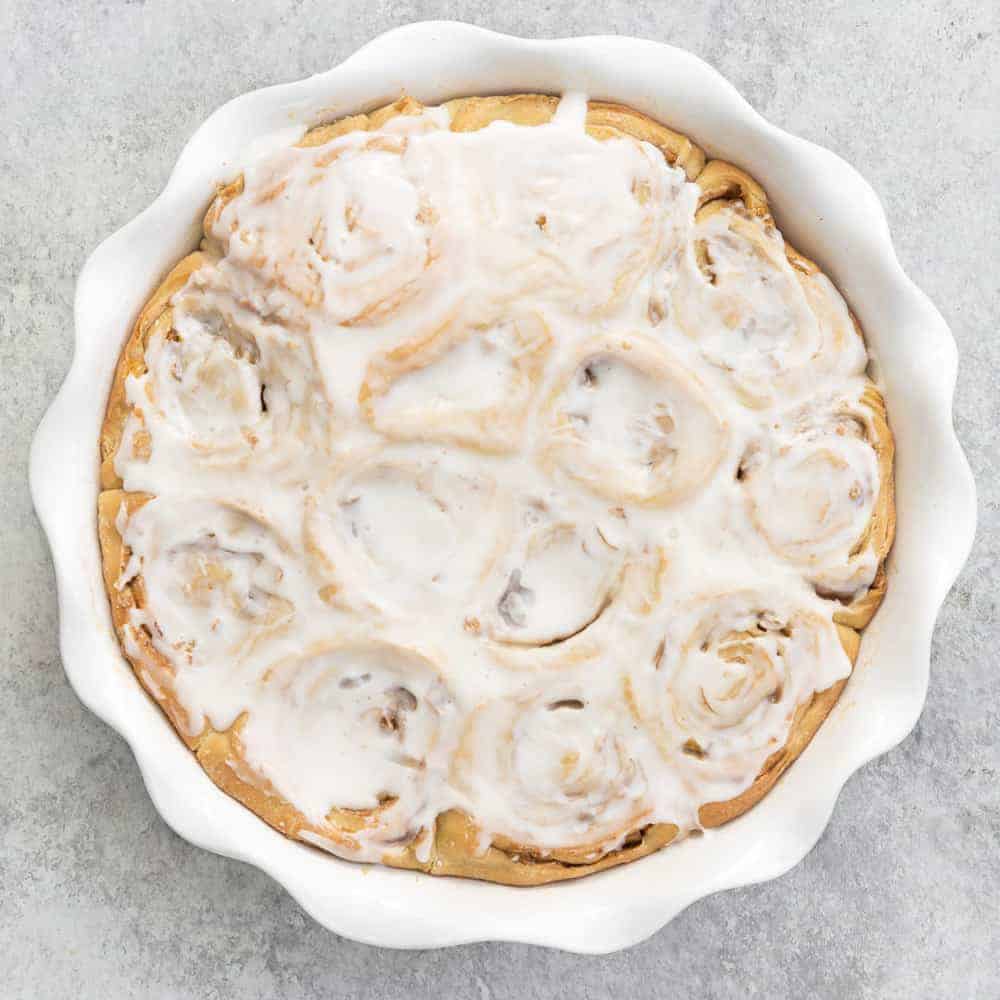 I've been baking again! Well, truth be told, I never really stopped. November was filled with muffins, bars, and donuts, and December doesn't show any signs of slowing down. I'm 90% sure I've had flour clinging to my clothes for weeks now.
Cup of tea in hand and Christmas carols on my phone, I'm finding that baking isn't as tough as I once cracked it up to be.
So, Cinnamon Rolls.
MY LATEST VIDEOS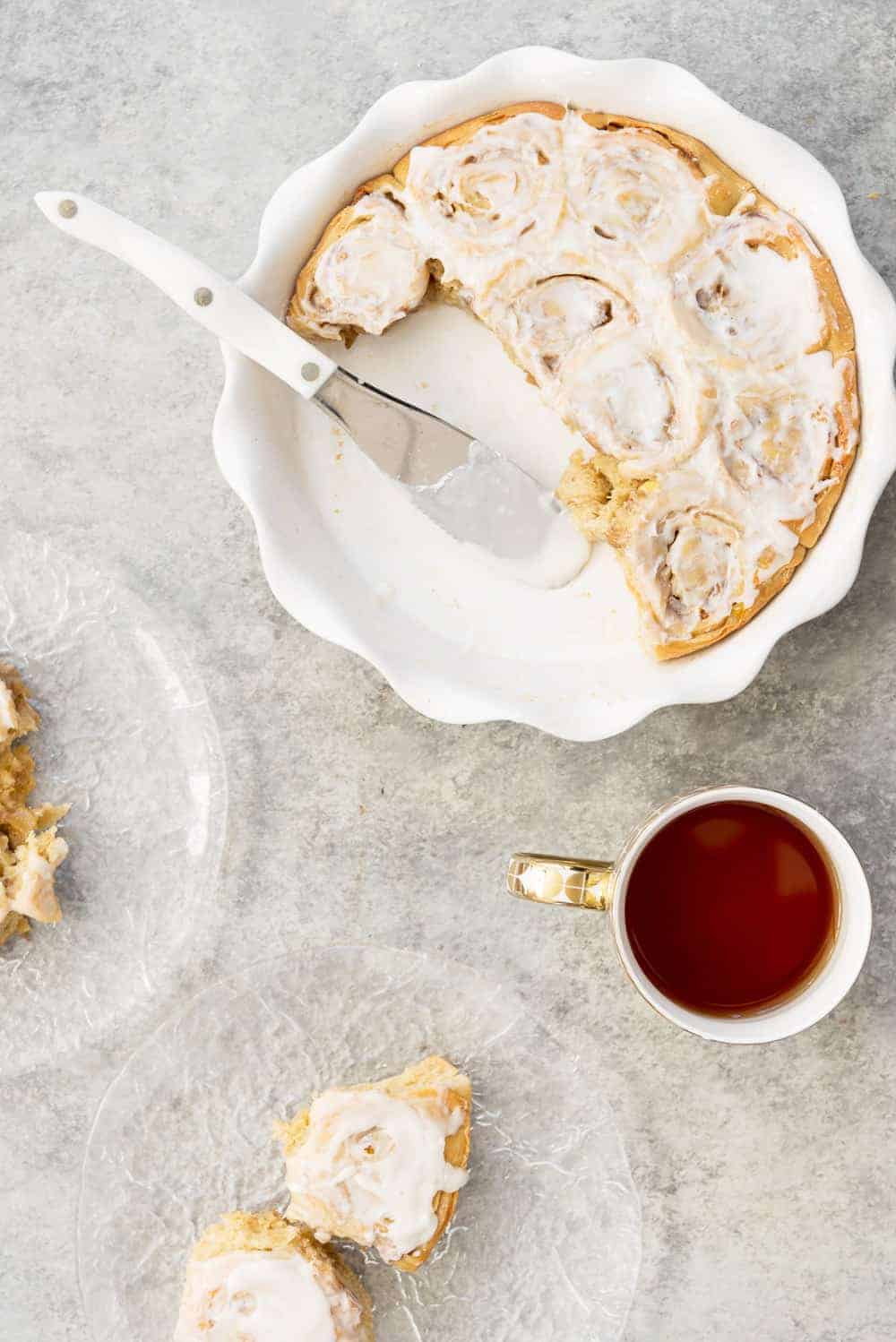 Before this, I've made cinnamon rolls exactly once in my life while working as a food service intern in a local elementary school.  Let me just say that having to make 600+ cinnamon rolls in less than 2 hours is enough to turn anyone into a cinnamon roll adversary.
But time can only hold someone away from ooey-gooey cinnamon rolls for so long. Let's do this!
Apple Pie Cinnamon Rolls
Since I wanted cinnamon rolls, but not 600 calorie rolls, I began tweaking a basic recipe I found. We cook these gorgeous apples down with a bit of cinnamon, nutmeg, and cardamom to deliver on the apple pie part of these rolls.
Special bonus: Your house will now smell like Cinnabon, which is just icing on the cake  cinnamon roll.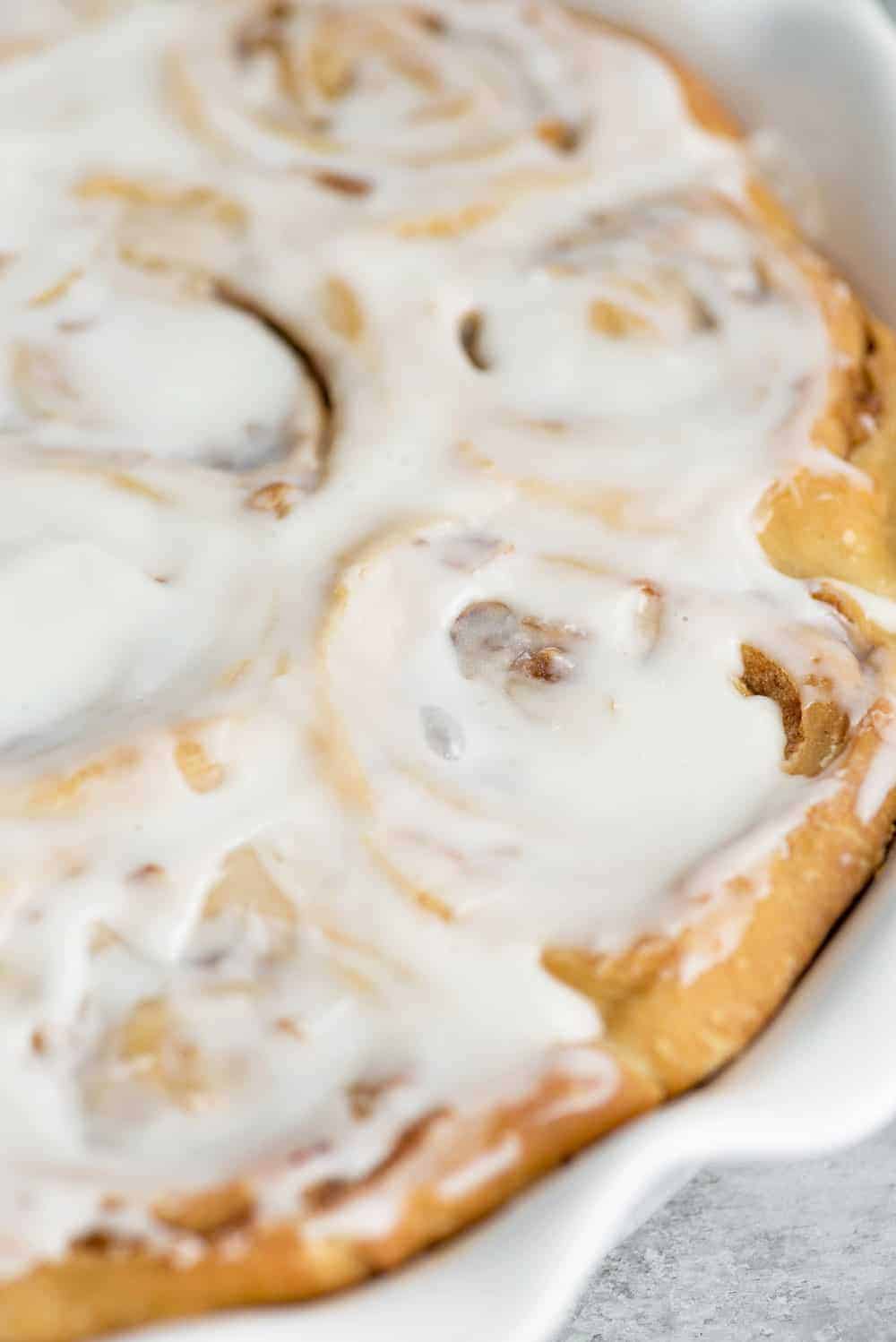 If you haven't tried your hand at cinnamon rolls before, I assure you they look way harder than they actually are. The hardest thing is waiting for the dough to rise twice! Use this time for a quick coffee walk or sit down and catch up on work. Or, you could stare them down and count the minutes until they are ready to roll like someone I know (cough, ahem, BL).
To make rolling the dough easier, place it on a lightly floured cutting board or pastry board. Just make sure it's large enough that your dough won't fall off. To slice, I used a serrated knife to cut through the dough, but I've also heard that dental floss works- just make sure it's the unflavored kind.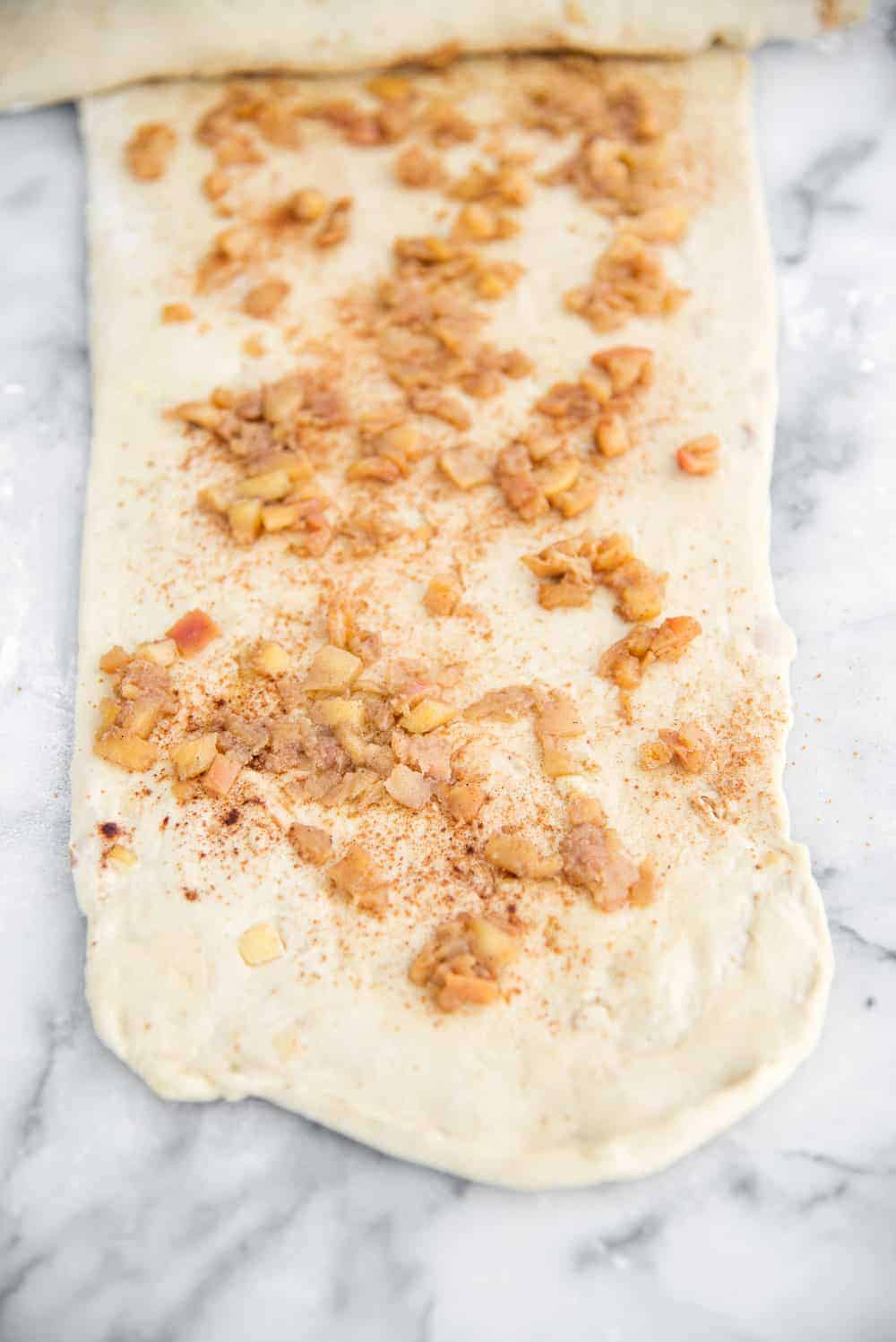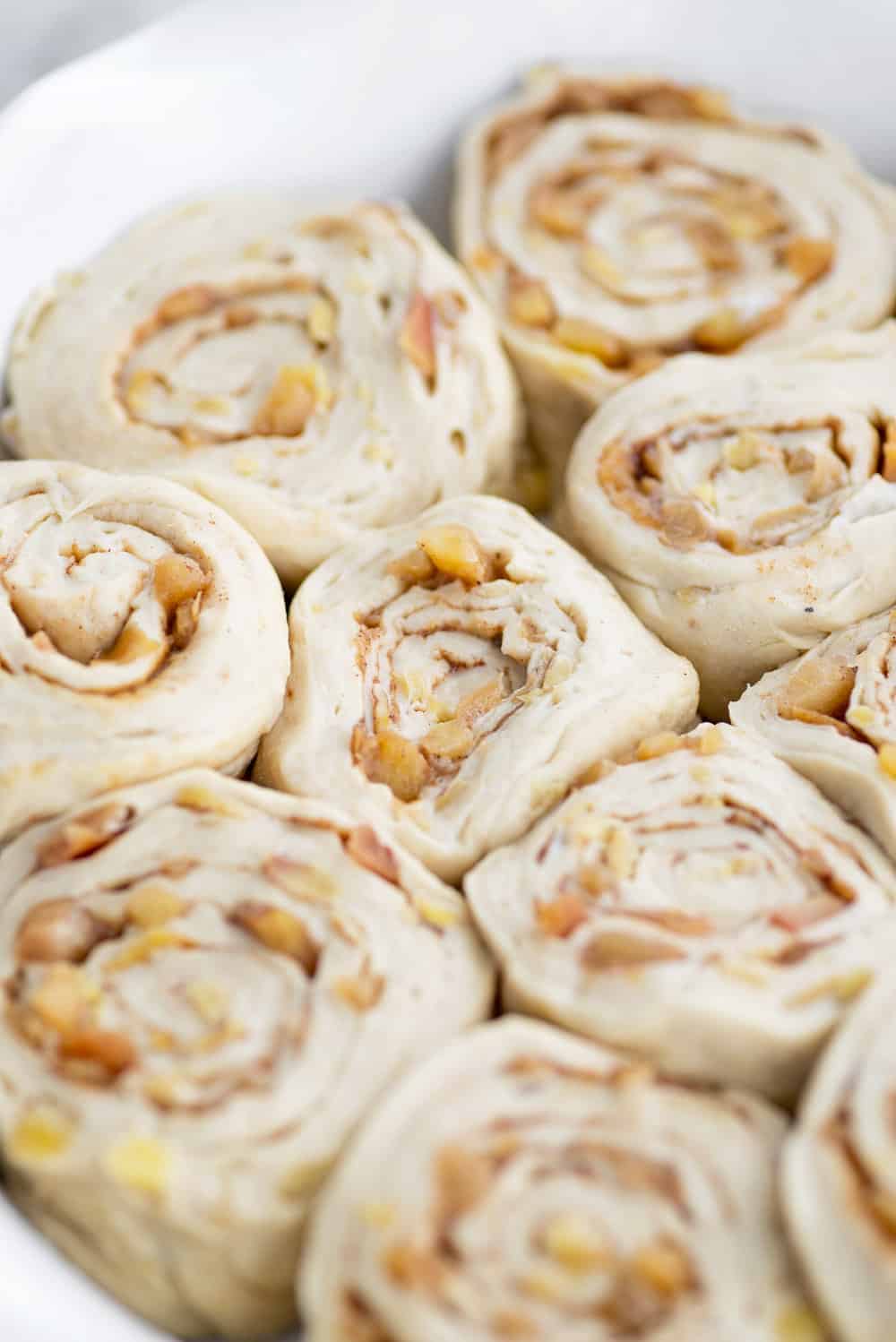 While these are great anytime of the year, I think they would be extra special on New Year's morning.
If you make them, I would love to see! Tag #delishknowledge on Facebook, Twitter or Instagram!
What's your favorite thing to bake this time of year?
Print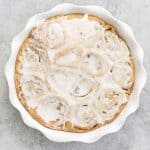 Vegan Ambrosia Apple Pie Cinnamon Rolls
Author:

Prep Time:

30 minutes

Cook Time:

30 minutes

Total Time:

60 minutes

Yield:

9

-

10

cinnamon rolls

1

x
Category:

breakfast, brunch, vegan

Method:

Oven, Baked Goods

Cuisine:

vegan, brunch, breakfast, southern
---
Description
Apple Pie Cinnamon Rolls! Vegan cinnamon rolls with apple pie filling! Cinnamon rolls with frosting. Perfect for holidays, Christmas and brunch!
---
Scale
Ingredients
2

medium apples, peeled and finely diced

1/4 cup

+

1 Tbsp

sugar, divided

1/3 cup

butter or vegan butter, divided

1 1/2 tbsp

ground cinnamon, divided

1/2 tsp

. ground nutmeg

1/4 tsp

. ground cardamom

1

packet or

2 1/4 tsp

instant yeast

1 cup

unsweetened soy milk

1/4 tsp

salt

2 3/4

–

3

cups flour

1/2 cup

pecans finely chopped
Frosting: 1 cup powdered sugar, 1-2 tbsp. soy milk
---
Instructions
In a medium saucepan, add the diced apples, 1 tbsp. sugar, 1 tbsp. butter, 1 tbsp. cinnamon, nutmeg and cardamom. Cook over medium heat until reduced and apples are very soft, about 20 minutes. Using a fork or potato masher, finely mash the apples. It should be the consistency of chunky applesauce. Let cool while you prepare the yeast.
In a small saucepan heat the soy milk and 2 tbsp. butter until it reaches 110 degrees F. If you don't have a thermometer, it should be warm to the touch but not hot.
Transfer the milk to a large mixing bowl or bowl of a stand mixer.
Sprinkle on yeast and let activate for 10 minutes. Then add 1 Tbsp sugar, salt and stir.
Next add in 1/2 cup of the apple mixture and stir.
Add flour 1/2 cup at a time, mixing as you go. The dough will be sticky, I've made these twice and usually use a little more than 2 1/2 cups. When it is too thick to stir, transfer to a lightly floured surface and knead until it forms a loose dough ball. Add a little flour at at a time if needed but only use as much flour as it will take.
Wipe out the large mixing bowl and spray or coat with oil. Place the dough ball in the bowl and cover with a towel. Place in a warm area to rise until doubled in size, about 1 hour. (I usually place on top my stove with the oven on warm or on top of a radiator. One of the few perks of living in a very old house.)
Place the remaining butter in a small saucepan and melt.
On a lightly floured surface or pastry board, roll out the dough into a long rectangle ~1/4 inch thick. Brush with the melted vegan butter and top with 1/4 cup sugar, 1/2 tbsp. cinnamon and ~3-4 tablespoons of the remaining apple mixture. The apple mixture should be in a very thin layer. You may not need all the apple mixture as you want the dough to be easy to roll and not too heavy. Sprinkle on 1/4 cup of the finely chopped pecans.
Slowly and tightly roll up the dough and situate seam side down. With a serrated knife, cut the dough into 2 inch sections and place in a greased 8×8 square or round pan.
Brush the tops with remaining butter and sprinkle with remaining pecans.
Loosely place a kitchen towel on top and let rise again, about 20 minutes.
Bake! Preheat the oven to 350 degrees F. Bake rolls for 30 minutes until slightly golden brown. Let cool for a few minutes, then frost.
Place the powdered sugar into a bowl. Slowly add in milk, 1/2 tsp. at a time until the frosting is creamy and thick. These taste best warm!
Keywords: vegan, breakfast, brunch, cinnamon roll, apple pie