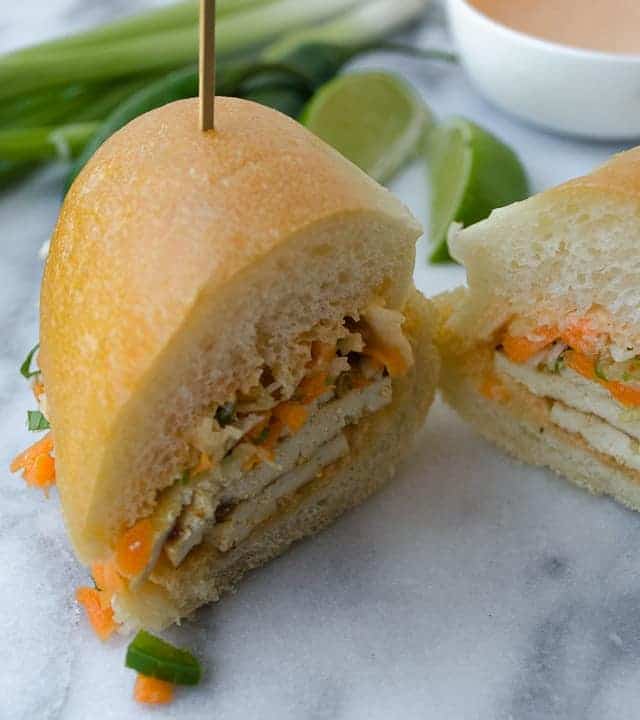 I love hotels. Really love them. Few things make me more giddy than the opportunity to head out of town for a few days, exploring new surroundings and indulging at hotels.
Besides the fact that I don't have to make my own bed, I love nothing more than curling up in an oversized, overstuffed bed and getting lost in cable TV for hours.
I'm a firm believer of not having a TV in our bedroom, and since BL and I haven't had cable in years, it's a welcome change of pace when we get to fall asleep to syndicated shows or cheesy made-for-tv movies.
Since I travel quite a bit for work, I relish coming back to the hotel after a long day of meetings to binge watch the Food Network with takeout dinner in tow. Because if there is one thing I miss by not having cable, it's the Food Network. I can get lost for hours following Giada, Ina and my personal favorite- Diner's, Drive-Ins and Dives.
It was during a recent marathon viewing of triple D that made me fall in love with this sandwich- the banh mi. You know those foods that you've  never actually had, but you know it would be love at first sight bite? That's how I felt about the Banh Mi.
Who knows where Guy was eating this bad-boy, but all I could think about was racing home to make my own version. And for a sandwich to make me want to leave my hotel room, you know it had to be good.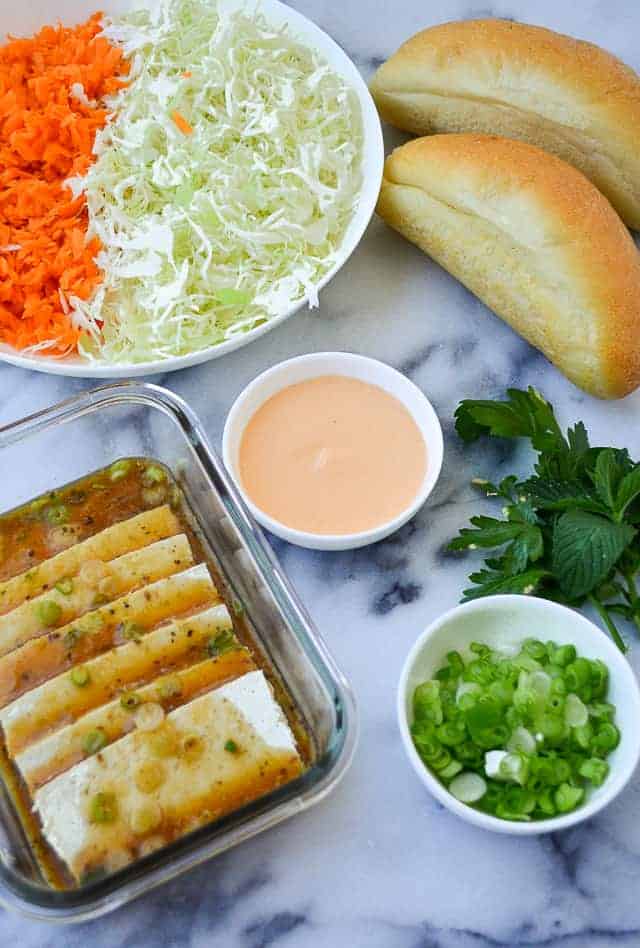 So a few days later, back home in Sacramento, I got to work on creating my own version, the vegan banh mi.
Since tofu is my favorite meat swap, we'll start there. Slabs of tofu marinated in a fresh soy and lemon-grass sauce, then seared to perfection. Topped with quick pickled cabbage, carrots, and cilantro and slathered in spicy mayo.
Also, side-bar– make sure to make extra mayo. The combination of sriracha + vegenaise is a powerful one. Make sure you have lots of items handy for dipping. (Like french fries. French fries and sriracha mayo is pure bliss.)
While it might not be the most authentic Banh Mi out there, I'm pretty confident that it will win over any purist. Don't be intimidated by the few steps and ingredient list. It actually comes together fairly quickly and the most of the ingredients are  pantry staples you may already have in your house.
MY LATEST VIDEOS
If you do end up with leftovers, keep them in separate containers to assemble throughout the week. I used the leftover tofu and shredded vegetables as the base for a few salads. The thinned out mayo sauce makes for a delicious dressing.
Another great thing about this sandwich? It packs easily! I am always on the hunt for take-with-me-to-work sandwiches and this one totally fits the bill. As long as your bread is crusty, there is no need to worry about soggy-sandwich-syndrome. I've been making this for packed-lunches all summer long.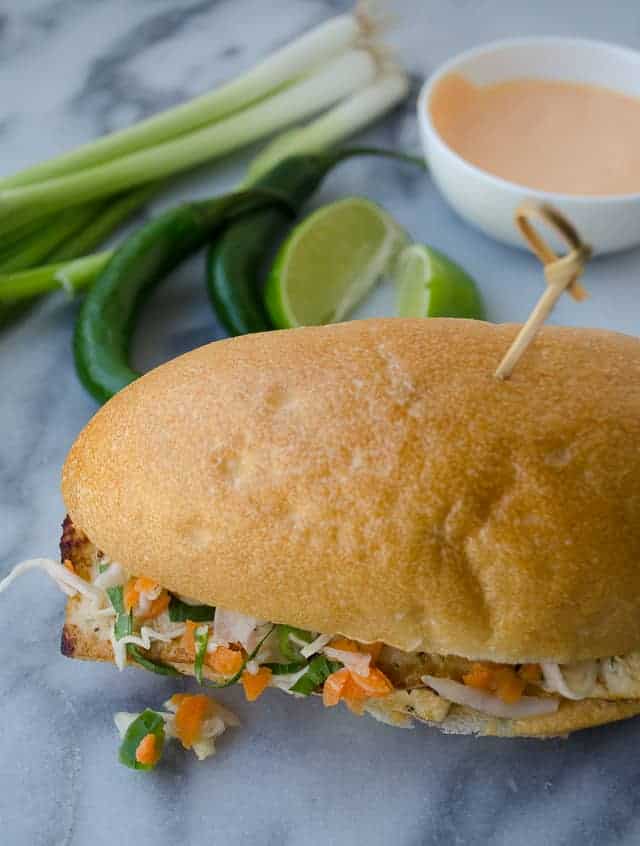 Nutritional Benefits:
Tofu: I'm a soy fan. Swapping out soy for animal protein has been shown to reduce LDL cholesterol levels.
Jalapeños: These little peppers pack quite a punch on the Scoville scale, with medium amounts of Capsaicin. Capsaicin has impressive health benefits, particularly as an anti-inflammatory and vasodilator that helps promotes healthy blood flow.
Cabbage: What's not to love about cabbage? Cabbage contains anti-inflammatory and anti-cancer properties. A great source of vitamin K, vitamin C and fiber.
Cilantro: Spices and herbs are a great way to up your antioxidant intake! Cilantro contains lots of phytonutrients so this is your permission to put it on everything!
If you try this recipe, let me know! Leave a comment, rate it, and tag your Instagram photos with #delishknowledge . I absolutely love seeing your creations. Happy cooking! 
Print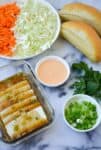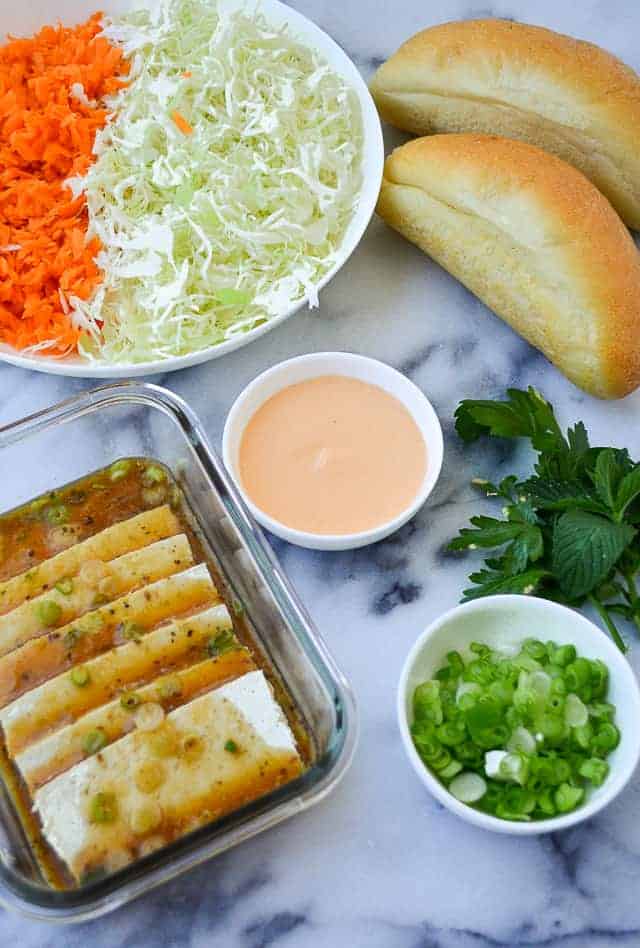 The Vegan Bahn Mi
Author:

Category:

sandwich
---
---
---
---