Hello October!
Everyone has their own version of what chili should be. I added sweet potato to my usual chili recipe and I was glad I did! Yum. It was so perfect; sweet and filling. With a loaf of wheat bread, this was the perfect night-before dinner for B's half marathon. No wonder he did so well! Feel free to adjust the heat, it's pretty tame. Enjoy.
DK's Vegetable Chili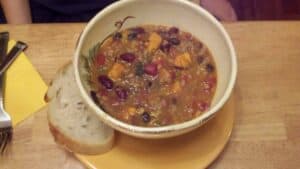 Ingredients:
1 cans black beans, rinsed and drained
1 cans kidney beans, rinsed and drained
2 cans pinto beans, rinsed and drained
1 large can or box diced tomatoes, drained
1 carton vegetable broth or homemade broth
1 sweet potato, cubed
2 zucchini, cubed
3 stalks celery, minced
4 carrots, diced
1 onion, minced
2 clove garlic, minced
2 cups bulgur wheat, cooked
1/2 cup textured vegetable protein, re hydrated, optional (you could also use tempeh if you wanted)
1 bay leaf
2 tbsp. chili powder
2 tsp. cumin
2 tsp. dried oregano
1 tsp. cayenne pepper
2 tsp. salt
Sweat the onion, garlic, and salt with a dash of oil or broth in a heavy-bottom sauce pan. Add the cayenne pepper, oregano, chili pepper, and cumin. Stir to combine. Add the celery, carrots, zucchini, and sweet potato. Combine with seasonings and allow to cook for 3-4 minutes. Add the bay leaf and vegetable broth, 1 cup at a time, stirring to the bottom so the seasonings don't stick to the bottom. Turn the heat to medium/medium high and cook 10 minutes until sweet potatoes are just fork-tender. Turn the heat down to medium-low and add the tomatoes, beans, bulgur, and tvp. Cover and allow to cook for 30-40 minutes.
Serve hot with your favorite corn bread or baked bread! Fall is here!