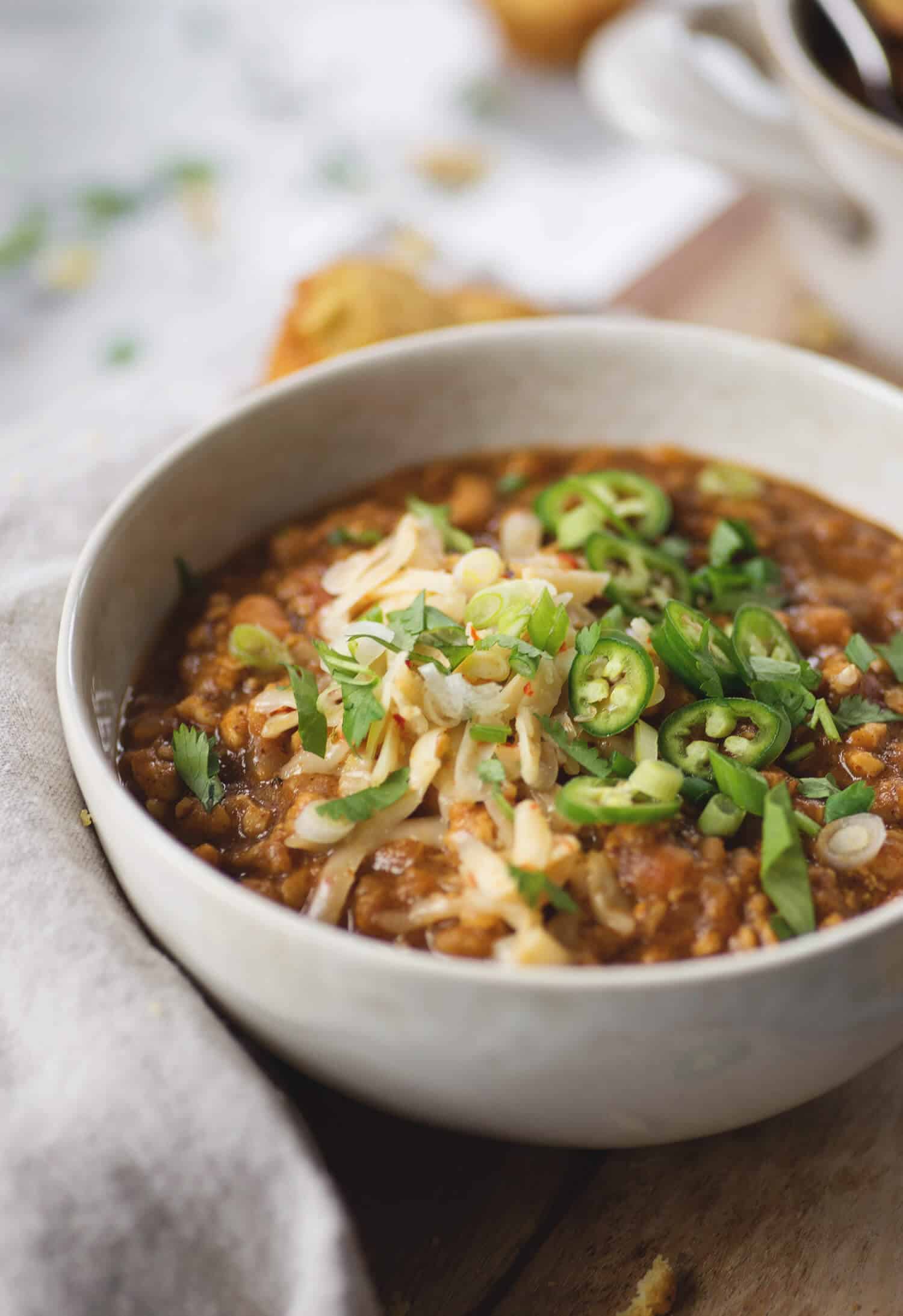 Can people hibernate as well? These freezing temps make me want to burrow under the covers, sleep and sleep some more. Serious question- when it comes to bed,  how early is too early? Since BL was gone on a guys trip this weekend, I indulged myself on Friday night– I was in bed by 7PM, reading a few magazines before I fell asleep.
Friends, this was glorious. AND, I didn't wake up until almost 7:30 the next morning. It felt like college all over again, without the hangover or stress of exams.
While I love having BL home on the weekends, there's something so fun about having the place to yourself. It's been a while since I lived on my own and I relish the opportunity to have complete control of my schedule. I cooked most of Saturday, capping the evening with dinner with a good friend and a big ol' nap on Sunday. My heart is so full from this mini-staycation of my own.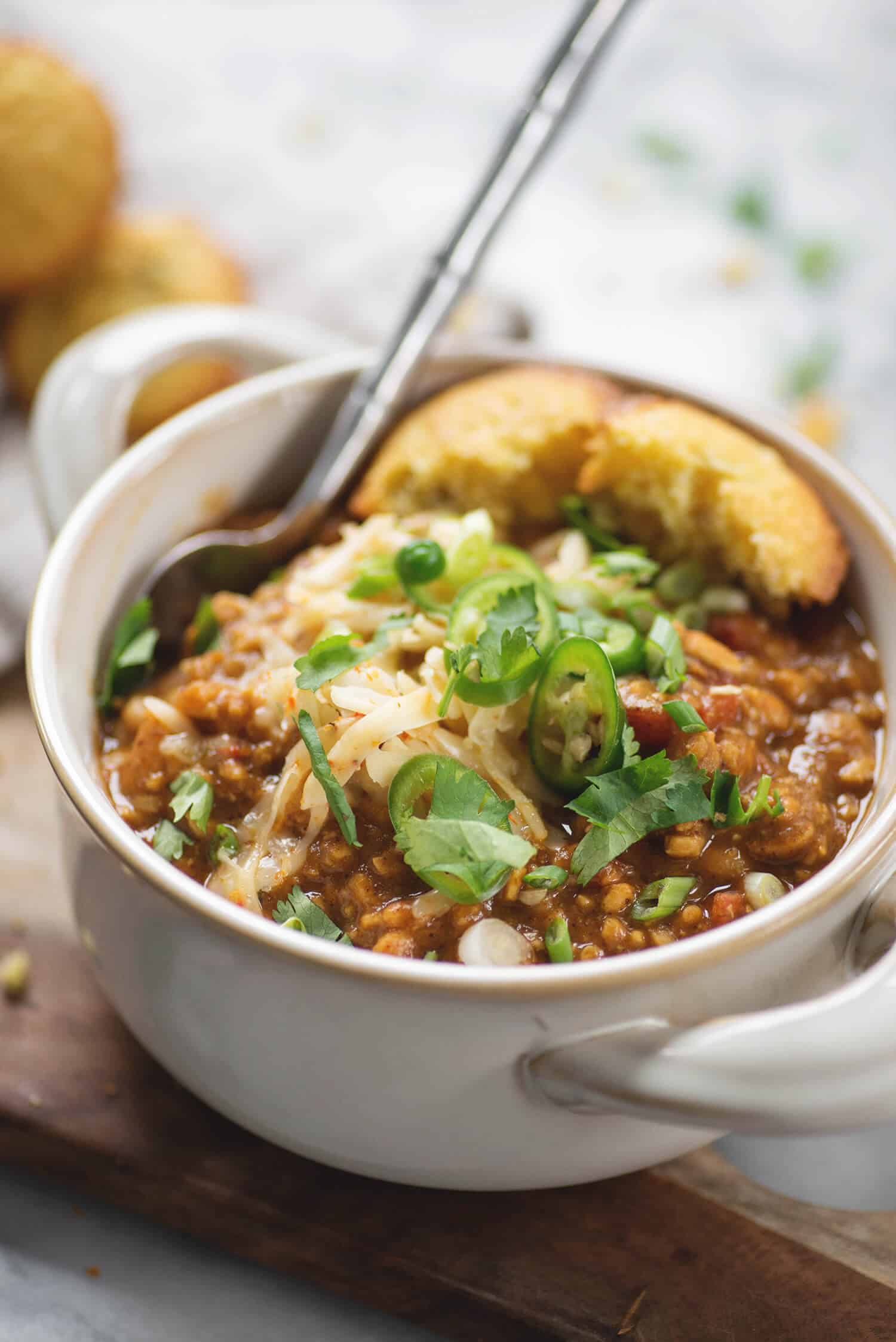 Freezing temperatures also make me crave chili, soups and hearty stews. I love the idea of pouring myself a steaming bowl, then heading to the couch to curl up with a movie or chat with a friend. It's how I love ending the workday and this chili is a must-make.
If you like hearty chilis, you are going to love this one. I wanted to create a vegan chili that wasn't the typical meatless type. This one isn't packed with vegetables and that's on purpose. Instead, it's got chunks of tempeh, beans and lots of spices. That's it. This is the perfect chili to scoop up cornbread with or serve over noodles, Cincinnati style.
The key is crumbling the tempeh fine; I use a box grater to get this done. Then, I lightly fry the tempeh in oil to give it good body and flavor. Once your done, the tempeh should be golden brown and almost crispy before stirred into the other ingredients.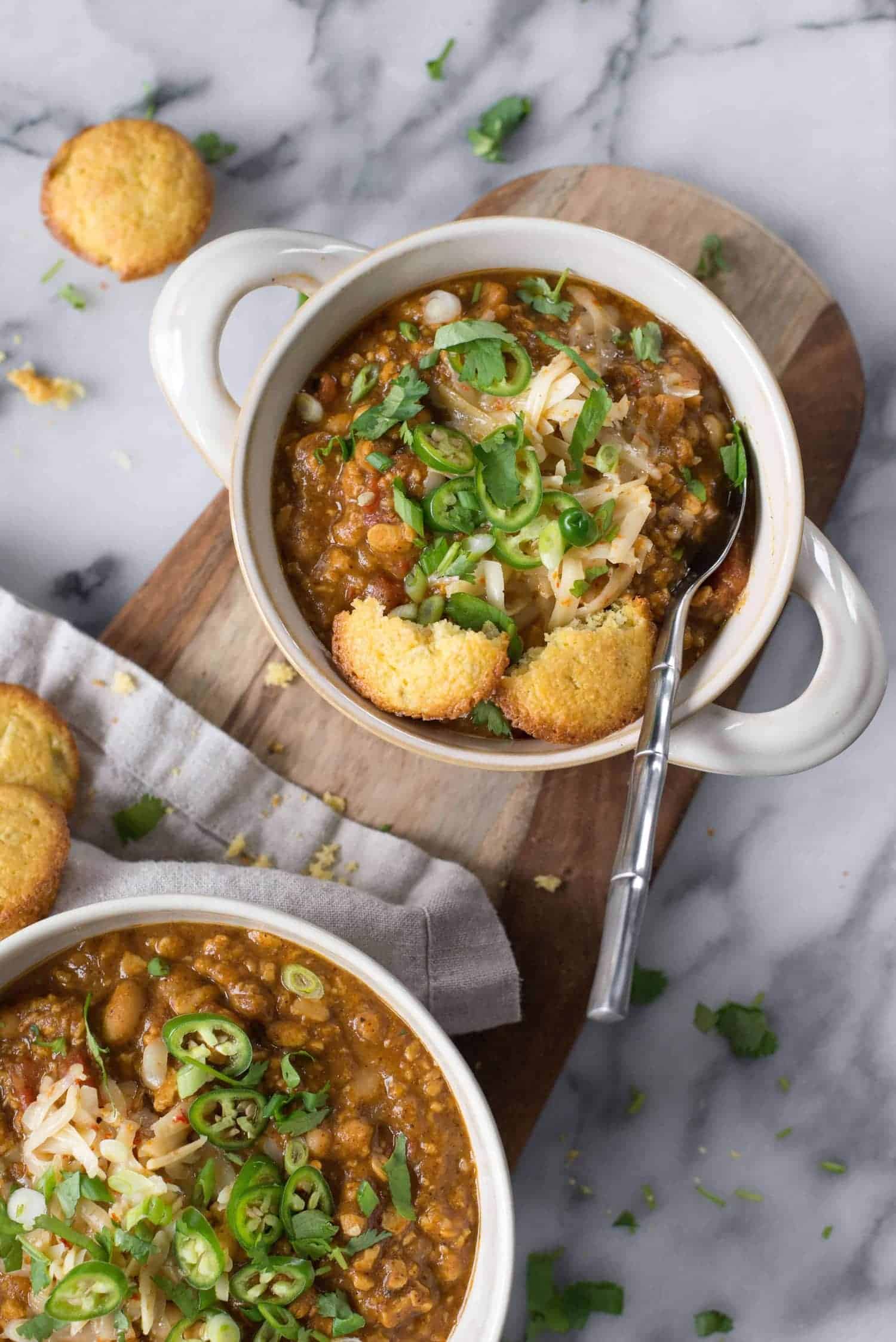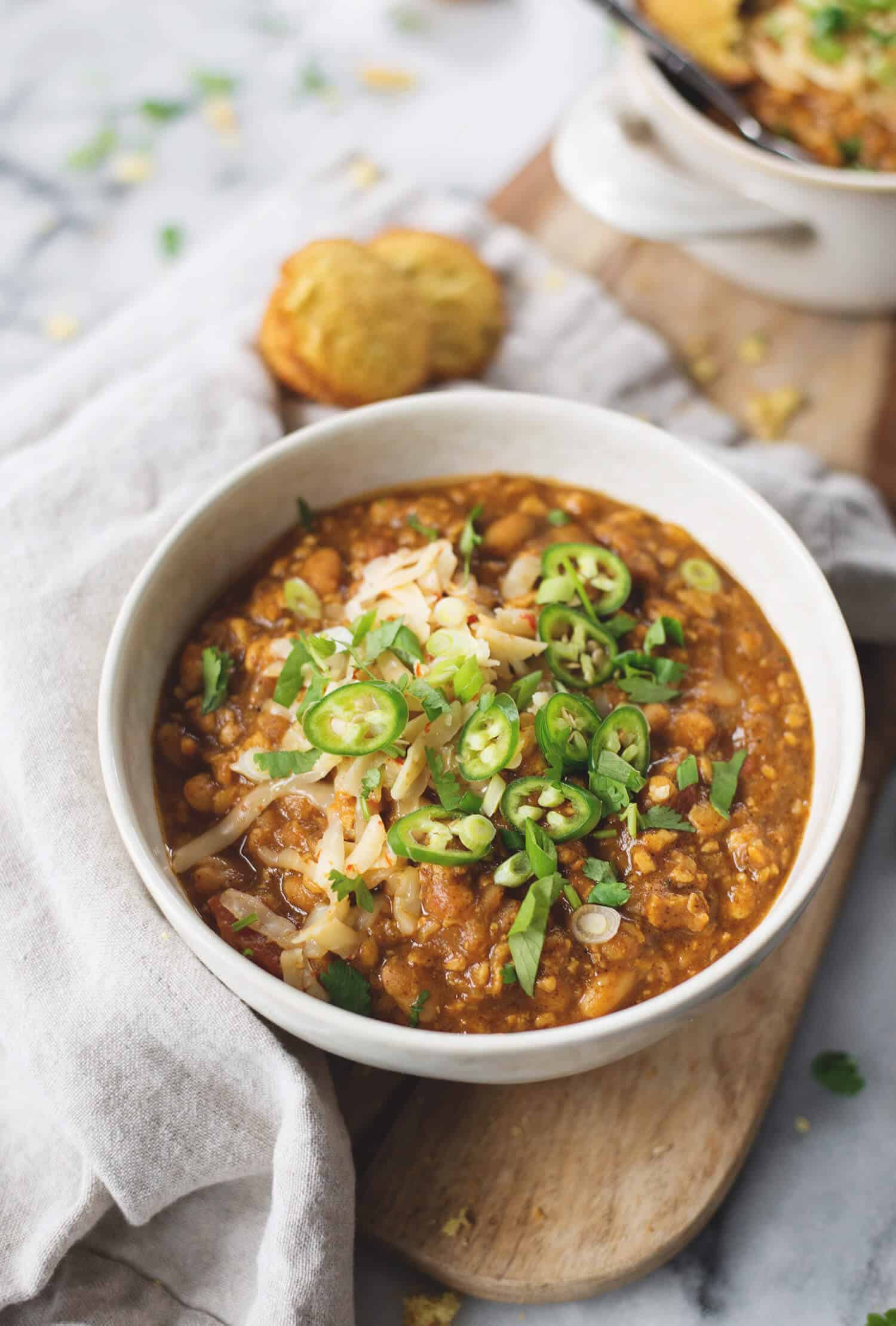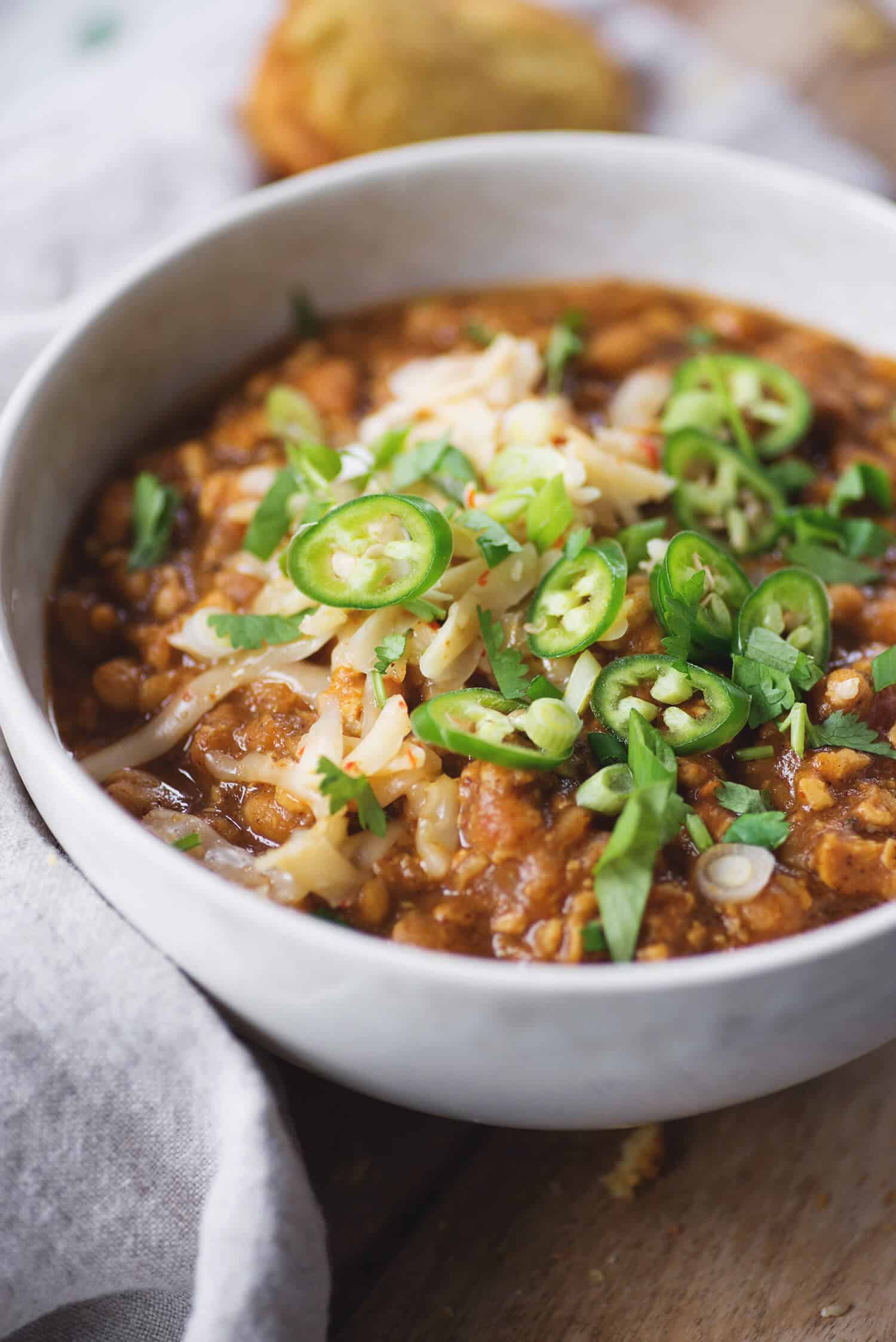 MY LATEST VIDEOS
For the perfect amount of spice, I learned this trick from Food Network. Broil chilis (I opted for Anaheim chilis) until blackened and the skins easily slip off. Then, puree with cilantro. This spicy base pairs perfectly with hearty beans and tempeh. It's also a great way to adjust the heat. If you want more, choose spicier chilis. If you want less, choose mild ones.
I know I call for a lot of chili powder here, it's not a typo. I can't get enough of Penzey's chili powder, but use your favorite brand. If you're using a super spicy powder, then you might want to put in a little, taste and then gradually add some more. Can't wait for you to try this one!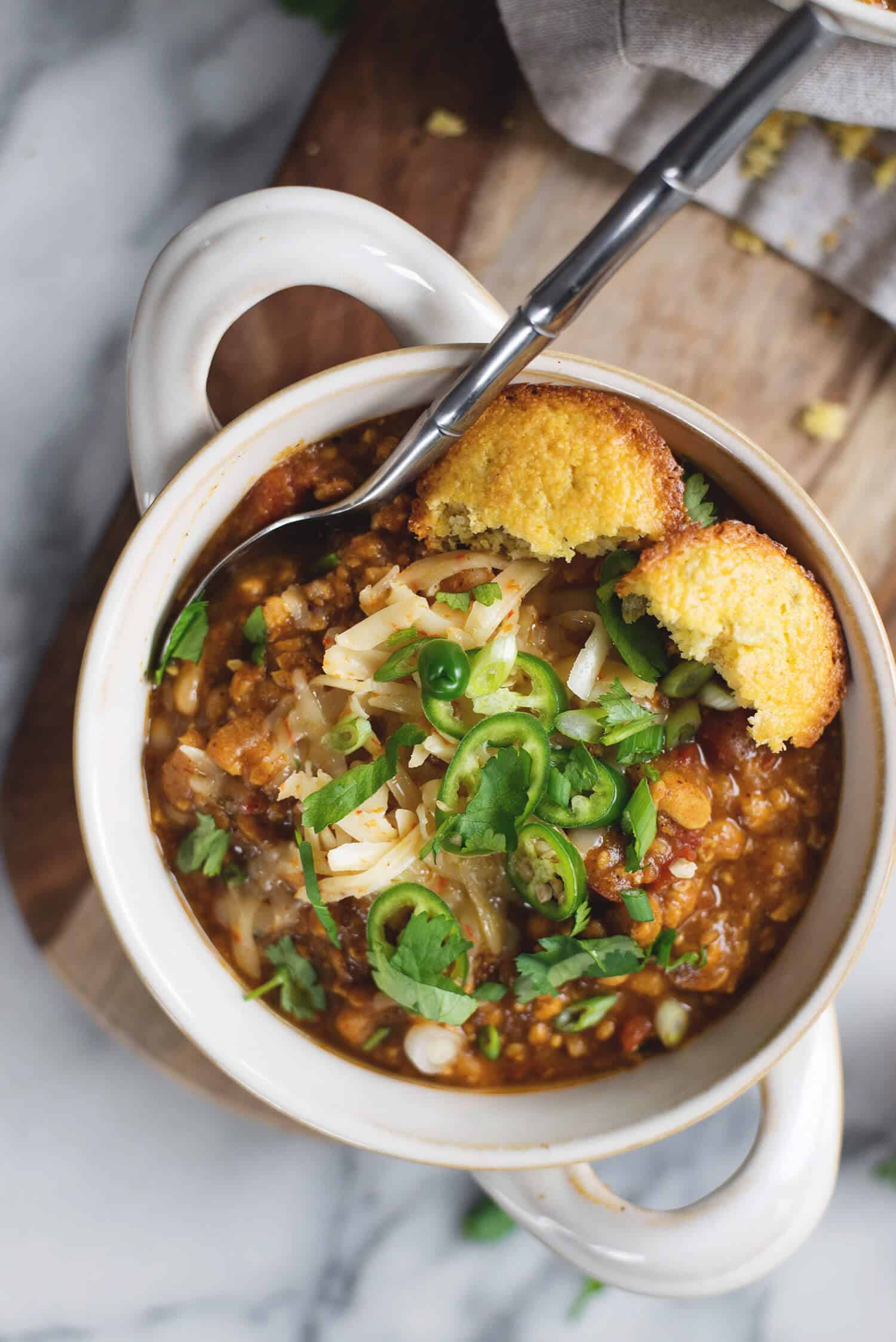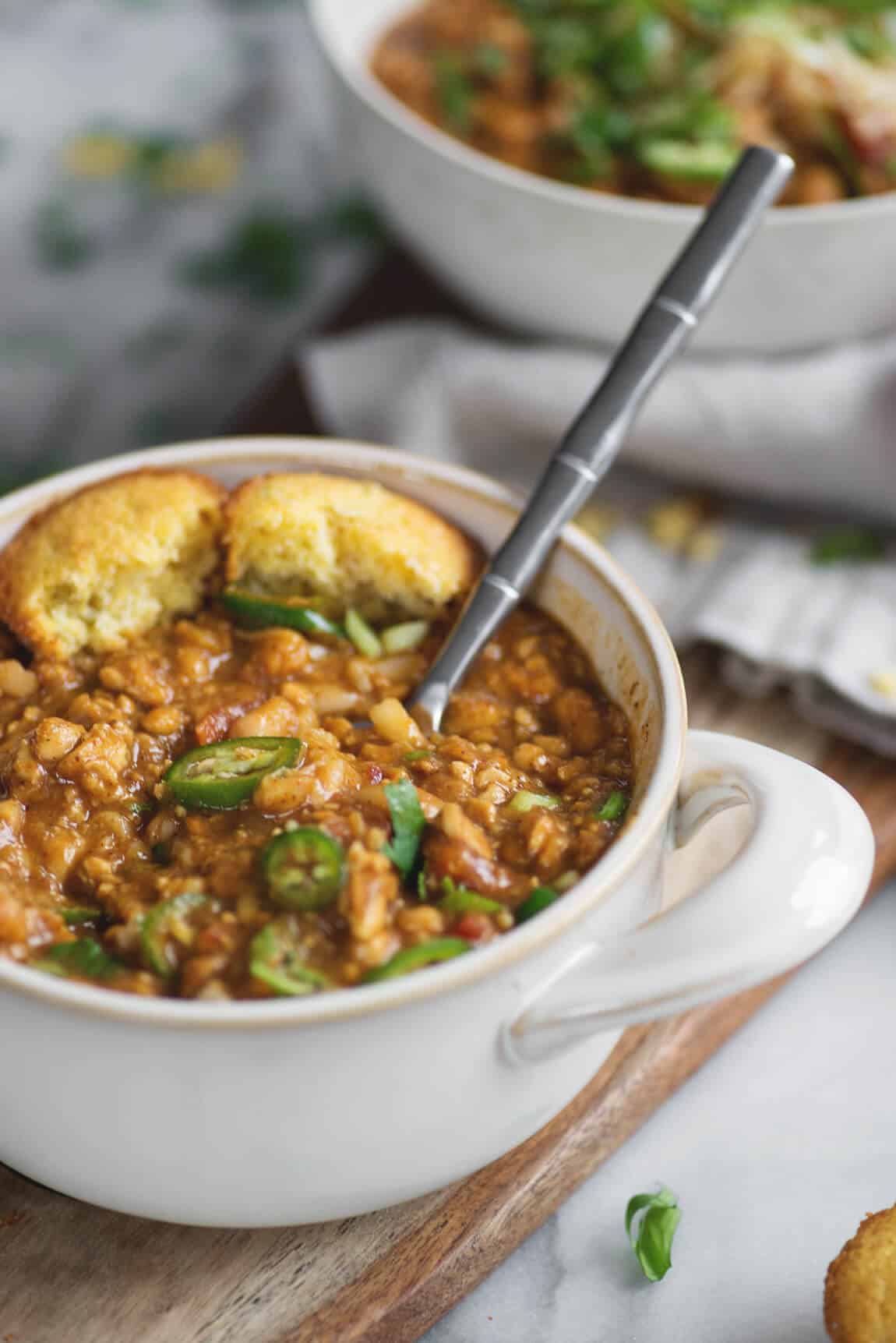 If you try this recipe, let me know! Leave a comment, rate it, and tag your Instagram photos with #delishknowledge . I absolutely love seeing your creations. Happy cooking! 
Print
---
---
---
---
PS- I'm clearly a chili fanatic. If you love spicy beans as much as I do, check out these previous recipes: Black Bean & Bear Chili |  White Bean Chili | Pumpkin Chili | Slow Cooker Butternut Squash Chili | Indian Dal Chili | Chili over Polenta  | Chili Cheese Dip | and, um, another Tempeh Chili.