Curious on how to cook with tofu? Use this in-depth primer to learn the various types of tofu, how to cook it and best recipes to make with it.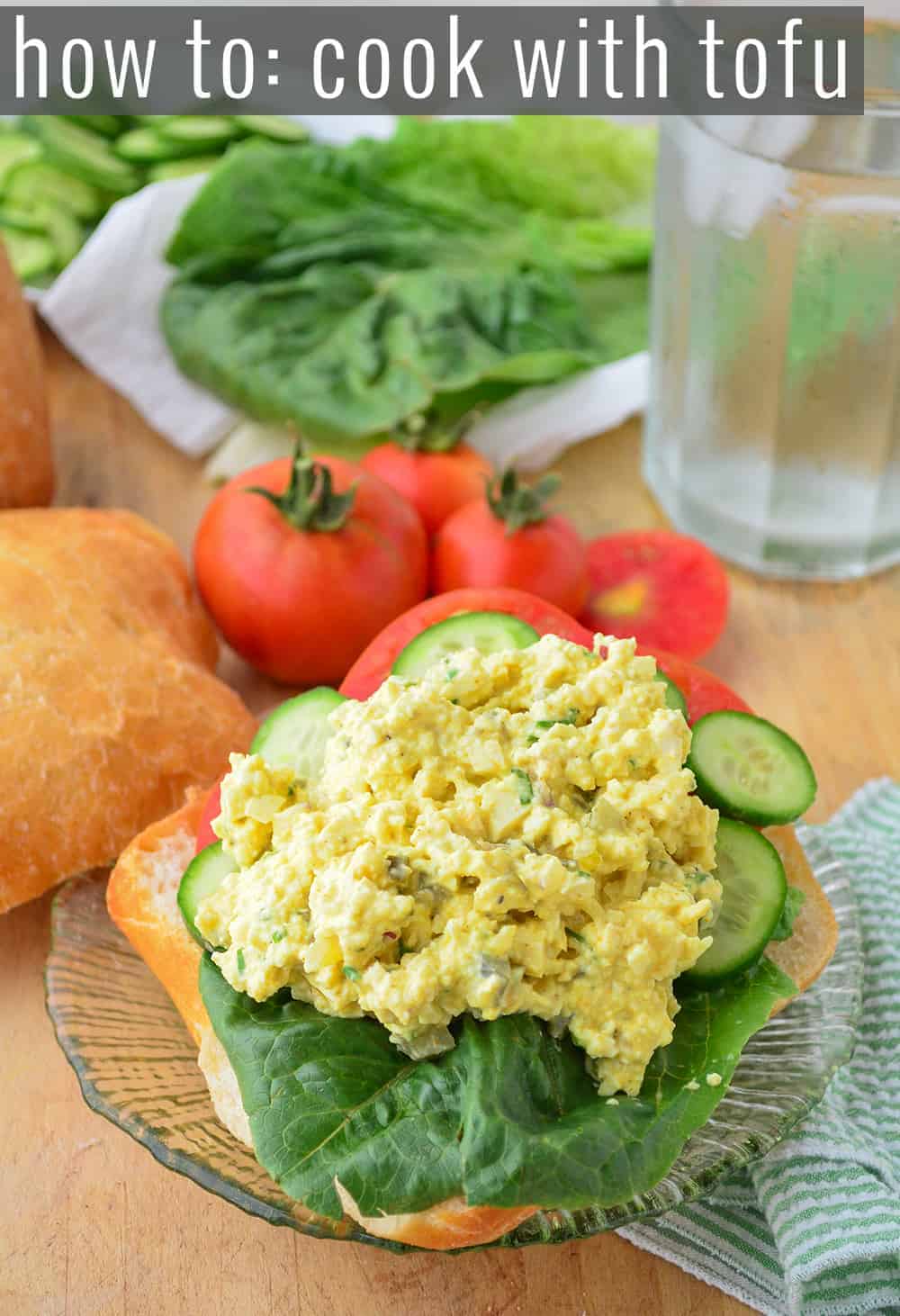 Tofu?! Eck. I know. I can practically see the eye rolls from my non-veg head friends right now. I know because I've been there.
Many moons ago, like high school, when I was toying with the idea of being a vegetarian, my mom and I bought some tofu at the store to make for dinner. Yay! We were totally going to be the hippie-dippie family on the block who ate tofu for dinner! Mind you, this was before the proliferation of juice bars, vegan blogs, and vegetarian cafes. Tofu was weird.  After hours of searching and wondering how to cook with tofu, we finally found a recipe to try our new ingredient with- stuffed shells! See you later ricotta, hello tofu stuffed shells!
And then the excitement faded.  The packaged tofu sat in the fridge for a month or two until it finally went bad. Don't get me wrong, we thought about it multiple times- should we make the shells tonight? But something else always sounded better. Anything sounded better. 
Fast forward 15 years, and now I am a tofu-aholic. Really. Sometimes I wonder if I am going to turn into a slab of tofu because I eat it and love it so much. Smashed with a bit of veggies and mayo? Bring on the tofu salad! Covered in BBQ sauce and baked? Hello summer! However it's made, I love it. But it took a lot of years to get here. I made a lot of mistakes along the way and threw out quite a few packages when I couldn't stomach the idea of actually cooking the tofu.
Since I know this is true for a lot of you,  I wanted to put together a comprehensive plan of how to cook with tofu, the different tofu varieties available and more importantly, what to make with them!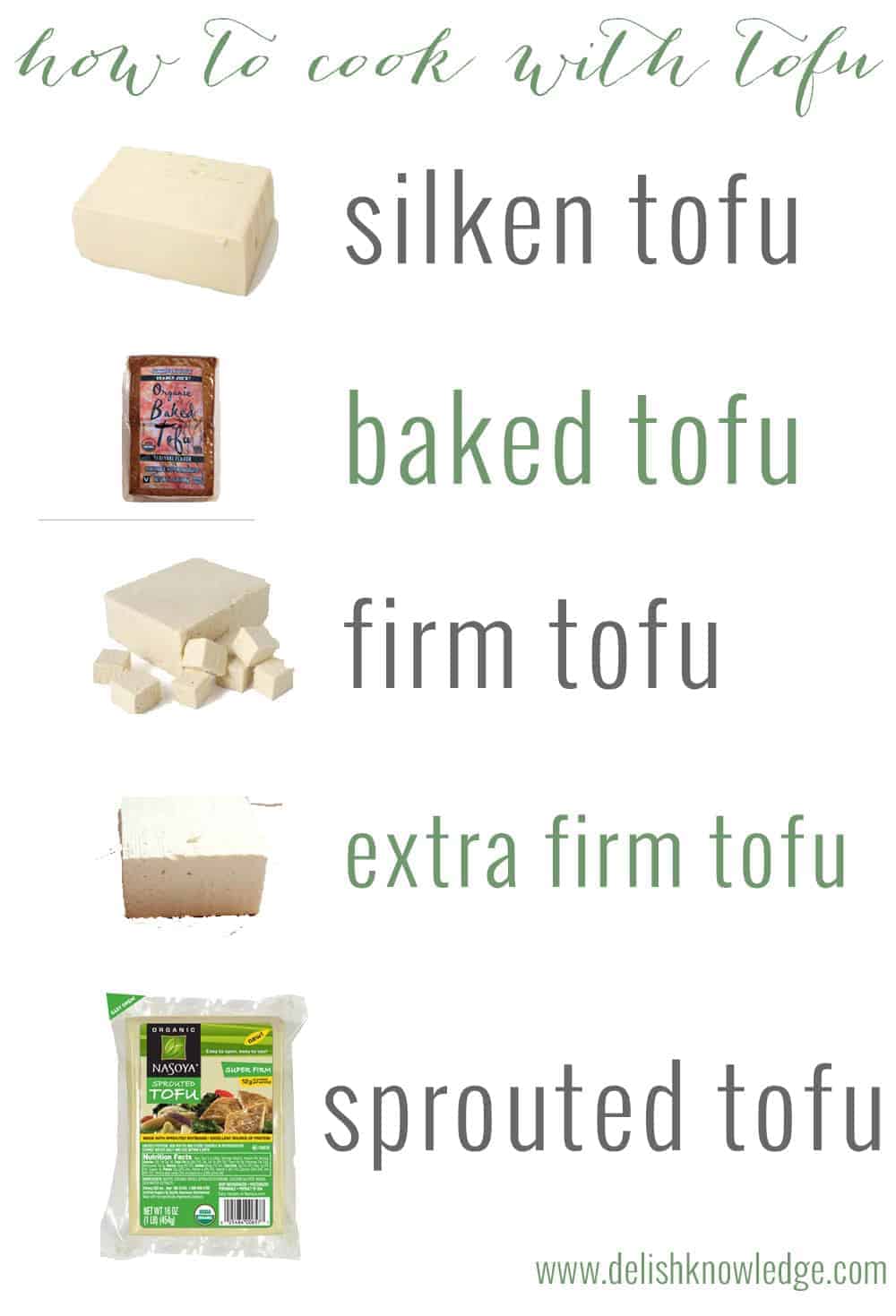 How to Cook with Tofu
Decide what recipe you are going to make
The first step to cooking with tofu is deciding what you are going to make with it.  Your planned meal will dictate which kind to get! Soft tofu behaves much differently than extra-firm tofu. When I head to the grocery store, regardless of my meal plan for the week, I tend to pick up a few packages of extra firm and firm. These are the varieties that I use most frequently, and I always like to have a few packages on hand for quick meals.
How to Cook with Tofu: Silken Tofu
Silken tofu has a softer consistency than regular tofu and will fall apart if not handled carefully. Honestly, this is the type of tofu that I like the least, but I know that many other people love it so I wanted to include it here. Its soft texture is perfect for making creamy dressings, sauces, and puddings. Basically, if you want to blend tofu in a recipe, go for silken. It also makes excellent pie fillings and dessert puddings. You can crumble silken tofu like the other varieties, but since it's so delicate I tend to favor soft or firm tofu if I want crumbles.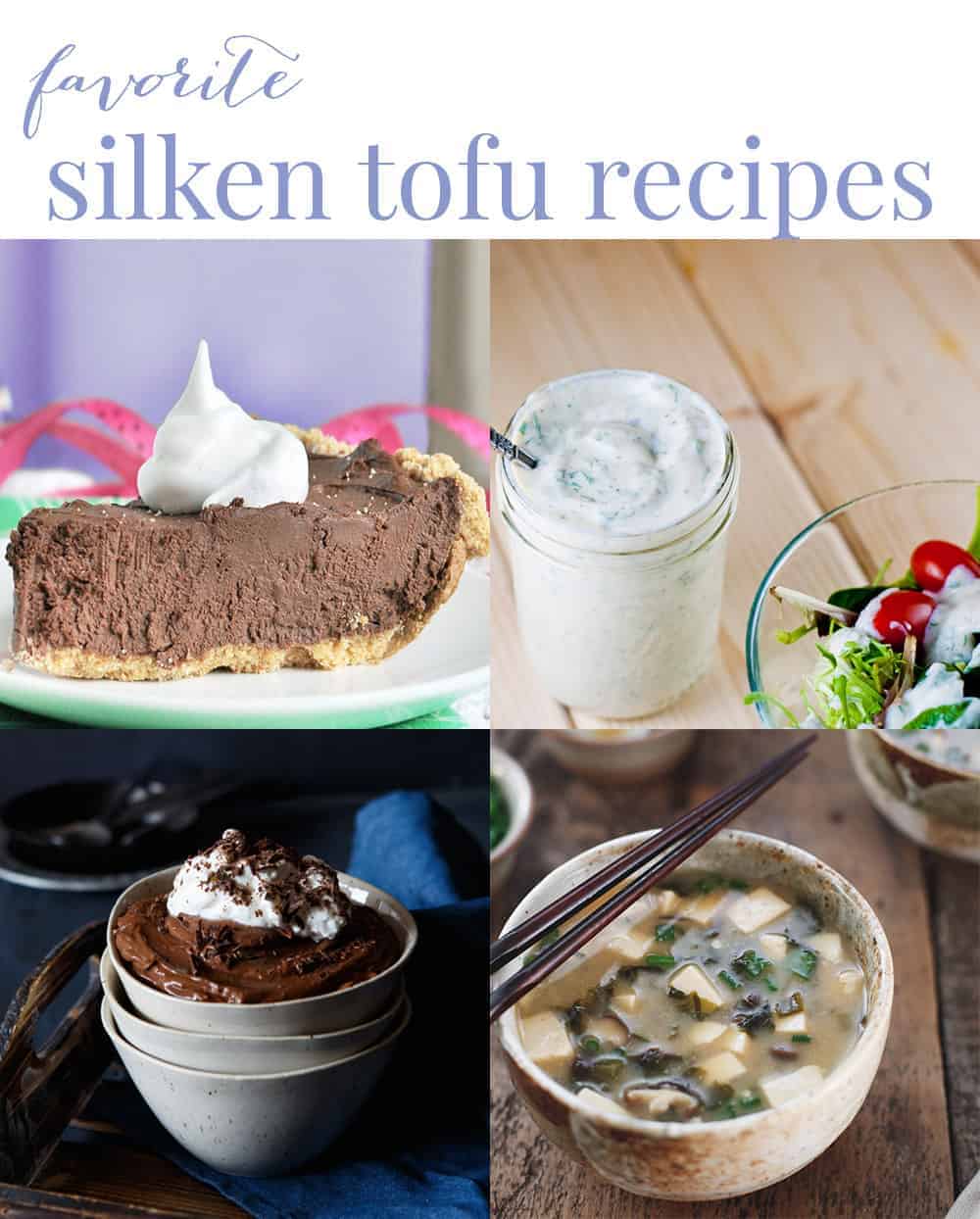 1. Ultimate Chocolate Fudge Pie (chocolatecoveredkatie.com)
2. Ranch Dressing (forrealslife.com)
3. Dark-Chocolate Mousse  (sharedappetite.com)
4. Shiitake Miso Soup (snixykitchen.com)
How to Cook with Baked Tofu
Baked tofu is a great option for those who love the savory taste and texture of baked tofu, but want a pre-cooked, pre-made option. I rarely use baked tofu myself, but I love it in sandwiches or for quick stir-fries. The flavors I see most often are either labeled "savory" or "teriyaki", but I've also seen pesto baked and other fun ideas! For a fast meal, I thinly slice baked tofu and stuff it into a roll with shredded vegetables and sauce. Use baked tofu in stir-fries, casseroles, fajitas and salads. Since it's pre-seasoned the prep is minimal. Just open, slice, heat (or not) and enjoy. Easy and delicious!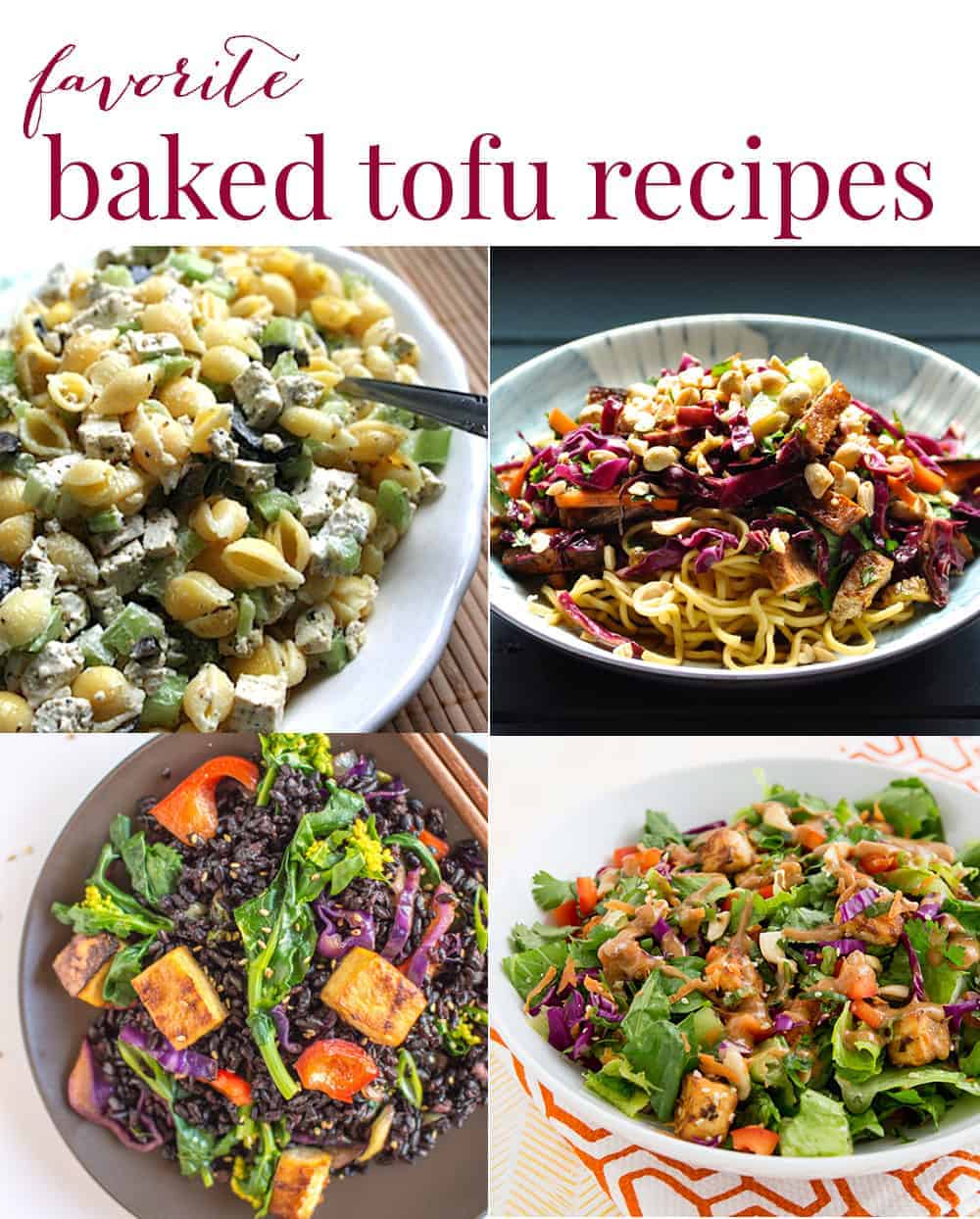 1. Baked Tofu and Pasta Salad (vegkitchen.com)
2. Asian Noodle Salad (noshon.it)
3. Forbidden Rice Stir-Fry with Teriyaki Tofu (healthynibblesandbits.com)
4. Chopped Power Salad (ohmyveggies.com)
How to Cook with Firm and Extra-Firm Tofu
Firm and Extra-Firm tofu are hands down my favorite varieties. I always have a package or two of firm/extra firm tofu in my fridge ready to go for tofu scrambles, homemade baked tofu, stir-fried tofu, and 1,000 other uses.  I choose extra-firm when I want a thick slab of BBQ tofu or when I grill tofu as it has a meatier texture and will hold its shape better than firm. Extra-firm also makes a great mock feta cheese.  Firm tofu holds it shape as slabs, cubes, or when crumbled- like in egg scrambles or egg salad.
If you are using firm or extra firm tofu, you'll need to press it first.
A note about using firm/extra-firm tofu: it must be pressed first! Pressing the tofu allows for a crispy exterior and un-soggy tofu. Use a fancy tofu-press or wrap the tofu in paper towels and add a heavy weight on top. Set aside for at least 10 minutes and then marinade like other proteins or bake, saute, fry plain.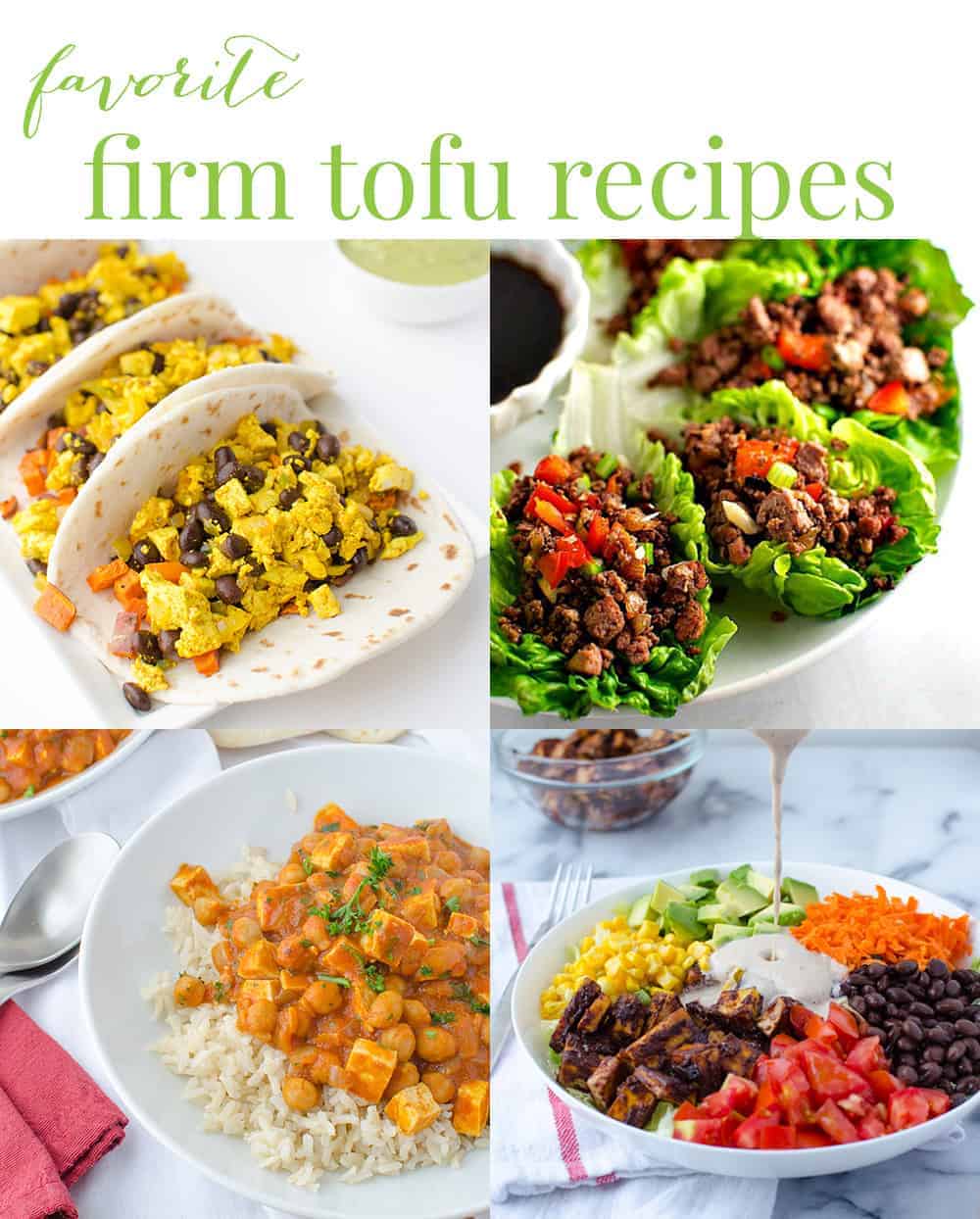 1. Tofu Breakfast Tacos 
2. Veggie Lettuce Wraps  (namelymarly.com)
3. Slow Cooker Butter Tofu
4. Copycat CPK Chopped Tofu Salad
How to Cook with Sprouted Tofu
Lastly, sprouted tofu is the newest tofu brand to hit the market.  It's one that I've seen pop up over and over again at grocery stores and on menus. I first tried it a few years ago when Trader Joe's started carrying their line, although I don't buy it often. I know it's supposed to be the same as extra-firm tofu (just with sprouted soybeans), but I find the texture to be a bit "off" for my preferences. Sprouting beans helps to aid in digestion, so I'm happy to see that sprouted tofu is available for those who like it!
If you've been nervous to try tofu before, I hope this guide inspires you to give it a chance!
What's your favorite way to enjoy tofu?