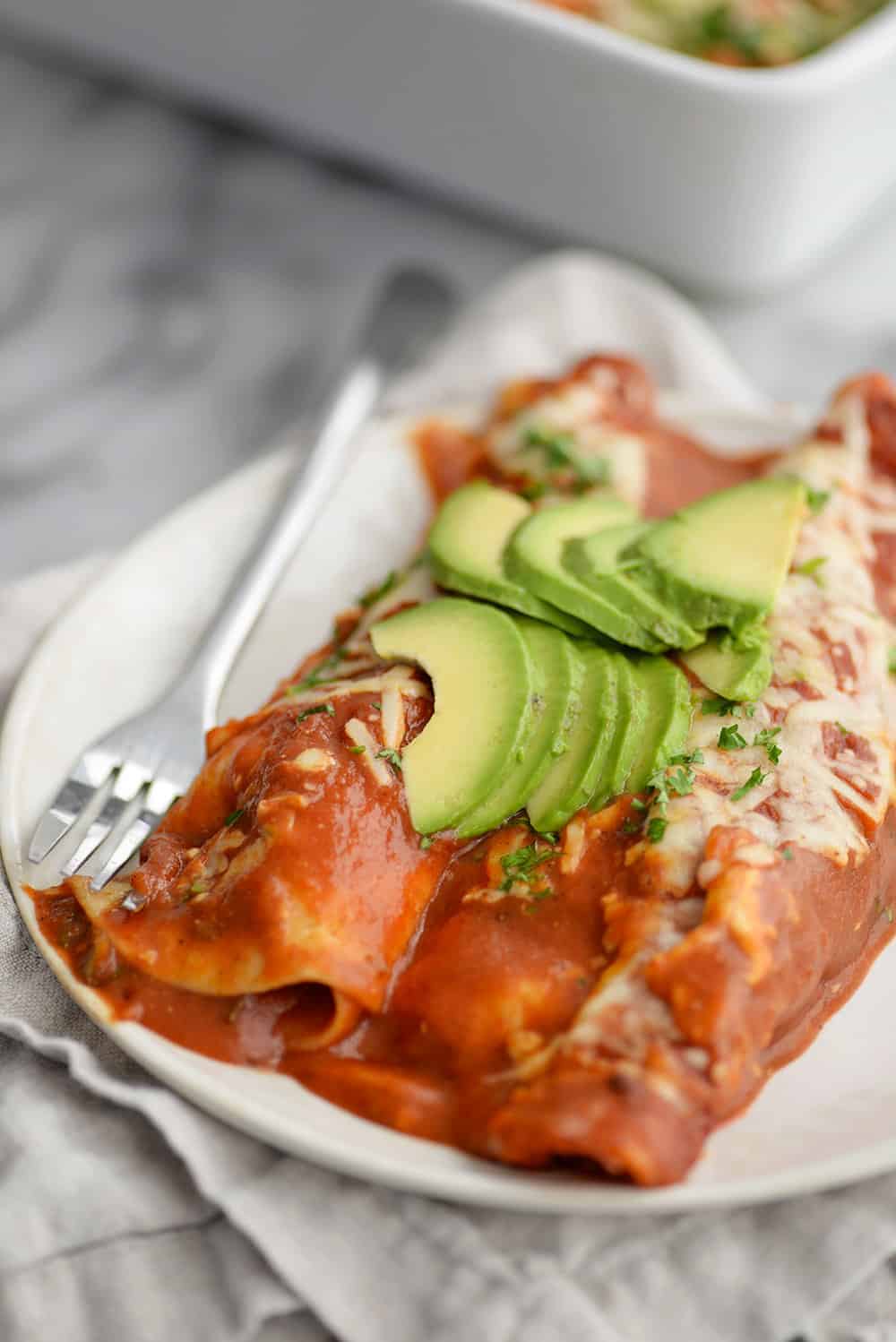 Ever since I figured out how to make my own enchilada sauce in only 10 minutes, they've been on our menu almost weekly.
I think enchiladas are kinda like pasta; with the right seasoning, almost all ingredients work. These are a simple mix of shredded fresh spinach, lentils and a little cheese. Easy enough to throw together, even on the busiest weeknights.
If you haven't noticed, that's been my main focus as of late. Putting healthy dinners on the table night after night. And, from your comments and emails, I know it's front of mind for many of you as well. If you missed it, I rounded up my 50 favorite weeknight meals in a post last week. Well, you can add these to the list as well.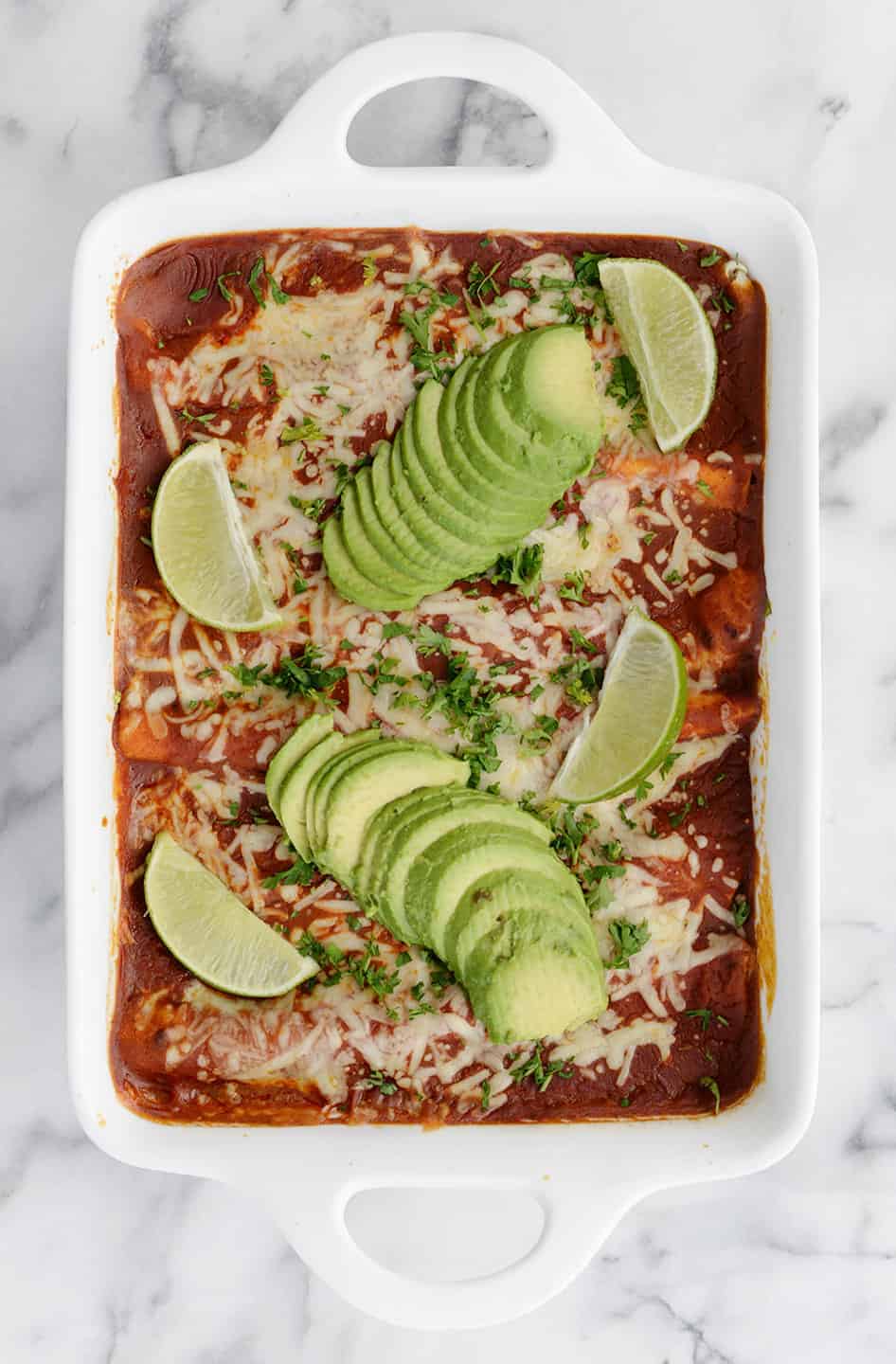 Since these are weeknight focused, I didn't cook the filling before adding it to the mix. I usually batch cook a pound of lentils every week to throw into grain bowls, soups, salads, and now these enchiladas.
If you only have dry lentils, you can cook them first before adding to the mix or sub in canned beans in a pinch. Trader Joe's and other grocery stores carry steam-packs of pre-cooked lentils in the produce section, which work as well.
Mix that together with shredded cheese, shredded spinach and spices. After the enchilada sauce is done, throw a little into the mixture so that it holds together before rolling.
I know I said this was a weeknight meal, but I think it's worth making your own enchilada sauce. For one, this sauce is so, so good. Like, drinkable good. I keep making enchilada meals with it, so you know it's a favorite around here.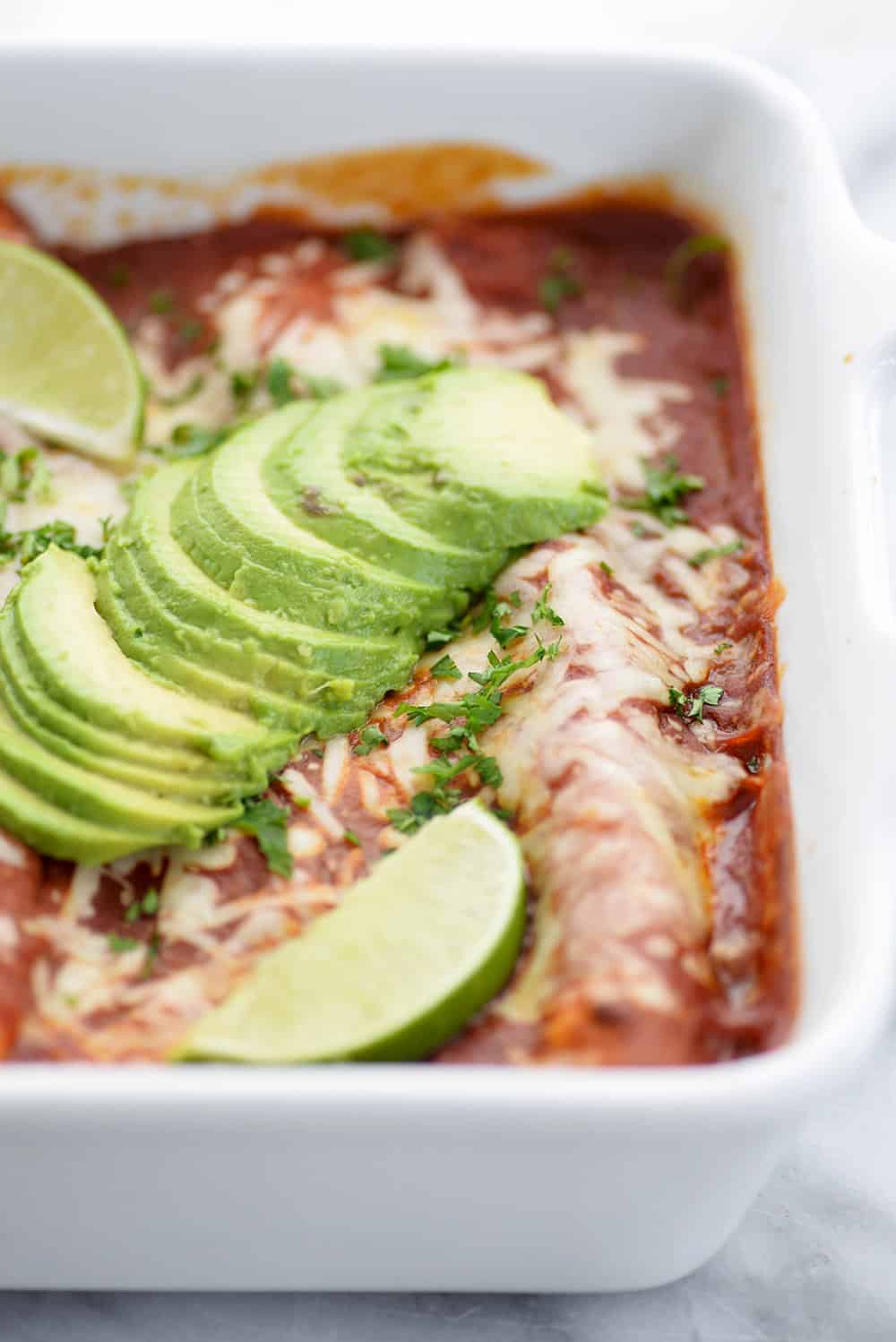 To make every bite full of flavor, dip the tortillas in the sauce before rolling. This is a trick I always use with corn tortillas and wasn't sure if flour tortillas would become too wet in the process. Thankfully, they didn't. I really love flour tortillas but you are welcome to swap in corn for a gluten-free version.
Additionally for my vegan friends, you can easily omit the cheese in this one or use a dairy-free alternative.
Enjoy these vegetarian spinach and lentil enchiladas. xo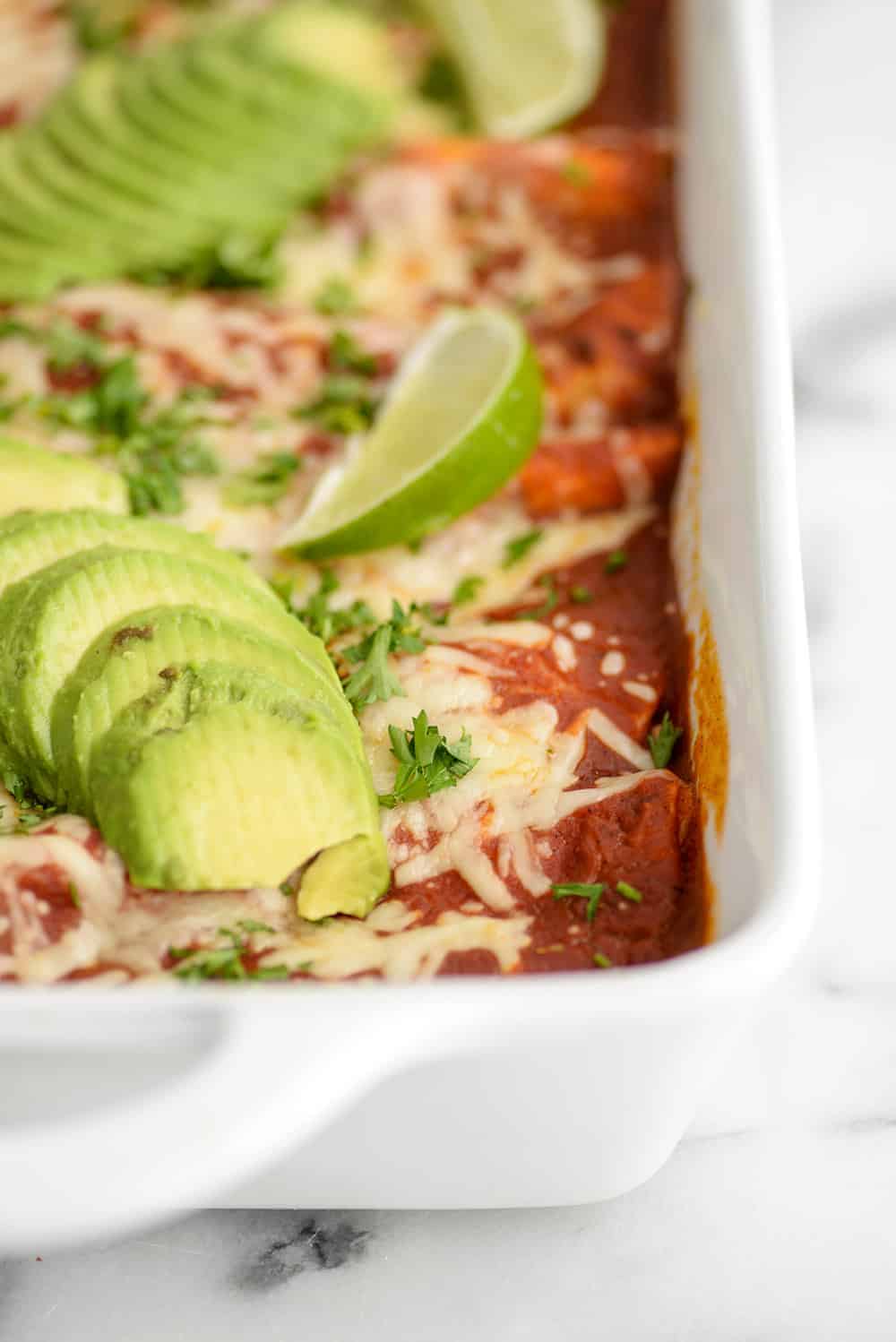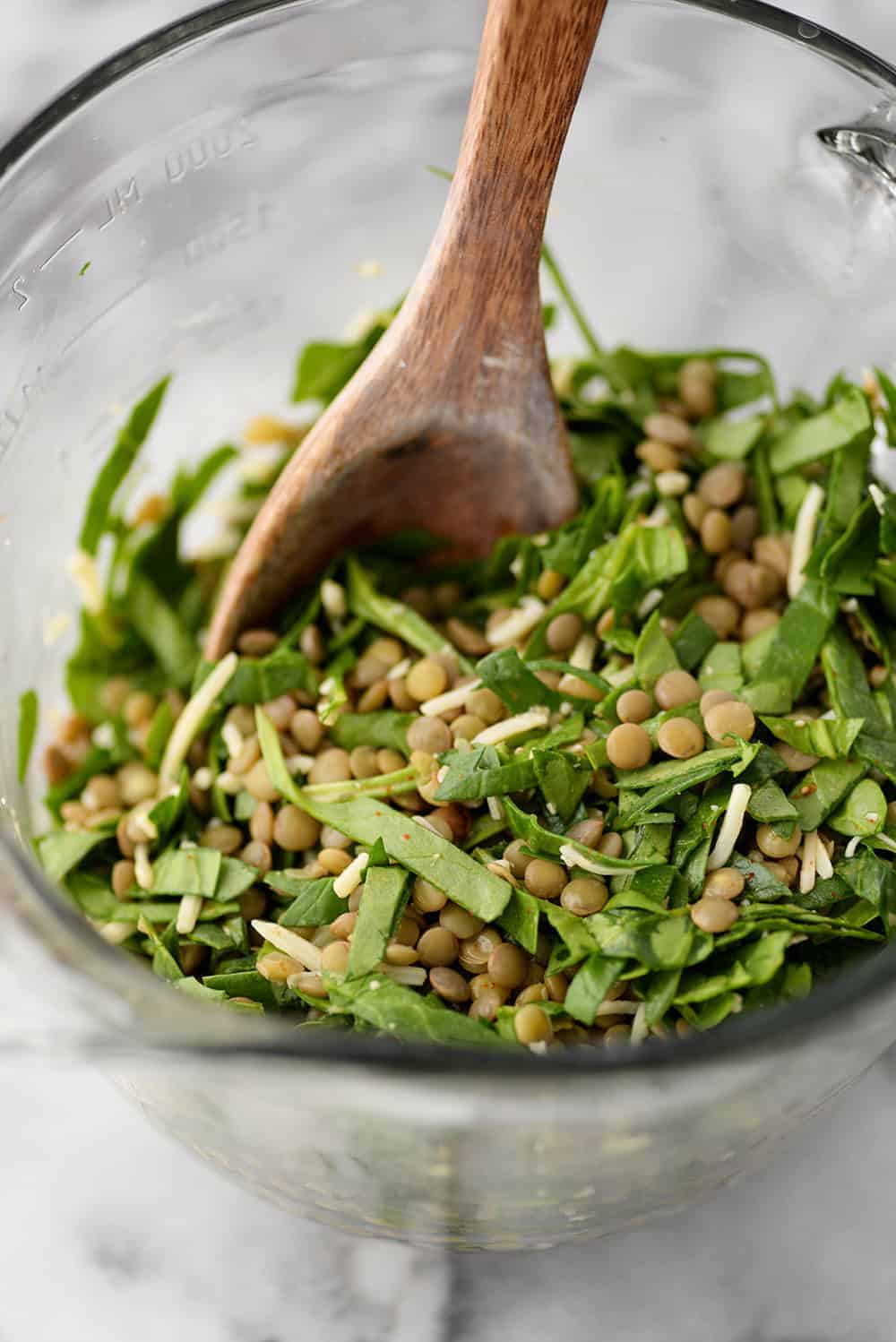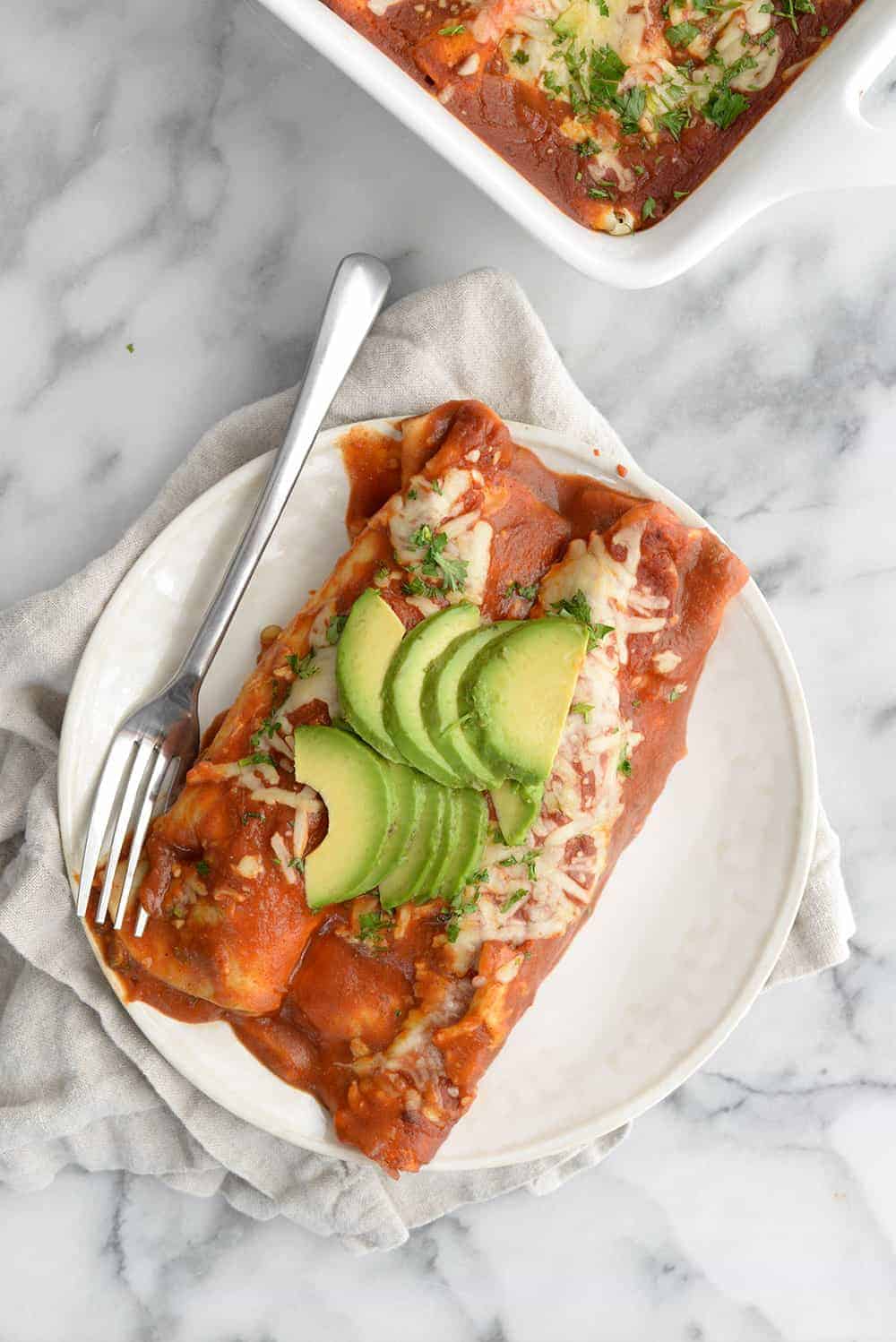 Print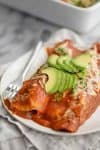 Vegetarian Spinach and Lentil Enchiladas
Author:

Prep Time:

15 minutes

Cook Time:

40 minutes

Total Time:

1 hours 35 minutes

Yield:

8 enchiladas

Category:

dinner, main, healthy, vegetarian

Cuisine:

mexican
---
Description
Healthy weeknight dinner! Vegetarian Spinach and Lentil Enchiladas with homemade chipotle enchilada sauce! Easily gluten-free. These are packed with plant-based protein and sooo yummy. 
---
Ingredients
Enchilada Filling: 
3 cups chopped fresh spinach (roughly 4 oz.) 
2 cups cooked lentils (brown or green) 
1 lime, juiced 
1/4 teaspoon salt 
3/4 cup shredded pepperjack (or queso) cheese 
1/4 teaspoon chipotle powder (or chili powder) 
1/4 teaspoon ground cayenne pepper
1/4 teaspoon ground cumin 
8 flour or corn tortillas 
Additional cheese, for baking
Optional toppings: avocados, cilantro, lime wedges 
Enchilada Sauce:
3 tablespoons neutral oil
3 tablespoons all-purpose flour (or gluten-free for GF version) 
1 tablespoon chili powder
1 1/2 teaspoons ground cumin
1/2 teaspoons garlic powder
1/2 teaspoon dried oregano
1/4 teaspoon salt
1/8 teaspoon cinnamon
1/4 teaspoon ground cayenne
1 chipotle pepper with 1 teaspoon adobo sauce
1 (15 ounce) can crushed tomatoes 
1 1/2 cups water  
---
Instructions
Preheat oven to 300 degrees F.
Make the sauce. Heat the oil in a medium saucepan over medium heat. Add in the flour, then quickly whisk together until combined. Add in the remaining spices and toast until fragrant, another minute or two. 
Add in the tomatoes, chipotle pepper and adobo sauce and water, then bring to a simmer. Cook over medium heat until thickened, about 5-7 minutes. Puree with an immersion blender or place the mixture in a blender and puree until smooth.  Set aside. 
In a large bowl, mix together the cooked lentils, spinach, lime juice, salt, cheese, chipotle powder, cayenne and cumin. Taste and season with salt/pepper if needed. Add 1/4 cup of the sauce into the mix and stir well. 
Dip a tortilla into the sauce, then add the filling (about 1/3 cup) to the tortillas and roll up. Place seam-side down in a baking pan, then continue with the rest of the tortillas. Top with the remaining sauce and cheese, if desired. 
Cover with foil and bake for 30 minutes. Remove foil and bake an additional 10 minutes. Top with avocado and cilantro, if desired. 
---
Notes
For gluten-free version, use corn tortillas and gluten-free flour. 
For vegan version, omit cheese.