What's for dinner? I know I'm always on the hunt for healthy weeknight dinners, and I figured that you likely are as well. And, when I say weeknight, I mean actual weeknight– recipes that take roughly 30 minutes from start to finish. That's about the maximum amount of time I want to put forth for a weeknight meal; so I can spend the rest of the evening hanging with my two men, catching up on housework and relaxing. 
Enjoy this round-up of 50+ healthy vegetarian (mostly vegan) weeknight dinners.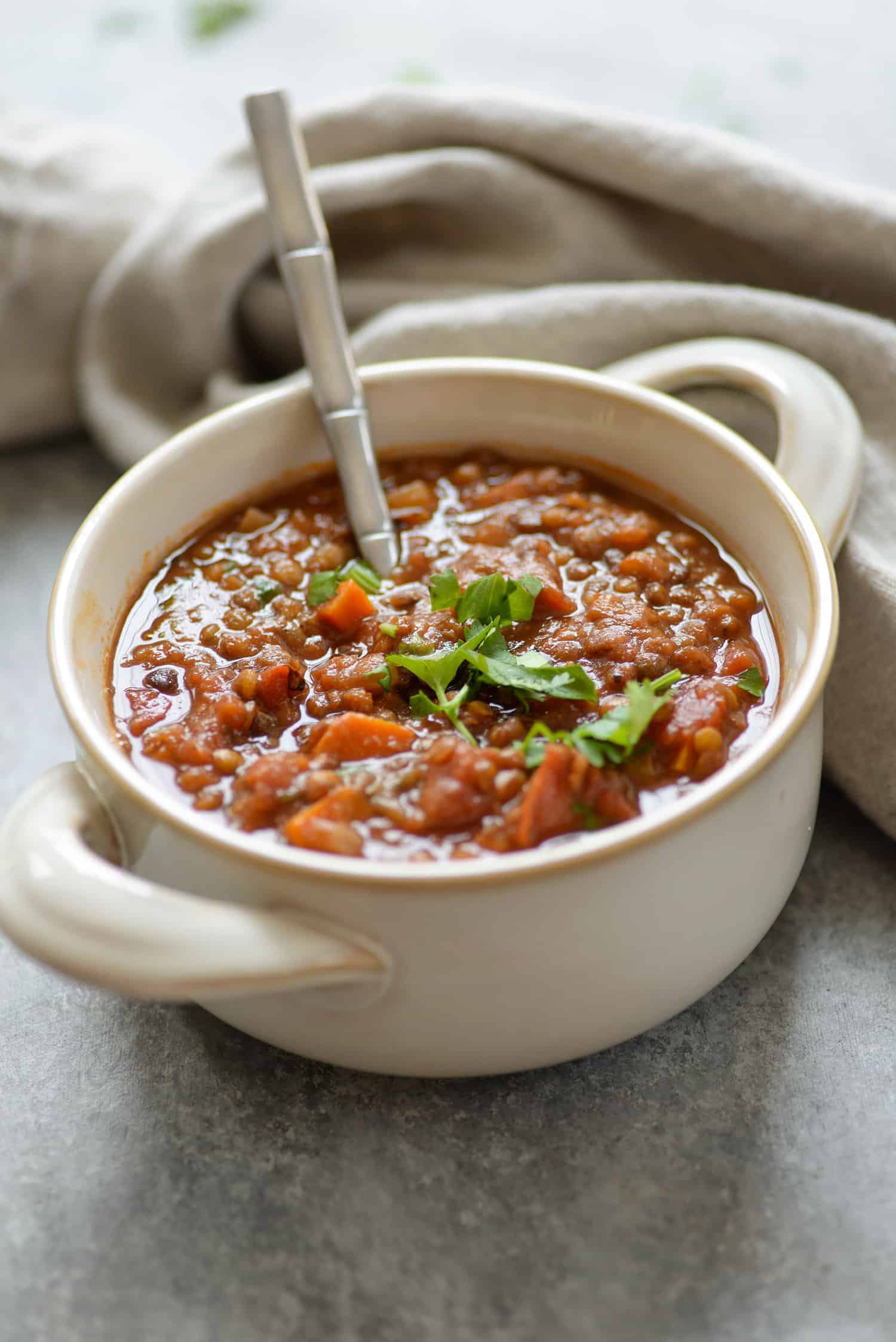 Looking for a healthy, quick chili? Try this vegan and gluten-free lentil chili made with lentils. This recipe also includes directions for the slow-cooker if you prefer to make it in the morning for dinner that night.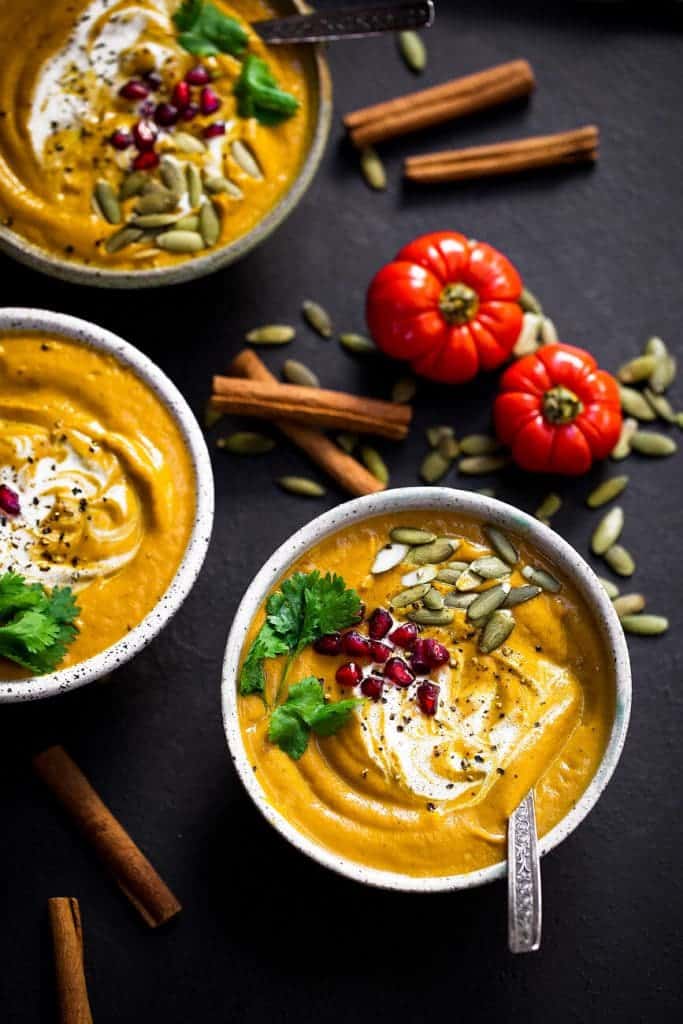 A quick and delicious easy vegan pumpkin soup recipe that is a total game changer. Made creamy with coconut milk and canned pumpkin.
MY LATEST VIDEOS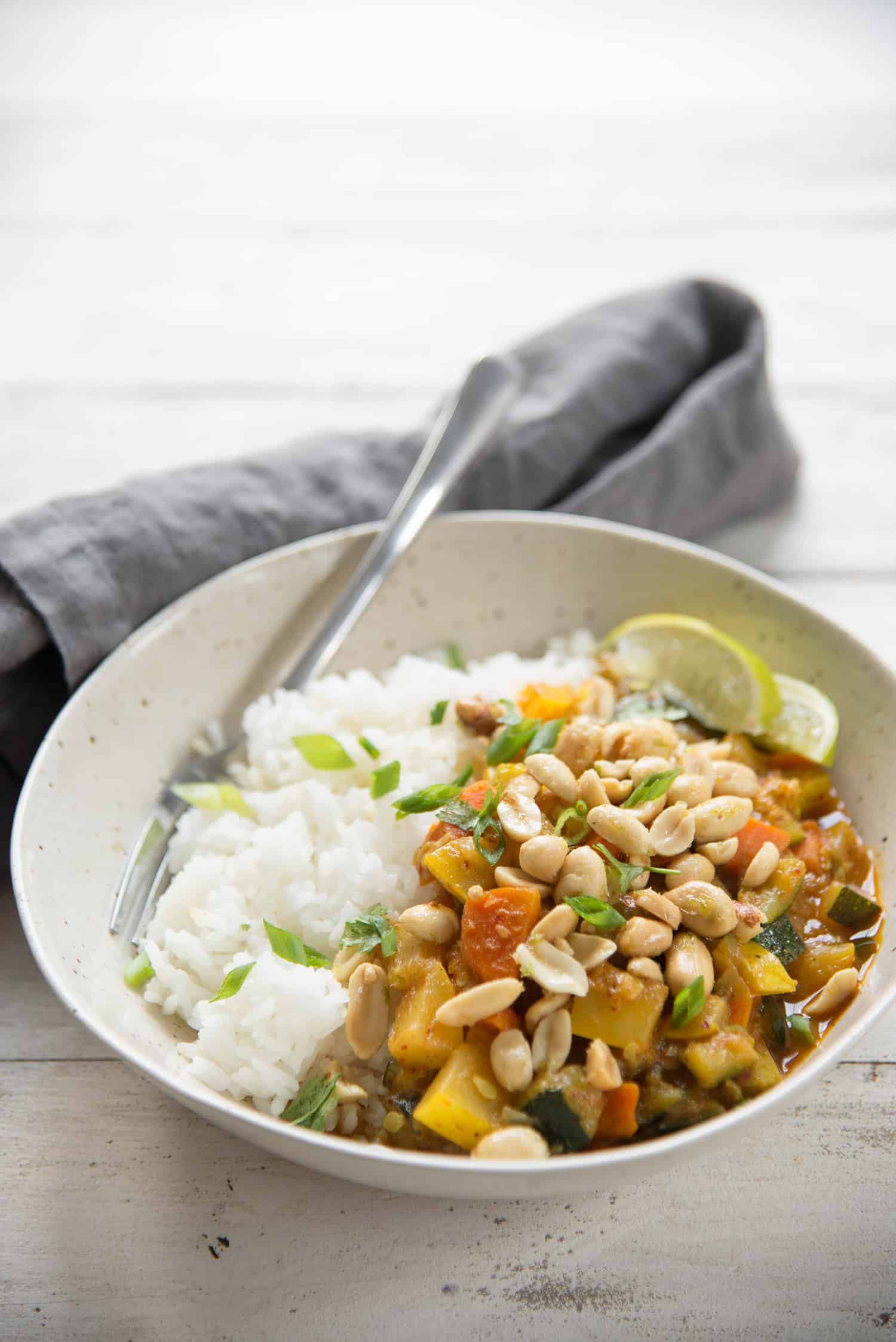 I'm obsessed with the yellow curry, it's one of my favorite weeknight meals. While I use summer vegetables here, feel free to substitute with any vegetables that are in-season and you have on hand.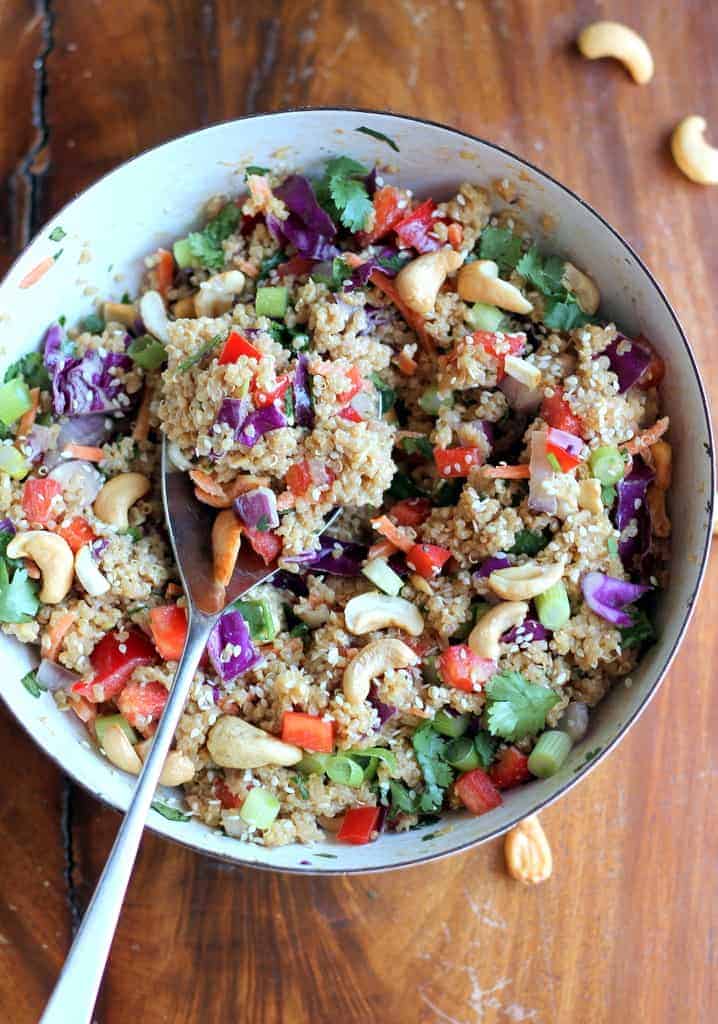 I make this salad a few times a year every summer. Vegan and easily gluten-free salad with Thai flavors and a perfect crunch. It's great for both dinner and lunch!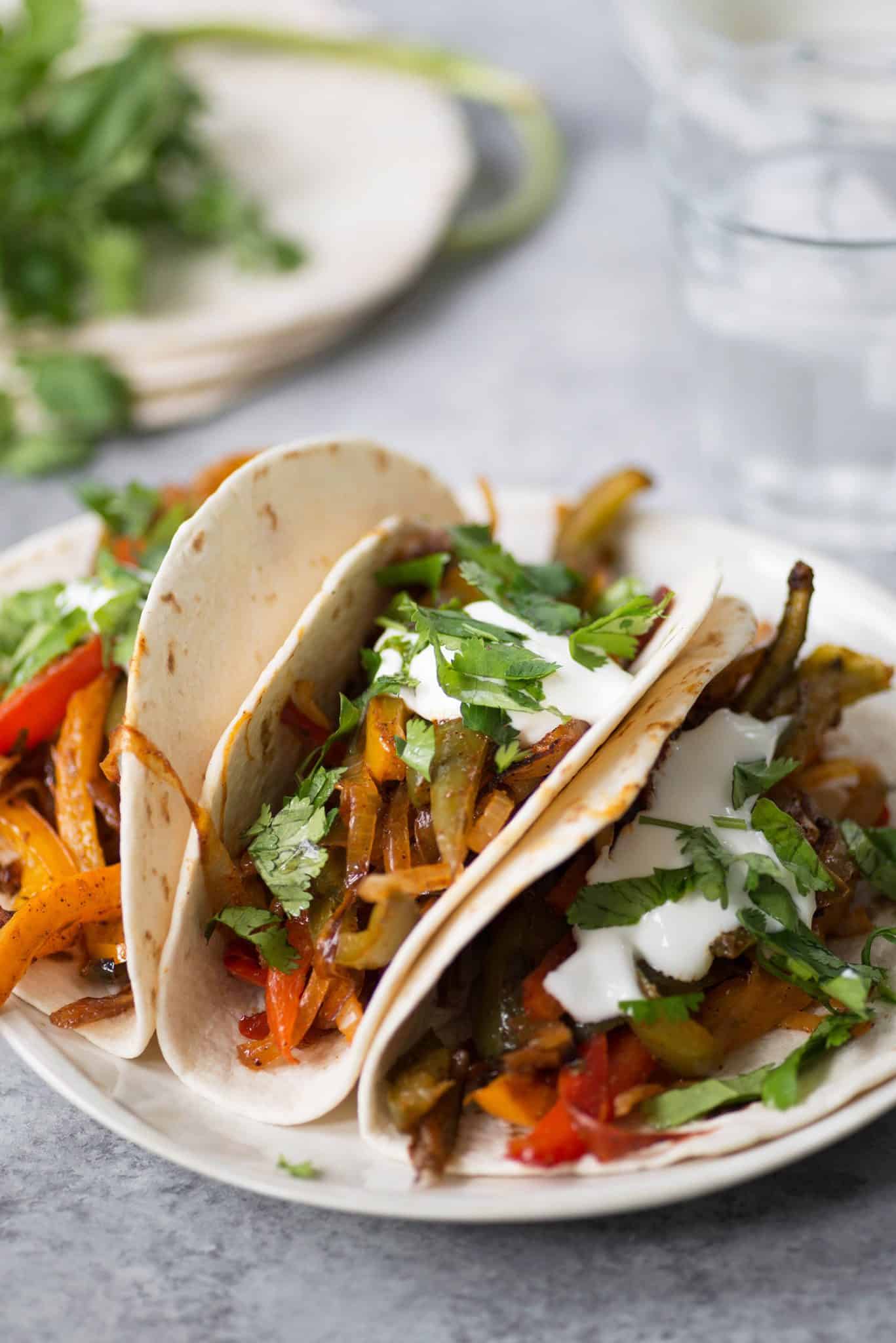 You knew these were going to make an apperance, didn't you? Hands down these are one of my favorite meals. I love that I can make a big pan of them for dinner one night and then use the leftovers for veggie fajita enchiladas the following night. A must-make (and save.)
The combination of flavors just work here. Butternut squash and other vegetables mixed together with quinoa makes a delicious vegetarian, gluten-free, and vegan friendly casserole for the whole family.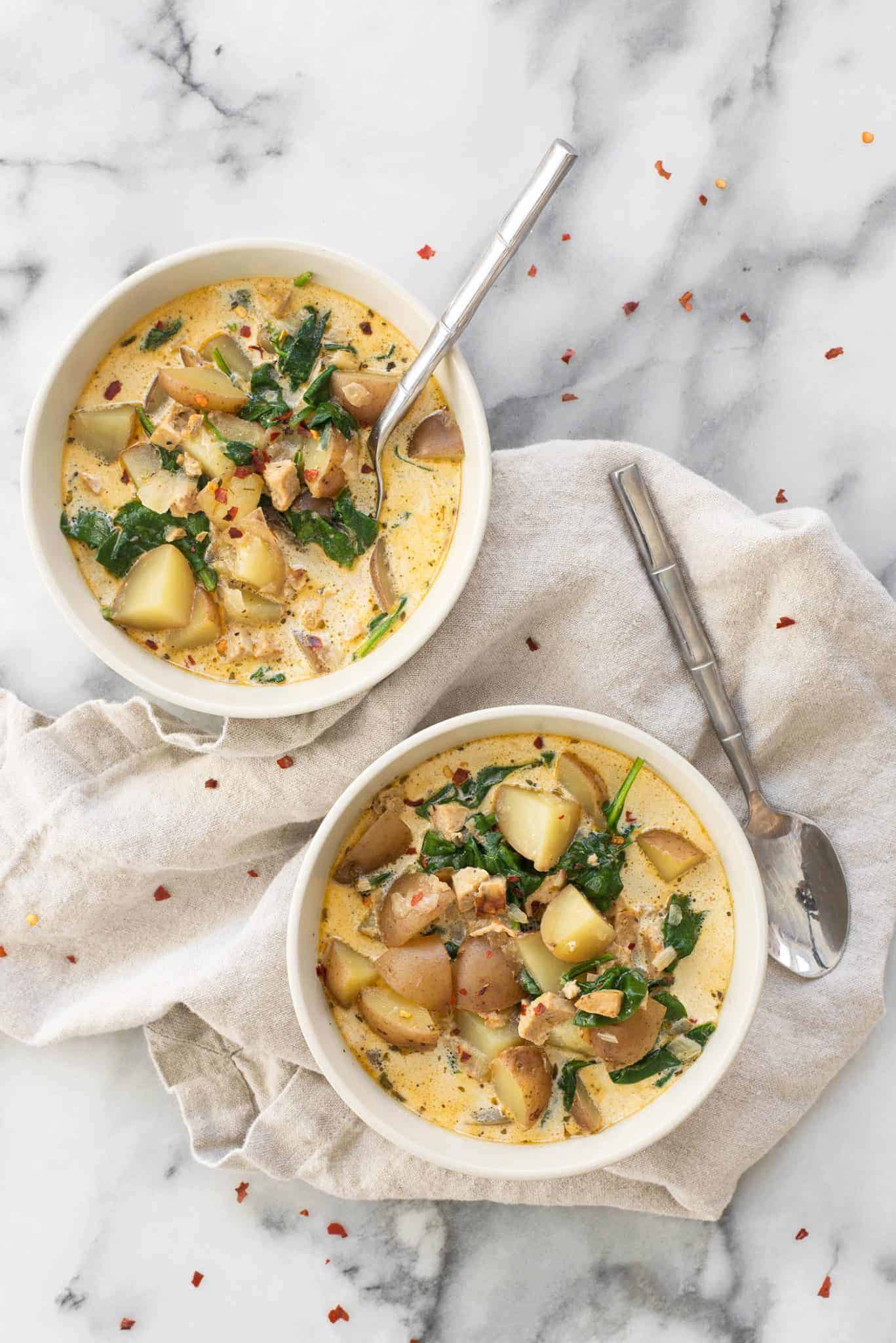 Super simple to put together, this one is a weeknight dinner keeper. Potatoes, faux sausage and spinach in a spicy cashew cream sauce.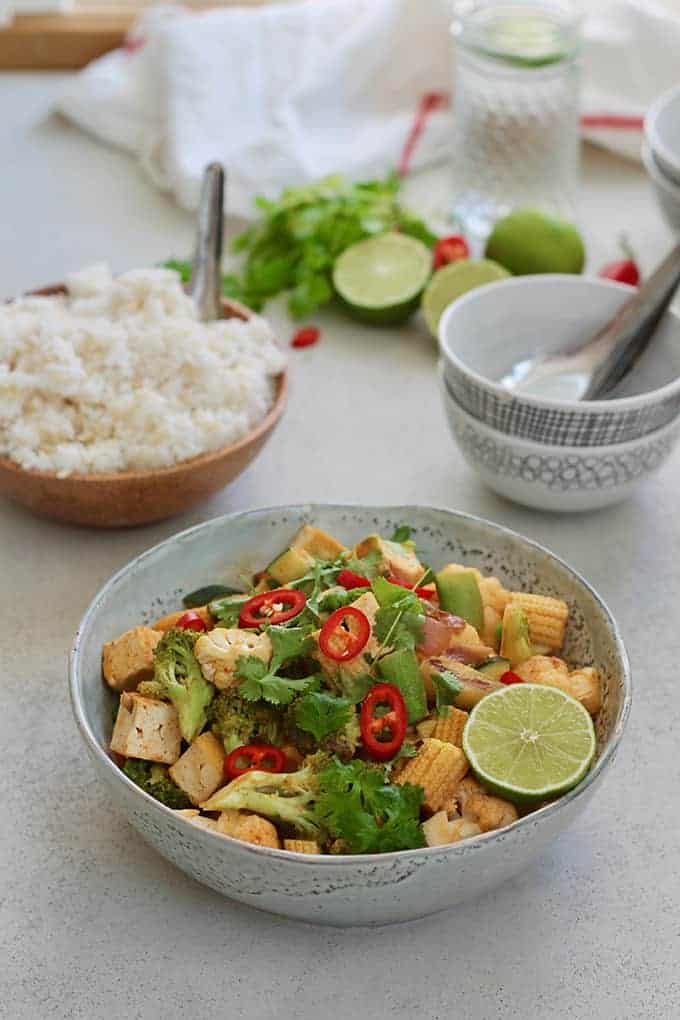 I love a good curry sauce and this red curry version is perfect for weeknights. Tofu and vegetables simmered in a red curry sauce and served over rice.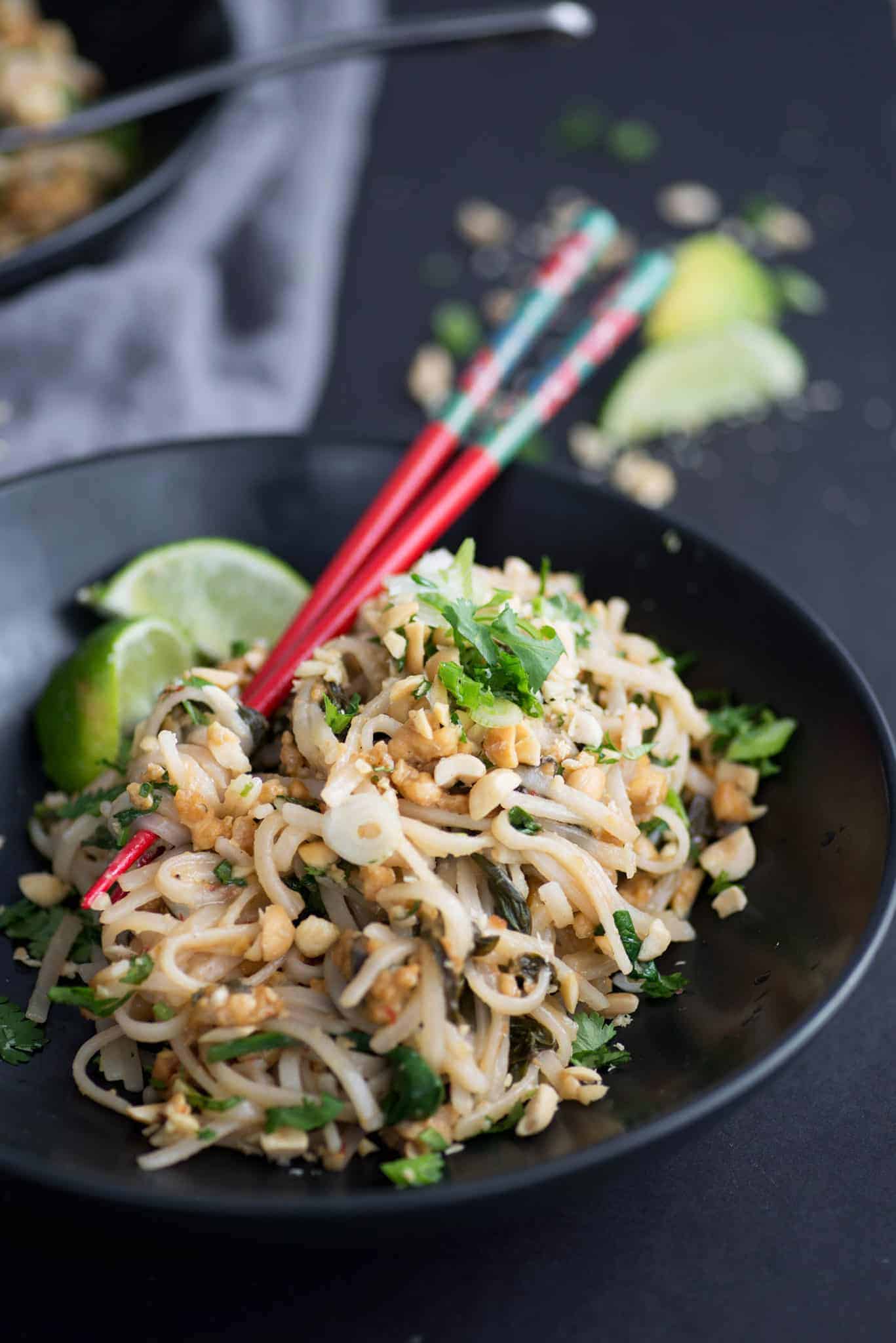 Who doesn't love a good pad thai? Especially one that's ready in just 15 minutes (or, at the max, 25 minutes depending on your culinary quickness.) Either way, this dish is loved by so many of you.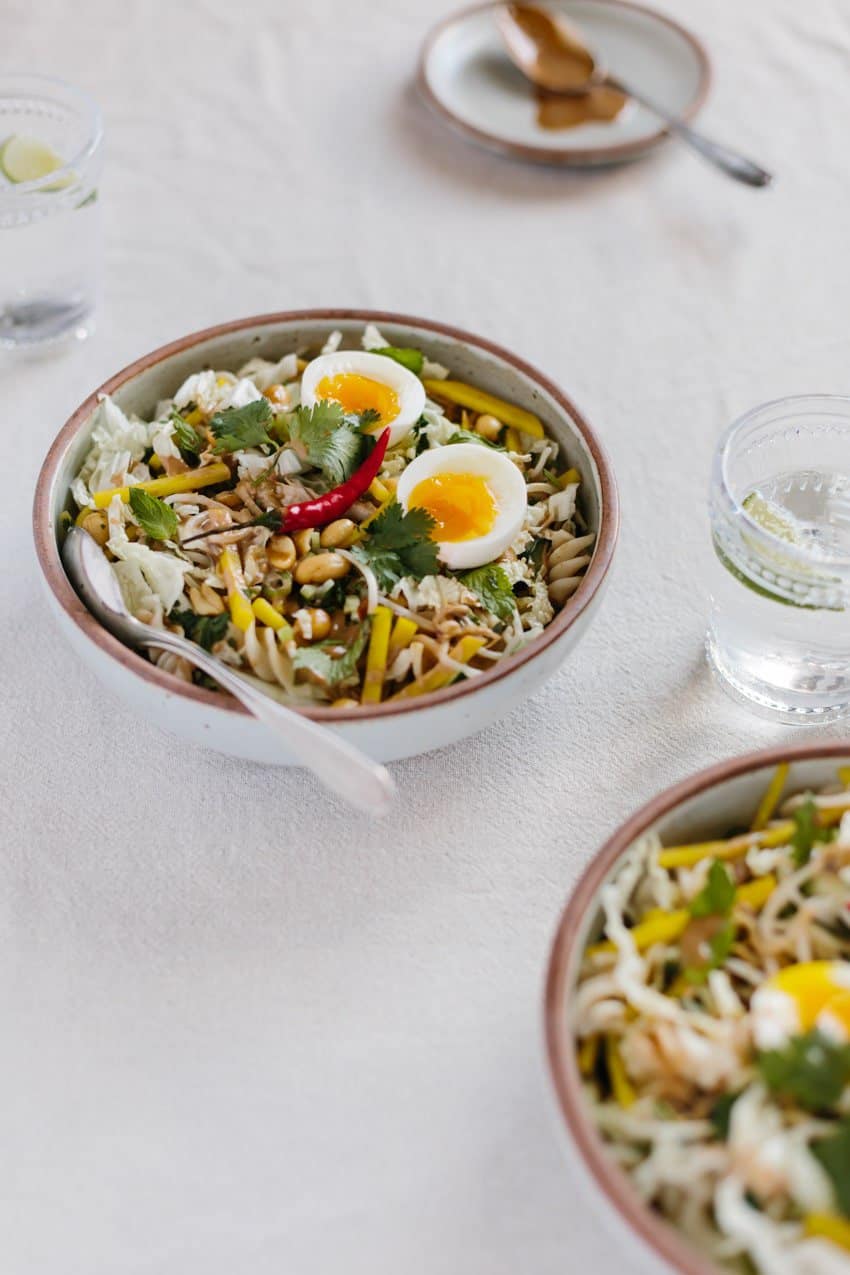 I'm obsessed with these crunchy veggie bowls, they've got everything I want for a quick dinner: brown rice pasta, lots of vegetables, a soft boiled egg for protein and a warm peanut sauce to top things off.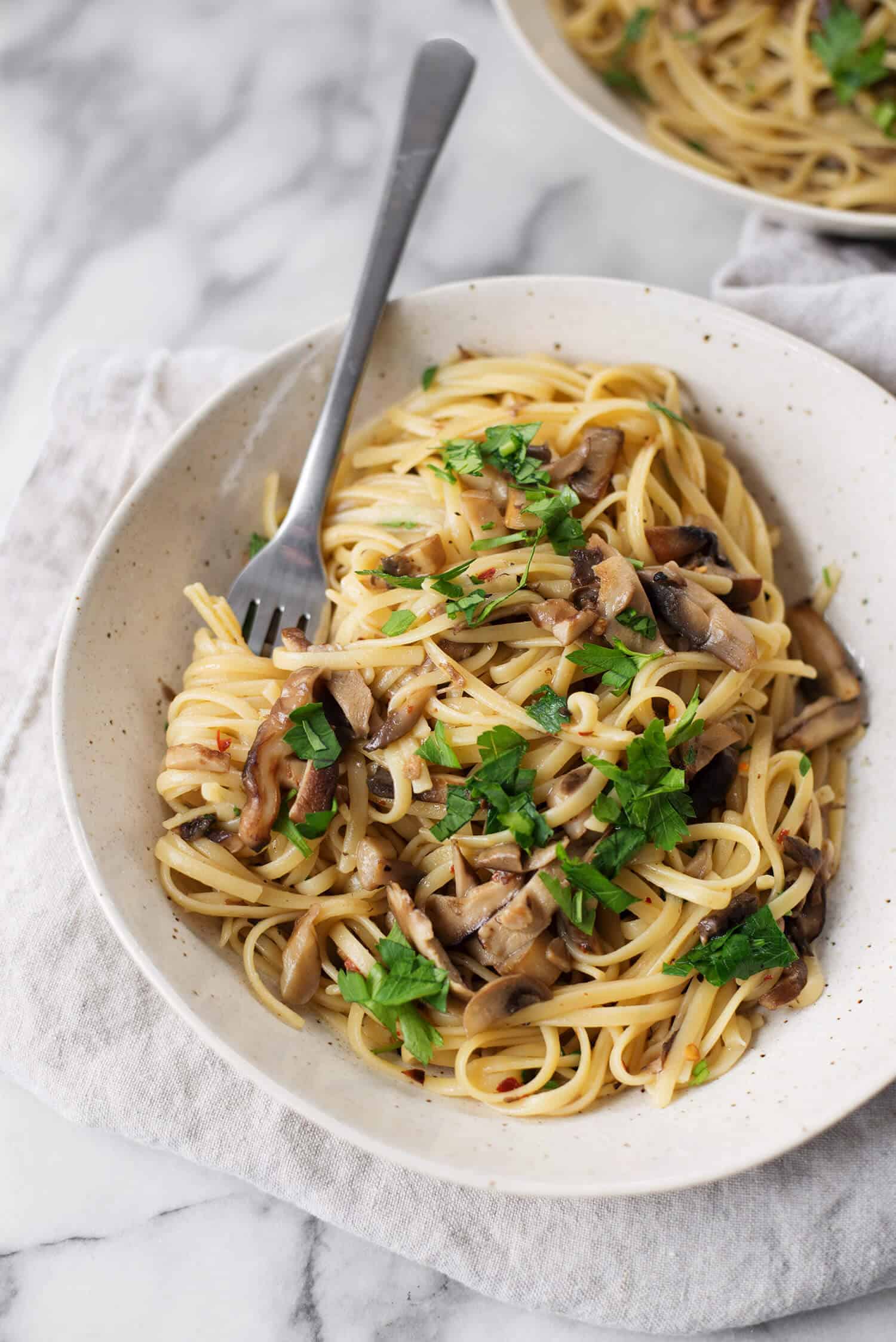 Date night pasta for weeknights. Linguine with a super meaty shiitake wine sauce.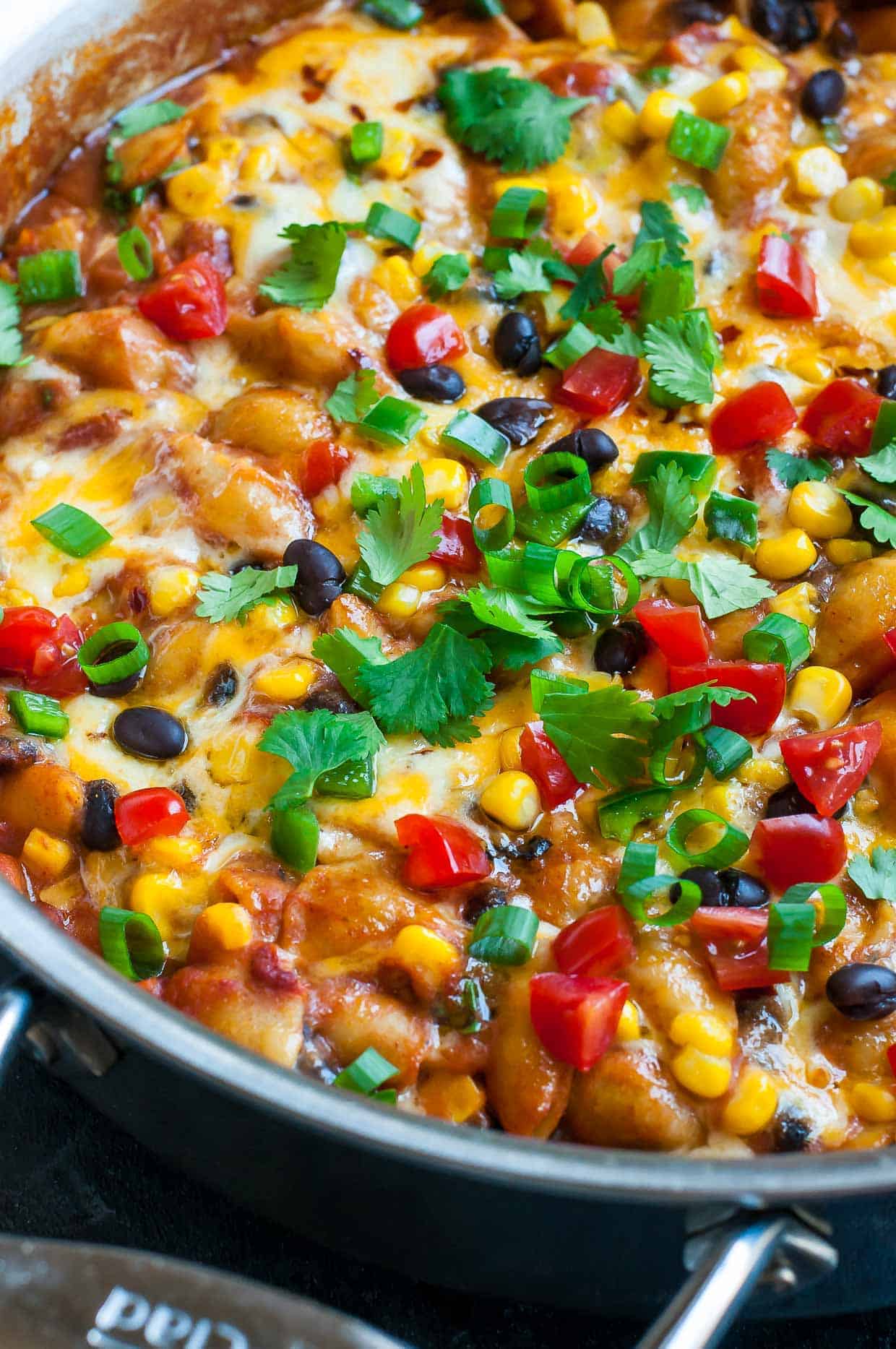 I share this recipe all the time; it's so unbelievably good- a combination of my two favorite things: pasta and Mexican food.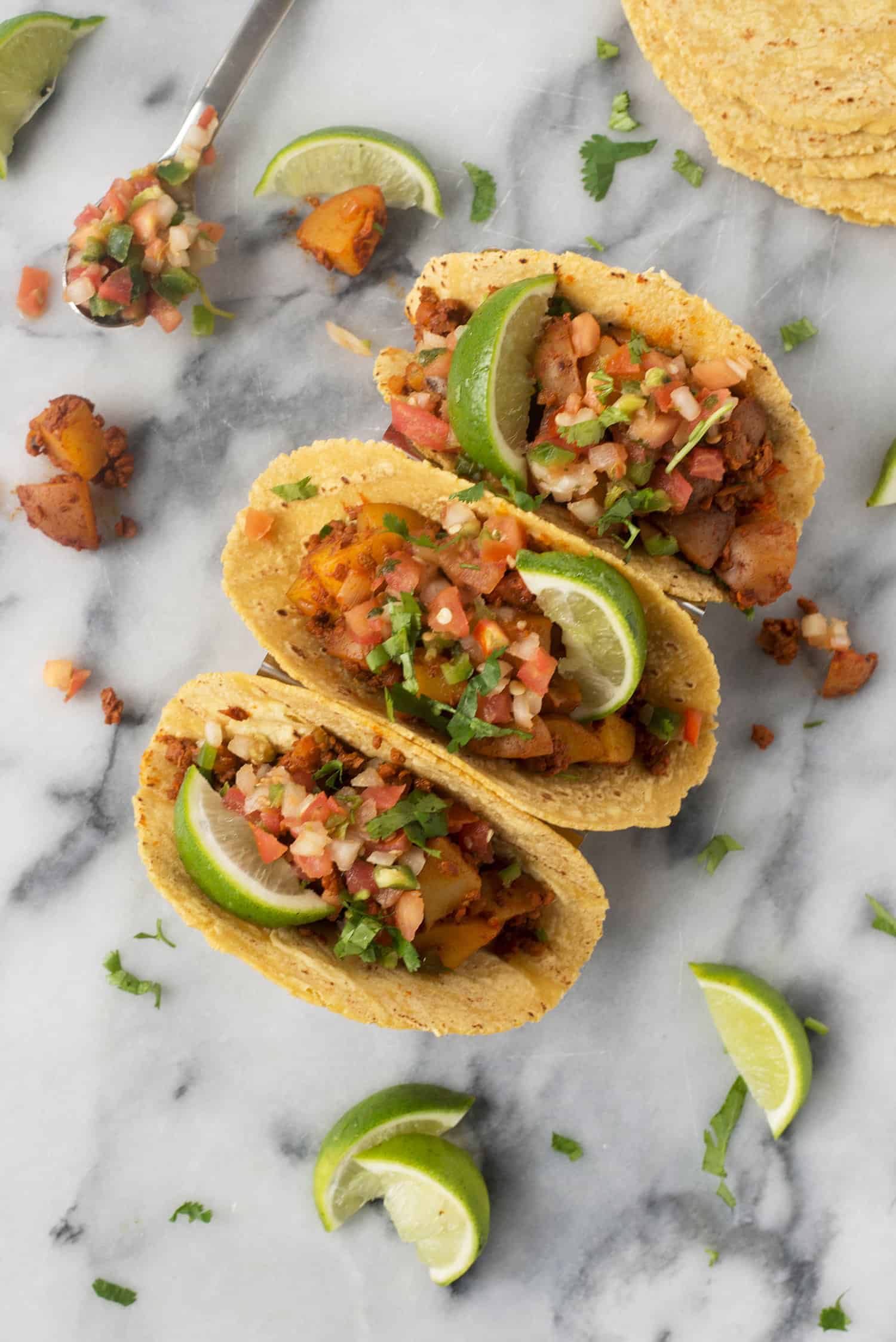 My goodness do I love these tacos. And, I'm in good company. BL has asked for them at least twice in the past few weeks, which is always my litmus test on whether a recipe is good.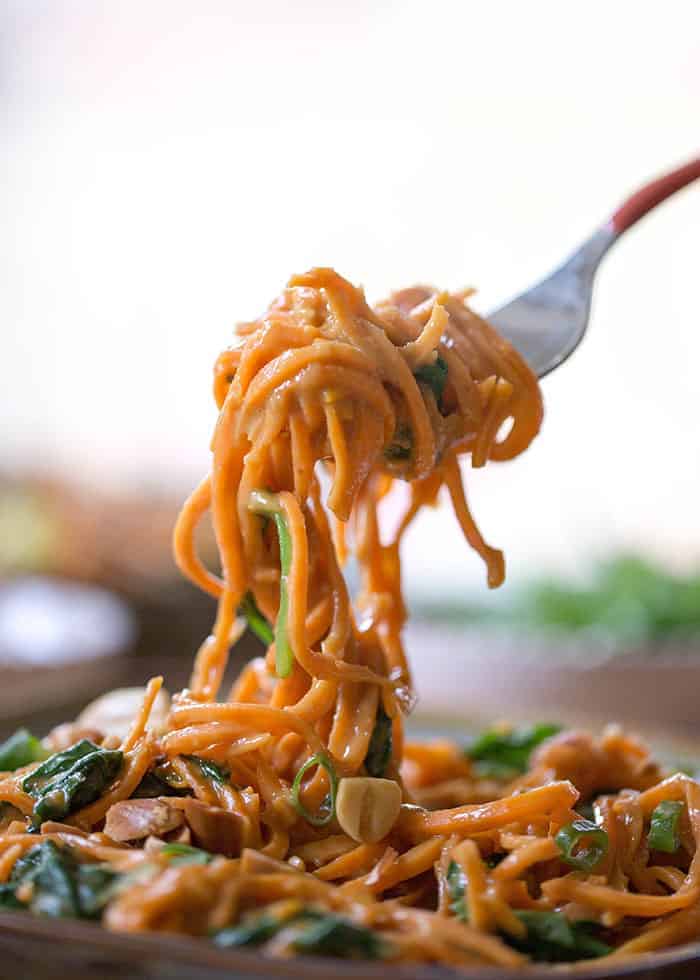 Spiralized sweet potatoes tossed with spinach, drenched in peanut sauce, and topped with crunchy peanuts. Increase the protein factor by topping with baked tofu.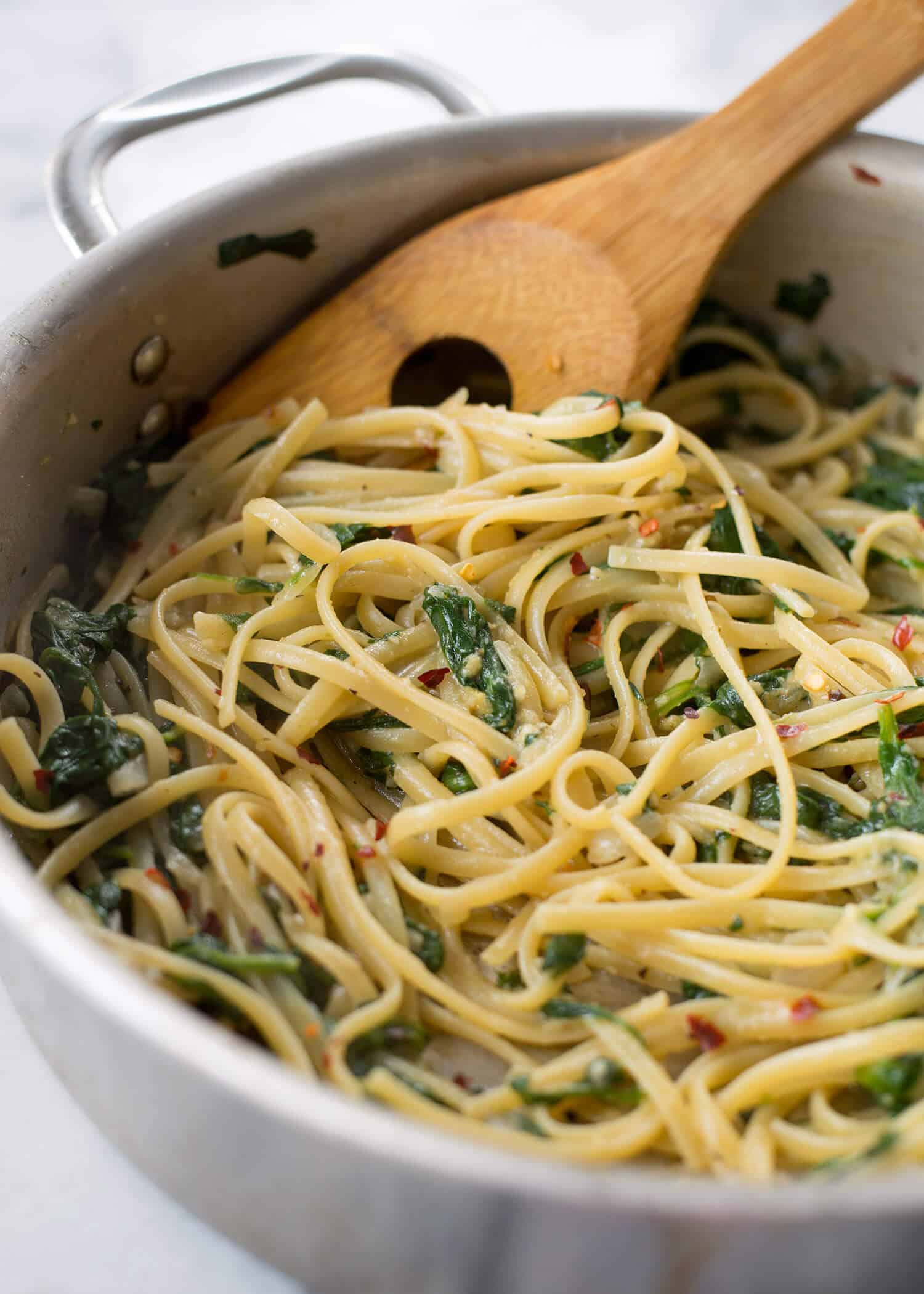 Another quick 20-minute dinner. Spinach and garlic tossed with pasta, plus a trick for making silky, restaurant-worthy pasta at home.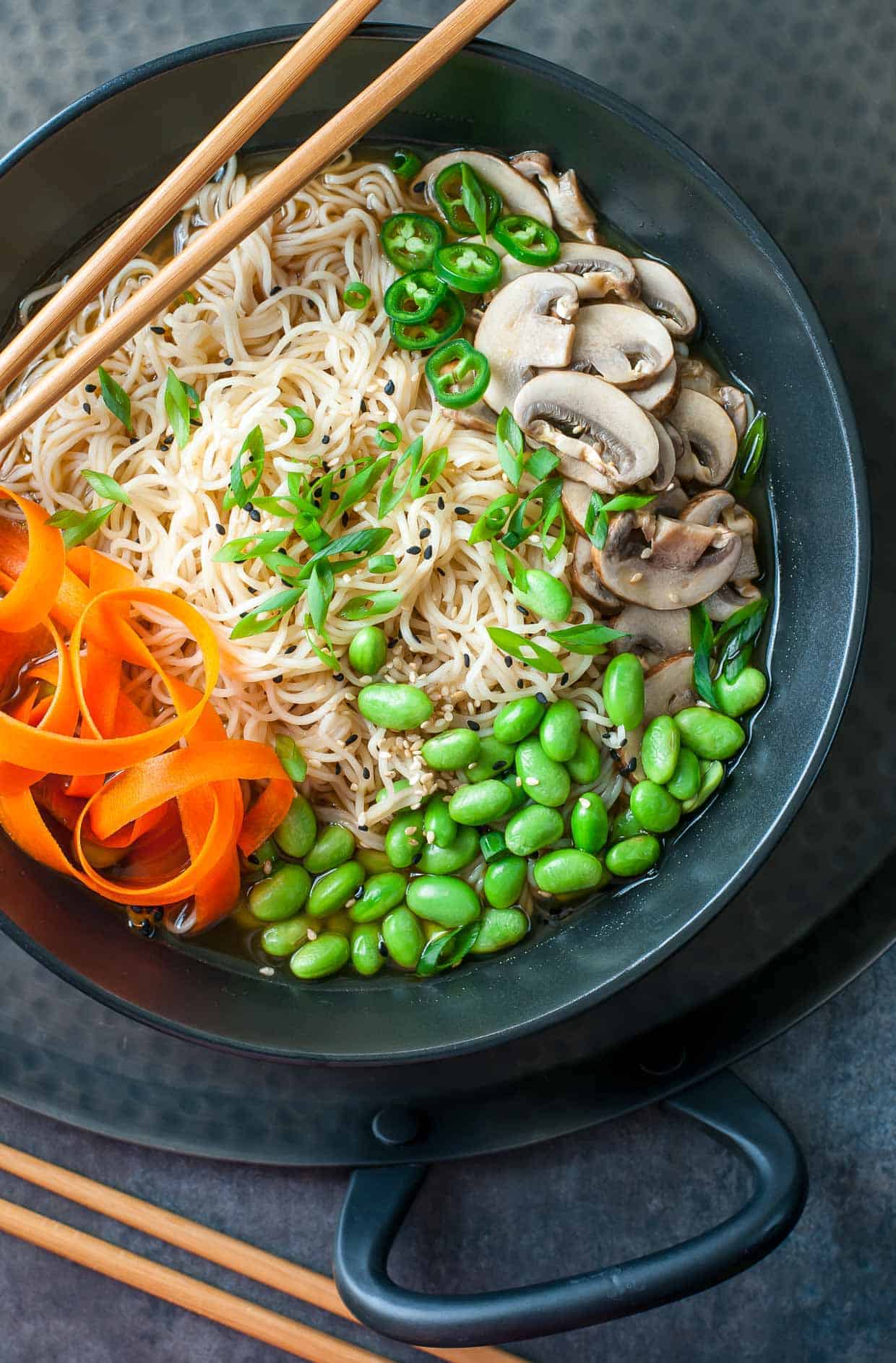 These vegan ramen bowls are ready in less than 30 minutes, ramen noodles in a dried mushroom broth with carrots and edamame.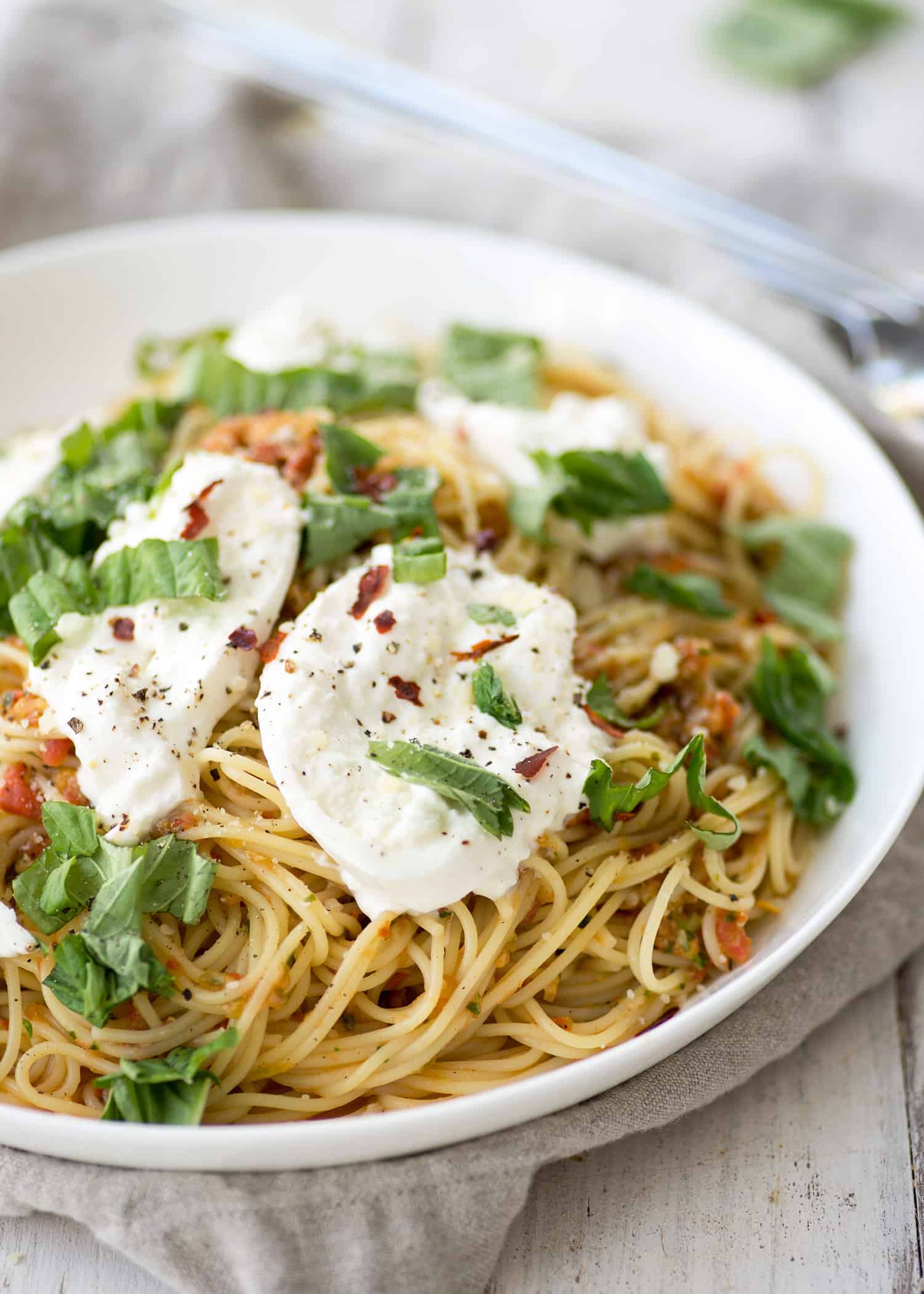 Have you had checca sauce before? It's a no-cook tomato sauce that's perfect for quick weeknight meals. I'm pairing this one with spaghetti and hunks of fresh burrata cheese.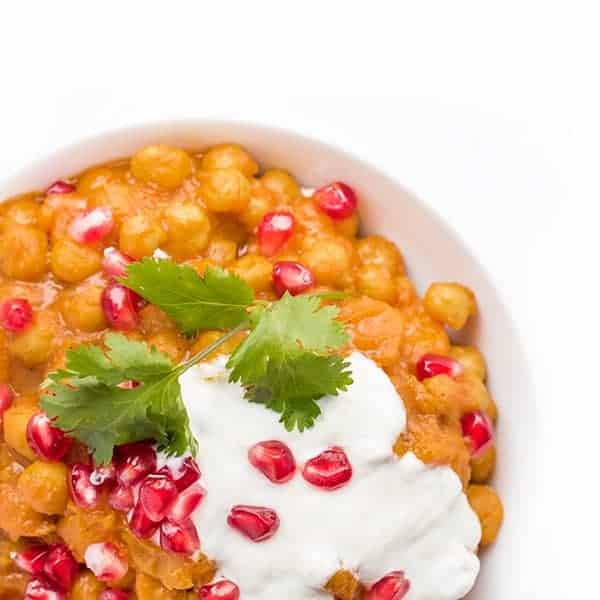 Protein-packed chickpeas and tender sweet potatoes come together perfectly in this meat-free curry recipe flavored with garam masala, curry powder and smoked paprika.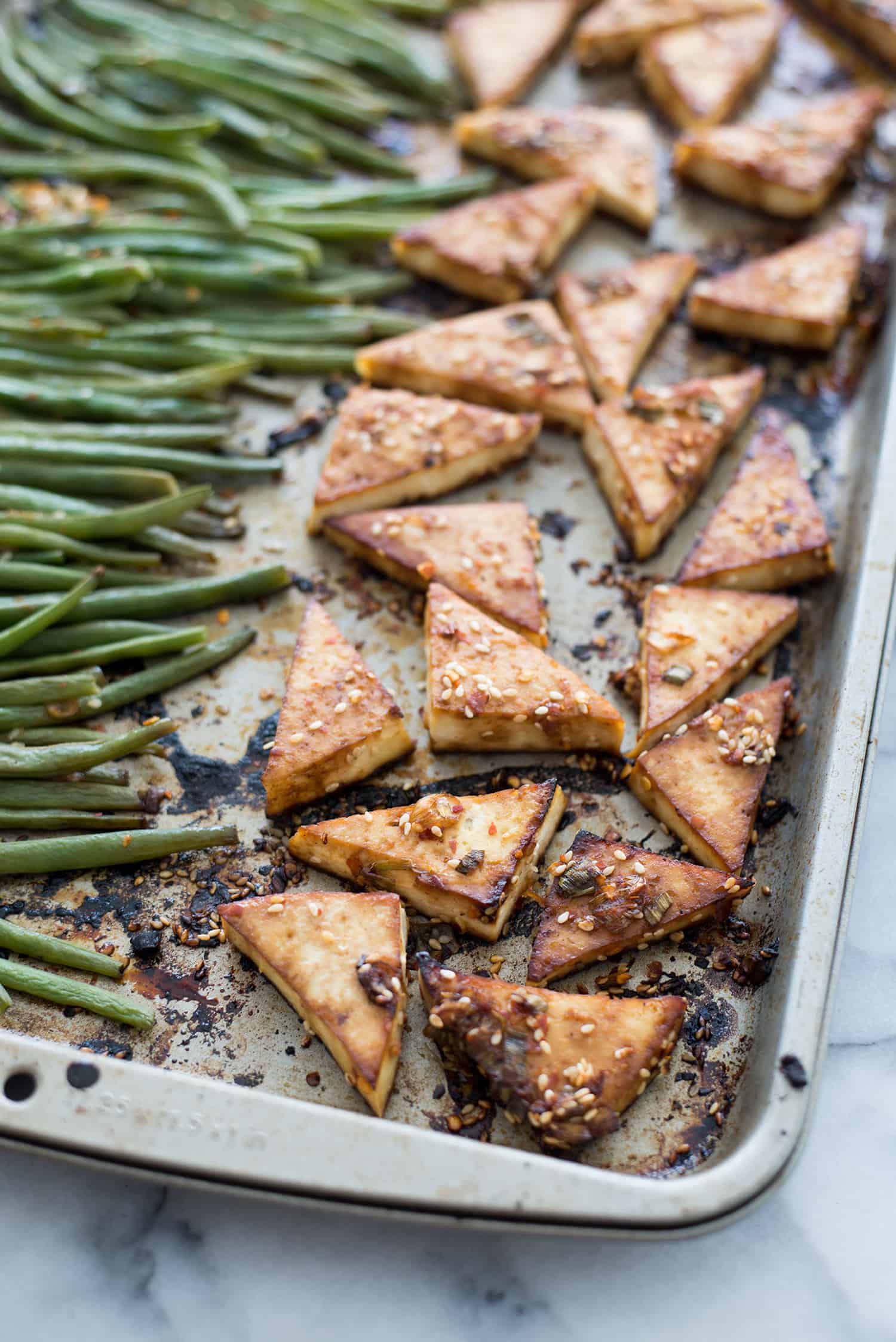 Sheet pan dinners are one of my favorite quick meal options. This entire dinner is made on the sheet pan: baked tofu and green beans in a spicy soy-based sauce.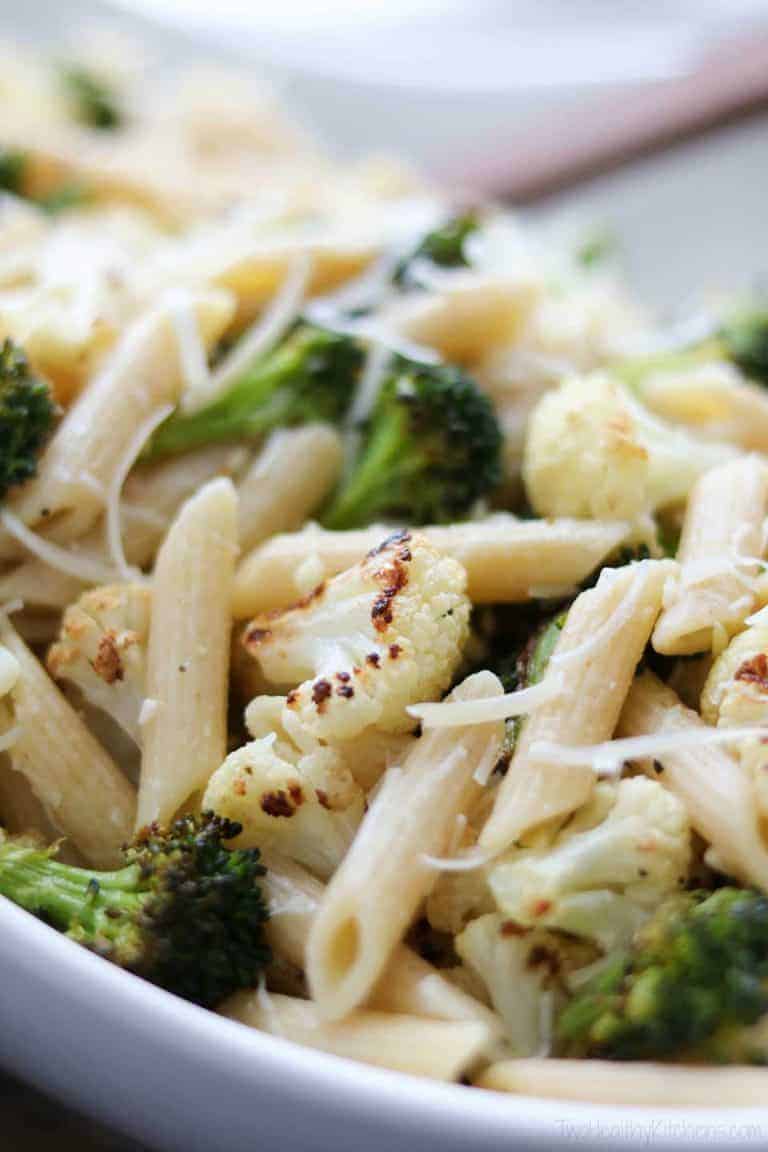 A salad and pasta together in one easy meal. Roasted broccoli and cauliflower with pasta, parmesan, lemon and garlic.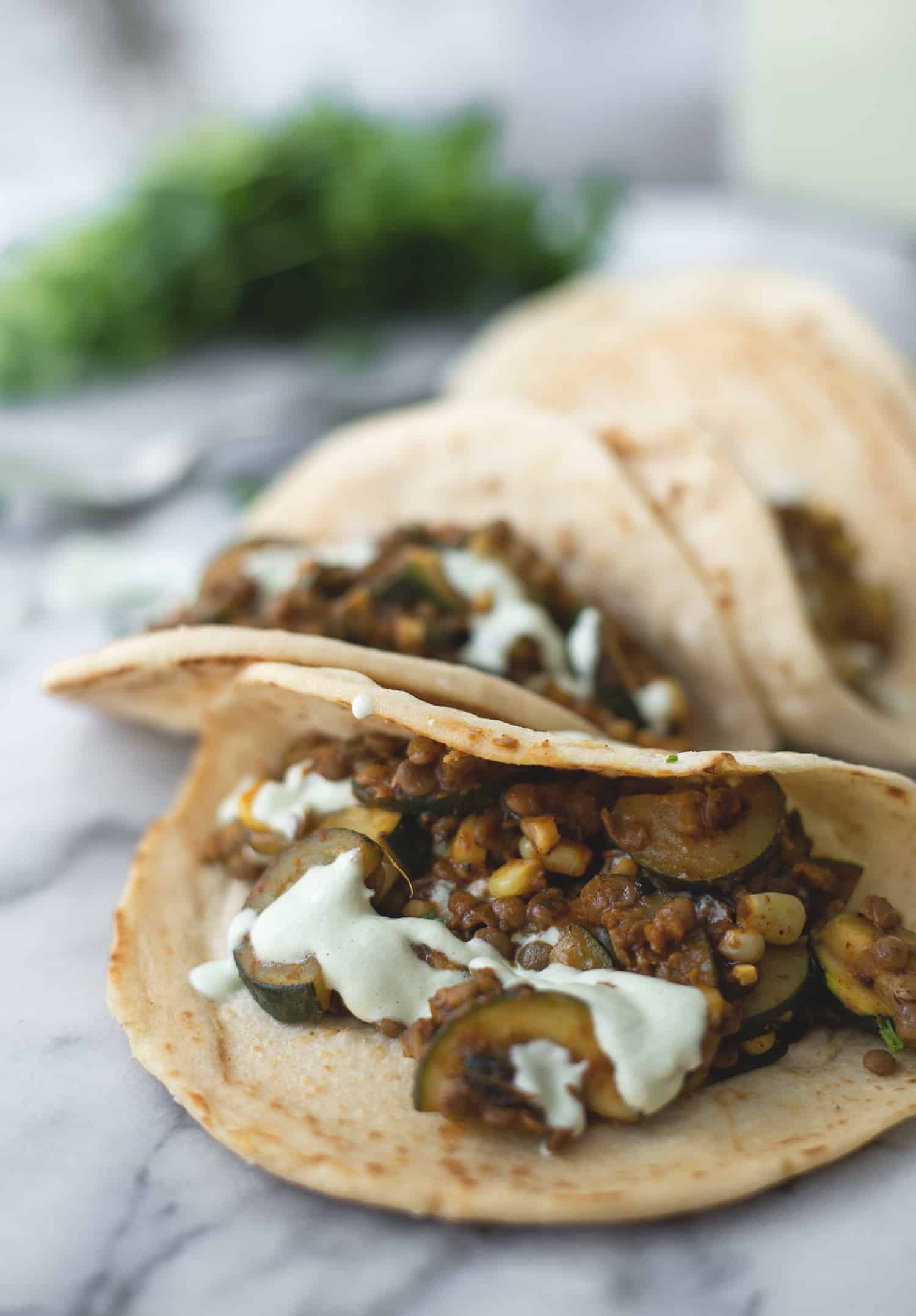 Everything taste better in taco form. Charred, slightly smoky zucchini, corn and lentils tucked into warm tortillas and topped with a spicy jalapeño sauce.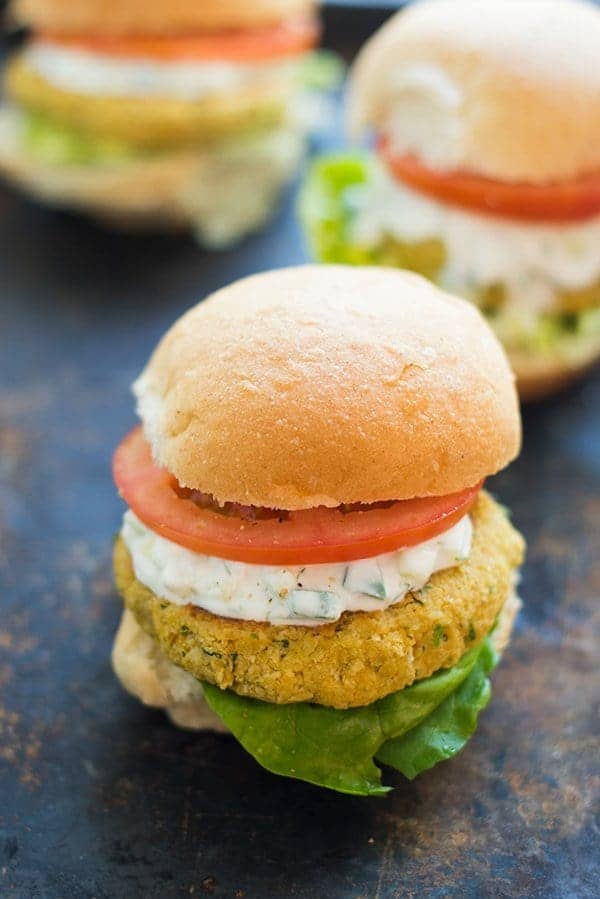 Hearty and satisfying vegetarian chickpea burgers with a creamy cucumber-dill yogurt sauce. Perfect on their own or paired with a side salad.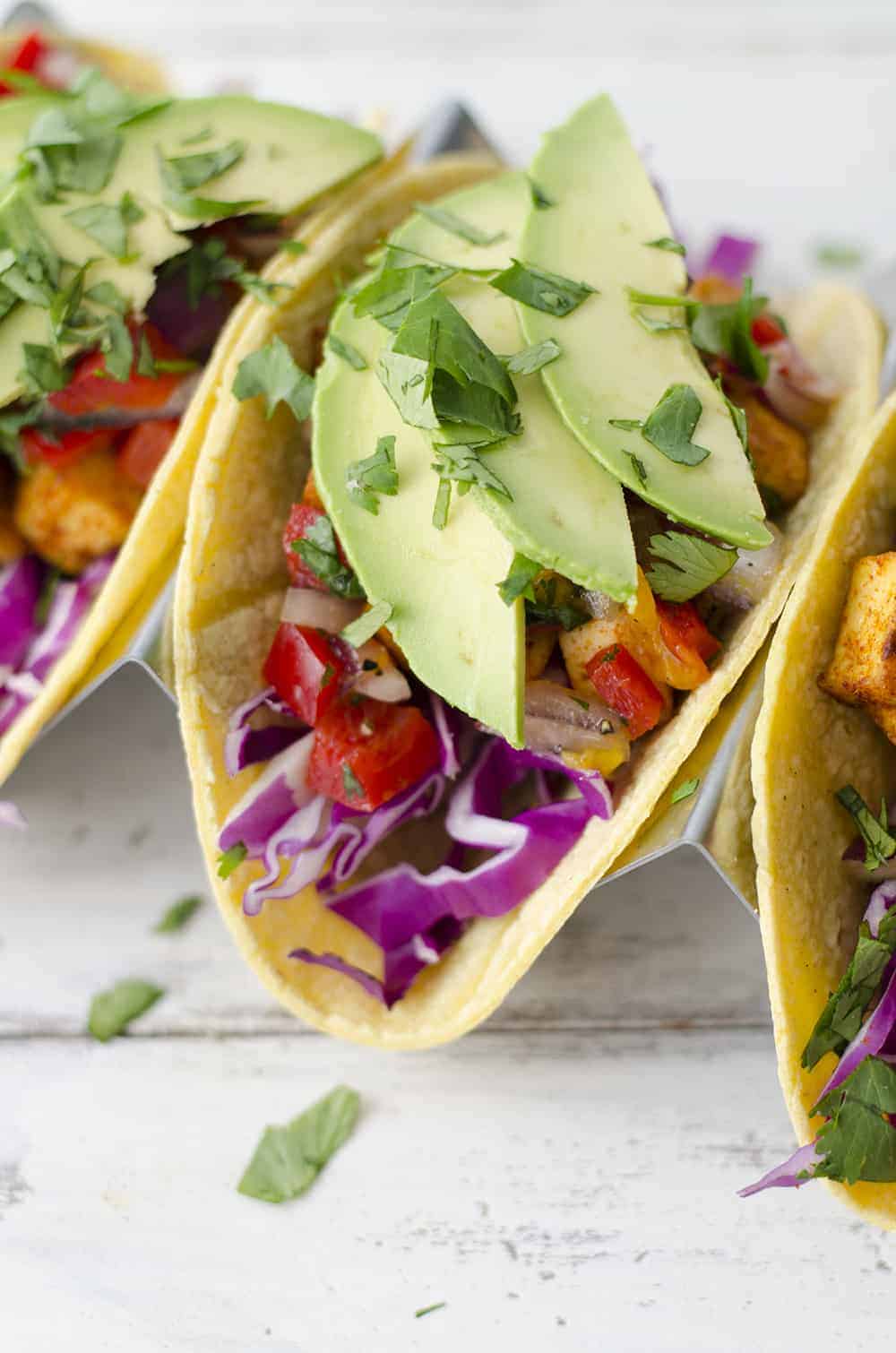 Tropical Tofu Tacos with Mango Salsa! Jerk seasoned tofu with quick mango salsa, shredded cabbage and sliced avocado.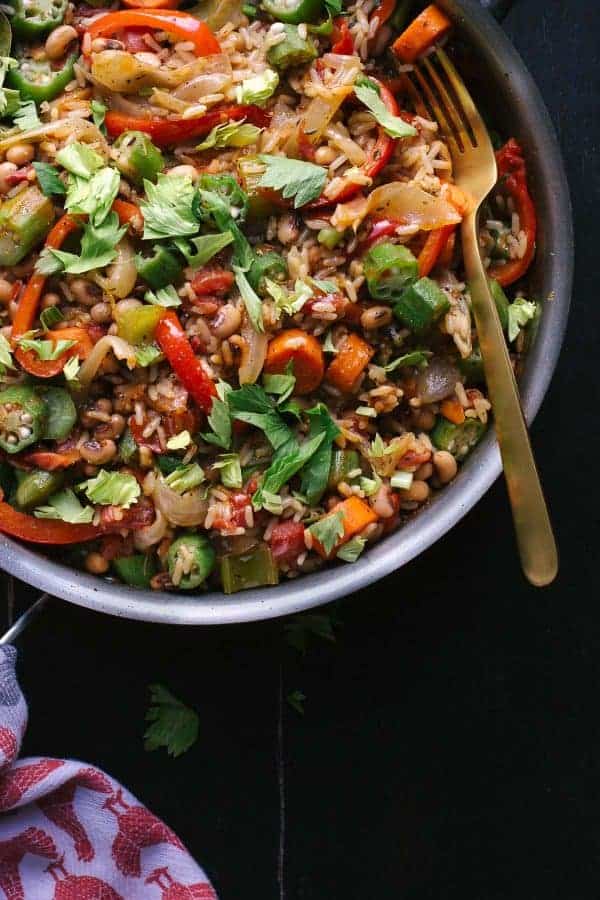 It can certainly be challenging to satisfy everyone when feeding a mix of carnivores, omnivores, vegetarians and vegans, but this dinner gets the job done. A hearty mix of vegetables, rice, black eyed peas and plenty of spice.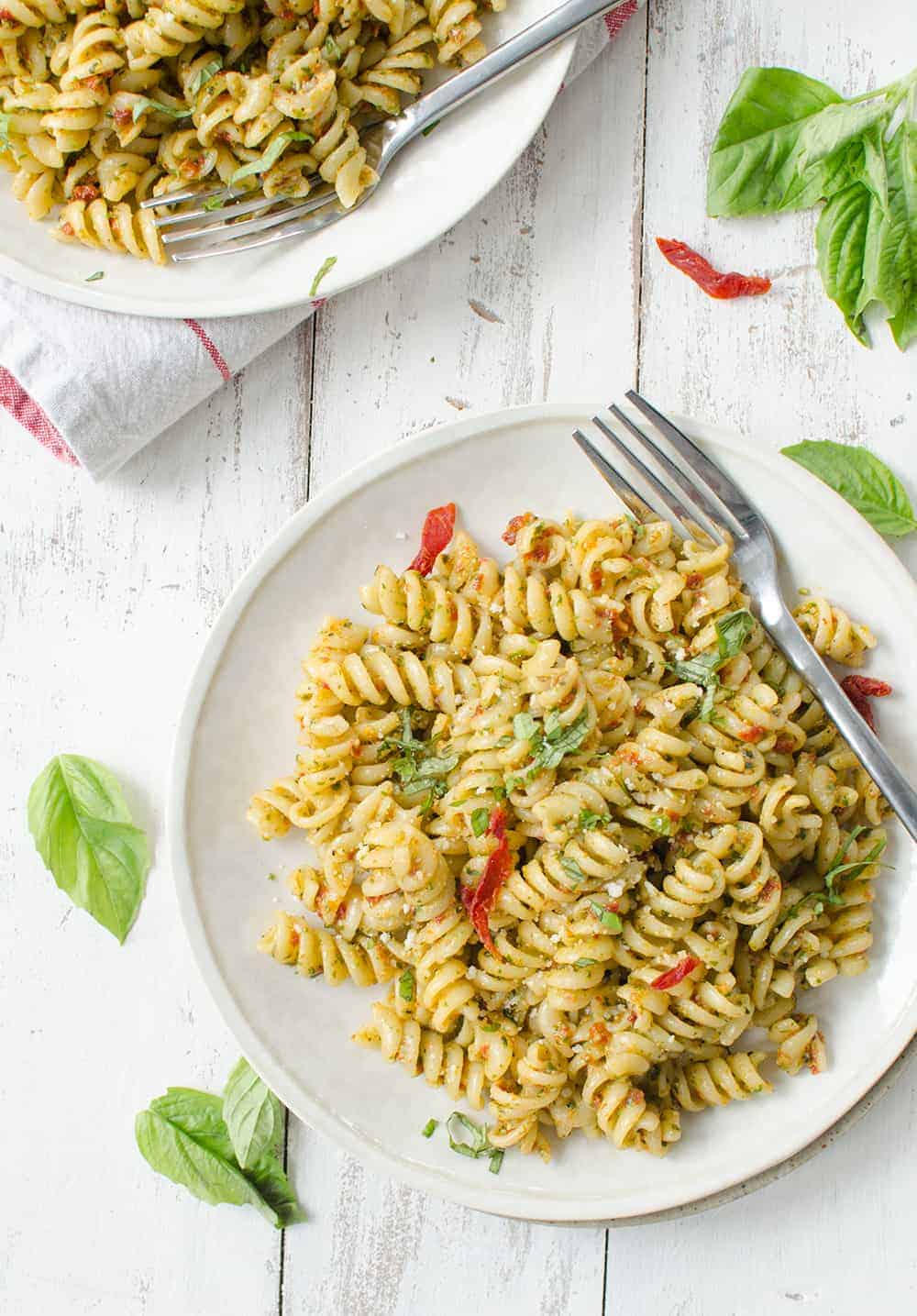 7 ingredients and ready in just 20 minutes. Homemade sun-dried tomato pesto tossed with rotini. For extra protein, add in a can of white or garbanzo beans.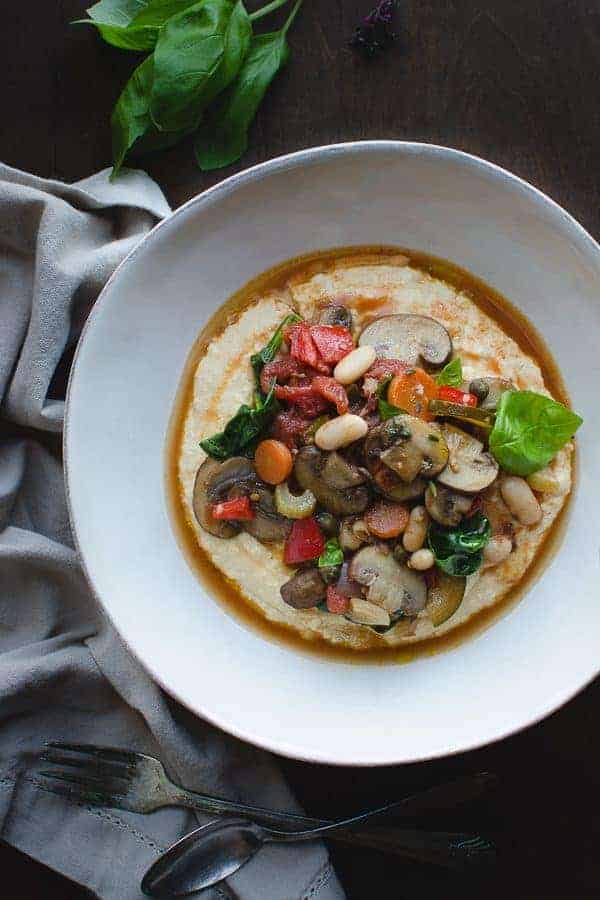 This Vegetable Cacciatore with Soft Polenta is incredible! All of the flavors of a traditional cacciatore and served over creamy soft polenta. Vegan and gluten free options.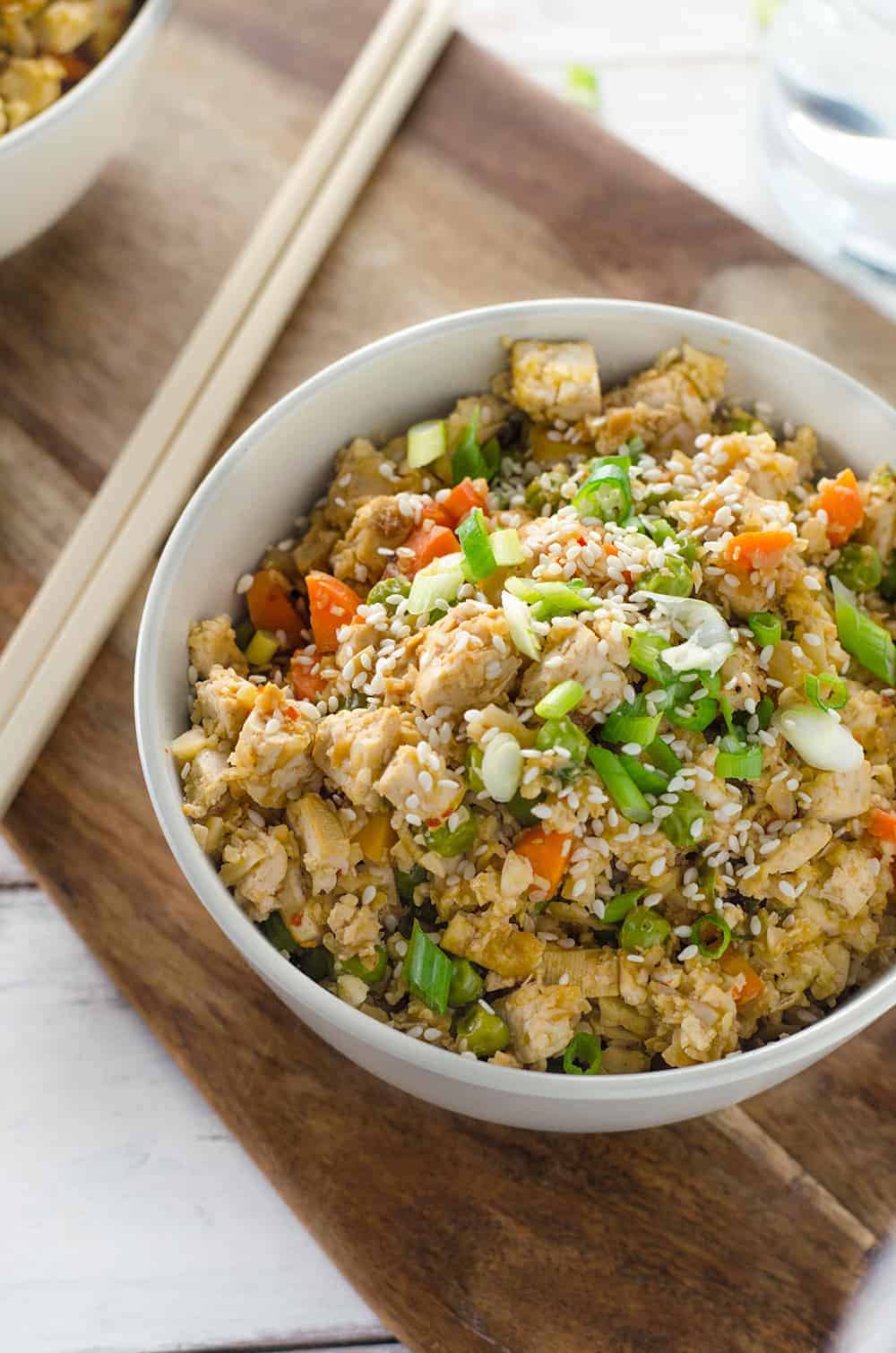 Ready in less than 20 minutes, low-calorie, low-fat, low-carb and DELICIOUS! Plus, Vegan and Gluten-Free.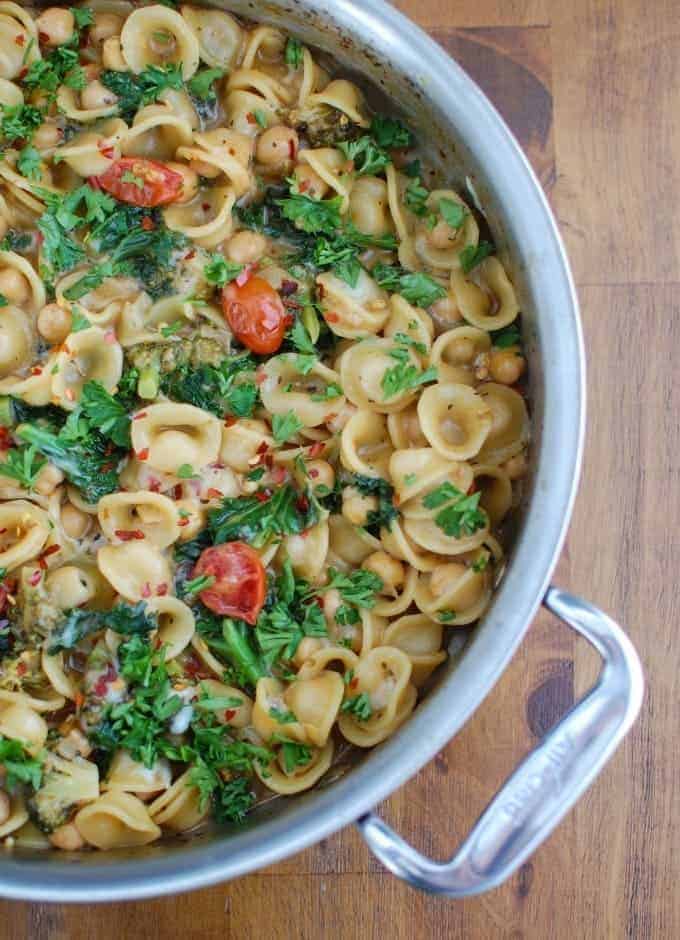 One pot meals are music to my weeknight dinner making heart. I love recipes that are not only ready in less than 30 minutes, but require only one pan to clean afterwards. As someone who can easily dirty half a dozen dishes for a "weeknight" meal, this dinner is a welcome change.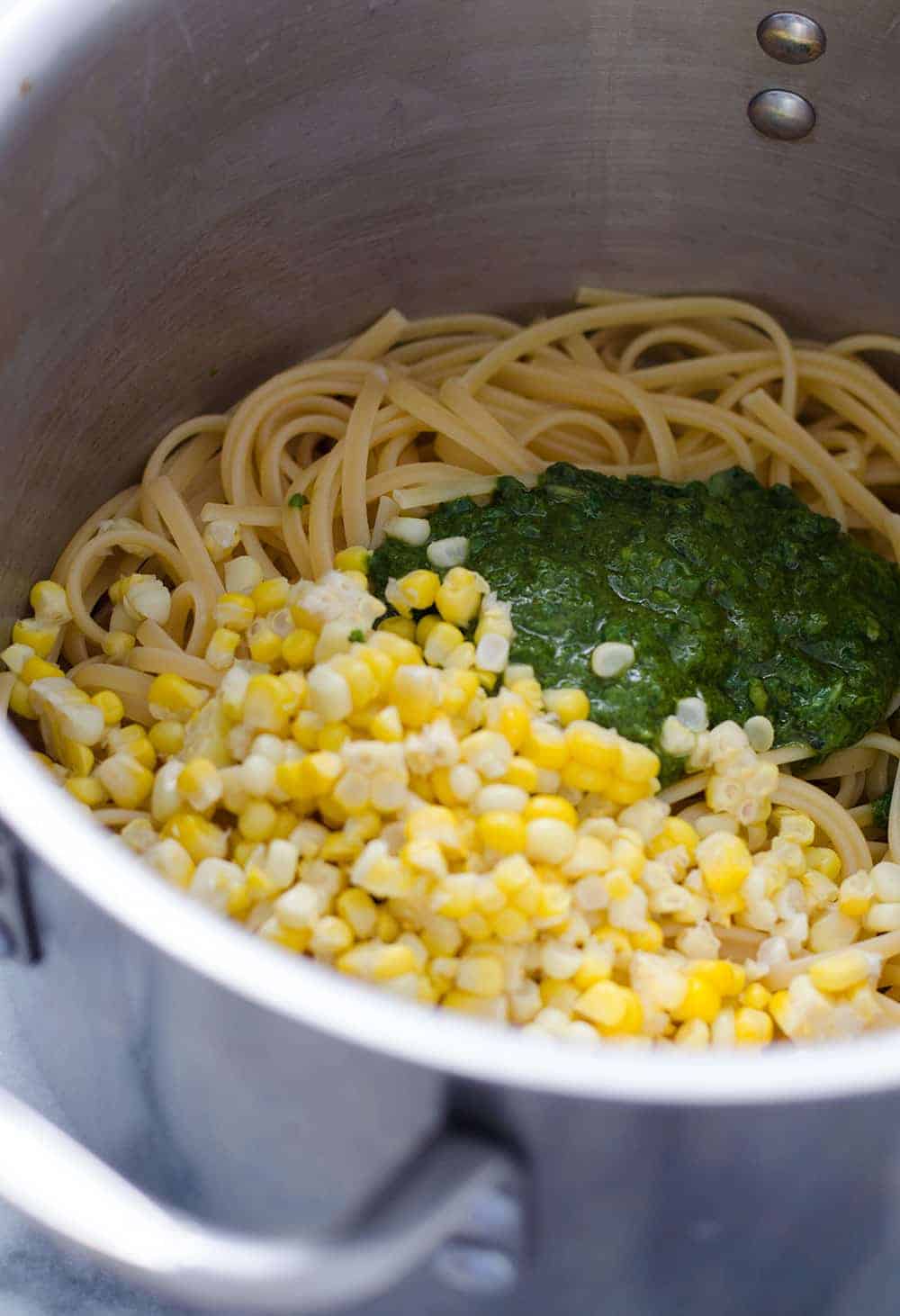 Oh man, I love this fettuccini. Noodles tossed with arugula pesto, sweet corn and mozzerella balls. Simple to throw together and easily customizable with different pestos.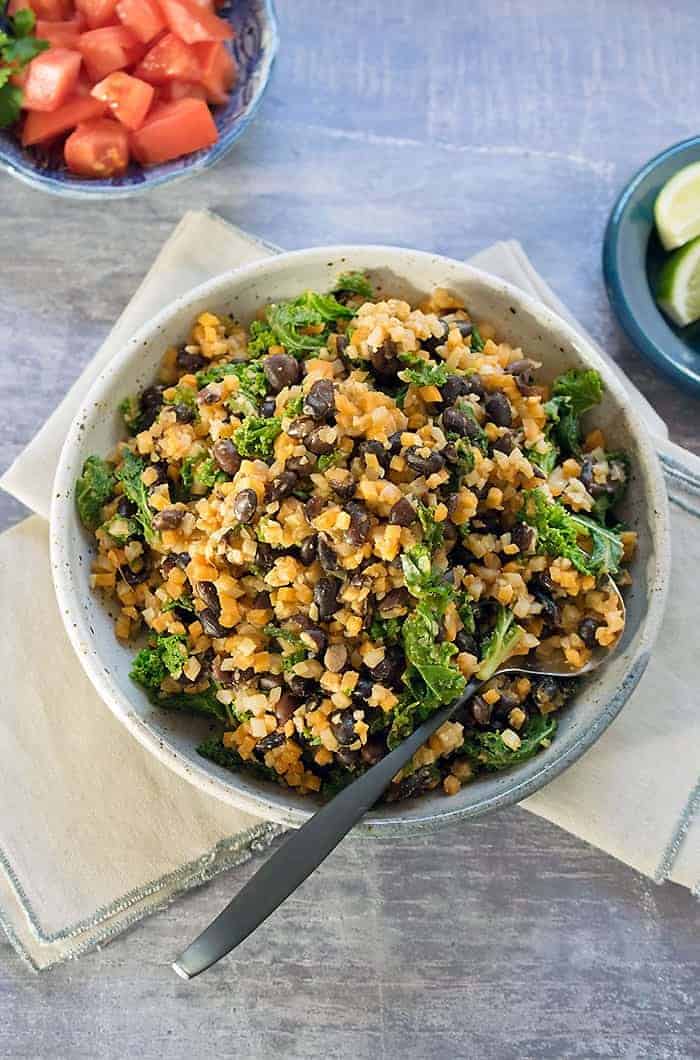 Feeling too tired to cook dinner? This skillet comes together fast with frozen riced cauliflower and sweet potato, a can of black beans, kale and pantry spices.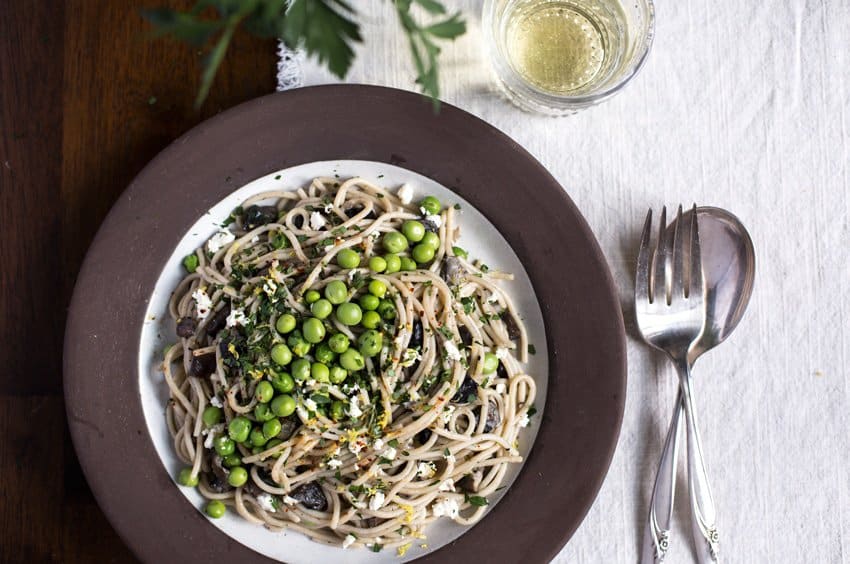 Brown rice pasta in a creamy mushroom sauce? Sign me up. I love frozen peas in my pasta and this dish is the perfect balance of sweet, meaty and creamy.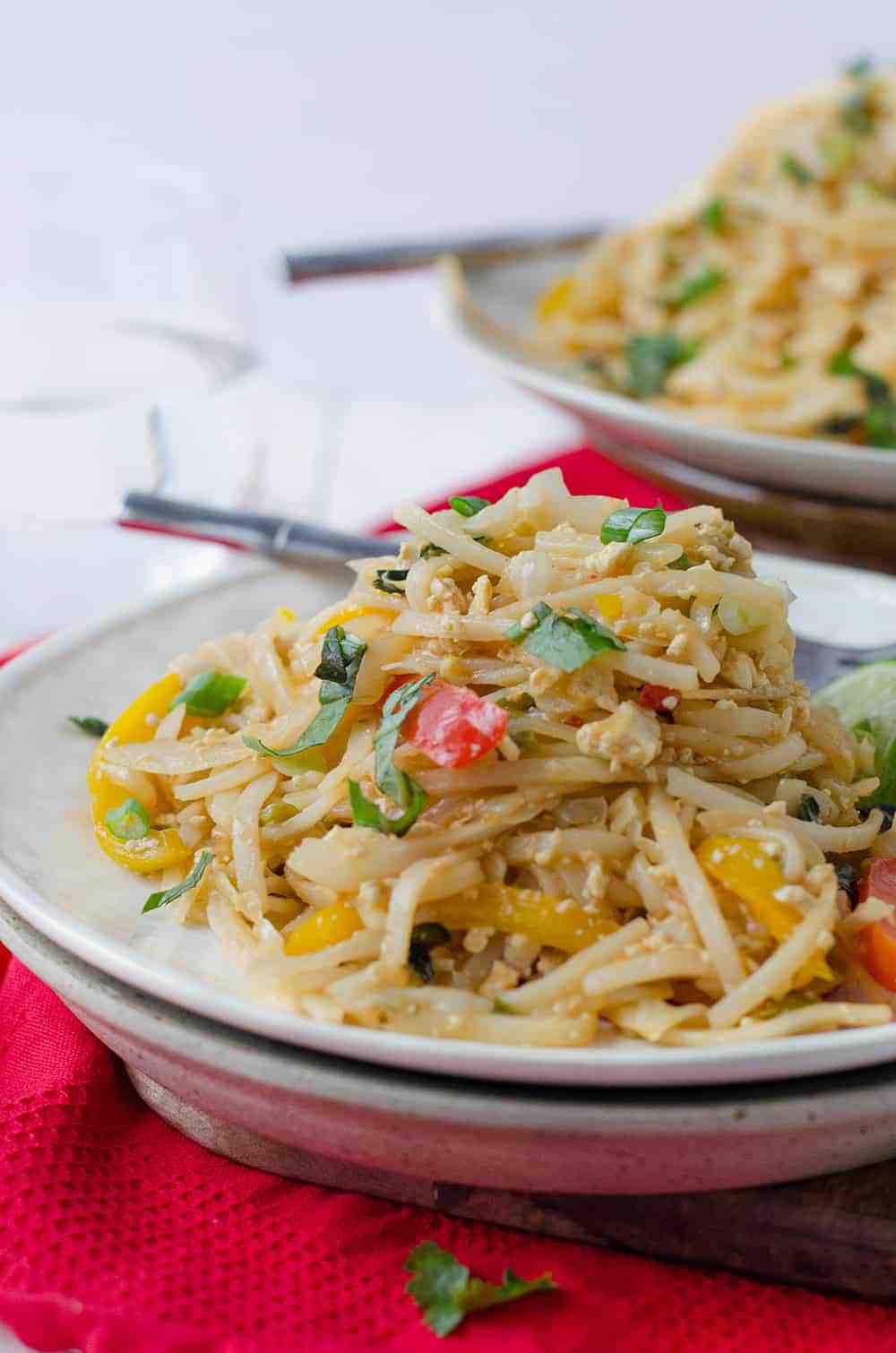 You guys love these easy noodles! Spicy sauce with rice noodles and vegetables. Easier and healthier than Thai takeout!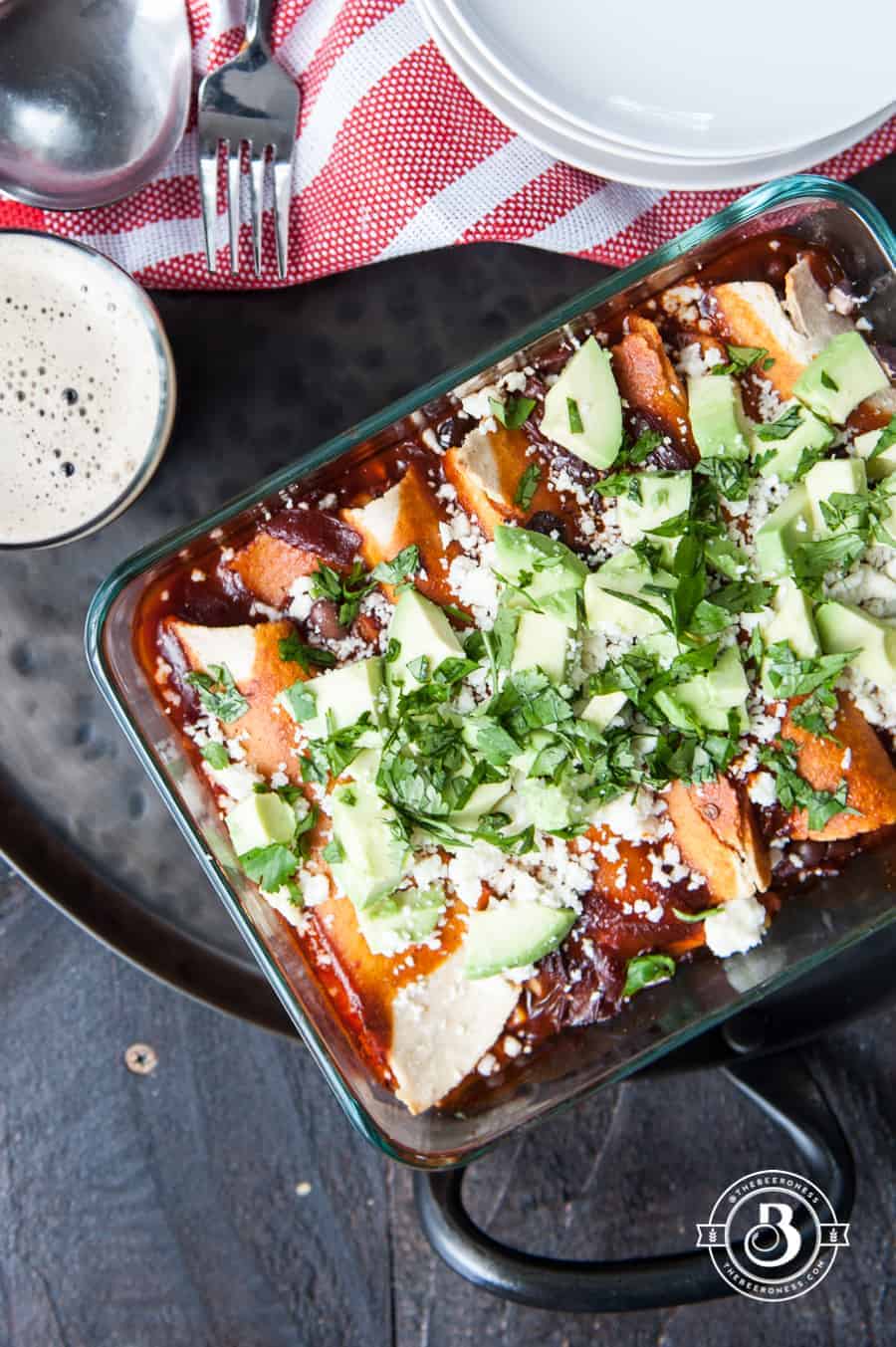 These take a bit longer than 30 minutes to whip up, but the extra effort is worth it. I'm including these because you should make two batches- one for dinner tonight and one to place in the freezer for easy reheating whenever you are too tired to cook.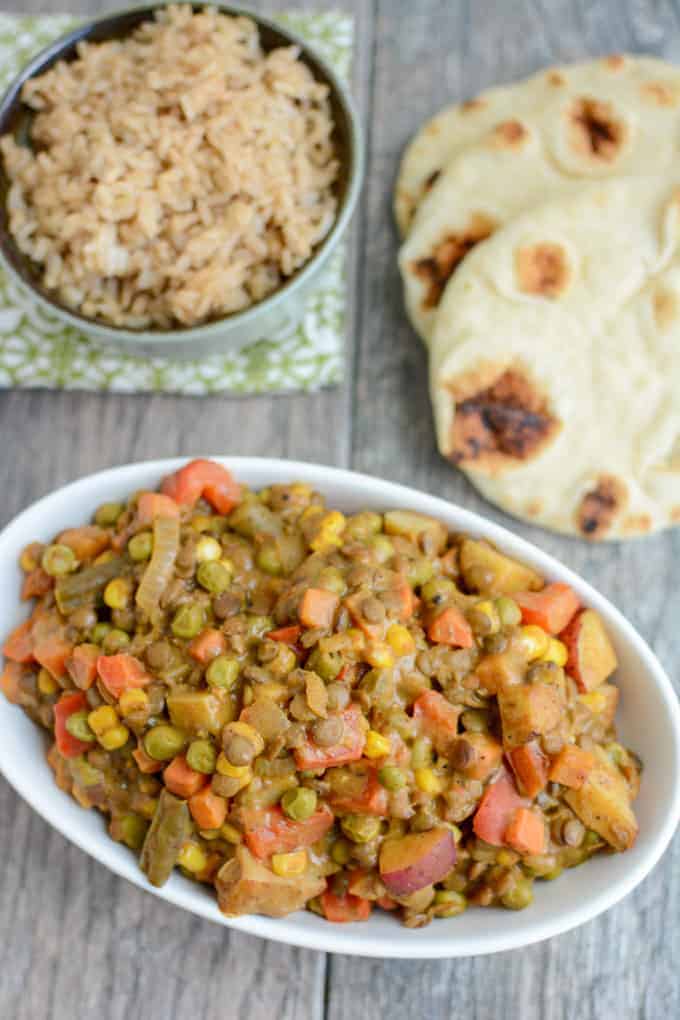 I'll say it for the hundredth time, I love a good curry. This version is packed with lentils, potatoes, and frozen mixed vegetables to enjoy with rice and naan. A must-save for weeknight meals.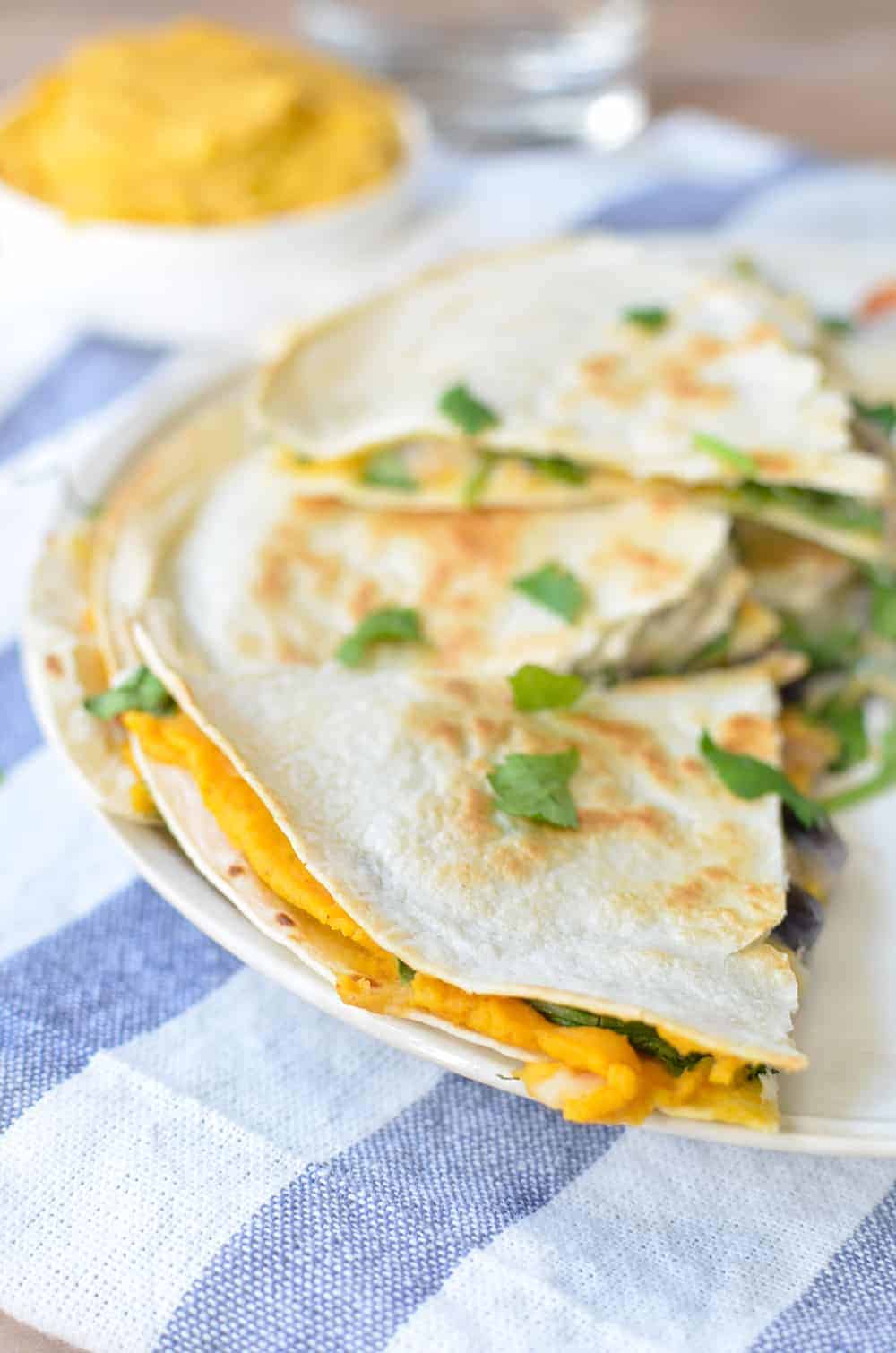 I love my sweet potato hummus, it's a nice change of pace from the regular version. Slather leftovers on tortillas with black beans and a little cheese for an easy weeknight dinner.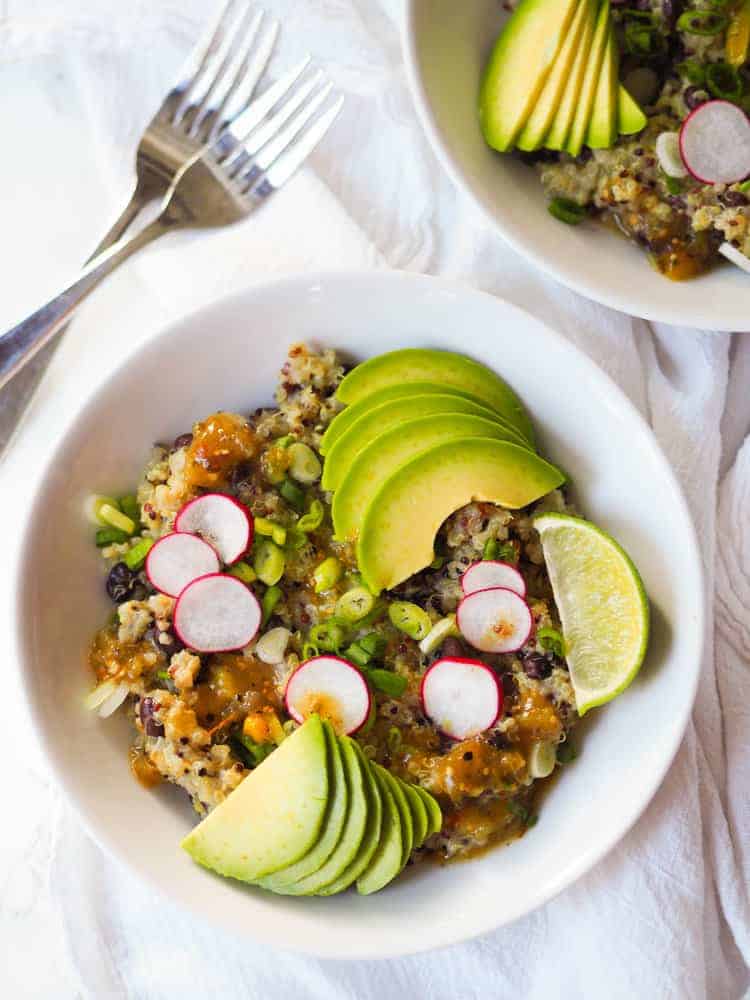 My friend Rachael is a fantastic cook and this spicy coconut quinoa bowl is one of my favorites, made entirely in the Instant Pot.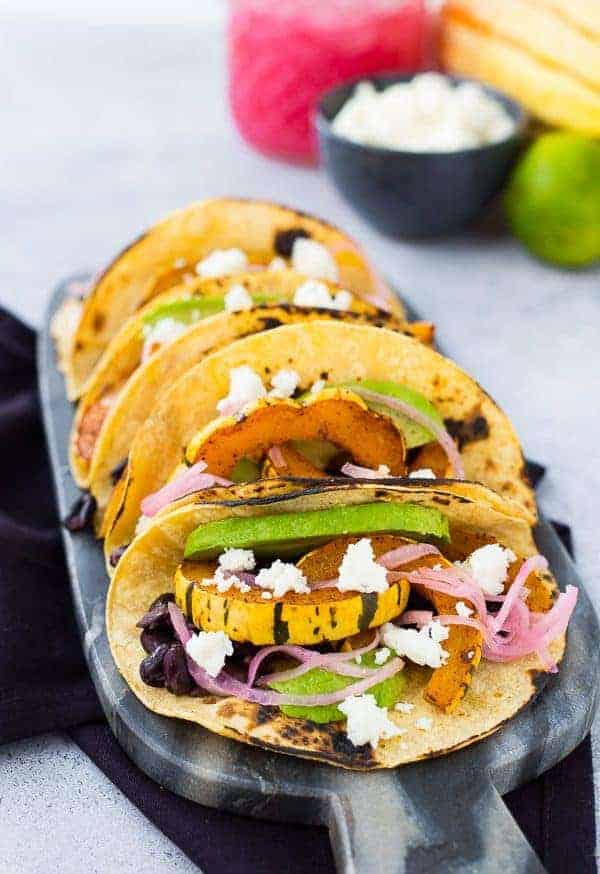 While these tacos are made with delicata squash, any squash will work. Try butternut for fall and zucchini or yellow squash in the summer.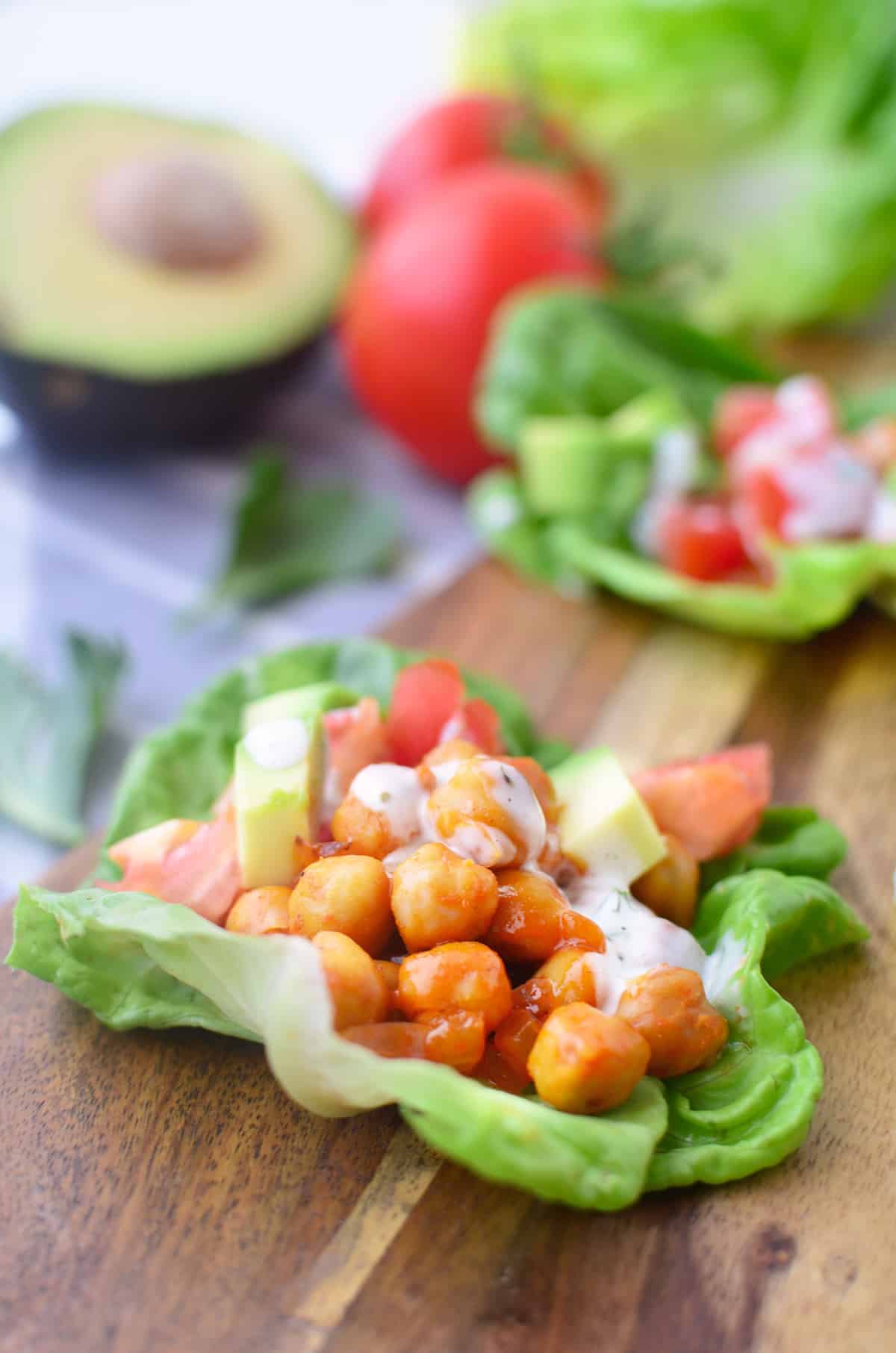 Mmmm, these lettuce wraps are so amazing. Roasted chickpeas in a buffalo sauce on lettuce leaves with homemade vegan ranch, avocado and tomatoes.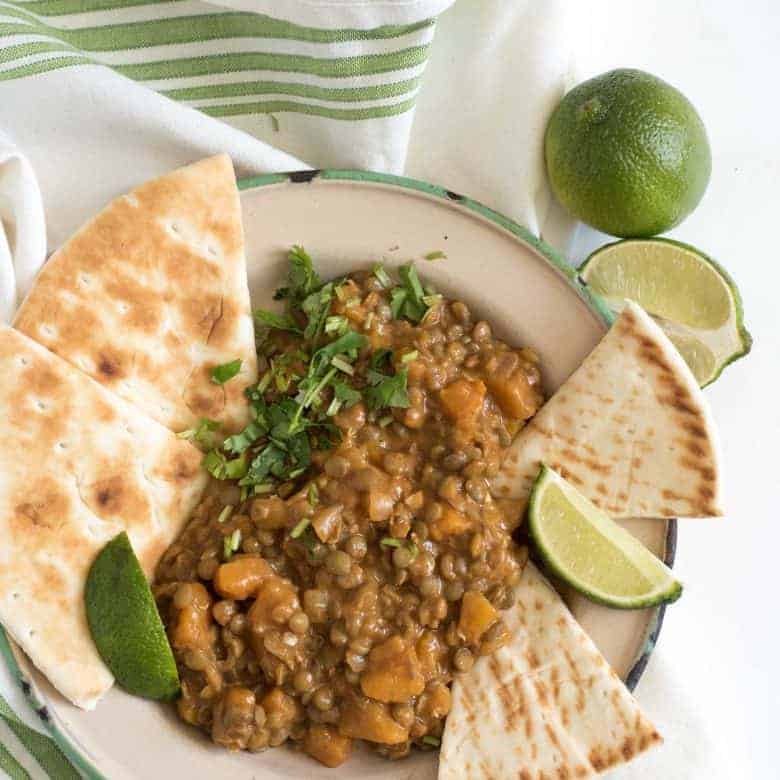 Clearly I love a good lentil curry, I'm fairly certain I've included four different versions on this round-up– for good reason. I love the combination of lentils, butternut squash, coconut milk and curry powder.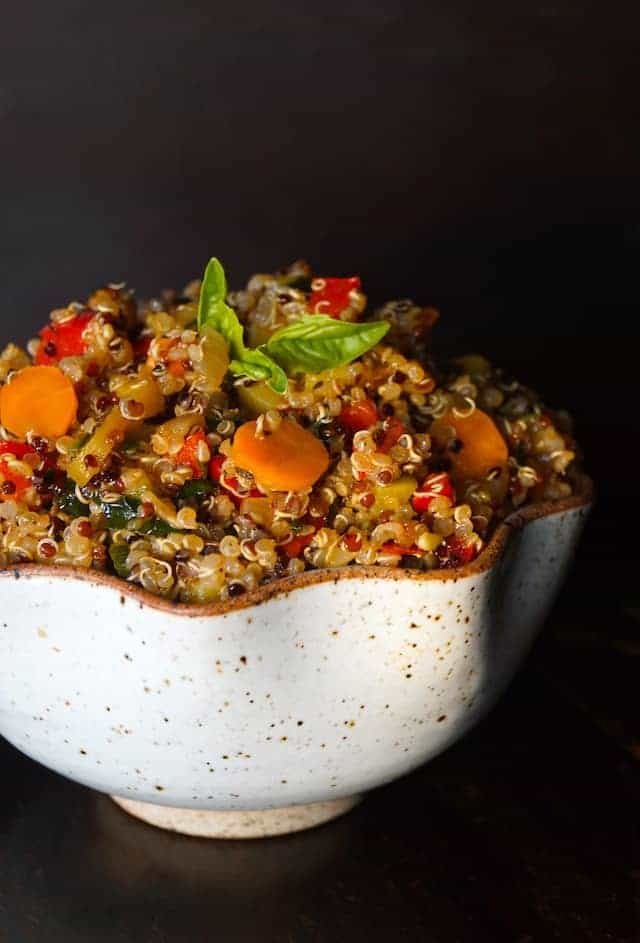 A great gluten-free and vegan dinner. A smoky lemon quinoa pilaf with vegetables. I add a can of garbanzo beans to this for even more protein and fiber.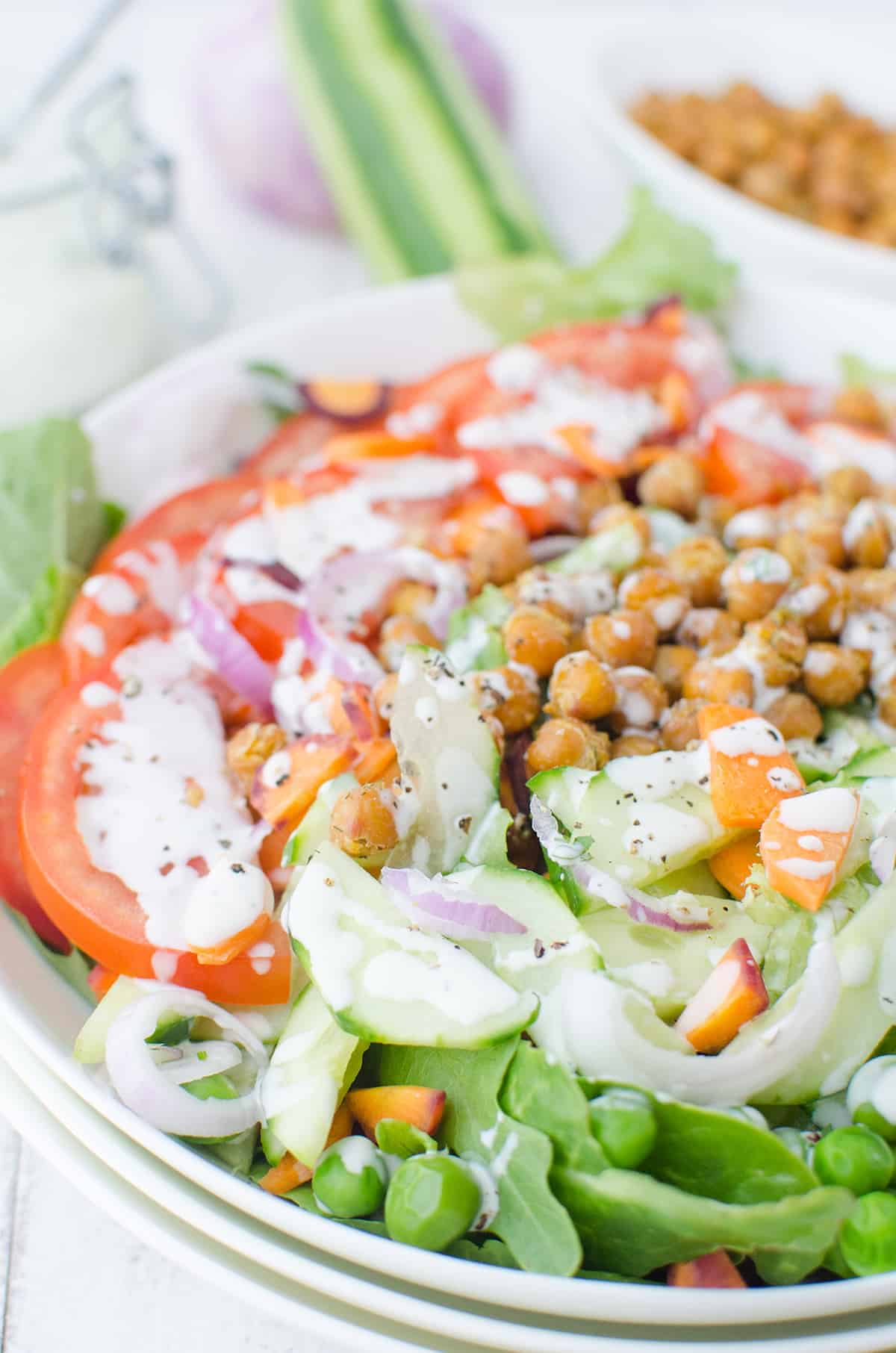 Gluten-Free, Vegan Ranch Bowls! These salads bowls are packed with vegetables and ranch-roasted chickpeas!  11g fiber and 12g protein per serving.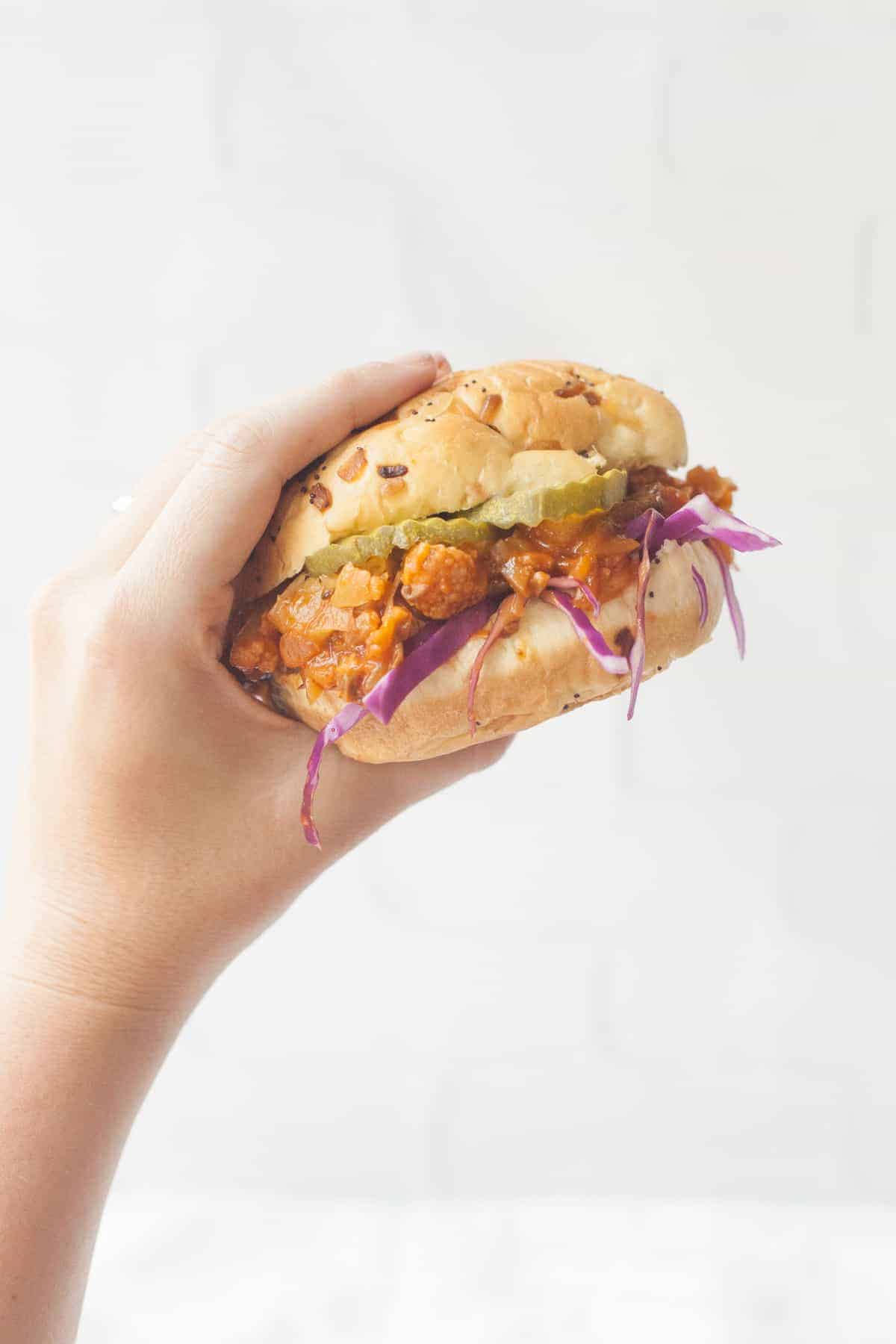 I like to serve these cauliflower sloppy joes on a big, fluffy whole wheat hamburger bun with lots of pickles and sweet potato fries.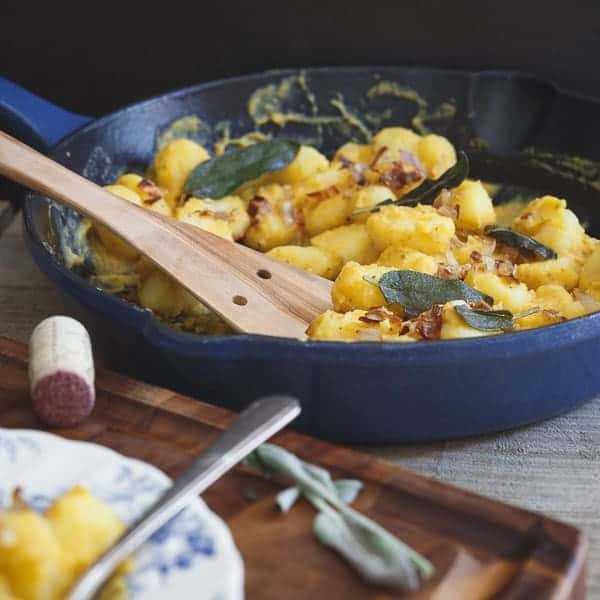 Creamy, sage infused butternut sauce tossed with gnocchi and white beans. It's comfort food done healthy, and one of my favorite weeknight meals.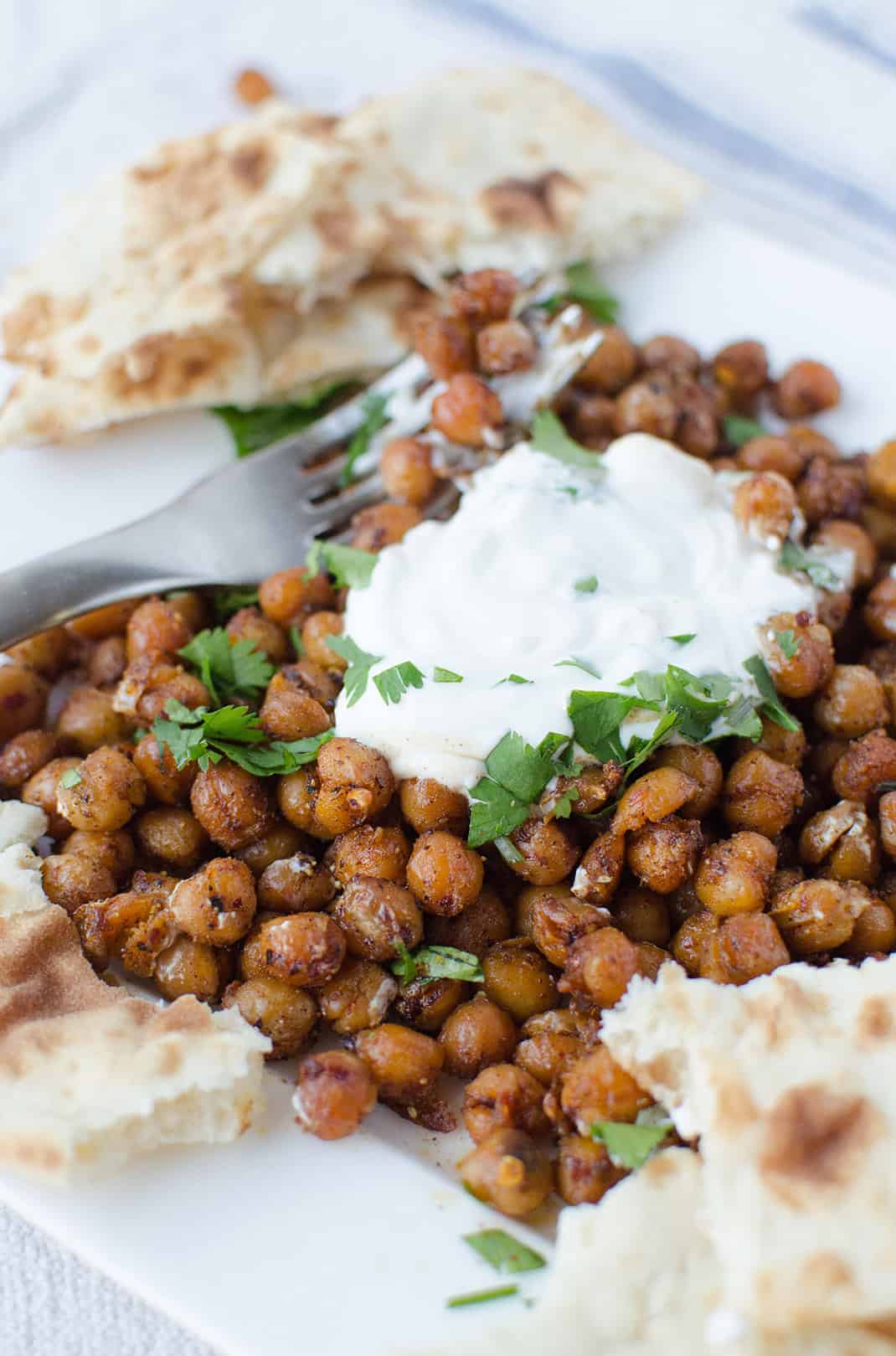 Dinner is ready in just 15 minutes! Roasted Indian chickpeas with spices, tamarind sauce, yogurt and cilantro.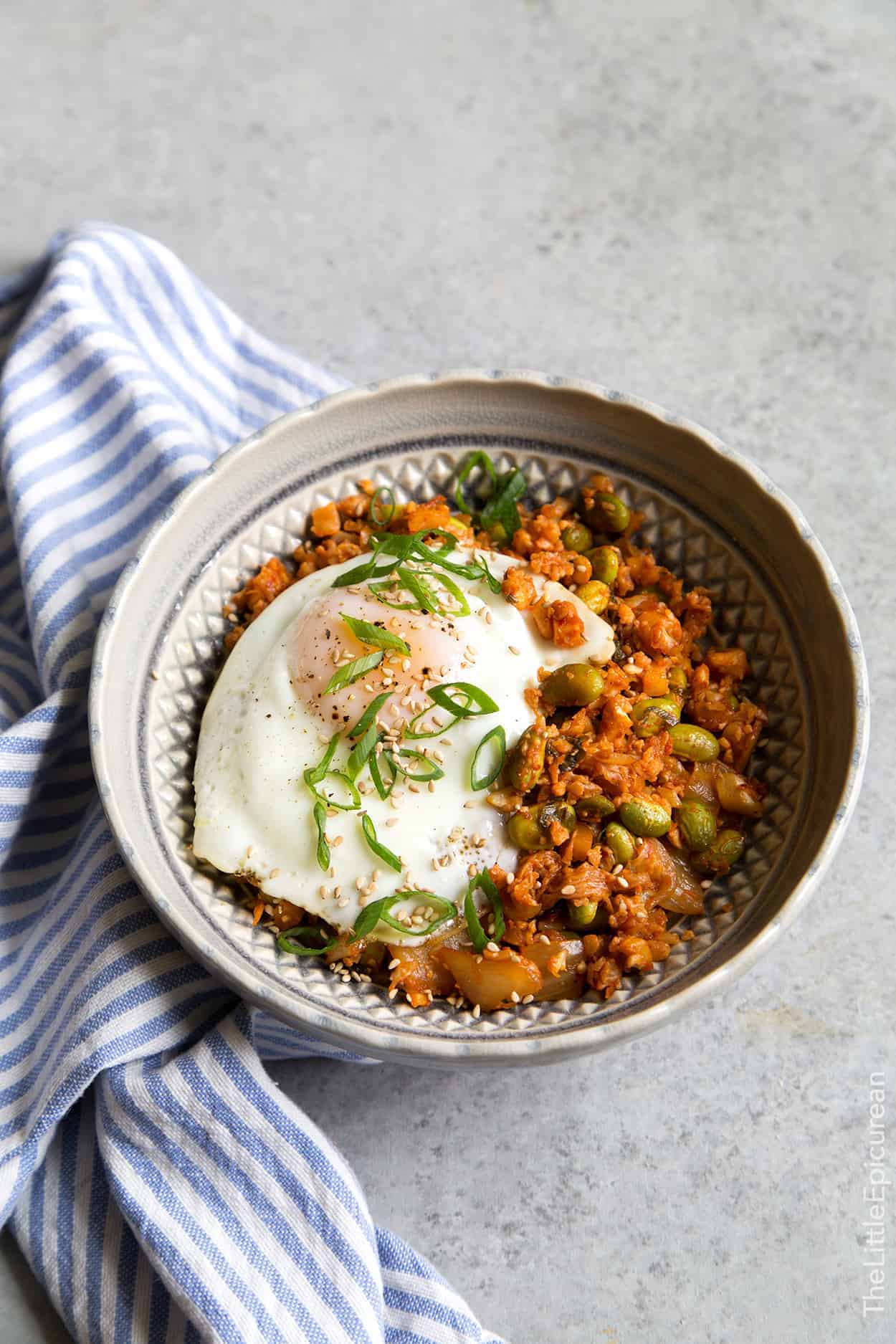 I've only recently gotten into kimchi and I love the potent, tangy kick that it gives ordinary recipes. It's fantastic in this fried rice, made with cauliflower rice and topped with a fried egg.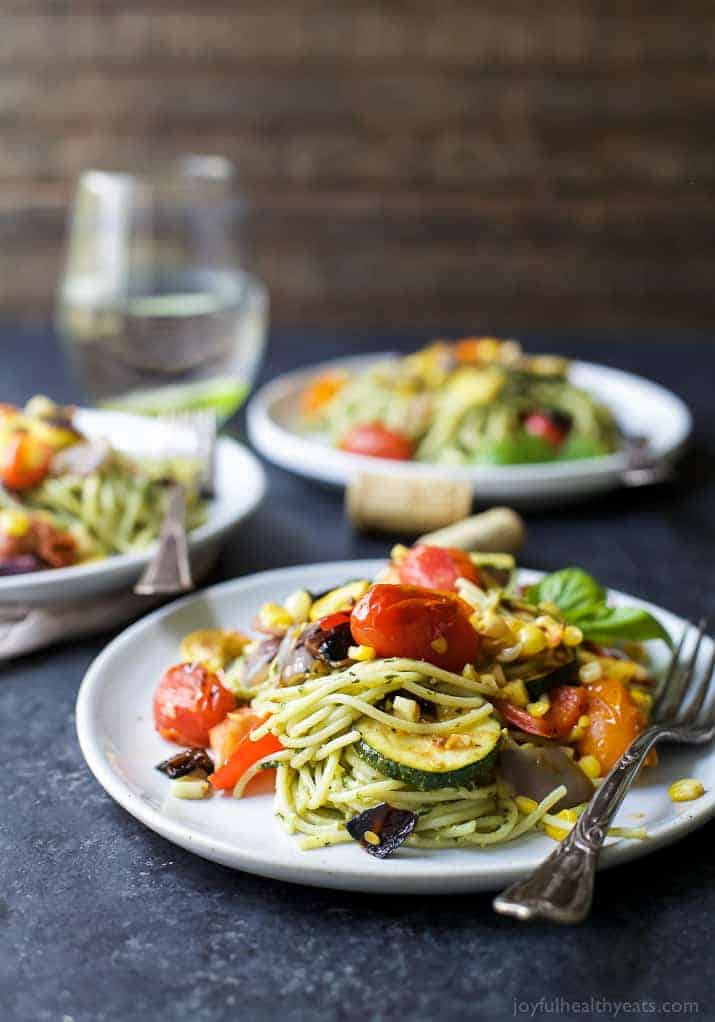 Basil Pesto Pasta tossed with fresh Grilled Vegetables a 30 minute meal your family will love! Use regular or gluten-free pasta.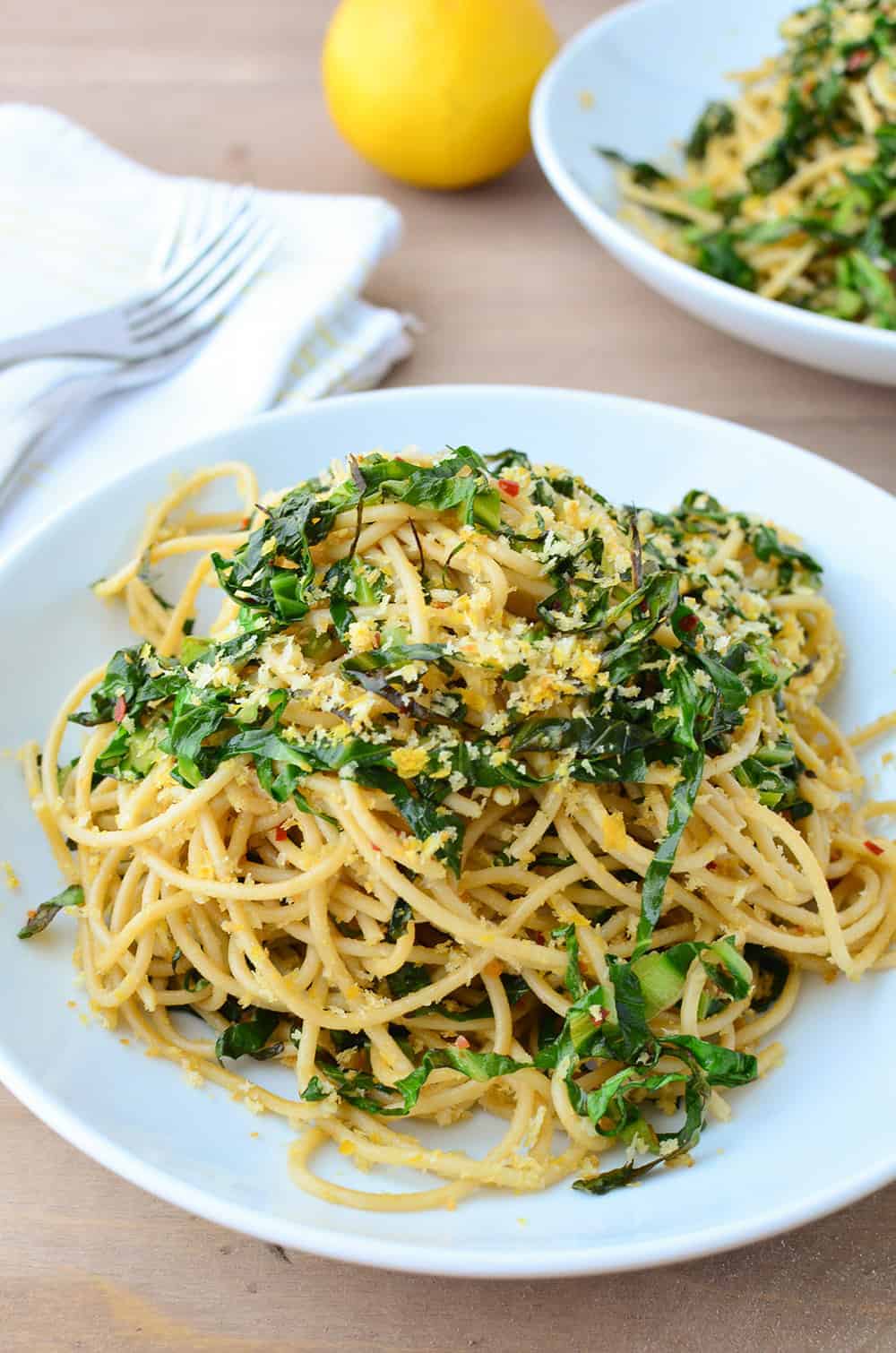 Garlic breadcrumbs taste just like parmesan in this simple pasta dish! Shredded collards tossed with hot pasta, garlic, olive oil, red pepper flakes and seasoned bread crumbs. Dinner is ready in just 20 minutes.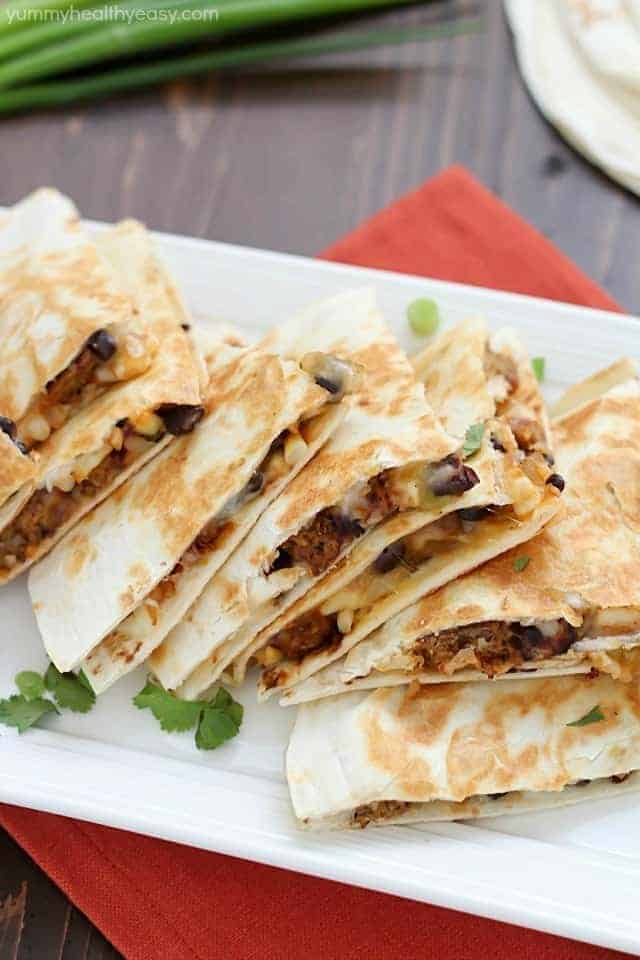 These quesadillas are so easy, I make a version of them all the time. A vegetable burger patty, cheese, beans and corn.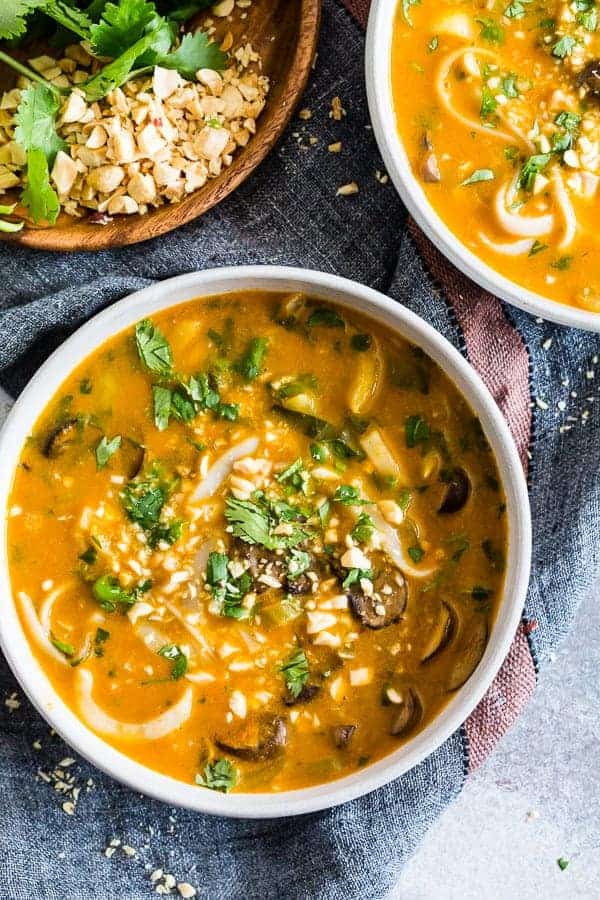 Creamy pumpkin mixed with vegetable broth, coconut milk, mushrooms and baby bok choy all mixed together with Thai flavors and noodles for slurping.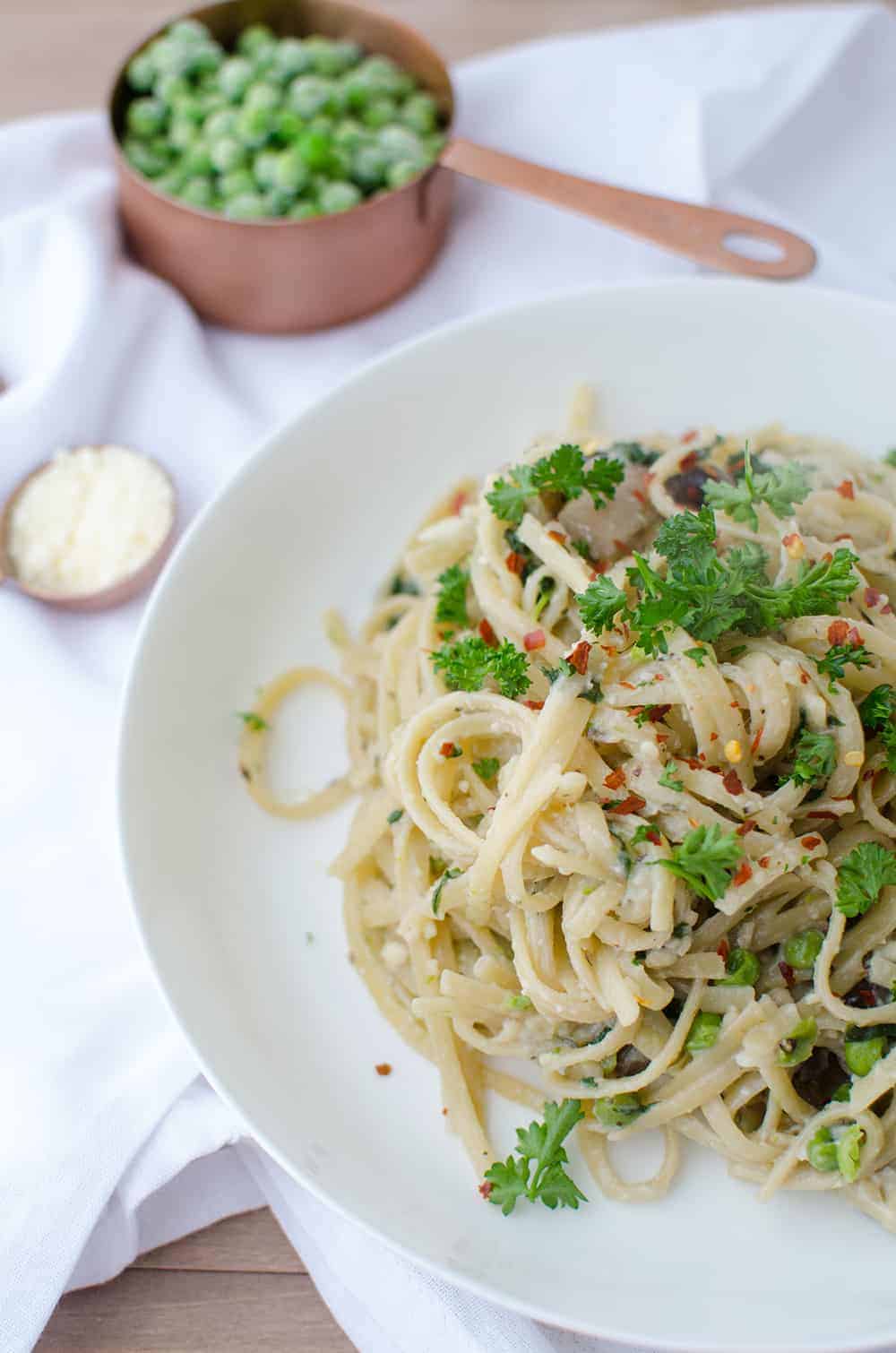 I love one-pot vegetable dinners. Throw everything into a pot, and you are done! Loaded with vegetables like peas, spinach and mushrooms in a light cream sauce.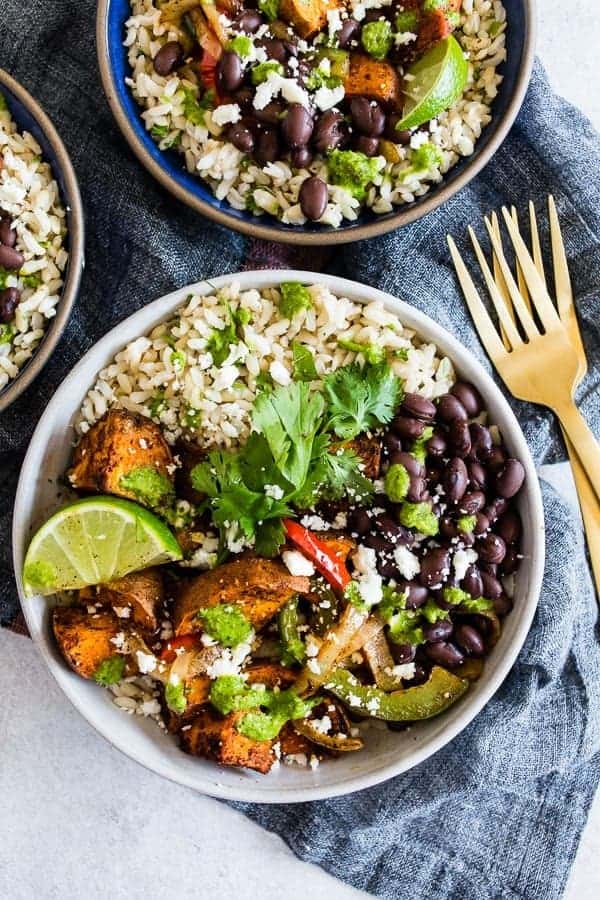 These sweet potato black bean burrito bowls are the perfect vegetarian meal to add to your weekly meal plan. Delicious cilantro lime rice piled high with black beans, roasted sweet potatoes, and vegetables.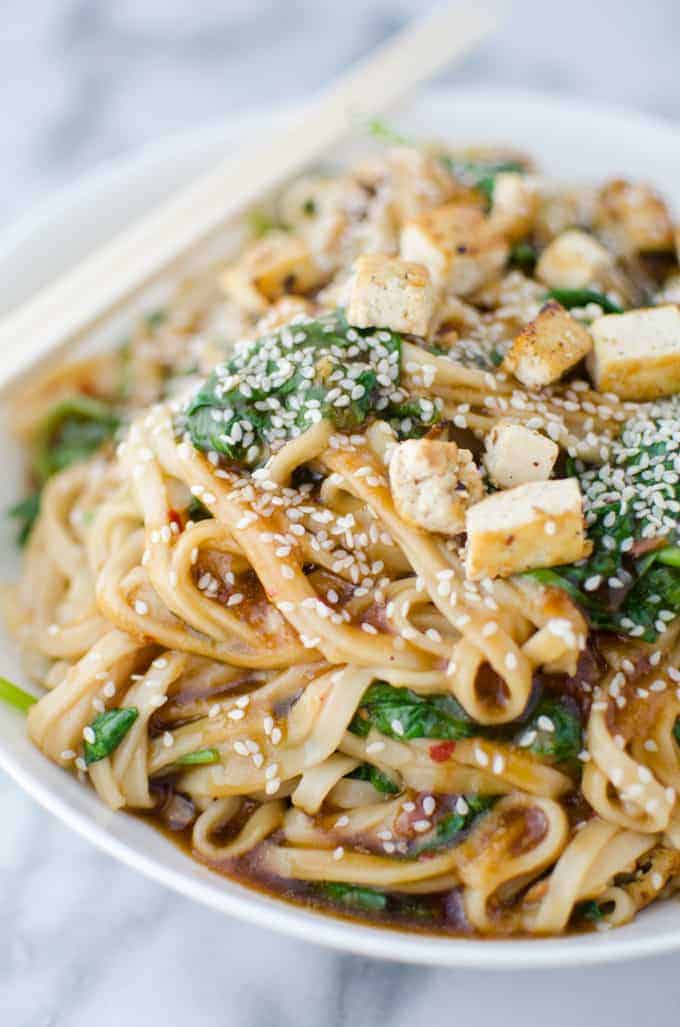 Oh man, these garlic stir-fry noodles are so, so good. Udon noodles tossed with a gingery-garlic sauce and faux-fried tofu. Grab the chopsticks, you'll want to make this dish.