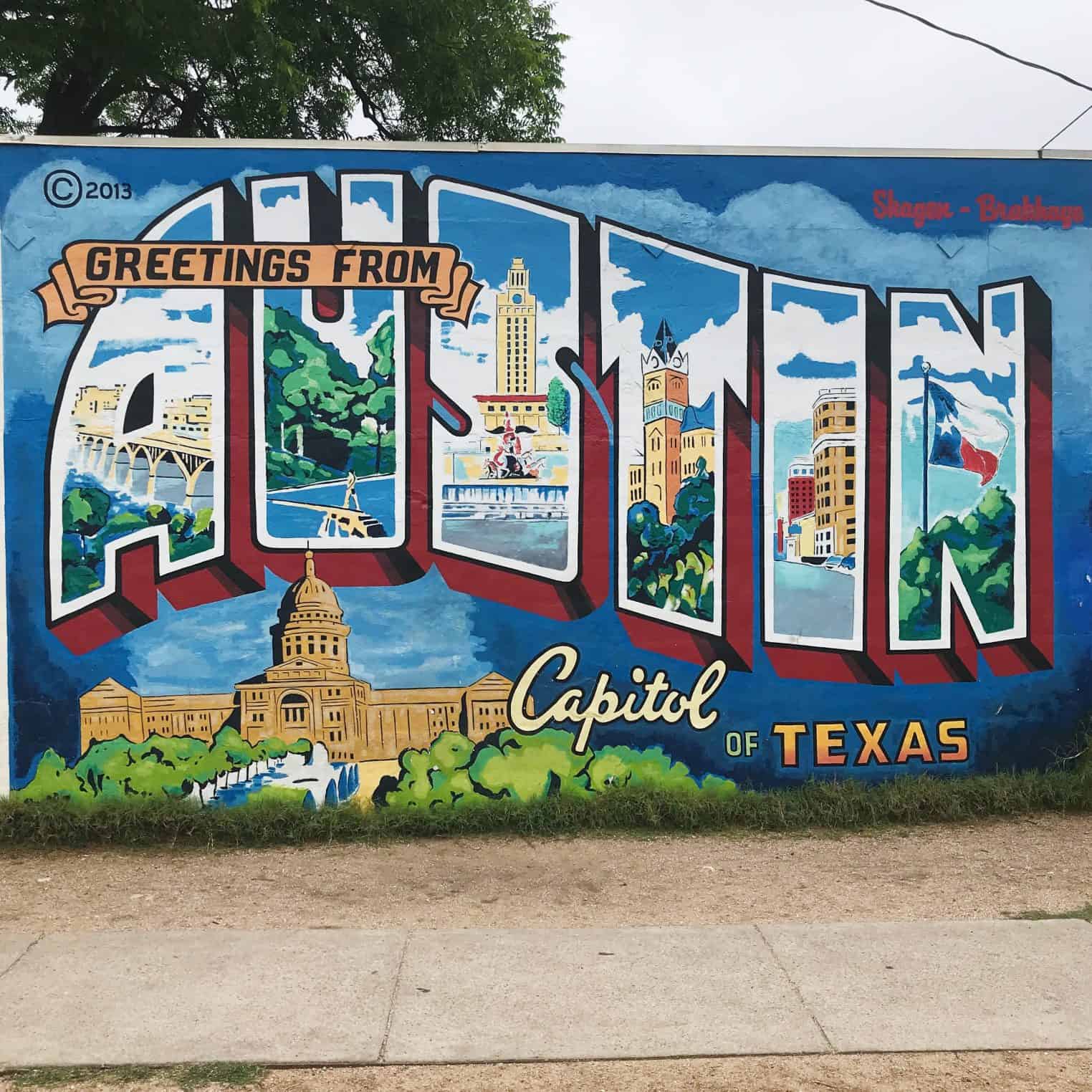 We came. We saw. We ate a ton of tacos. Austin, you were so great to us. If you are looking for a fun, family-friendly town that has some of the best food options around, head to the capital of Texas.
We ate so much incredible food, my mouth is watering just making this list. If you love hot sauce and tex-mex as much as I do, then run, don't walk to the capital of Texas. I'm very proud of the fact that we ate at almost 15 different places in 5 short days. Friends, I do this for you.
Here's our list of places of where to eat in Austin.
Veracruz All Natural: If you go to one place in Austin, let it be Veracruz. These were my favorite tacos and we went three times while we were here. Food Network named their migas tacos one of the best tacos in America, so you know that's a must-order. Don't leave without one of their giant agua frescas; we ordered one to share the first time, then got wiser the next few times. Yes, it's large and yes, you will drink it all.
Torchy's Tacos: When I told you all we were heading to Austin, so many of you recommended Torchy's. And it was good, but I think Tacodeli and Veracruz were better. They have some great vegetarian options, and I recommend the fried avocado taco, the mushroom taco and the street corn.
MY LATEST VIDEOS
Tacodeli: The tacos were good but their salsa dona is hands-down the best thing I ate in Austin. That recipe is coming next week because it's SO good. I smuggled 10 containers of it home from Tacodeli after going to Whole Foods three times after they were sold out each time. I could drink it. (Um, I have drank it.) They have a wide range of breakfast and vegetarian tacos. I recommend hiking the Spyglass Trailhead first to build up a little appetite. Then, order whatever your heart desires and smother everything in Salsa Dona.
Colleen's: I met a group of dietitians here for dinner one night, after heading to Torchy's for a first dinner with BL and Vander. Therefore, I wasn't super hungry and only ended up having a glass of wine and the friend green tomatoes. However, everyone at the table loved their meals, so it's a good spot to check out. I dined with fellow plant-based dietitian, Sharon Palmer, and she loved the quinoa salad.
Juice Austin: Need a break from all of the tacos? Head to Juice Austin, a super cute juice truck that's close to downtown. Besides Tacodeli and Colleen's, all of these spots are close to downtown. We rented a car the first day, but then walked from downtown to all of these spots afterwards. It's the best way to travel with a baby, especially during naptime. Van and I split the kale juice and BL had a smoothie bowl.
El Primo: This was another recommended spot for us, a breakfast truck on the side of the road that's classic Austin. We had the breakfast tacos with beans and while they were delicious (the homemade tortillas made it), I didn't think they were as good as Tacodeli or Veracruz. However, we also ordered beans and eggs, which isn't the most mind-blowing combination. If you love big, meaty tacos- then check this place out.
Elizabeth Street Cafe: I'm putting this on the list because we received no less than 15 people telling us to go here. We never dined in, but we did get a vegetable pho to go one evening. Honestly, this was our least favorite thing that we ate and I wouldn't go out of my way to recommend it. However, because this was a must from so many of you and that they have some great vegetarian and vegan options, it makes my list.
Easy Tiger: Ah, I love this spot so much. A bakery in the front and a beer hall/garden in the back. We obviously have no issue taking our baby to a bar, and this spot was super accommodating and friendly to letting us do so. We ordered a whole avocado for Van to snack on and he at the entire damn thing. My god, there is no guess who his mama his. They also have incredible homemade pretzels and a great beer list.
Peached Tortilla: Their menu is super inventive, which made me want to try it. They have lots of meat options and one vegetarian taco: arugula, peanuts, toasted coconut, kewpie, watermelon radish,and lime.
Taco Joint: I told you we ate a TON of tacos. A ton. And, I don't feel bad about it. Tacos are one of my favorite meals and I loved getting to try out so many options in one week. I loved these, especially the soyrizo tacos; get the chipotle sauce to add on top.
Whole Foods Flagship Store: I don't think any trip to Austin is complete without a trip to the Whole Foods flagship store. This store is incredible! They have a bar in the middle along with a few restaurants. If you're familiar with Wegman's, then this store reminded me of a Wegman's cafe paired with every natural and trendy food product ever.
La Condesa: We loved this spot, especially the nachos and the happy hour margaritas. We didn't stay for dinner because, infant, but the food looked great. The happy hour margs are a deal; grab a spot outside if you can.
Bangers: Another fun beer hall/sausage spot. We used to love a place like this in Sacramento so we beelined for it while strolling down Rainey street (a must street to stroll for trucks/music.) Bangers has a great beer menu (and a delicious kombucha) and a variety of regular and vegetarian house-made sausages. I got the BLT and BL got the shiitake and we both loved them. If you need a taco break, head here.
Amy's Ice Cream: A bunch of you told us about Lick and while we didn't make it there, we did try Amy's and wow, it's good ice cream. Most of our time was spent in 90+ degree weather, so afternoon ice cream (and beer) breaks were a must.
Can we all go back together? I'm pretty sure I told BL that I wanted to move to Austin no less than 10 times in our short time there. That city gets me. Packed with tacos, live music, warm weather and eclectic shops. Austin, I know I'll be back soon.