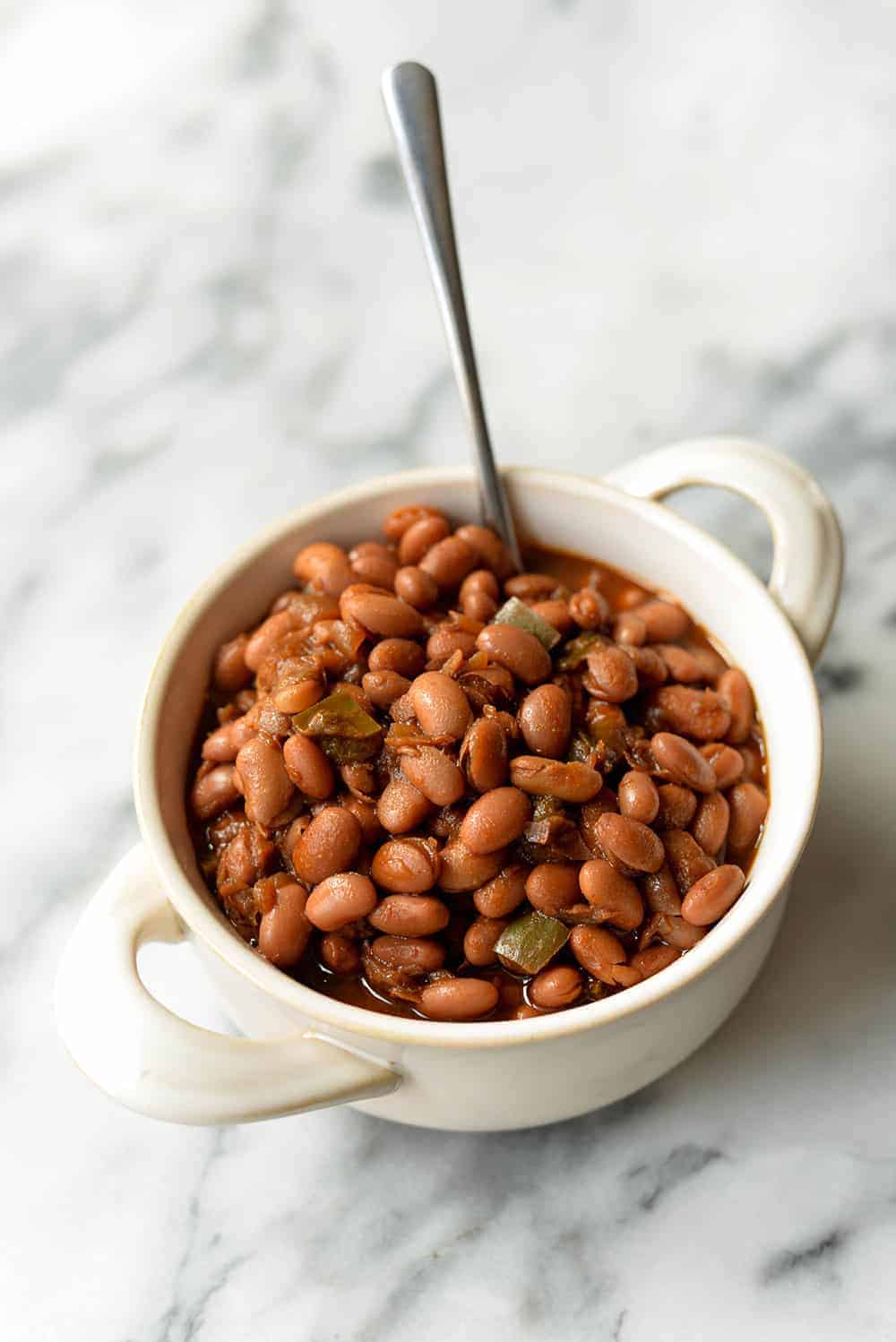 We eat a lot of baked beans. In fact, just last night, we fired up the grill for the first time this season, dining on meatless hotdogs, grilled little potatoes and a can of baked beans. That's an easy summer meal and even though there's not a green vegetable in sight, it's one of our favorites.
I'm a traditionalist when it comes to topping my vegan hotdog or sausage- I pile on lots of sauerkraut and more spicy mustard than should be allowed. BL does the same, plus a dollop of baked beans on top. Seriously, this babe loves baked beans.
So why had I never made them before? My mom taught me how to doctor up a can of baked beans when I was in high school (little brown sugar, Dijon mustard and ketchup), but I've never made my own sauce and beans from scratch.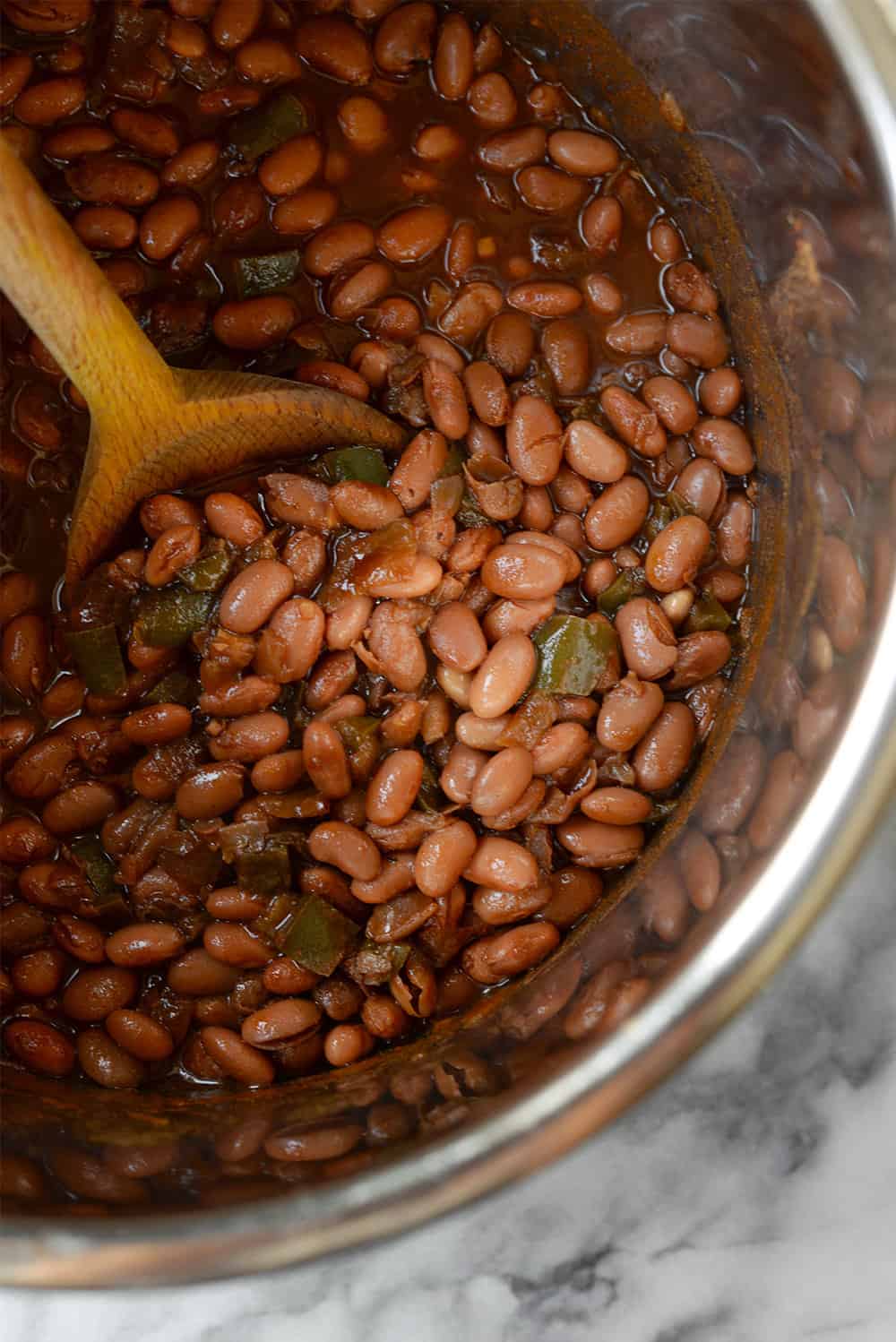 Until now. This time, using the Instant Pot so we can still enjoy BLs favorite side dish on a weeknight. Obviously, these take more work than opening up a can of beans but the flavor is just as delicious without as much sugar.
That's the downfall with baked beans, their awesome flavor is usually thanks to heaping amounts of corn syrup and brown sugar. While my beans still have sugar in them, they contain enough spices that intensify the smoky-sweet flavor while still providing a mostly healthy side dish.
I used dried pinto beans in these, but white beans or navy beans will also work. I believe that's a more traditional choice but I always have dried pinto beans in my house for pots of chili, so that's what I used.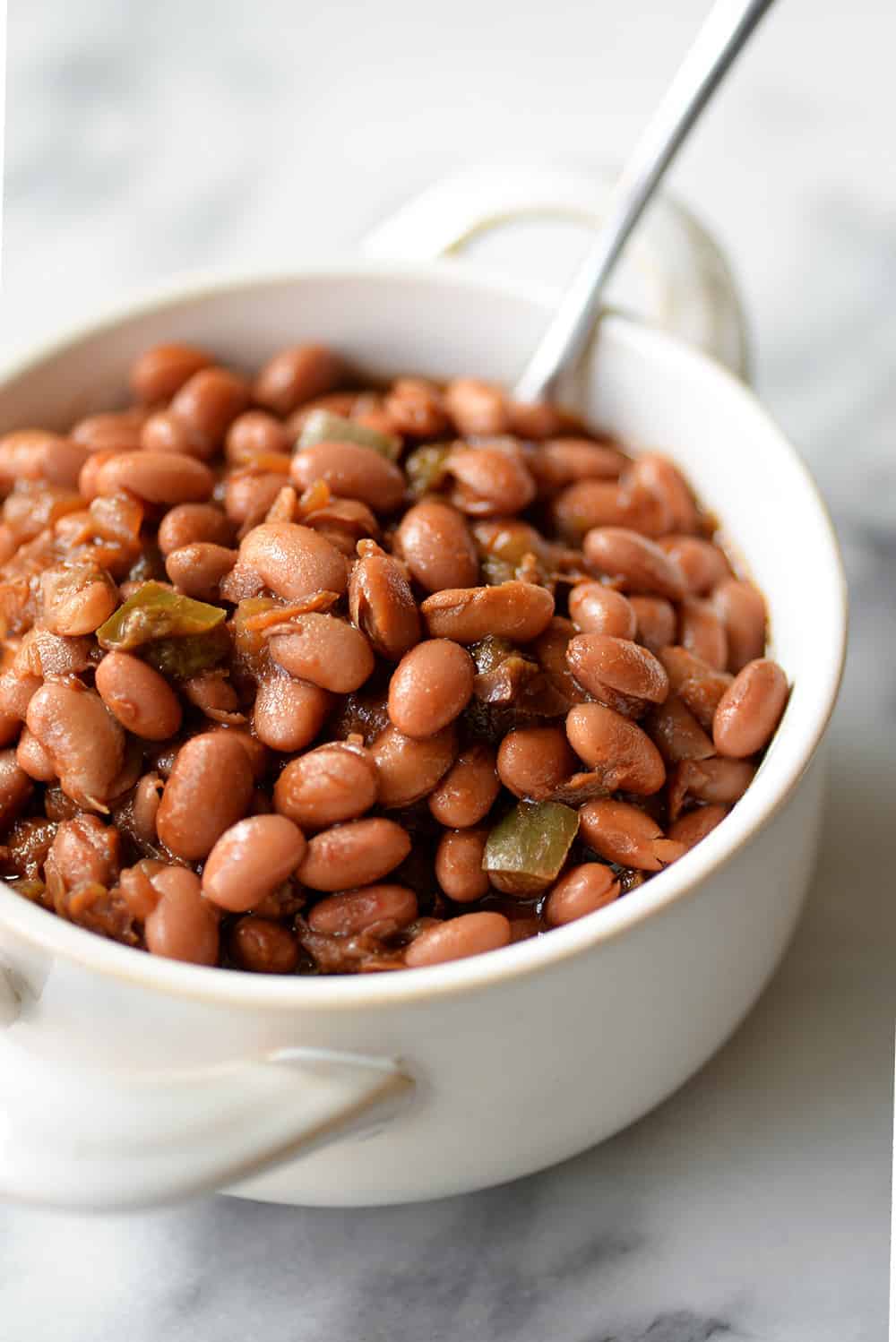 Dried beans are glorious. And, I'm thankful that the rise of the Instant Pot/Pressure Cooker has made them more in fashion. I know I'm a broken record on this, but I want us all to eat more beans.
Just this week, another study came out showing that eating more plant-based proteins over animal protein (specifically red meat) reduced heart disease risk. While this isn't new science, it did emphasize the protein aspect- not just the fatty acid profile that's usually the relationship between red meat intake and heart disease risk.
Therefore, can we stop with the 'paleo/keto is healthy' movement? I pinkie promise that we are not one of the unhealthiest first-world countries because we don't eat enough protein. I'm not saying you have to give up meat entirely; there is plenty of evidence that a predominantly plant-based diet is one of the most healthful eating patterns.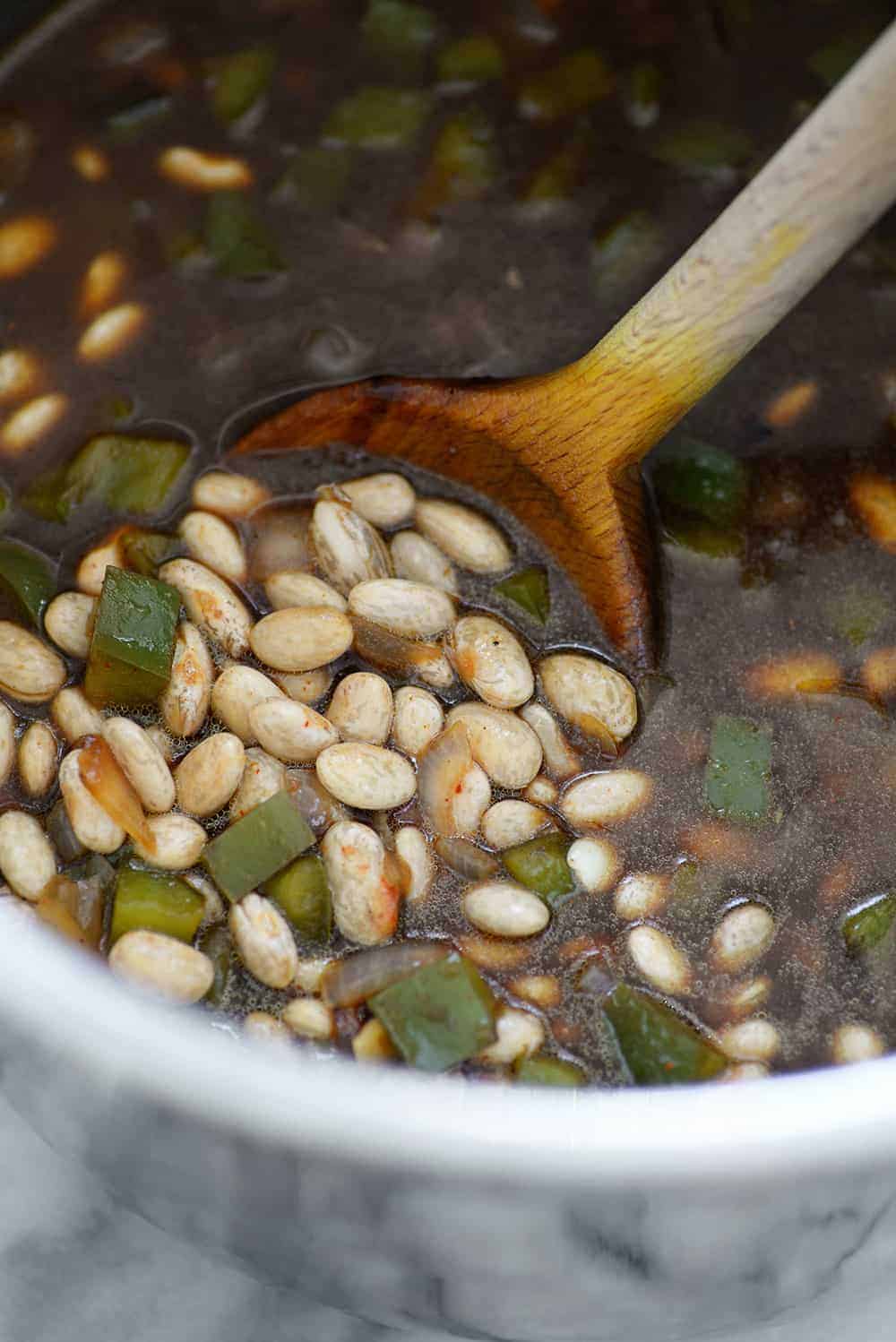 Instead of the 'don't, let's focus instead on the 'do': getting in at least 3+ servings of fruits and vegetables a day, using whole-food fats, like avocado, nuts and seeds to lightly flavor food, and increasing intake of plant-based proteins. Move meat and dairy more to the condiment section.
These Instant Pot baked beans are a great way to add in more legumes to your diet. And, while we're on the subject of health- 'Blue Zones' longevity research shows that just ½-1 cup of pulses per day (beans, dried peas and lentils) can add roughly 4 years onto your life.
Extra years just for eating beans!? One of the most delicious food groups!? Count me in.
(P.S.- here are a few of my favorite bean & lentil dishes, if you need inspiration: 10 minute black bean tacos, Instant Pot Quinoa Enchiladas, Instant Pot Vegan Lentil Chili, Vegan Chili Cheese Dip, Spicy Coconut Curry Lentils, Spicy Lentils and Rice, Turmeric Red Lentil Soup )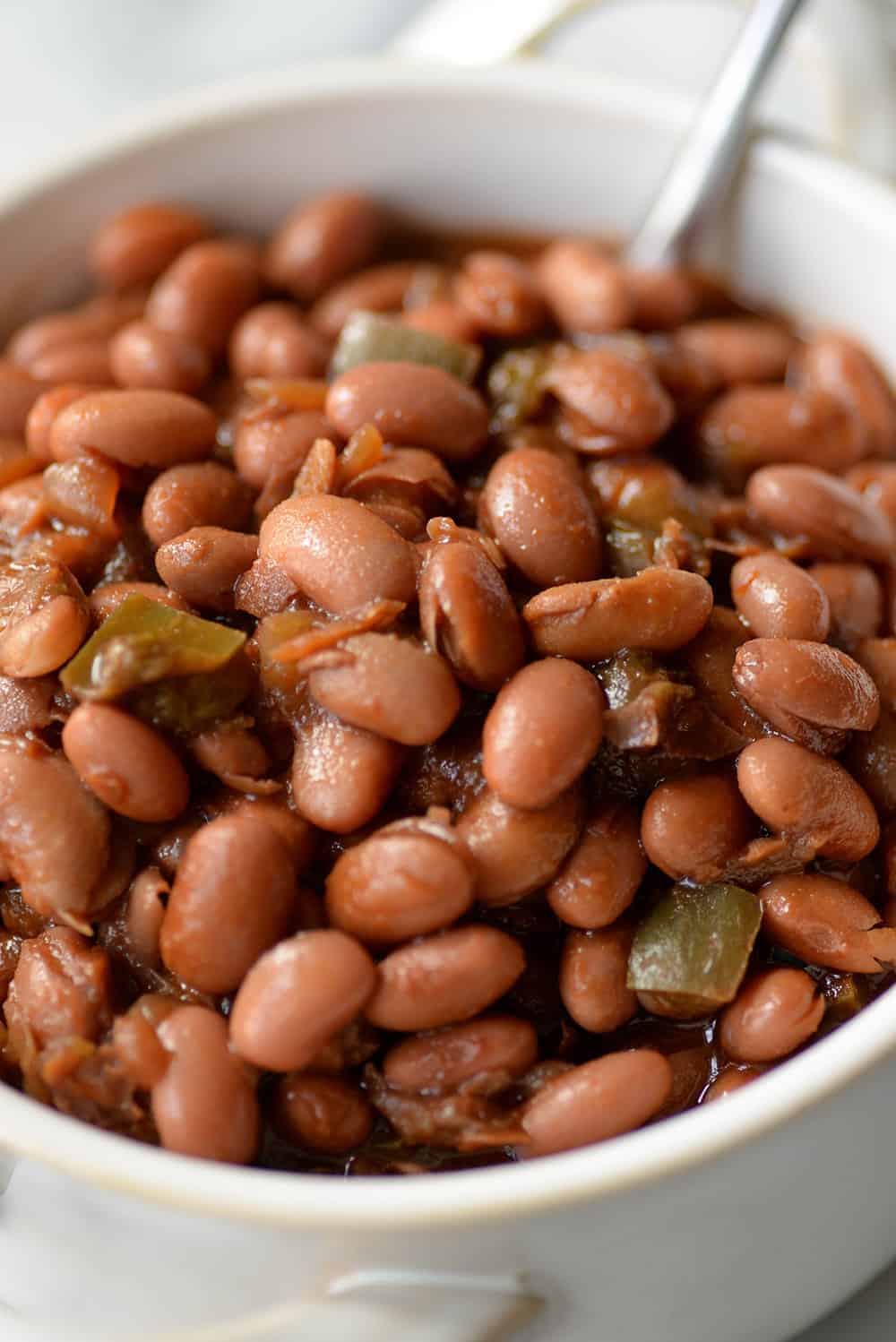 If you try this recipe, let me know! Leave a comment, rate it, and tag your Instagram photos with #delishknowledge . I absolutely love seeing your creations. Happy cooking! 
Print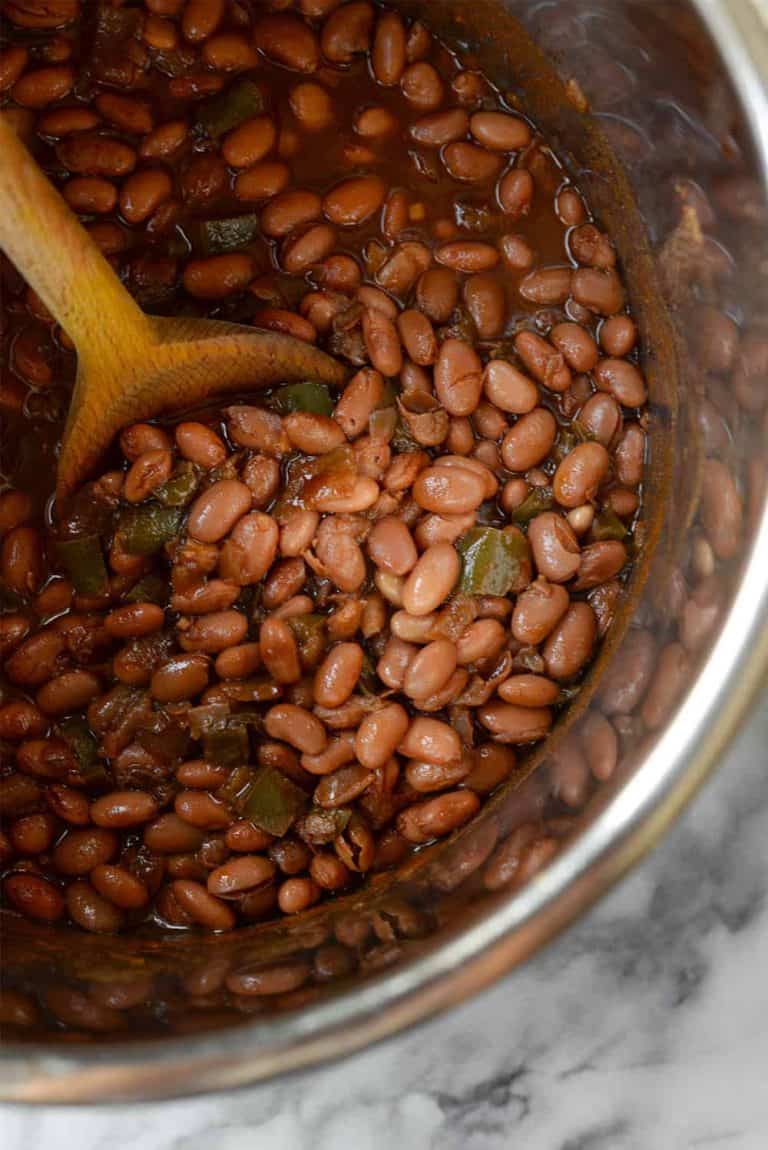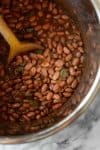 Instant Pot Vegan Baked Beans
Author:

Prep Time:

10 minutes

Cook Time:

45 minutes

Total Time:

1 hours 35 minutes

Yield:

~7 cups

Category:

side dish

Cuisine:

BBQ, gluten-free, vegan, vegetarian, American
---
Description
Instant Pot Vegan Baked Beans! You've gotta make these for your next BBQ! Ready in less than an hour, these beans are so much healthier than the canned variety and packed with plant-based protein and fiber. Vegan and gluten-free. 
---
Scale
Ingredients
1

pound dried pinto or navy beans

1/2 tablespoon

salt 

1 tablespoon

olive oil

1/2 cup

finely chopped onion

1 teaspoon

salt

1

medium green bell pepper, finely chopped 

2

garlic cloves, finely chopped 

1/3 cup

molasses

1/2 cup

ketchup

1 tablespoon

vegan Worcestershire sauce (I used Annie's brand) 

1/4 cup

packed brown sugar

1 teaspoon

dry mustard or

1 tablespoon

dijon mustard

1/2 teaspoon

chili powder

1/2 teaspoon

smoked paprika 

2 cup

s water

1 tablespoon

apple cider vinegar
---
Instructions
Rinse the beans and sort to remove any debris. Place the beans in a bowl with 1/2 tablespoon salt and cover with 2-3 inches of water. Let soak overnight or for 8 hours, then drain Alternatively, place beans and 8 cups water in a saucepan and bring to a boil. Let cook for 2 minutes, then remove from heat, cover and let stand for one hour. Drain, then proceed with recipe. 
Hit saute on the Instant Pot and add the olive oil and the onion. Cook for 2-3 minutes until onion is soft; add the salt, green bell pepper and garlic. Cook another 3-4 minutes until vegetables are tender. 
Add the rinsed beans, molasses, ketchup, Worcestershire sauce, brown sugar, dry mustard, chili powder, paprika and 2 cups water. Cover and make sure the vent is set to to sealing. Cook on high pressure for 40 minutes. 
Let sit for 15 minutes, then release the pressure to let the beans come down. Stir in apple cider vinegar. Season to taste, adding more salt if needed. 
---
---
Nutrition
Calories:

171

Sugar:

11 g

Sodium:

95 mg

Fat:

2 g

Unsaturated Fat:

1 g

Carbohydrates:

33 g

Fiber:

8 g

Protein:

8 g
Other Instant Pot recipes you might enjoy: