I honestly never realized the 'importance' of breakfast until I become pregnant. I was always the girl who preferred to exercise first thing, saving breakfast for a few hours after waking, usually with a giant cup of coffee in front of my computer. However, over the last 10 months I usually wake up completely starving, rushing downstairs to grab a quick snack before I'm able to settle into a larger meal. Therefore, I love this round-up from my good friend Anne on healthy, make-ahead breakfast options. Anne is a fellow RD, a good friend, inspiring blogger and a soon-to-be mama of her own. Enjoy! xo. 
———
Hi everyone! I'm Anne Mauney and I'm so excited to be sharing here on Delish Knowledge today as Alex is on her maternity leave! I'm a fellow intuitive & mindful eating registered dietitian; I worked with Alex on our virtual intuitive eating program Joyful Eating, Nourished Life. I also have a private practice and a healthy recipe and lifestyle blog.
With back-to-school season in full swing, mornings can be a pretty hectic time. Whether you're feeding yourself, your kids, or both, eating a healthy breakfast (or even a breakfast at all) every morning can be a struggle without a little prep ahead of time. Now that I'm in my third trimester of pregnancy, I'm also gearing up for busy mornings without tons of time to make breakfast throughout the week, so I know make-ahead meals will be my best friend!
MY LATEST VIDEOS
Here are some of my favorite recipes and tips for making breakfast ahead of time, so you can eat a healthy breakfast no matter what your schedule looks like.
Make Overnight Oatmeal Once for Breakfast All Week
Overnight oatmeal is the ultimate make-ahead breakfast. It can easily be portioned individually, there's no cooking or morning-of work required, and it's super filling! My favorite part about making a week's worth of overnight oats at once is that it's so easy to make each jar a different flavor, so you don't get bored of eating the same thing every day. You can also customize based on what flavors different members of your family like, without any extra effort. Seriously, gather all your mason jars and go to town! Here's my base recipe for overnight oats, plus several crowd-pleasing flavor variations that you can throw together at the beginning of the week!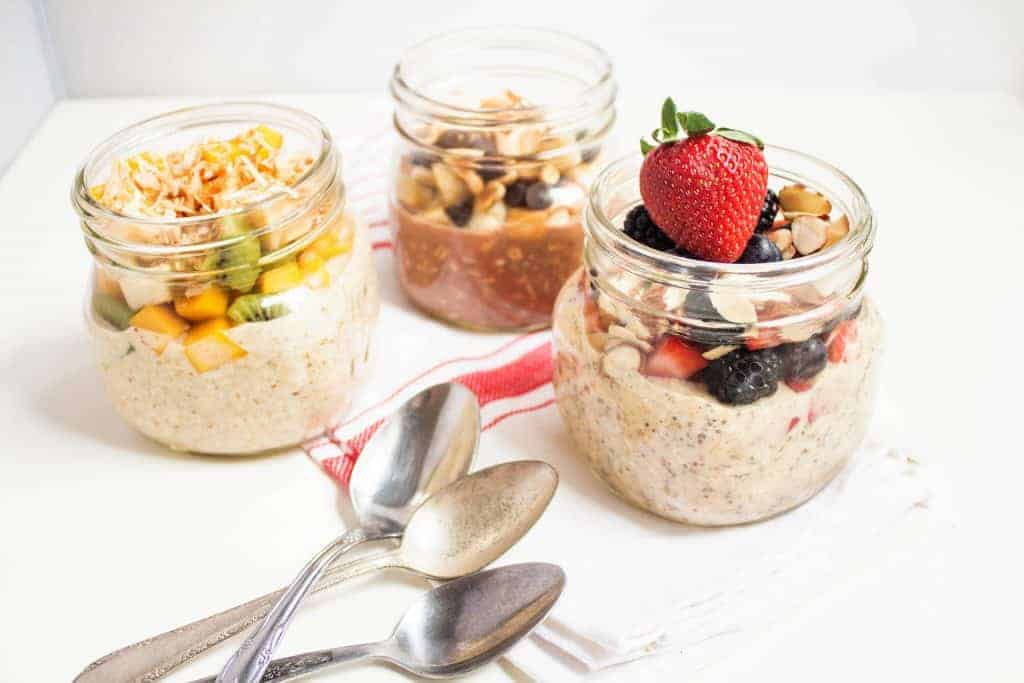 Freeze Smoothie Packs So They're Ready to Go
If you're a fan of smoothies first thing in the morning, but not such a fan of putting them together first thing in the morning – this tip is for you. Freeze plastic bags or tupperware containers with single-smoothie portions of fruit, yogurt, protein powder, chia seeds – whatever you like in your smoothies! Throughout the week, just grab a pack and toss it in the blender with some liquid, and you're good to go. Just like the overnight oatmeal, this method lets you mix & match during prep so you don't have to drink the same smoothie all week long. Wondering where to start? Check out my Mix & Match Smoothie Recipe for a versatile smoothie formula – just freeze everything but the liquid together in advance!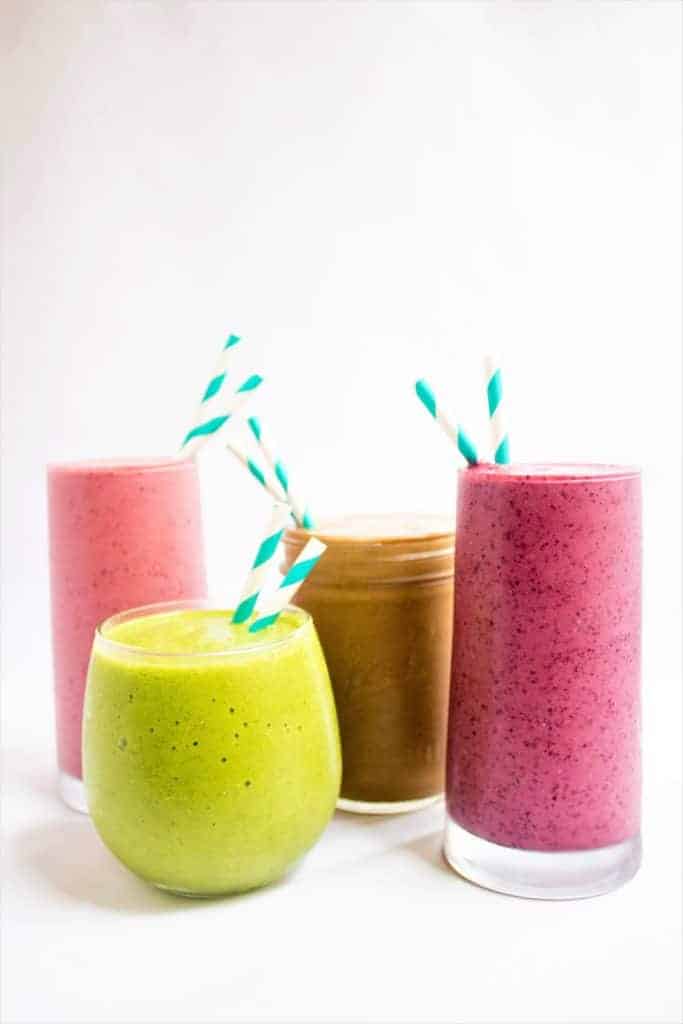 Bake Eggs in Grab & Go Form
I'm usually more into savory food than sweets, so when I'm craving a savory breakfast that doesn't require standing over the stove, baked eggs are my staple meal. I like to make a batch of Scrambled Egg Muffins to keep in the fridge or freezer, then I just pop them in the microwave in the morning and have cheesy eggs and veggies at my fingertips in seconds! They're even better sandwiched in an English muffin for a super-fast breakfast sandwich that's easy to eat on the go. If you're a fan of egg sandwiches, check out my Hard Boiled Egg and Cheddar Muffins. By baking eggs into gluten free cheddar & herb muffins, you get a complete breakfast in one package – and they're way easier to make than they look!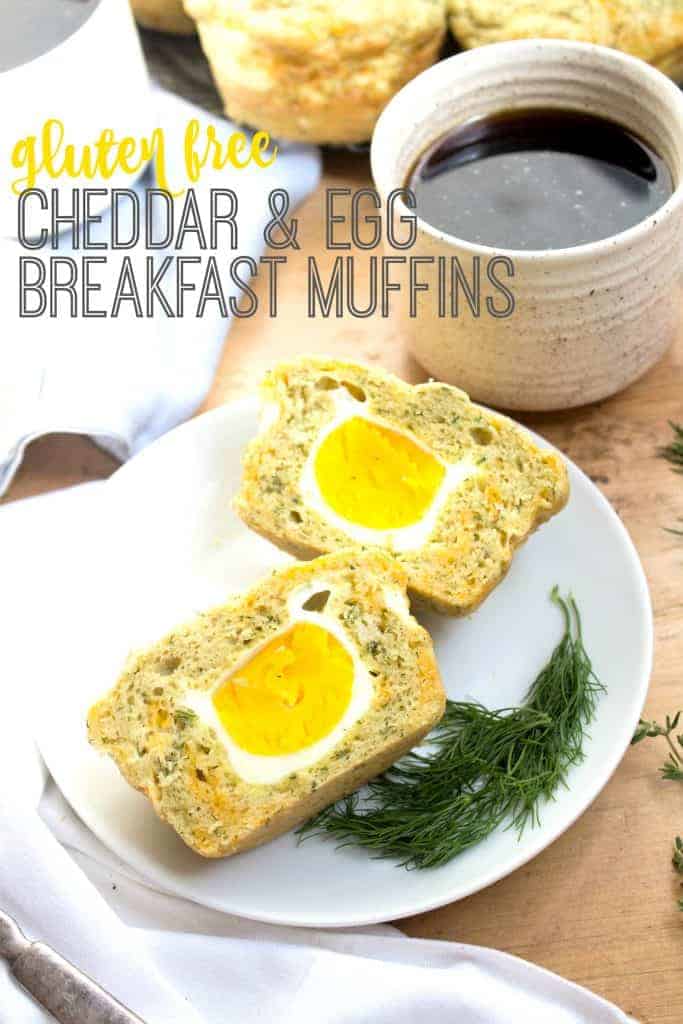 If you want to keep things simple, hard or soft boiled eggs are always a great option, too. Grab two with a muffin or granola bar (more on that below!) for a filling breakfast that requires no morning-of prep.
Layer Parfaits in Advance
This idea is as simple as it gets, but still makes for an awesome breakfast. Just layer your favorite fresh or frozen chopped fruit or berries with Greek yogurt in jars and store them in the fridge – then top them off with a handful of granola, muesli, or just a mix of raw oats and nuts in the morning and you're good to go! I love using frozen mixed berries for this because they thaw in the fridge and create a nice juicy sauce to stir into the yogurt.
Make Hearty Baked Goods That Last in the Freezer
I love breakfast and can always stomach a full meal in the morning, but I know that doesn't work for everyone. If you prefer snacking on something small on the go, then baked goods are a great solution. Most store-bought baked goods, while a fun treat, are typically made without much filling protein or fiber, though, so you end up hungry not long after. But when you bake your own, you can create hearty, much more satisfying baked goods that also last for ages in the freezer.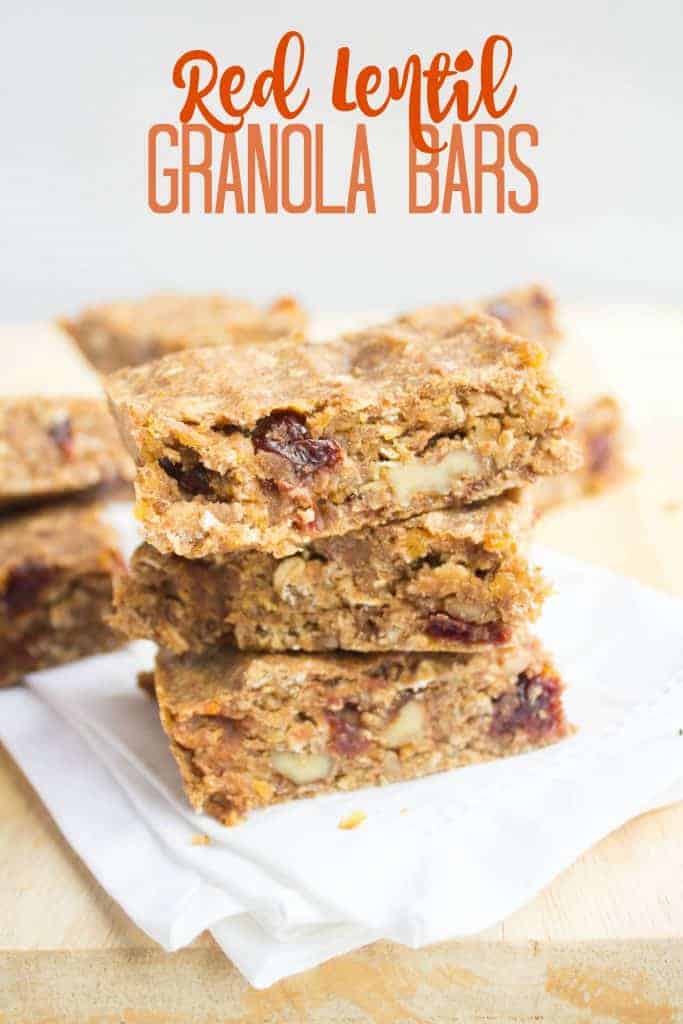 My Red Lentil Granola Bars are one of my favorite filling bake-ahead breakfasts. Red lentils add protein and fiber to the mix, but I promise you won't taste them! They keep the bars nice and moist, while almond butter, dried cherries, and walnuts give them great nutty and tart-sweet flavor. Aiming for kid-friendly options? No one will complain about cookies for breakfast, and my Peanut Butter Power Cookies are no exception. They're gluten free, vegan, and naturally sweetened, but they taste like amazing peanut butter oatmeal cookies! I also love baking up batches of my Banana Spelt Muffins and Almond Butter Banana Breakfast Bars – both of which use protein and fiber-rich spelt flour without tasting too healthy 🙂
What are your best tips for hectic weekday breakfasts?