What are your plans for Memorial Day Weekend? My mom is in town and we are looking forward to a relaxing weekend eating outside and splashing in the pool. If you're in need of some delicious, vegan cookout recipes I've rounded-up 45 of my favorites from side dishes, salads, main dishes, burgers, desserts and cocktails. Enjoy! xo 
Side Dishes and Salads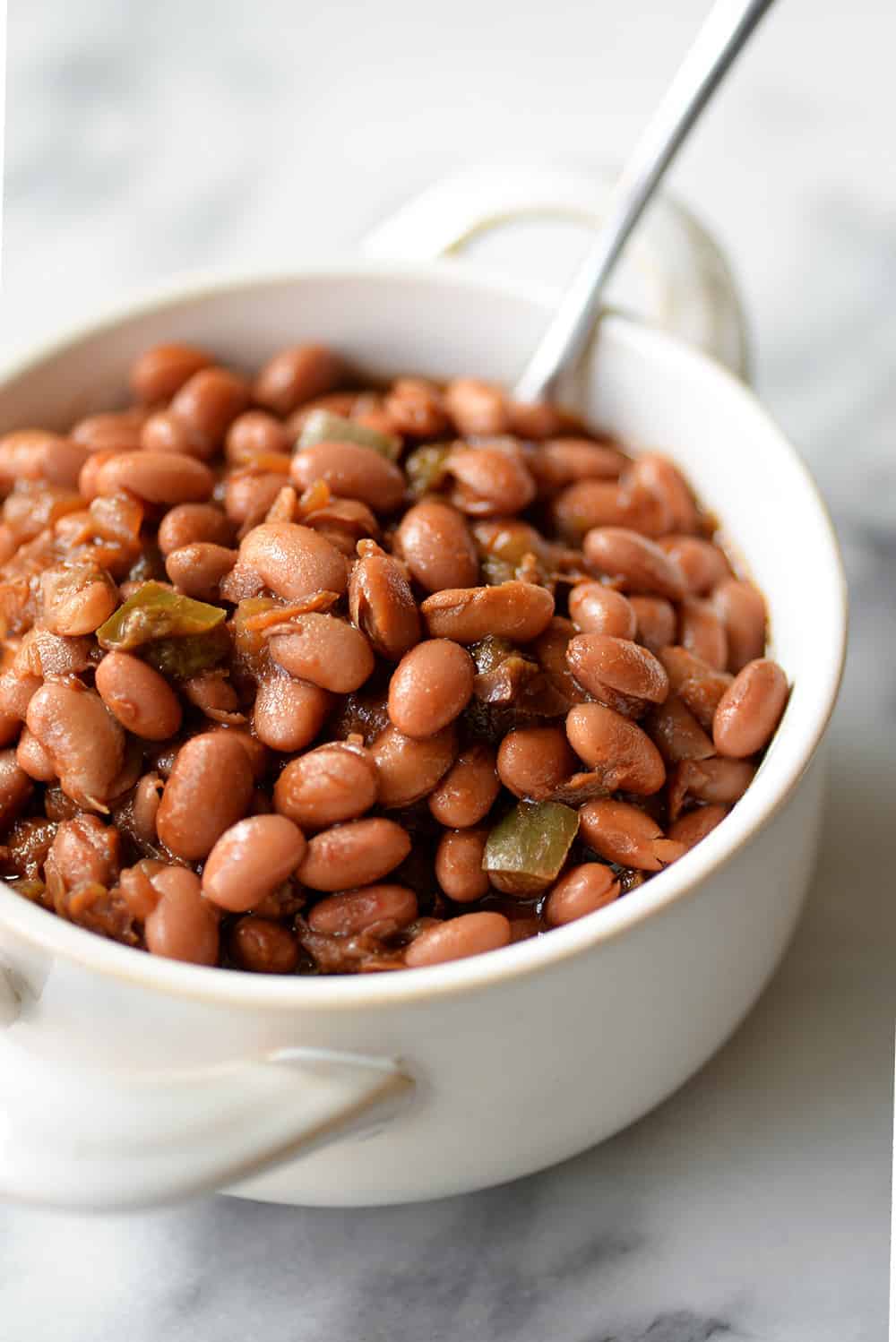 Instant Pot Baked Beans: These baked beans are so good and effortless to put together. Throw everything in the Instant Pot and they are ready 40 minutes later. Lower in sugar then canned baked beans, with much more flavor. 
2. Grilled Vegetable Orzo Salad: This grilled vegetable salad is one of my favorite side dishes. It's the perfect thing to bring to potlucks as the flavor only gets better over time. 
3. Roasted Summer Squash and Quinoa Salad: How many times will I say favorite during this round-up? I love this simple zucchini, squash and quinoa salad.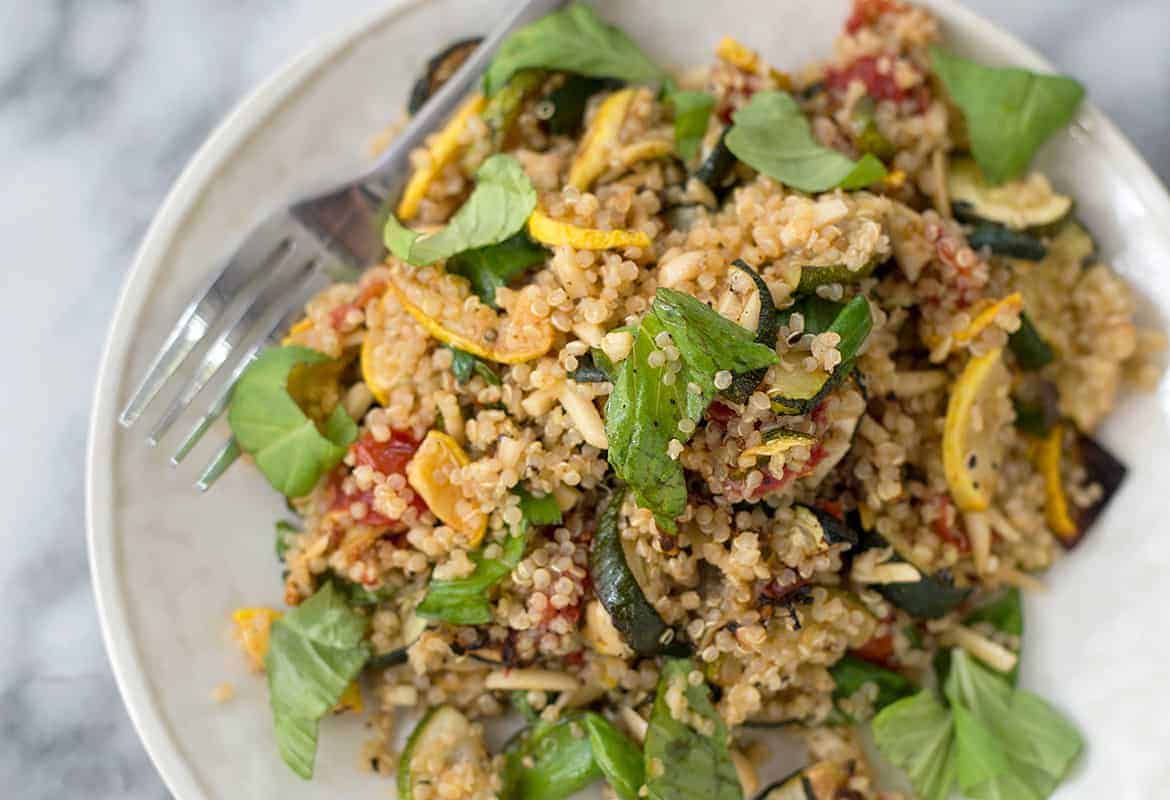 4. Summer Pasta Salad with Tahini Dressing: Take a break from mayo-based pasta salads and try this one instead. Lemon tahini dressing tossed with vegetables and pasta. Simple, delicious. 
MY LATEST VIDEOS
5. Red, White and Blue Potato Salad: tri-color potato salad tossed with a fresh herb dressing. Vegan and gluten-free. 
6. Melon Ball Skewers with with Basil-Mint Dressing: these skewers are so fun to eat, and perfect for kids. Skewered melon balls drizzled with a basil-mint dressing. 
7. White Bean and Basil Hummus: I love hummus at a cookout, perfect for dipping vegetables into or topping on veggie burgers. This white bean version is swirled with basil. 
8. Corn, Tomato and Mint Salad: A simple side at it's best.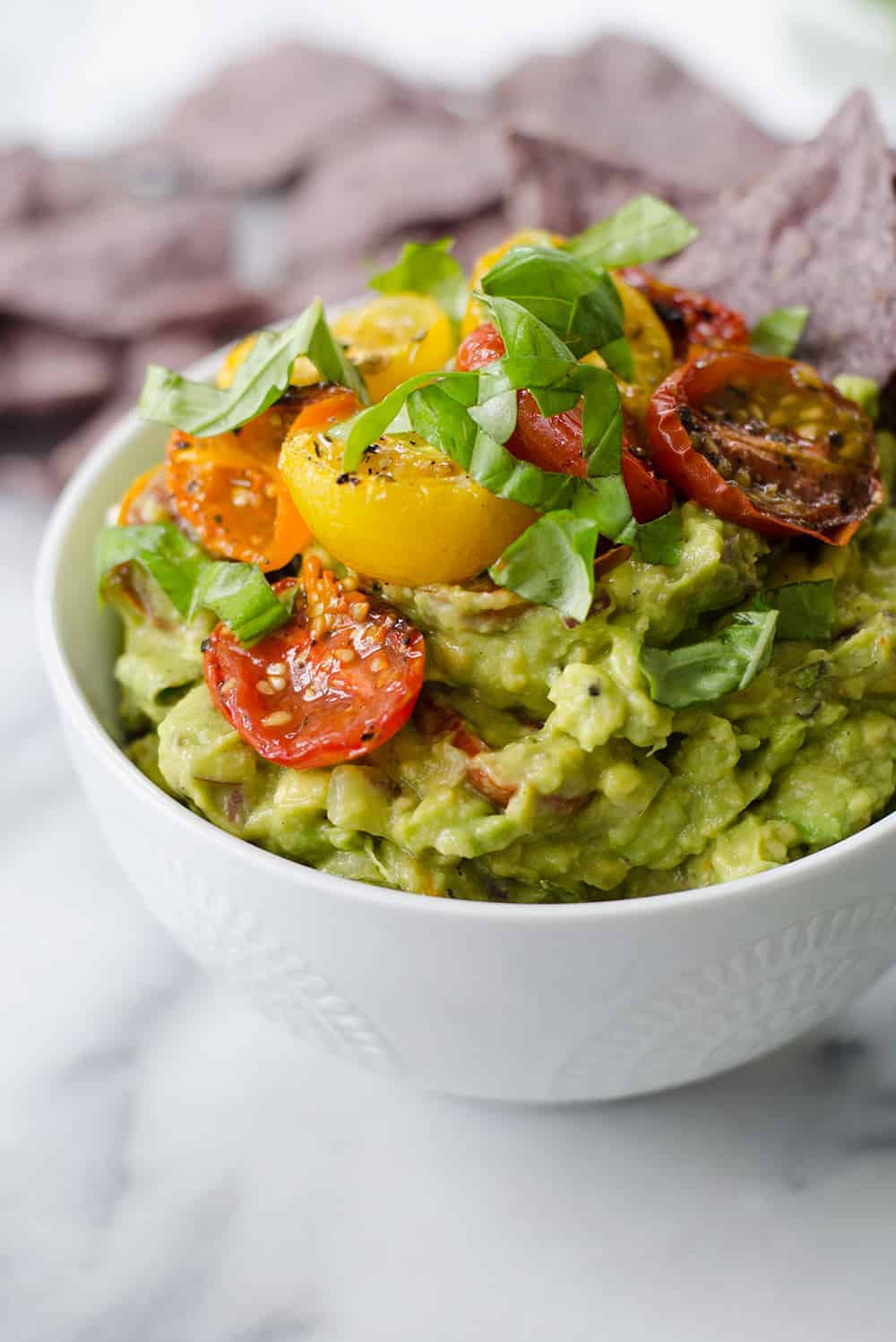 9. Roasted Tomato Guacamole: I love this guacamole so much, I served it at a recent event that I hosted in California.
10. Dilled Bean Salad with Zucchini and Quinoa: A reader favorite; dilled bean salad with roasted zucchini and quinoa. 
11. Perfect Herb Roasted Potatoes: these herbed potatoes are the perfect side-dish for any occasion. 
12. Simple Tomato and Tofu Feta Salad: I get an email at least weekly raving about this tofu feta. Paired with chopped tomatoes and basil for a refreshing summer salad. 
13. Grilled Corn, Poblano and Potato Salad: I created this salad last summer and I cannot wait for warmer weather to make it again and again. If you love spicy food, you've gotta try this salad.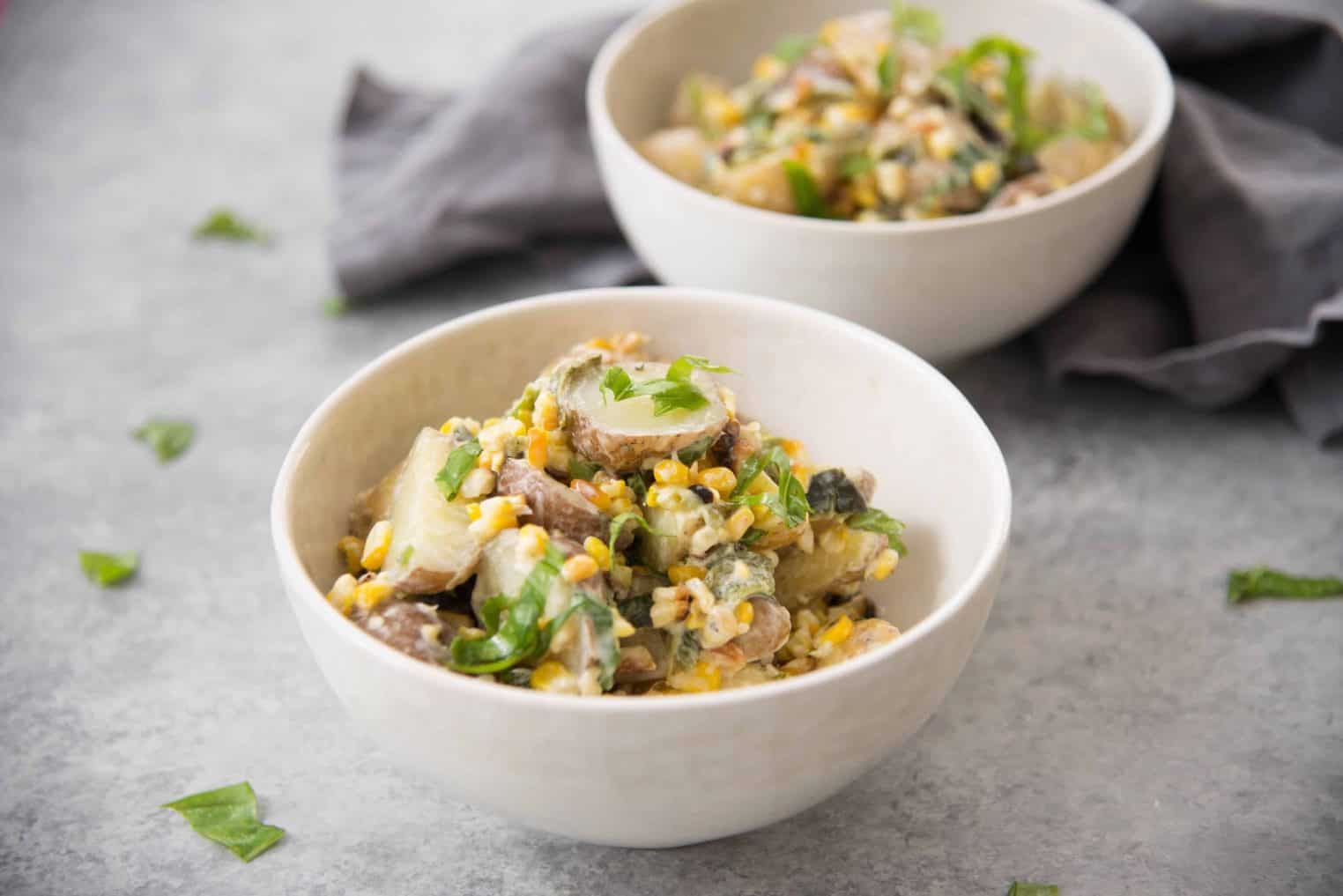 14. Roasted Zucchini, Corn and Bulgur Salad: As I make this list I've realized… I do roasted zucchini in quite a bit of my salads. Well, that's for a delicious reason. Roasted zucchini and corn with bulgur; I don't know how it gets any better. 
15. Perfectly Crisp Salt and Vinegar Potato Crisps: These potato wedges are a must for any type of grilled burger. If you love salt and vinegar potato chips, then you will love these simple potatoes. 
16. Shaved Asparagus Salad: If you can still find asparagus, then you must make this asparagus salad. Thinly shaved asparagus with mint, radish, almonds and couscous.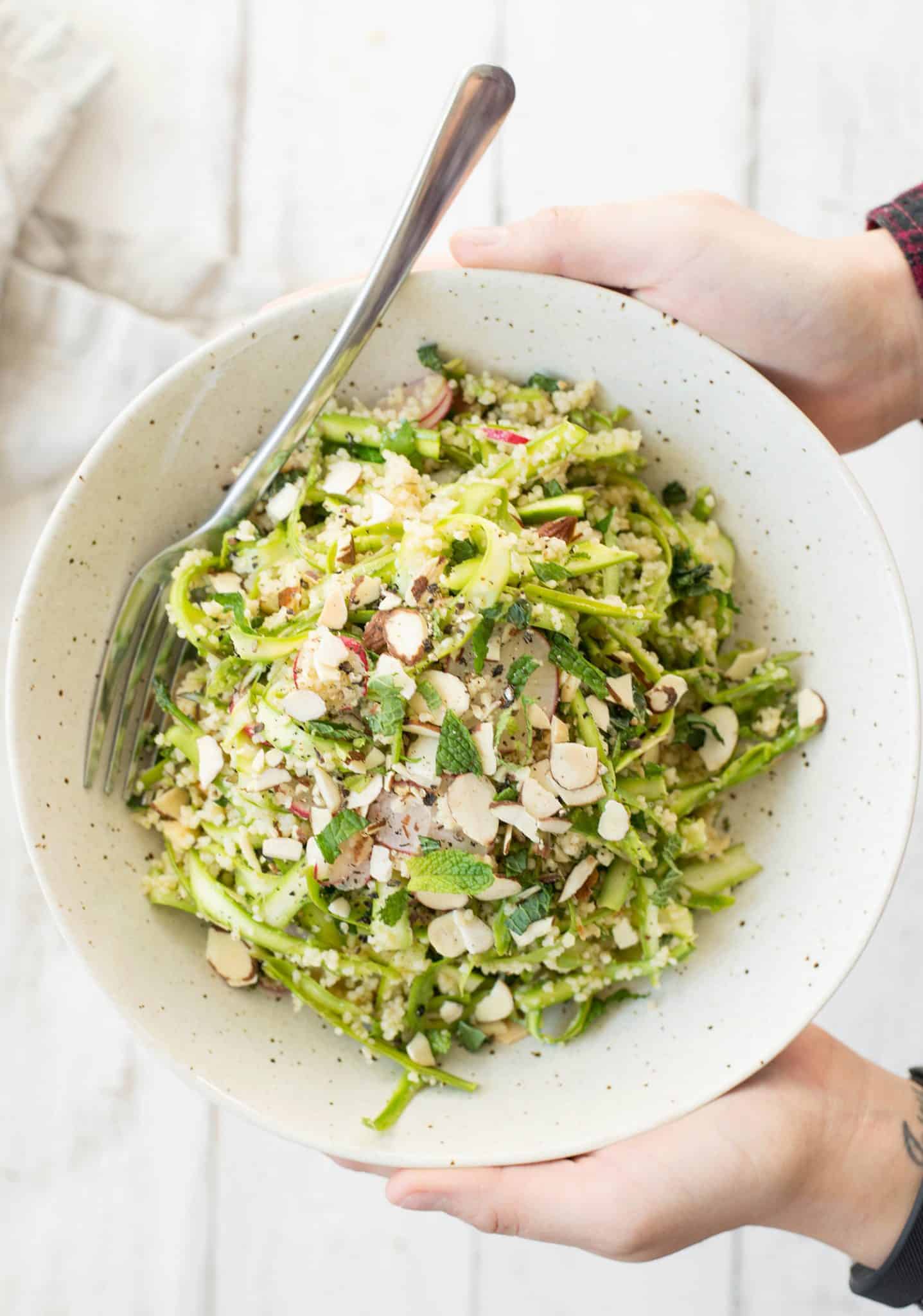 Main Dishes
1. Black Bean and Sweet Potato Burgers: You've gotta try this healthy plant-based veggie burger, holds together without breadcrumbs and perfectly spiced! 
2.Vegan Meatball Sandwiches:When you don't want to fire up the grill, try these sandwiches. Chickpea meatballs smothered in marinara sauce and homemade vegan parmesan.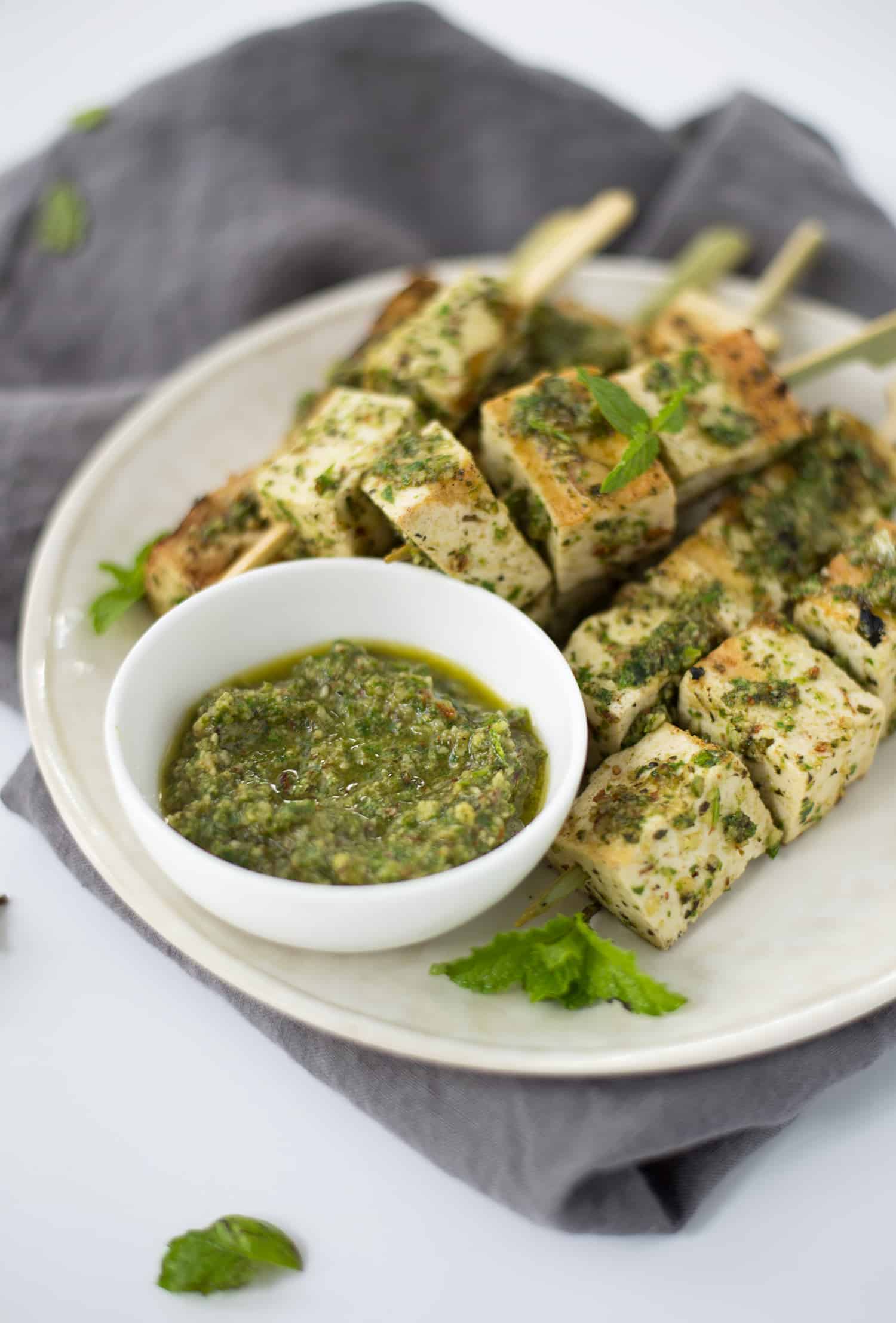 3. Grilled Tofu Kebobs with Mint Pesto: Grilled tofu is one of my favorite ways of enjoying it, especially covered in homemade mint pesto. 
4. Vegan BBQ Tempeh Bowls: Perfect for casual get-togethers; bbq tempeh, rice and roasted vegetables. 
5. Fried Green Tomato BLTs: When green tomatoes are in season, make these BLTs! Crispy fried green tomatoes in a savory, vegan sandwich. 
6. Vegan Cauliflower Sandwiches with Romesco Sauce: Another non-traditional bbq idea. Crispy cauliflower with garlicky greens and  homemade almond-pepper romesco sauce.  
7. Grilled Succotash and BBQ Tofu Kebabs: Another great grilled tofu recipe, this time with BBQ sauce and grilled succotash. 
8. BBQ Jackfruit Sandwiches: Have you tried my jackfruit yet? We LOVE these sandwiches, and perfect for omnivores who are skeptical of vegan food.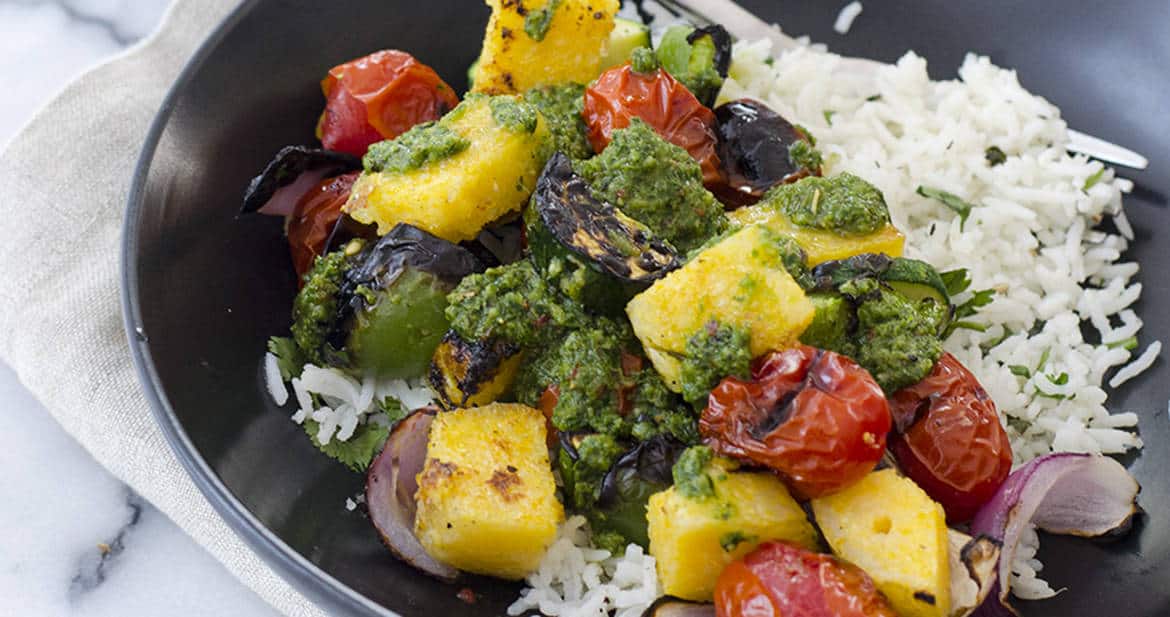 9. Grilled Potato Nacho Bowls: these bowls are so effortless; everything is made on the grill. Grilled potatoes, beans and a gooey, vegan cheese sauce. 
10. Vegetable Polenta Kebobs with Chimichurri Sauce: Oh my goodness, this sauce. I would put it on just about everything, especially grilled polenta kebobs. 
11. Oven Roasted Fajitas: Perhaps it's the fact that I just got back from Austin, but I love the idea of a fajita or taco at a cookout. I make these ALL the time for a crowd. Throw everything on a sheet-pan and dinner. is. done.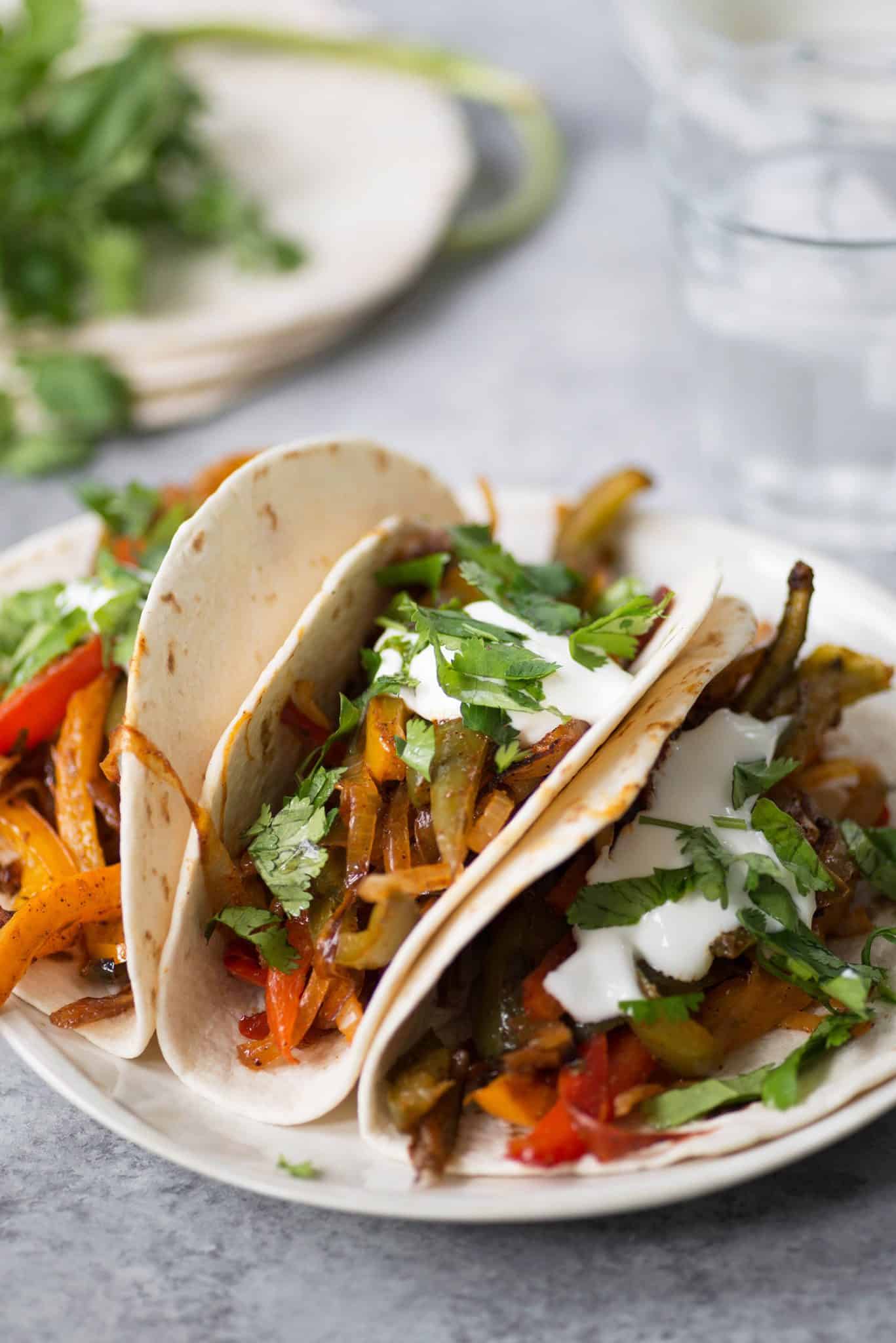 12. Vegan Southwest Sliders: I made these sliders for my in-laws years ago and I still get asked about them almost everytime we get together. Perfect for a crowd, enjoy with any topping of your choosing. 
Desserts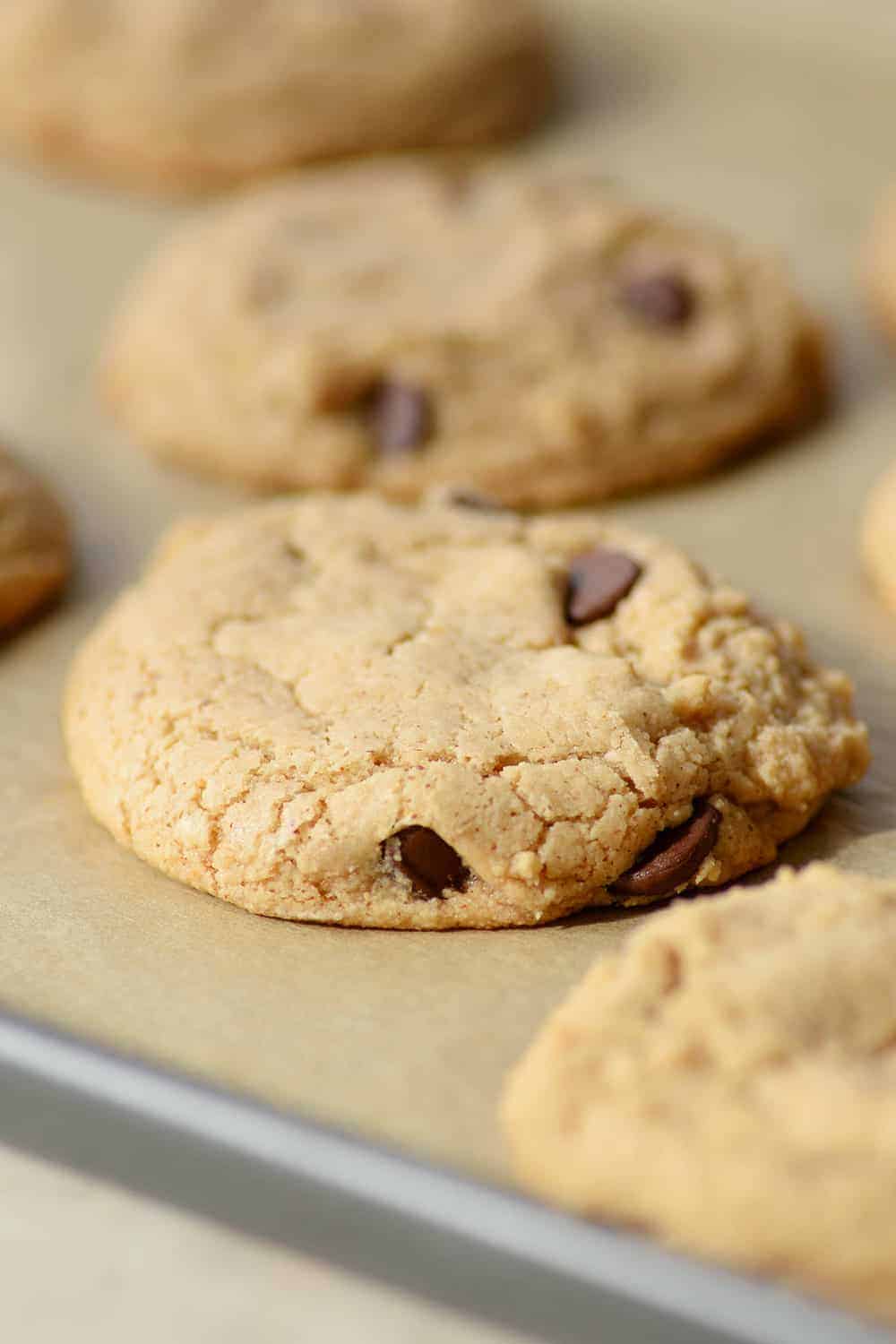 1. Vegan and Gluten-Free Chocolate Chip Cookies: These cookies are one of the most popular cookie recipes on my blog. As a bonus, they are vegan and gluten-free. If you need a dessert to bring to a get-together, put these on your list. 
2. Dark Chocolate Oatmeal Bars: I love these bars, perfect for kids. Layers of dark chocolate and oatmeal bars. 
3. Sweet Chili Mango Popsicles: These mango popsicles were inspired by one of my favorite snacks, fresh mango with chili powder. Slightly spicy and perfectly sweet.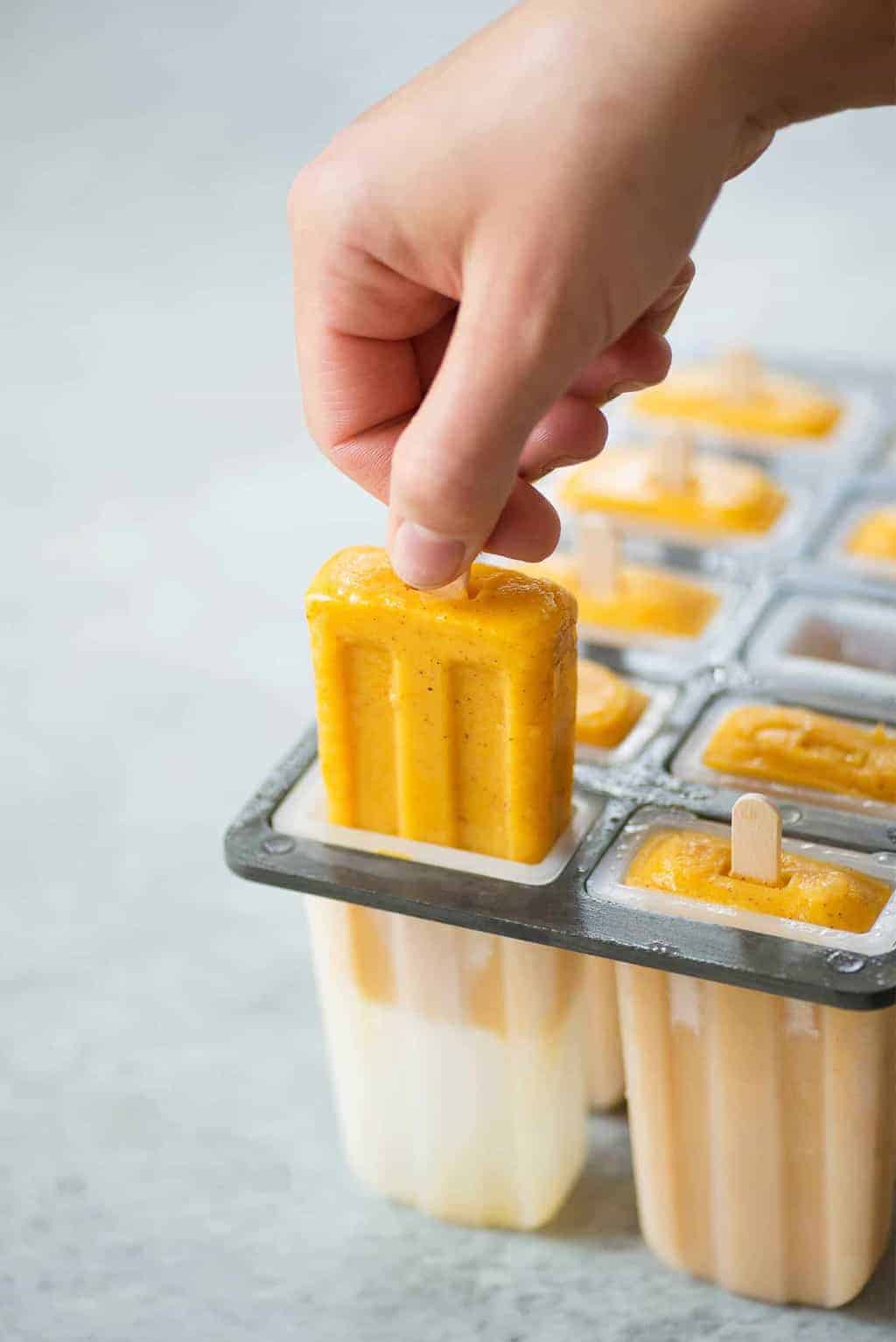 4. Triple Chocolate Vegan Brownies: These brownies are the BEST. The best. Just, so, so good. Trust me and make them. 
5. Almond Joy Granola Bars: If you like almond joy candy bars, you will love these healthy, oat granola bars. 
6. Vegan Salted Caramel Hippie Bars: Like a healthier rice krispie treat, these brown rice hippie bars are covered in a sticky salted caramel sauce.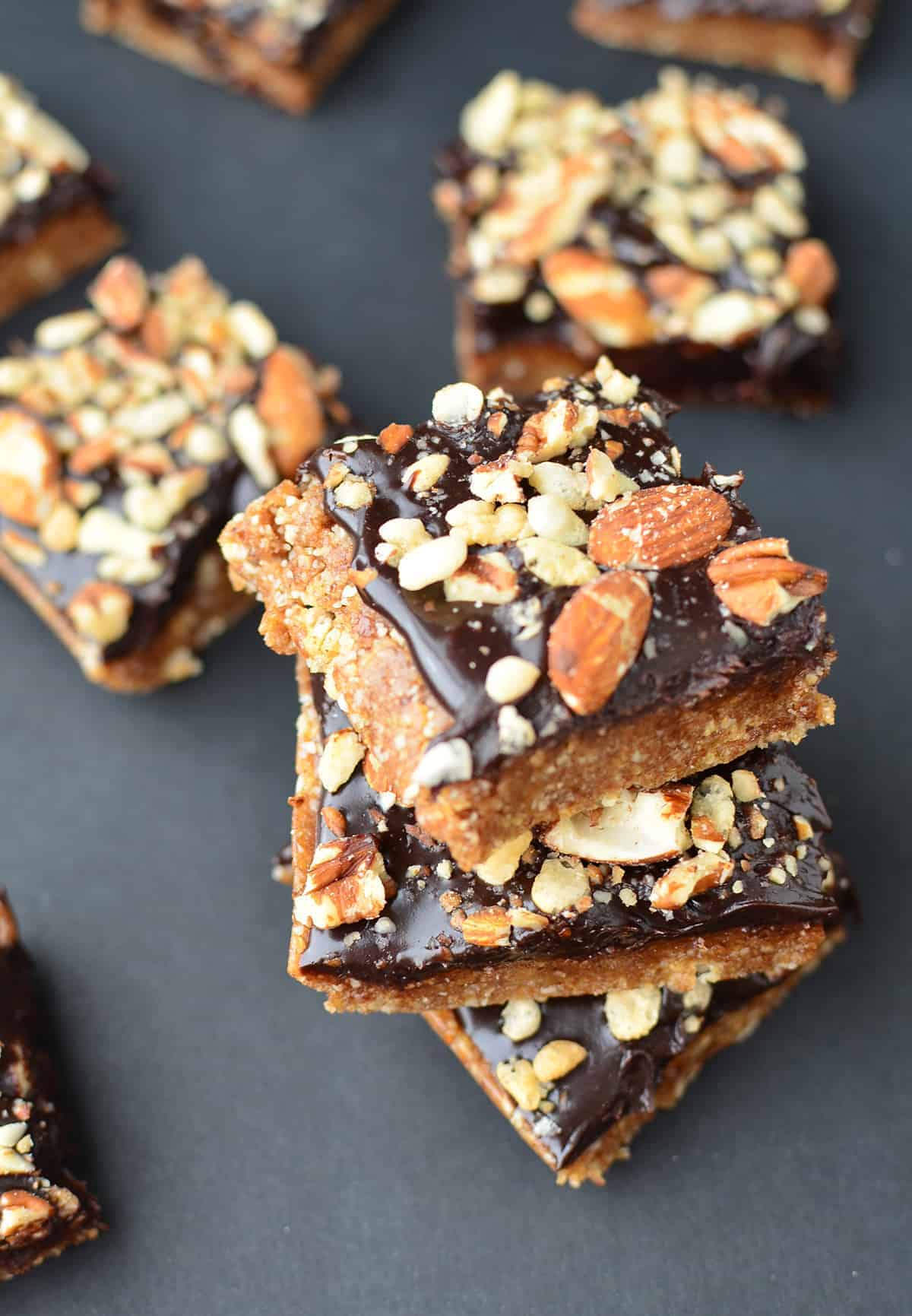 7. Almost Raw Blondie Brownies: I love these brownies so much; a base layer of blondie date brownies covered in a rich chocolate sauce. 
8. Roasted Blueberry, Lime and Coconut Popsicles: Roasting fruit completely changes the overall sweetness factor; evidenced in this intense roasted blueberry, lime and coconut pops. 
9. Grilled Banana Sundaes with Hazelnut Chocolate Sauce: I can't wait to serve these to Vander in a few years! Such a fun dessert, perfect for a crowd. Grilled bananas topped with a hazelnut chocolate sauce, whipped cream, sprinkle and a cherry.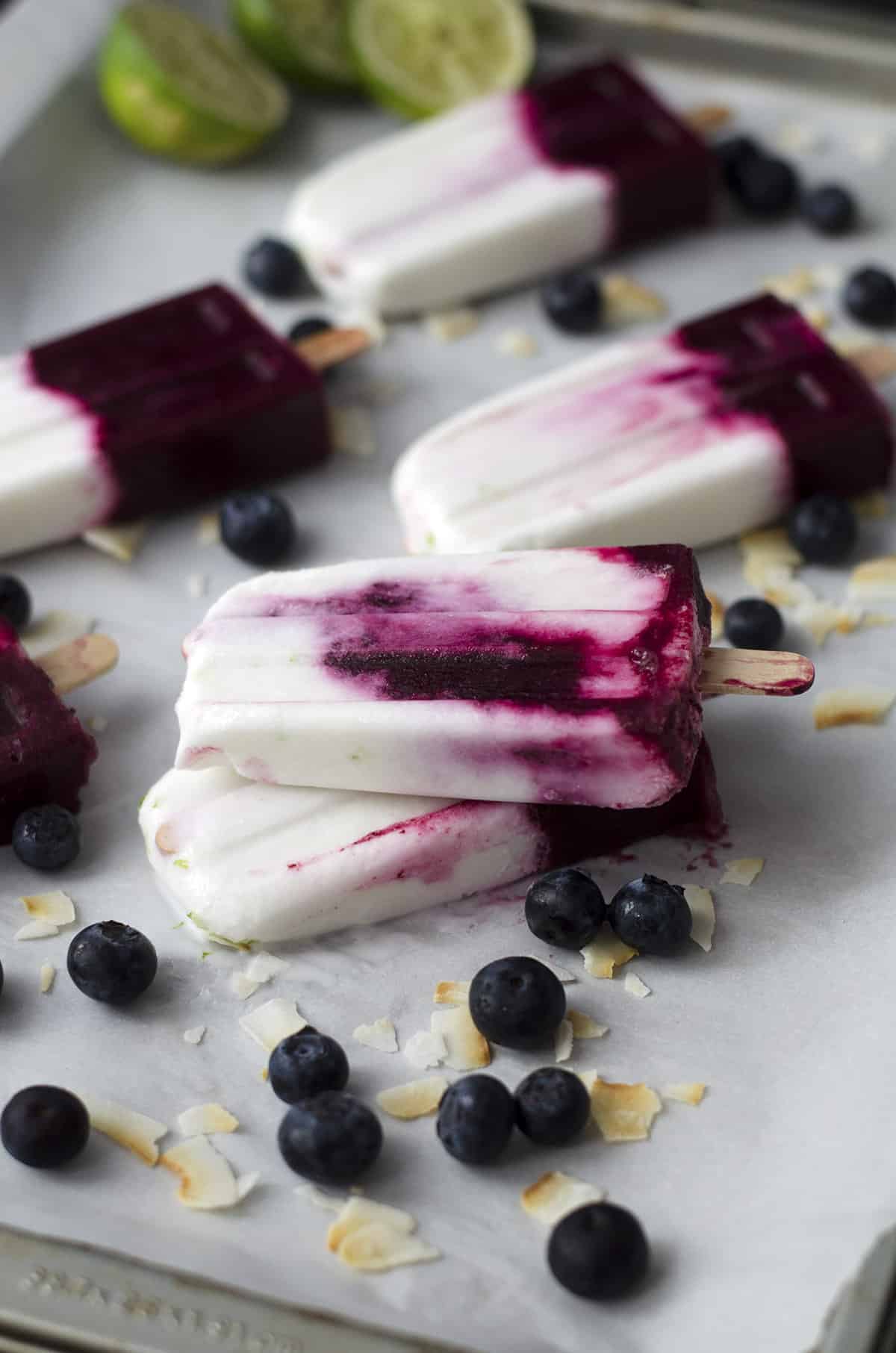 Beverages and Cocktails
1. Cucumber Mint Lime Agua Fresca: We drank SO much agua fresca this week in Austin, makes me want to re-make this refreshing non-alcoholic option. 
2. Frozen Negroni Slushies: I served these frozen negronis at a Memorial Day party last year and am considering making them again for this weekend. If you love Negronis, you'll want to make these.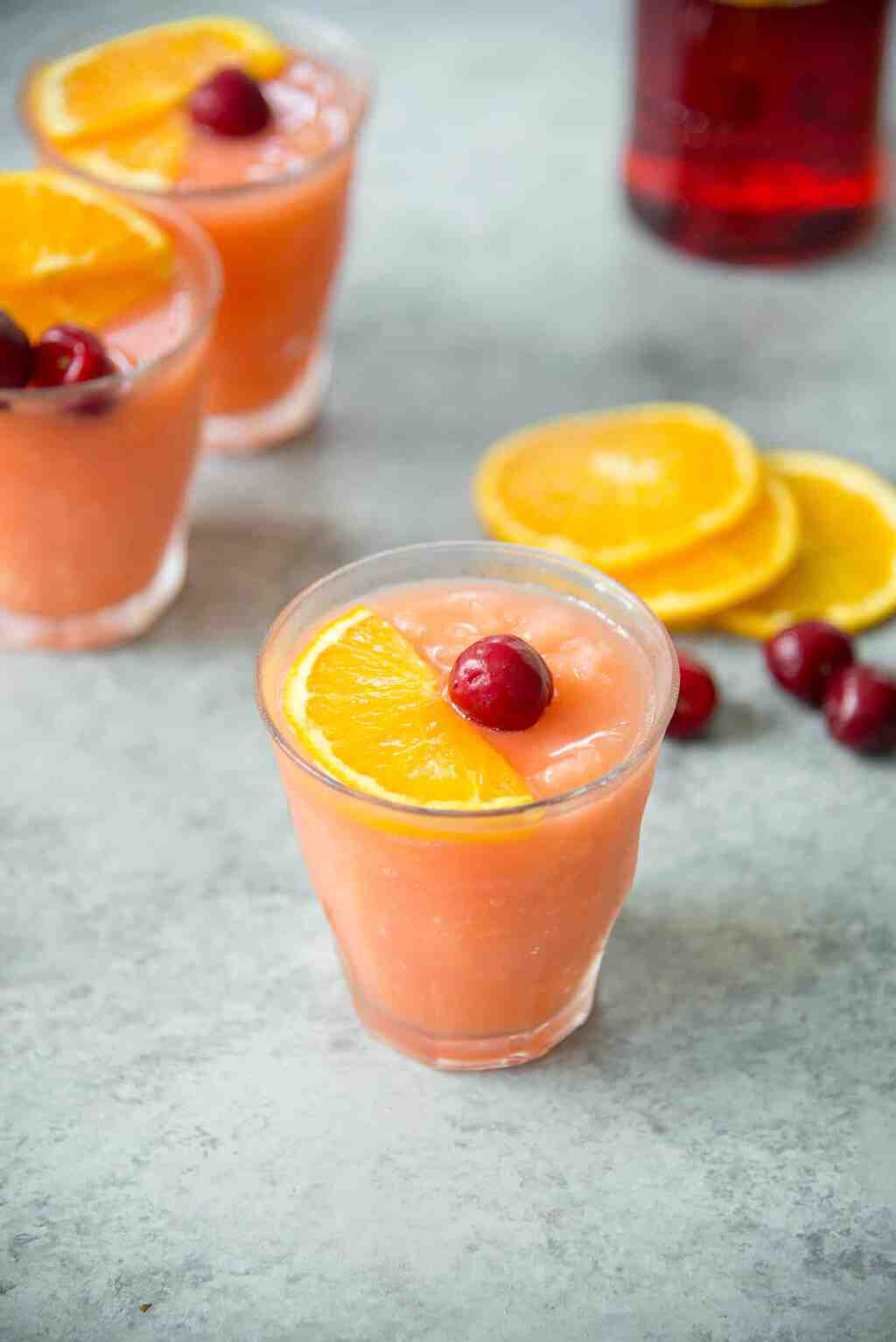 3. Frozen Watermelon Lemonade: Another great mocktail option. Frozen watermelon lemonade, great for both adults and kids. 
4. Watermelon Lemonade: Similar to the mocktail above, in a refreshing drink option instead of a frozen beverage. 
5. Raspberry Mint Limeade: Inspired by my favorite fast-food drink ever, Sonic's Raspberry Mint Limeade without a ton of sugar.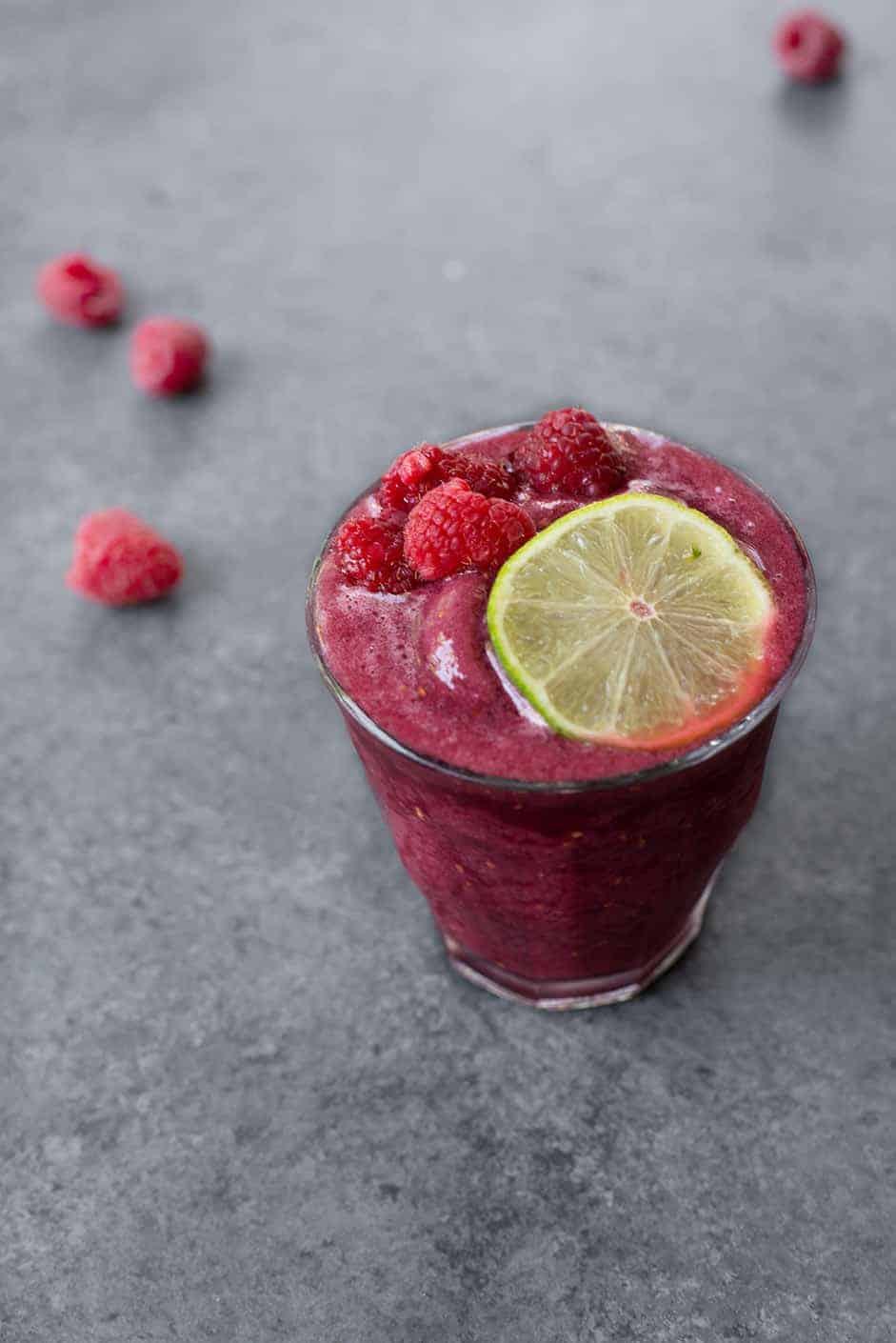 6. Frozen Sangria Slush: Love sangria? Try it in this frozen slush, ready in just 5 minutes. 
7. Frozen Blueberry Mojitos: Are you noticing a theme in my summer cocktails? They need to be super refreshing if not completely frozen. A blueberry mojito in frozen cocktail form. 
8. Frozen Strawberry Basil Margaritas: Herbs in cocktails are a great decision, especially in this strawberry basil margarita.